15 milestones that define Cornerstone
15 minute read
Anniversaries come and go, but as the latest is the 15th for Cornerstone DM, we thought we'd make a special mention of it.
And in keeping with the creativity that is the lifeblood of our full-service agency, we didn't want to share our birthday in a conventional way. Instead, we've collated 15 pivotal milestones that define Cornerstone.
Every story has a beginning, so let's start with milestone number 1
Working alone from the attic of his parent's home, MD David Wadsworth founded Oldham-based Cornerstone DM with a £1,000 overdraft and not even a single client in 2007. Soon, David's fiancée Sarah Smethurst, an avid designer, joined for two days a week before going full-time after six months.
The next 'office' was a spare bedroom of David and Sarah's first home together, which then led to Cornerstone's first 'proper' office – a triangular 400 sq. ft. unit at Woodend Mills in Lees, where the couple and their respective brothers turned a dirty, dank industrial unit into what David describes as a 'fairly cool office'.
Growing staff numbers – including Huddersfield Uni graduate designer Nic, our first ever hire (who is still with us) – necessitated a move to bigger premises at 112 High Street, Lees – palatial in comparison to its forerunner.
David says: "We'd been three students learning our trade but by the time we moved to 112 High Street, we were taking on bigger pieces of work and extending our services to include things like SEO, web work and PPC for a growing list of clients. When we first moved to Woodend Mills it felt like we were really becoming an agency and now we'd got even bigger."
Below: Before and after images of Cornerstone's first studio at Woodend Mills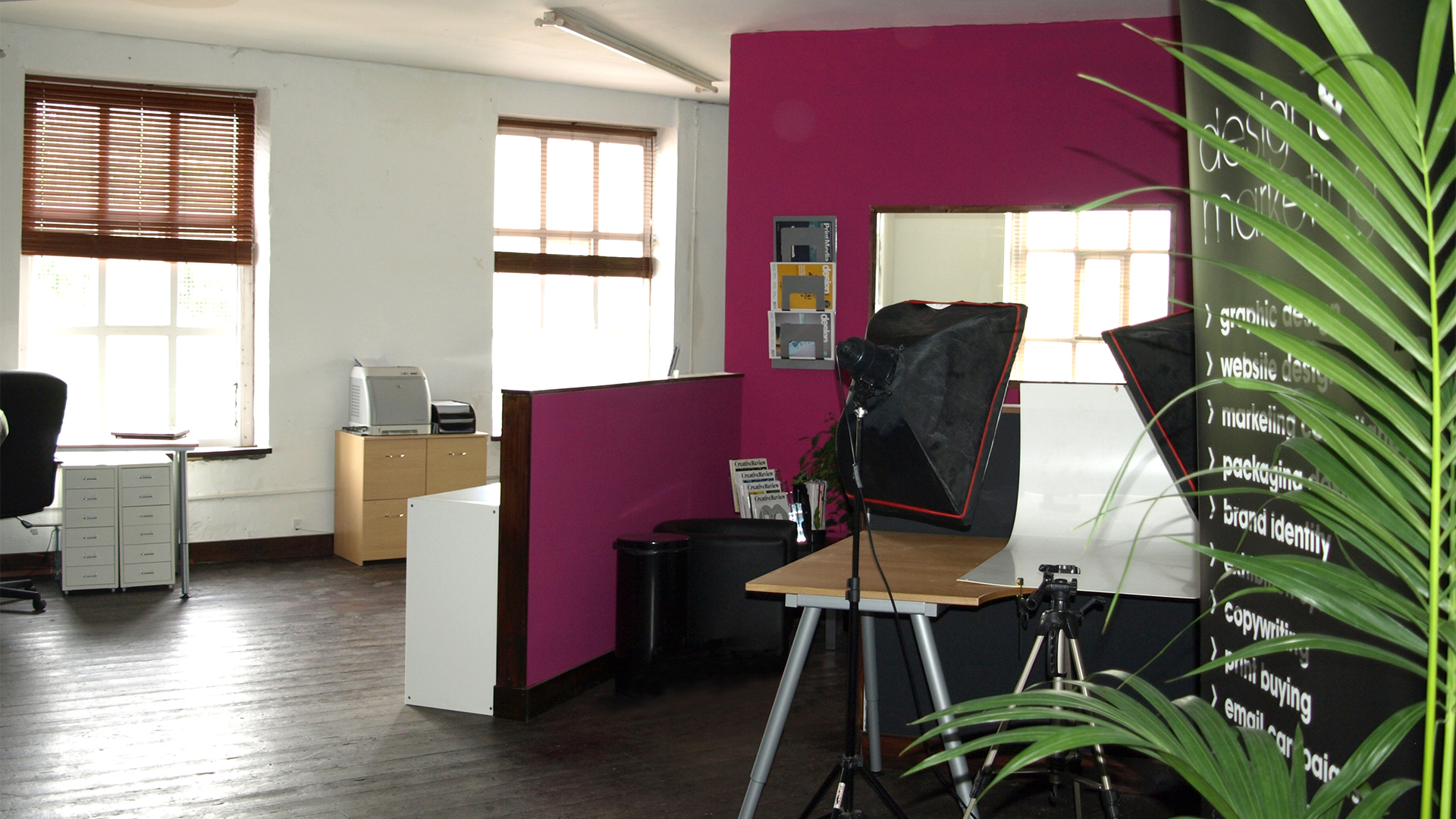 Number 2: Leisure clients – the start of something big
Cornerstone has forged an unrivalled reputation for providing full-service marketing expertise and creativity in support of the leisure and wellbeing industry, working with several local authority leisure trusts and associated organisations – many of which have come to us through word-of-mouth recommendations.
This journey began with Oldham Community Leisure (OCL), our very first leisure client, which soon sparked interest from others seeing their activity take place.
David explains: "We'd been working with OCL for a while and we wanted to do more but they'd always had an incumbent agency, it was difficult to break through that because lots of other trusts were using them. But OCL kept pressure testing us and every time they did we exceeded all expectations, met ridiculous deadlines and did a cracking job.
"We finally made the breakthrough, and that was quickly followed by work for Active Tameside, and then Link4Life. Everybody Leisure came on board in 2016 and then we were recommended to Burnley Leisure and Culture (BLC)."
Our leisure portfolio now totals 15 and is growing fast thanks to word-of-mouth recommendations.
Number 3: North West Ambulance Service – our first major client!
The relationship, which is still in place today, came about when NWAS needed a re-brand after moving to foundation trust status in 2008 and was the result of a recommendation from another Cornerstone client.
Two of our campaigns for NWAS – Star In A Car and Make The Right Call – proved hugely successful.
Star In A Car was a regional search for volunteer car drivers to transport patients to routine hospital appointments and was oversubscribed within days of it being launched.
The aim of Make The Right Call was to people to the fact that using A&E or 999 for non-emergencies could take essential help away from someone who really needs it.
Both secured gold accolades at the 2019 Chartered Institute of Public Relations' North West PRide Awards – the UK's most prestigious nationwide awards scheme recognising excellence in public relations and communications.
David says: "Twelve or 13 years on, NWAS is still a client and great advocate of Cornerstone. I'd say winning that account was a pivotal moment in our development, because it is a great public sector organisation to work with, and it's good to be linked with an organisation so crucial to our communities, playing such a pivotal role in the health and wellbeing of our family, friends and loved ones."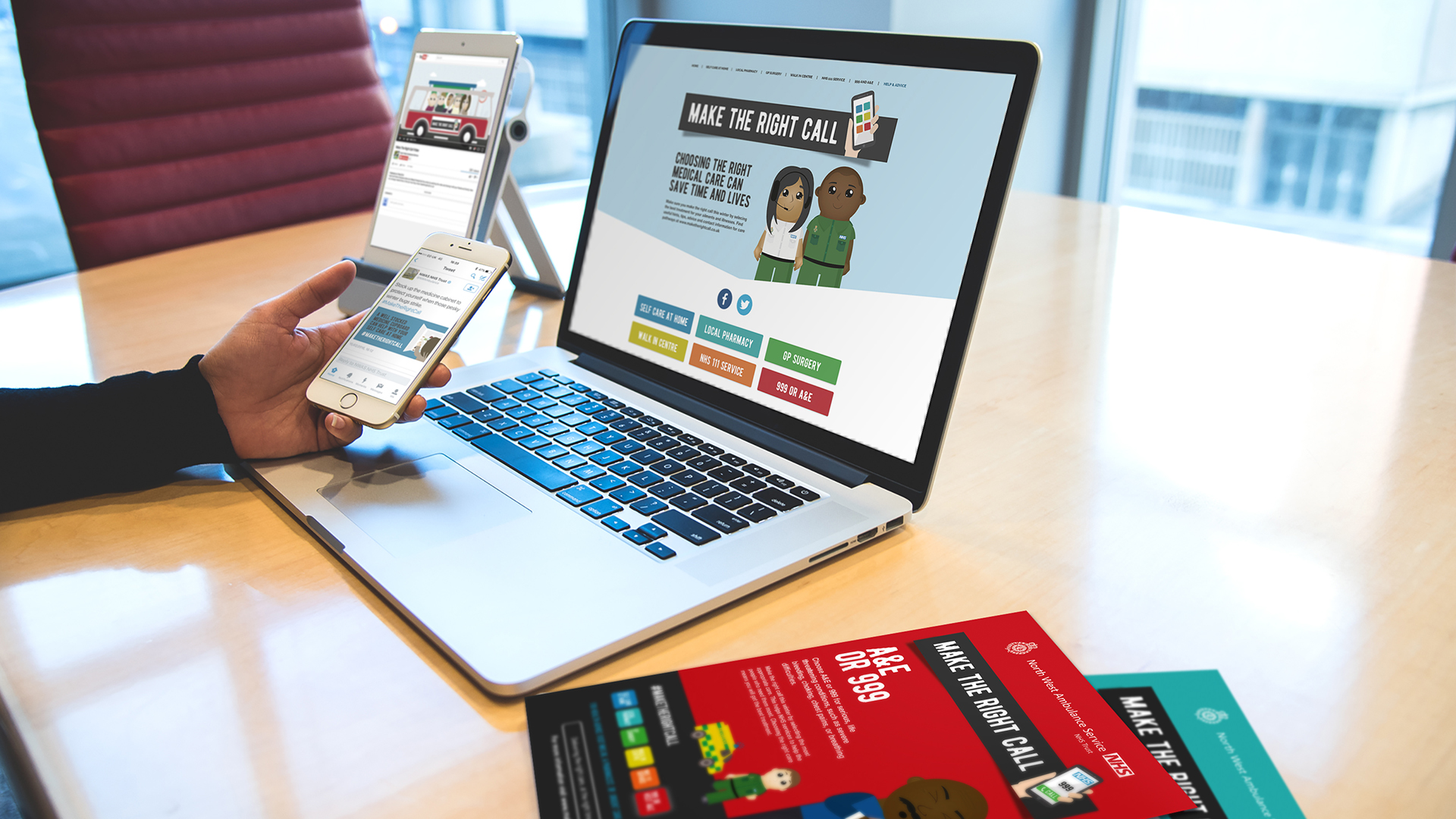 Number 4: Pharma clients – another shot in the arm
Our introduction to pharma came in 2017, again via a referral, when our ability to produce outstanding work to tight deadlines won us a brief to create a launch campaign for a range of herbal remedy products and support it with a dedicated microsite. Ultimately, the product was shelved at the last minute, but we'd proved ourselves and were rewarded with an account exceeding £250,000pa.
Since then, we've gone on to work with national and multinational pharma brands, seeing our work appear across trade and consumer channels, cover both above and below the line media.
We gained approval from the Proprietary Association of Great Britain (PAGB), representing the manufacturers of branded over-the-counter medicines, self-care medical devices and food supplements in the UK.
David says: "There are some big agencies in that sector but there is a place for an agency like us – we're fully integrated and bring agility and nimbleness to the way we work.
"Our fully integrated approach, with a highly skilled team, all employed internally; set us apart from many of our competitors. Before working with Cornerstone, many clients have been known to use one agency for SEO, one for web development, maybe brand / creative and another for PR for instance, and it begins to feel fragmented for the client. Our approach is to do it all in a fully integrated manner, all in one team and all delivering to clear, distinct, and commercially aligned objectives."
Number 5: Print room – a new string to our bow
Our highly specialised production studio and signage division began life while we were still based at Woodend Mills and has grown in size and capability with every office move since, culminating in an impressive, purpose-built new workspace when we moved to new premises in 2019 (more on that later), which has ramped up our capabilities to a whole new level.
"The introduction of the print room fuelled an additional layer of growth because it gave us an extra service we could offer clients," says David. "It's come a long way since we leased extra space at Woodend Mill and knocked the wall through to create our very first print room.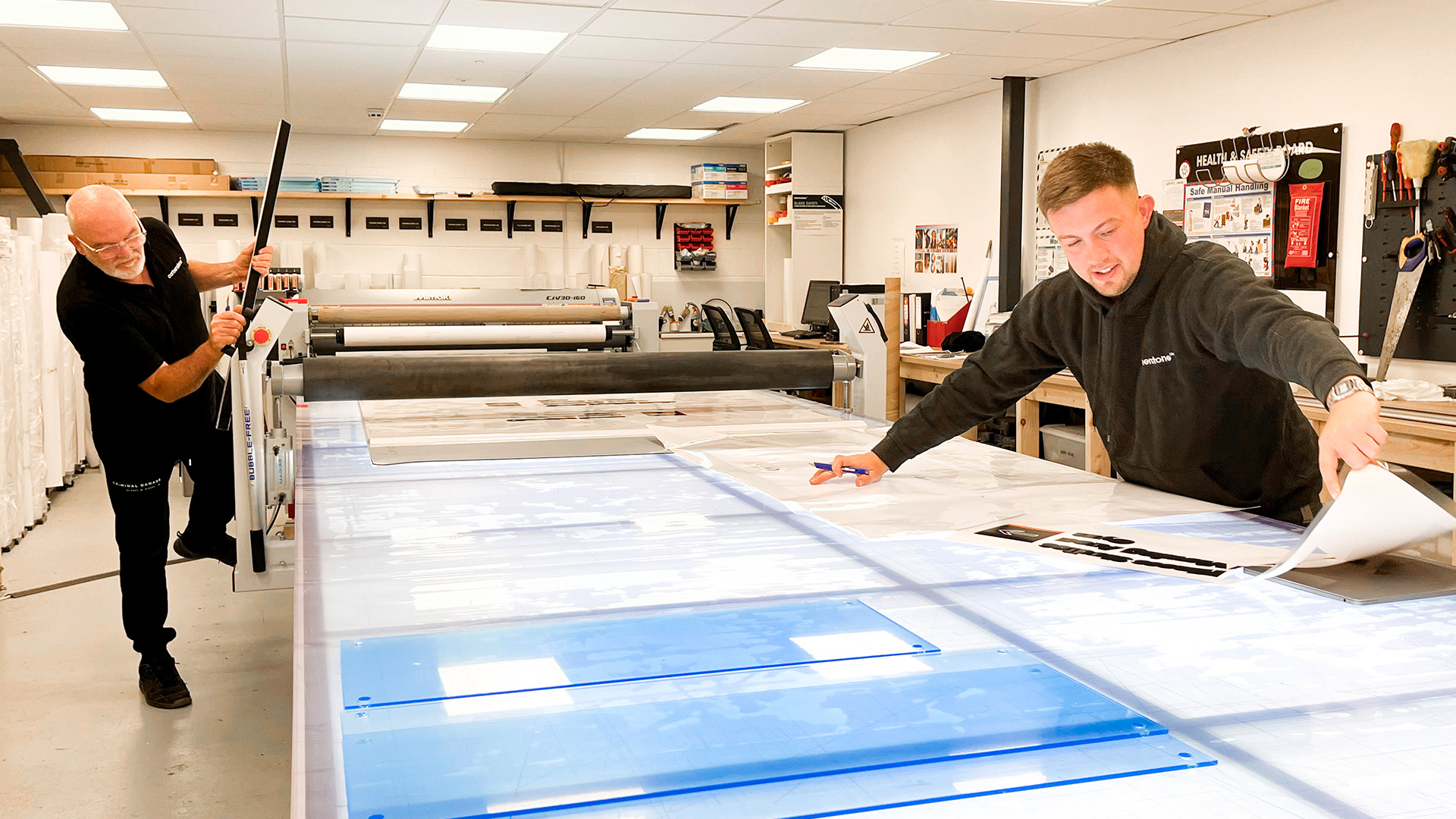 Number 6: The pandemic – putting welfare at the heart of everything
Wellbeing was our main driver when the pandemic struck, that was the welfare of the Cornerstone team as well as the best interests of our clients and suppliers.
David explains: "At the start of the pandemic, we saw a lot of organisations making people redundant. Our approach was completely different. It was total transparency with the team. We said if no single client spent a penny in the foreseeable, we had six months where we could sustain everybody. We cut unnecessary spending to help safeguard everyone and we worked quicker, harder, more strategically than we'd ever done. Every piece of work we went for we won – with the exception of one – and when it was won, it was delivered to high standards, and fast."
As an agency with scruples, we spoke to most of our clients to understand the impact on their businesses. For those who were hardest hit we extended payment plans and offered pure flexibility. It was very much 'we are in this together and we'll get through it together' scenario. One of our hardest hit clients paid a bill from February 2020 only last month – we truly went above and beyond in that particular instance.
We also offered a number of clients discounted fees for certain projects which would help them build better in a post-covid world. This helped them better engage with their markets, grow, and be profitable.
Number 7: Breaking through the £1m barrier
The pandemic solidified us as a business, and we posted a 10% growth in revenue that year – with better profitability than the year before, in fact, which meant our turnover in 2020 passed £1m for the first time.
Turnover increased to £1.2m in 2021 and this year we have exceeded £1.7m, easily beating our initial goal of £1.5m.
"We've put a huge level of investment into this year too. It could appear that we are over resourced at the moment but that is preparation for 2023. That has hit our profitability this year, but the plan is to make it up next year. The other way of looking at it, is that we're investing in the future," says David.
Number 8: PR – the final piece of the creative jigsaw
The addition of our dedicated PR department in 2017 was the final piece of the Cornerstone full-service jigsaw. Before then, PR had been an ad-hoc activity that we had undertaken for a handful of clients who had occasionally asked us to write a press release or provide them with some other form of written content.
That all changed when our erstwhile PR Manager, Robbie Macdonald, who had just been made redundant by the closure of the Oldham Chronicle, suggested the idea of a full-time, dedicated department to MD David. The agreement was to give it a six-month trial, which in Robbie's case, turned into a four-year stay at Cornerstone. As our PR offering flourished, Robbie – now part of the BBC-funded Local Democracy Reporting Service – was joined by our current PR Manager Gill.
David says: "Our PR offer has evolved massively over the years; it has become a strong and important part of what we do. PR is often overlooked in a number of industries, but it is actually central to brand presence and delivery and looking at content as a whole it is the difference between excellence or mainstream mundane if you don't have the right PR professionals."
Number 9: Watching staff blossom
Nurturing its staff is key to Cornerstone's success. Employees have undertaken 248 days of training in the past 12 months, representing as much as 35 per cent of the web team's total timesheet. Other notable training times include 28 per cent for the account management team and 23 per cent for digital.
Leaders of the future are also being nurtured. For example, Head of Client Services, Sarah, first joined us as an Account Manager before becoming Senior Account Manager.
Our Head of Digital, Jess, has enjoyed a similar trajectory, coming to us as an account executive in 2017 following freelance roles within marketing and PR fields. Exploring her passion for all thing digital, Jess embarked on several training courses and became Cornerstone's dedicated digital marketer within 12 months of joining the team.
And the development goes on. Our Finance and HR Manager Ali is furthering her career with a CIPD course at Tameside College, which we are sponsoring, and our Junior Digital Marketing Executive Madeline is Cornerstone's first-ever degree apprentice! She's currently working towards a Level 6 Digital Marketing Degree qualification after achieving a distinction in her Level 3 Digital Marketing Apprenticeship with us.
Apprentice Software Developer Hannah is two-thirds(ish) way through her Level 3 Software Technician Apprenticeship, and her colleague in our web department, Joe, our junior web developer, is combining his three-year Computer Science degree at Manchester Metropolitan University while working part-time at Cornerstone.
"We have a commitment to developing careers and team satisfaction. That's something I'm very proud of," says David.
Number 10: Acorn Street, Lees – breaking the mould by staying in Oldham
You don't have to be based in Manchester to be excellent marketers! That's always been the Cornerstone mantra.
After outgrowing every office space we'd ever had, we arrived at our current premises here in Lees – a dynamic, in-house designed and redeveloped creative studio space which reflects Cornerstone's drive and ethos.
The reveal of our £250,000 refurbished new working space came in 2020 when we hosted the Professional Oldham networking group.
"We'd been looking for new premises for 18-24 months, but I really wanted us to stay in Oldham," explains David. "Typically, a question many people ask in our industry is why don't you move into Manchester? My usual reply is I don't have to be in Manchester to be good at my job, and neither does my team.
"People often run Oldham down, saying it needs investment and should have more to offer, so I thought that's what we've got to do, we have to be in Oldham and be a business that can be acknowledged as a leader and a worthwhile employer. It took a long time to find something that was suitable, but here we are, and looking like we might outgrow it already!"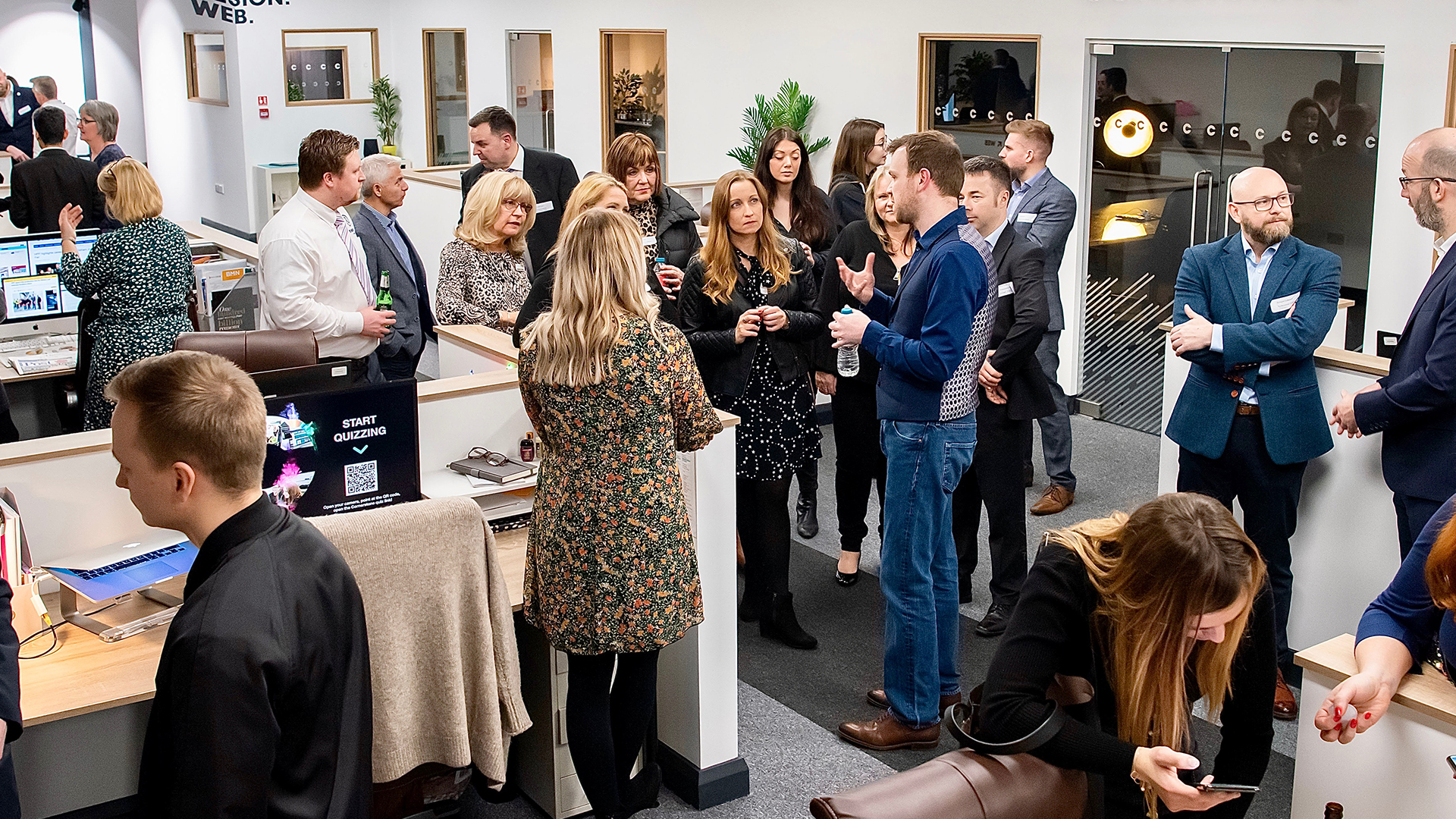 Number 11: New faces, new clients, new achievements
A raft of new business wins and new recruits have made Cornerstone's 15th year one to remember, even improving on 2021's best-ever achievements.
This year (2022) has seen a 51% growth in business that includes three new leisure trusts, automotive storage specialists Linco Automotive, a North West-based SME providing consultancy, design, supply, and installation services to prestige car dealerships; and London-based Cheetah Transformation, which works with clients in the UK and abroad to build, implement and support the adoption of a global workflow management system.
Other wins include global brands such as Digital Projection and Trust Green, which provides a devoted and masterful approach to the long-term stewardship of open spaces.
David says: "We're working with regional, national, and international firms across several industries. 2022 has been an exceptional year for us, and with more new business in the pipeline, we are going from strength to strength.
"We've bolstered the team with more resource across several disciplines to maintain our exceptional standards and high-quality outputs.
"Everything we do is based on our founding principles – results, reputation and relationships. Testimony to that is the number of potential new clients coming to us following word-of-mouth recommendations from our existing clients."
With a staffing figure of 30 – our biggest ever – new recruits have augmented account management, digital, creative, operational and web teams, and we've recruited a Business Development Manager initially to maximise the potential of the agency's signage operation before turning his attention to our other innovations and services.
Number 12: Recognising expertise
For the past two years, a guiding hand on the Cornerstone tiller has been our Senior Management Team (SMT), the creation of which was necessary to keep abreast of our growth and development, but also has proved to be the driver of further success.
Led by MD David, it is made up of head of creative Sarah S, HR & finance manager Ali, head of client services Sarah B and head of digital Jess, all supported by departmental managers.
"Recognising the expertise of our senior people and formalising them into SMT has been a pivotal part of our growth," says David. "There's now five to seven of us including departmental managers driving the business forward."
Our expertise is being recognised on a wider stage too, with our PR Manager Gill sharing her knowledge, and information about us, with various schools and colleges in Oldham, digital lead Jess being called in to give SEO advice to several organisations and digital apprentice Maddy is leading on an apprenticeship network as she studies.
And let's not forget MD David, who has forged a distinguished reputation not only within our industry but in the leisure sector too.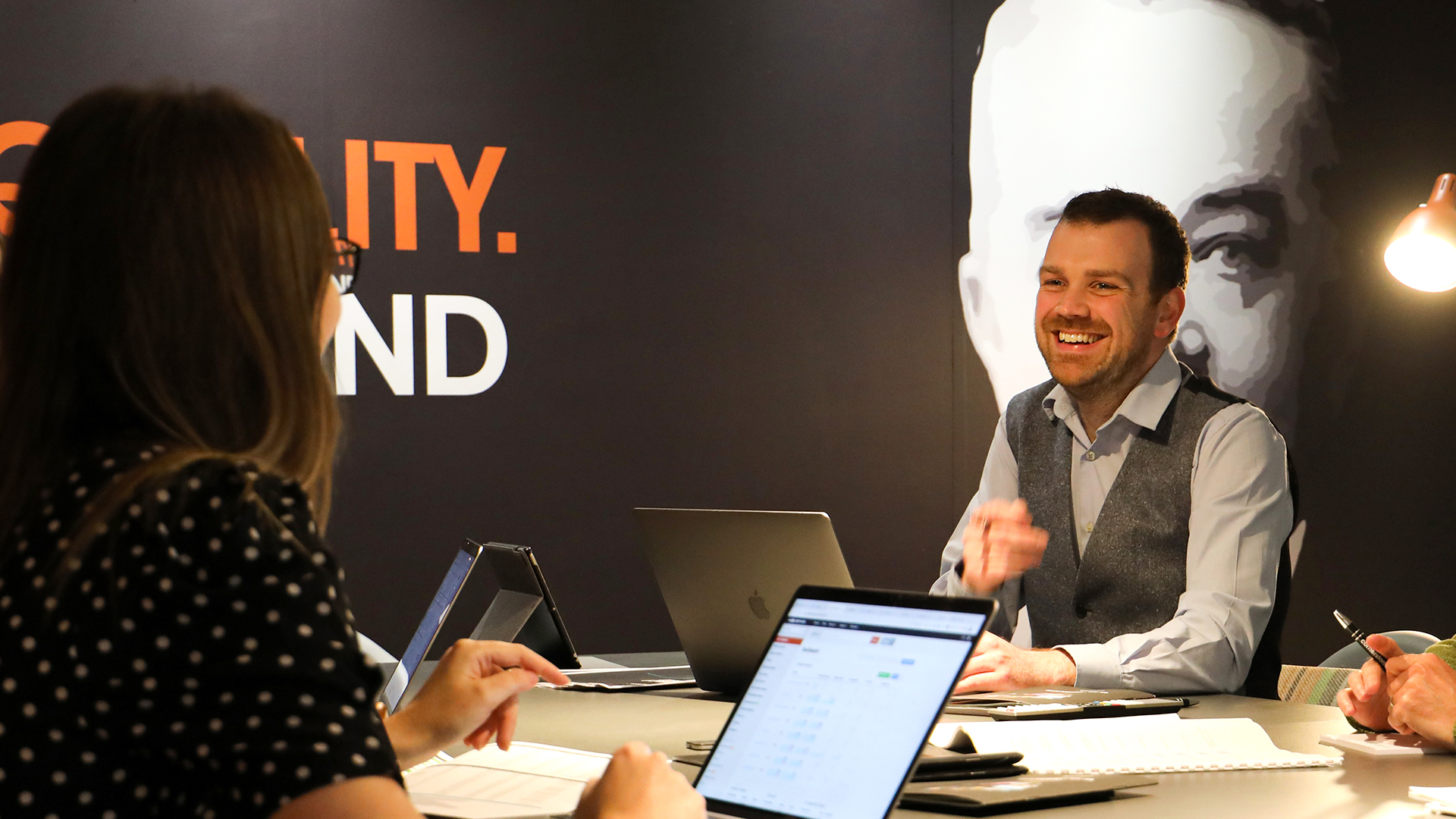 Number 13: Innovation to improve communication
Innovation and creation is in our DNA, and that has seen us launch two new products this year – the Cornerstone ChatBot and our InnoScreen digital signage platform.
ChatBots can be used for a wide variety of businesses across all sorts of sectors. They are exceptionally useful for answering quick queries, offering customers a helpful, instant response 24/7, 365-days-a-year – great for improving customer experience.
While ChatBot is fully automated, we can build LiveChat into our service. We set up a client's ChatBot to answer customer questions as much as possible until it gets to a point where they can choose to start a live chat with a member of a customer service team.
Our InnoScreen platform is a web-based, digital signage software which allows businesses, brands and organisations to tailor their communications to their target audience via strategically positioned smart TV screens.
From receptions and waiting zones to office social spaces, retail areas and restaurant settings, our InnoScreen solution a client can broadcast their messaging and crucial information to the right people – often a captive audience – at the right time.
Number 14: Let's party!
We do love a good knees-up! Time's flown by since we held a party to celebrate the agency's 10th anniversary and we're following suit this time with an Oscars-themed, red carpet event complete with food and live music at our Lees studio.
Having a good time is nothing unusual for the Cornerstone team. Our busy social calendar is anchored by our Christmas party in December (when else?) and summer barbecue each June. Other dates for the diary include go-karting, indoor climbing, quiz nights, games evenings, crazy golf, Flight Club darts and clambering up Saddleworth's hills, among others. We work hard. We play hard!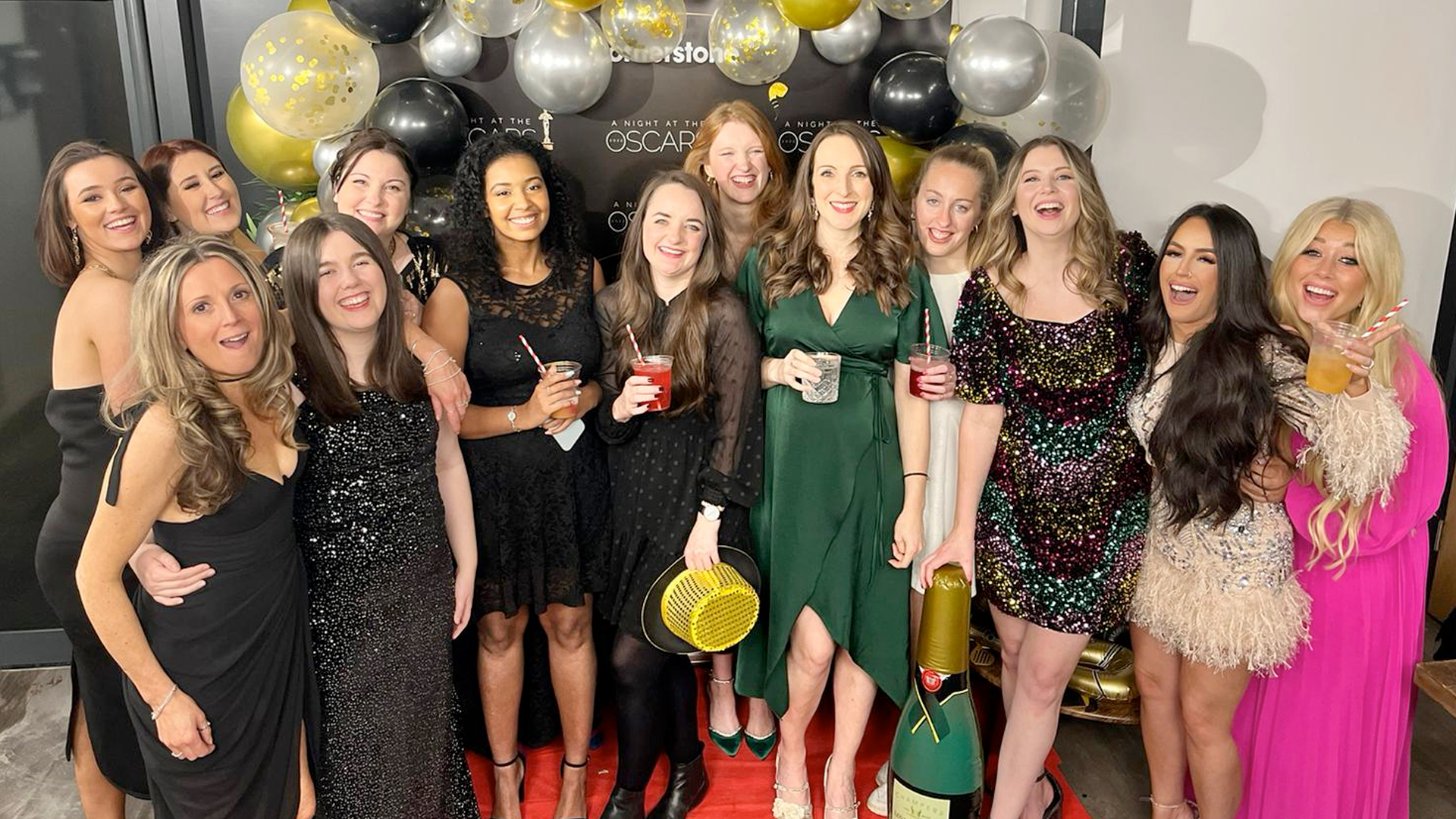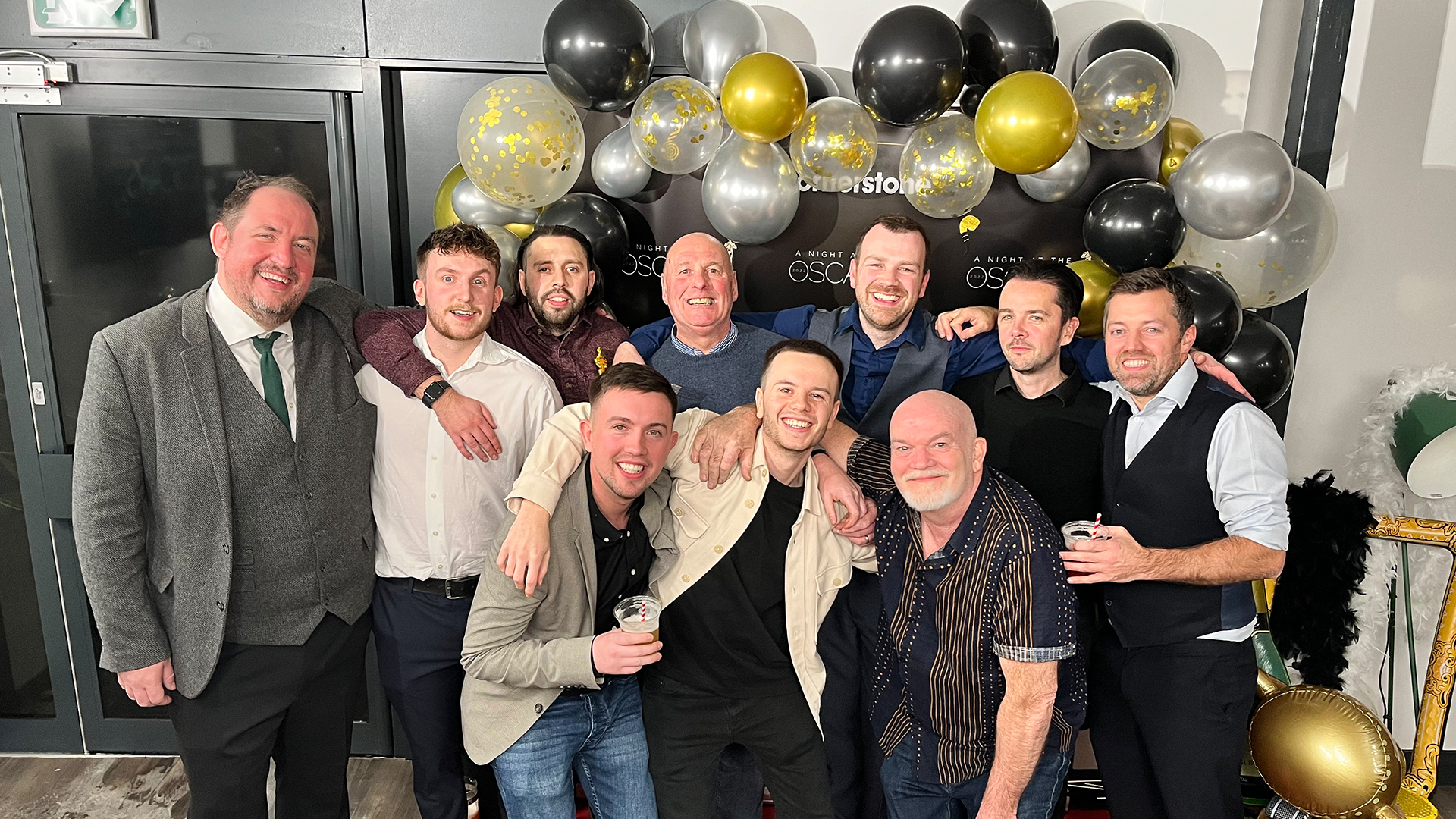 Number 15: It's a great place to work
Our final milestone is not so much a pivotal event or new highlight, but something more esoteric – and that is Cornerstone's culture.
The friendly team striving for excellence in a supportive environment has always been there, but with more and more new people coming on board, it is now more recognisable than ever.
Last word to MD David: "It takes a lot of graft to get the right people and the right personalities with the right ethics. It's been a huge focus of mine over the years, and it's been a focus of how I've trained SMT to go and recruit people in the same way. Just anyone isn't who I want, and it's not the way I've wanted to build the business.
"I'm proud of what I've built over the past 15 years, and I don't ever want to entrust it to anyone other than decent, like-minded people.
I'm genuinely looking forward to seeing what the next fifteen years holds for Cornerstone, and would like to take this opportunity to thank clients, team members and suppliers, both past and present for the part they've played so far."