Full marketing strategy with innovation in PR and design
Award winning PR for NWAS's Star in a Car campaign
A worthy campaign with a very worthy outcome, North West Ambulance Service's (NWAS) 'Star in a Car' recruitment drive is a shining example of our award-winning work.
We collaborated with NWAS to help them rev up their regional search for volunteer car drivers to transport patients to routine hospital appointments.
The delivery and outstanding outcome of Star in a Car earned a gold accolade in the Public Sector Marketing Campaign category of the Chartered Institute of Public Relations' 2019 North West PRide Awards.
As the UK's most prestigious nationwide awards scheme – which recognises excellence in public relations and communications – judges said they were 'impressed by how the team reached out beyond its traditional supporters, using innovative social media channels to really engage a younger audience with the work this essential public service delivers,' adding 'overall this was an excellent campaign fully deserving of success'.
Here's how we reached out to the everyday heroes who became the stars of those cars and clinched that special accolade…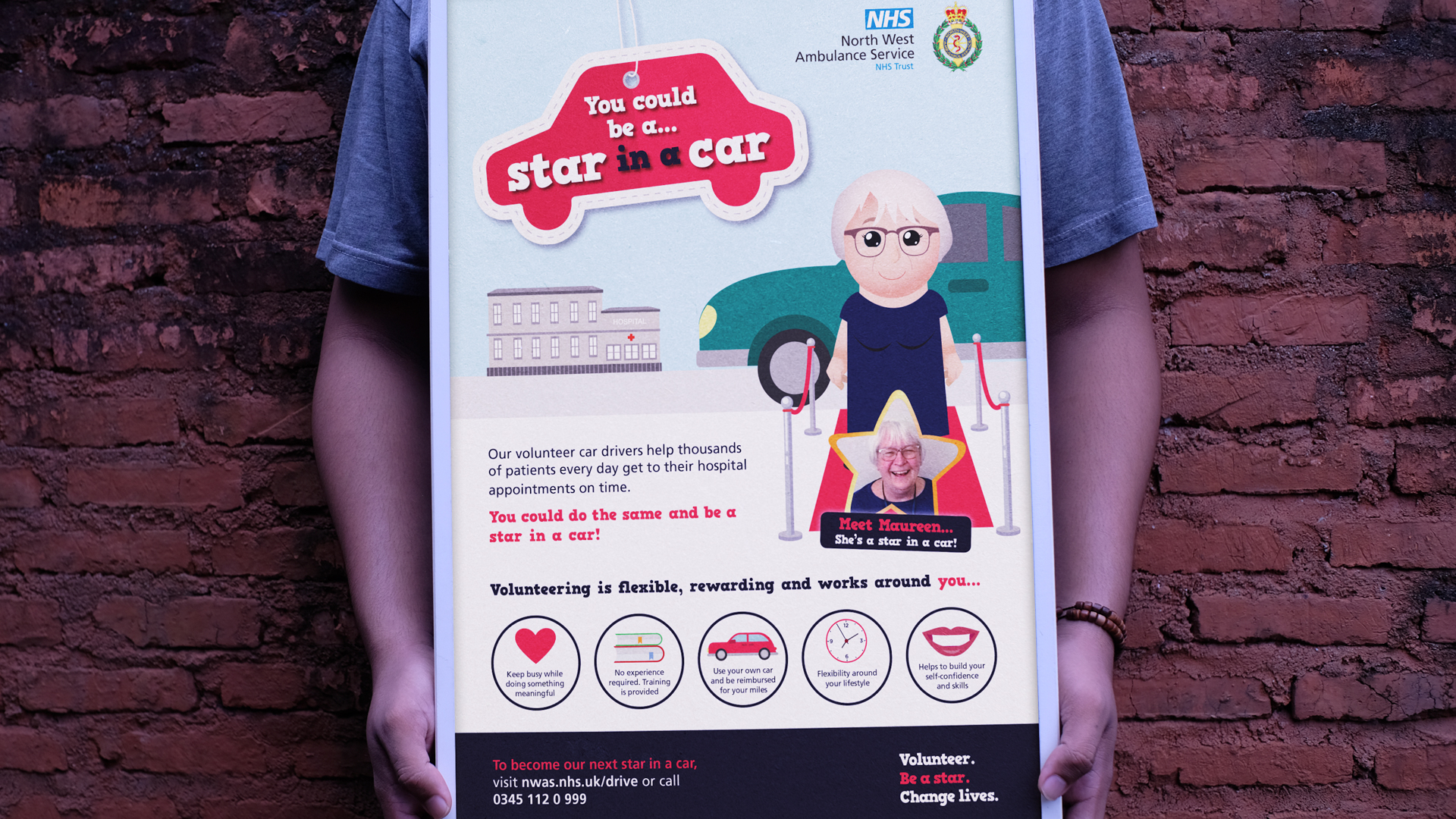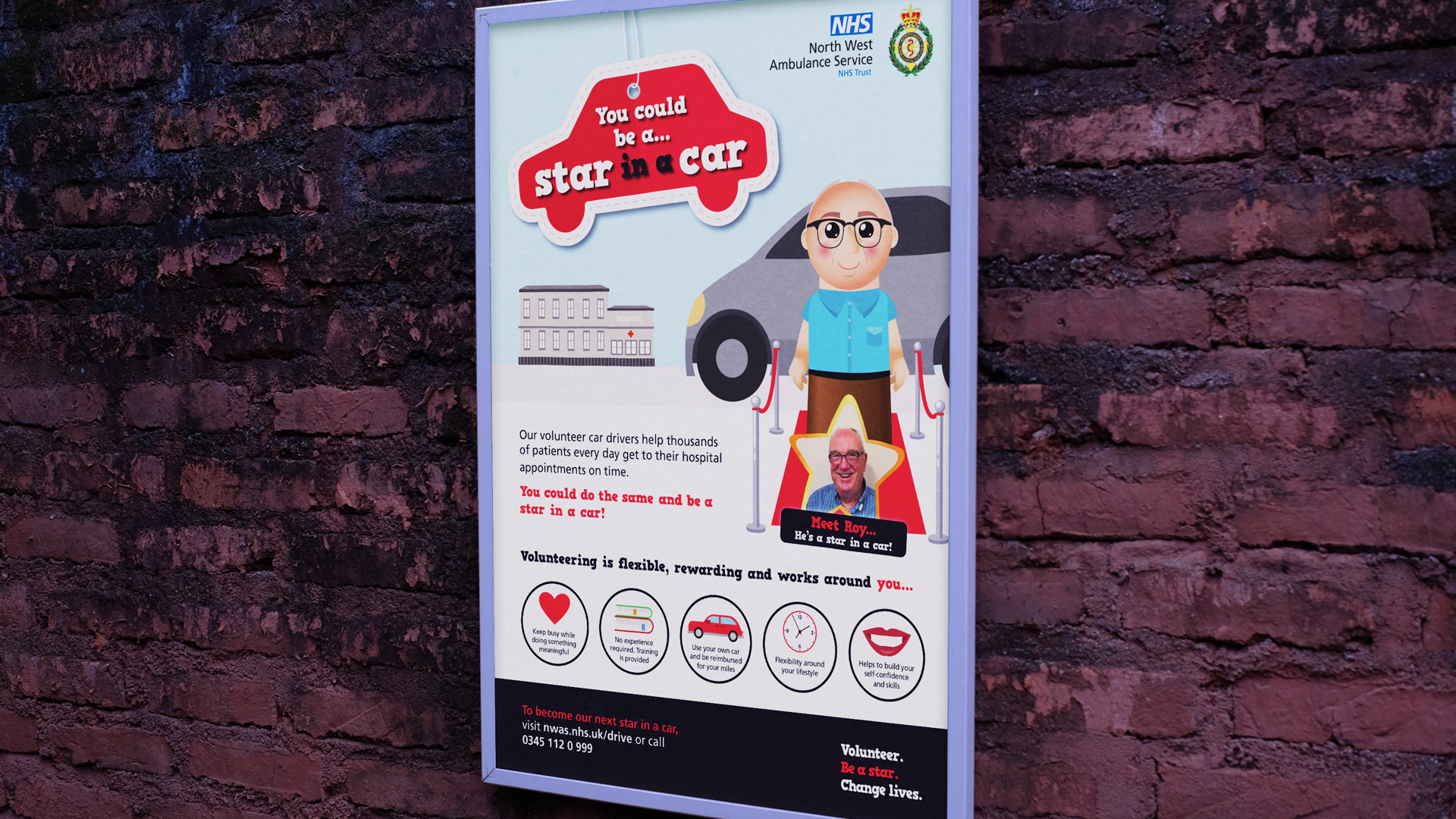 Shining a spotlight on the real heroes
The brief and objectives for Star in a Car were to create a brand / campaign theme, raise awareness of the role within North West communities and drive traffic to its dedicated web pages.
It involved a full marketing strategy, drawing on the expertise of our marketeers and PR, design and digital marketing teams.
We used initial research into the profile of existing volunteers and discovered the common theme was a desire to give back to a 'much-valued' service either through personal experience or that of family and friends.
To assist our PR planning, we staged a focus group with a number of volunteers to gather insight and opinions on their role.
A discovery session with the NWAS Patient Transport staff, who support the volunteers, helped us to establish key USPs to attract recruits including high level skills training such as first aid, health and safety, safeguarding and computer literacy.
Research also revealed the prospective volunteer online application process was a long-winded process and desperately needed attention.
The campaign headline soon took shape, positioning 'Star in a Car' as a celebration of the many unsung heroes who volunteer their time to help others on a daily basis.
Concepts, tactics, creativity and innovation
As with all successful recruitment campaigns messaging needs to be targeted, engaging and effective.
We were seeking kind, caring, community-spirited individuals – obviously with a set of wheels – who wanted to make a difference while gaining valuable skills in return.
This was achieved by communicating clear, first-hand perspectives that the public could trust and relate to, reducing their perceived barriers to volunteering.
It focussed around the need for their support while demonstrating the perceived value as real stars within NWAS and their communities.
Using the NWAS house style echoed in previous campaign collaborations, our designers created 2D vectored characters based on existing volunteer drivers.
They were depicted stepping out of their cars on to red carpets to emphasis their valued status alongside a star-shaped image to introduce the real-life volunteer.
We combined these concepts with concise and appealing messaging, rolling out across numerous marketing activities including printed leaflets and posters, outdoor and pop-up event banners, social media marketing, press advertisements and the NWAS website – even quirky branded car air-fresheners.
Our in-house videographer produced a short film based on a volunteer's story and it was released on YouTube and shared across social media channels.
Social posts were scheduled over a number of months to drip feed content.
We timed posts to capitalise on the interest in NWAS during a BBC1 ambulance documentary broadcast and used paid ads to promote 'Star in a Car' in areas where volunteer numbers were particularly low.
The final yet significant stop-off during the Star in a Car journey was to widely publicise the campaign via the north west media.
As a PR agency, our PR team crafted and distributed press releases which told the stories of existing volunteers, reaching out to local and regional newspapers and radio and TV broadcasters.
This secured coverage in publications across all five north west counties followed by interviews with NWAS Patient Transport staff and existing volunteers on ITV's Granada Reports and six hospital radio stations.
In the six months following the launch of Star in a Car the campaign produced:
Over 250 phone enquiries (an increase of 2,500%)
196 applications
50 new volunteers have joined the Star in a Car network with others waiting for inductions
Star in a Car web page: 5,012 views (a 31% increase compared to the previous period) YouTube video: 655 view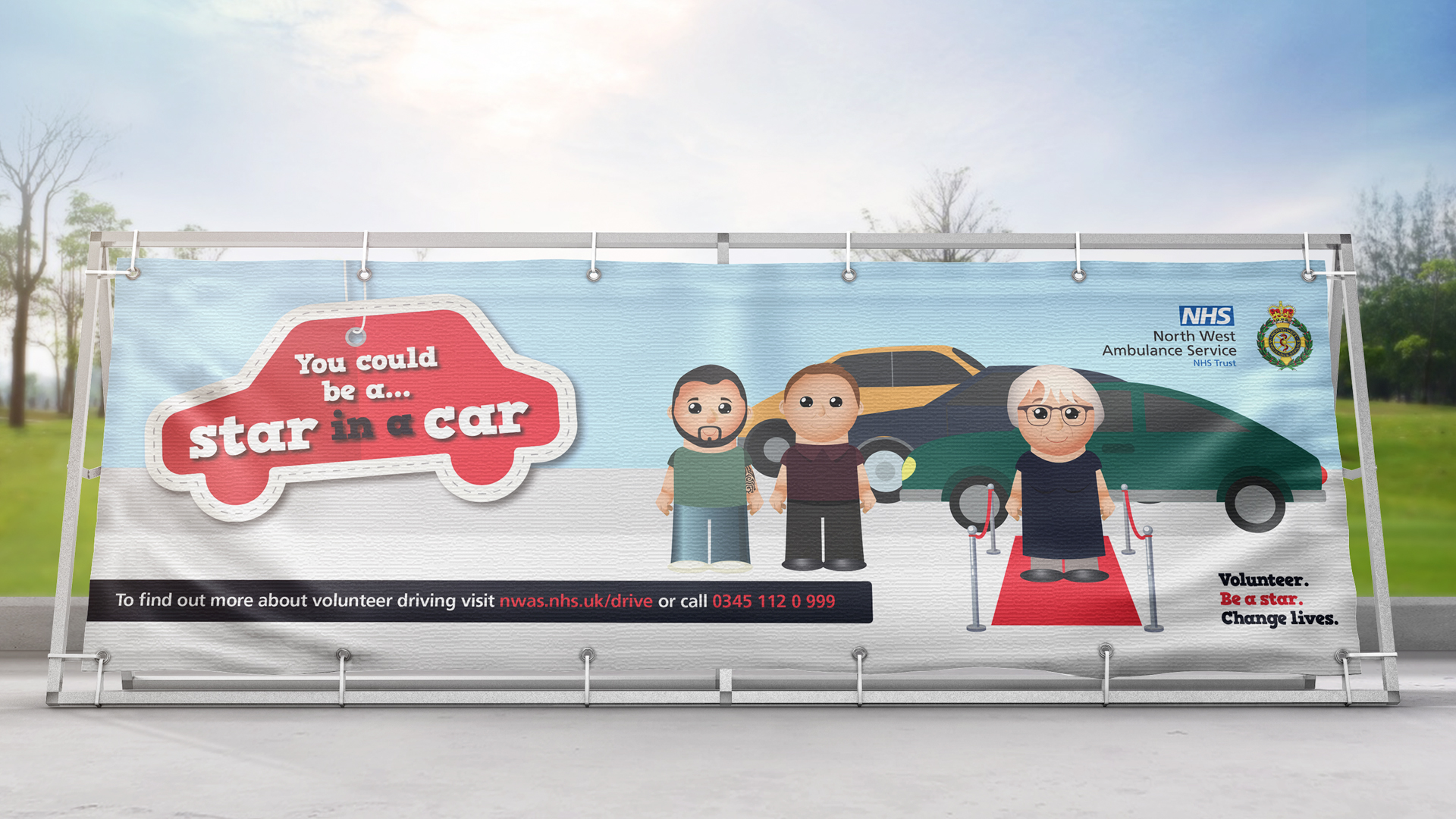 The impact and strategy
Incredibly the whole strategy, campaign activity and excellent results were achieved using limited resources.
The impact of the additional volunteers saved the NHS a significant amount of expenditure, helping reduce the use of taxi transport which on average costs eight times more than volunteer expenses.
And there was a huge effect on morale of existing volunteers as the campaign helped to generate a real sense of belonging and demonstrated NWAS's deep gratitude.
Alongside NWAS, we work on creative campaigns for a number of NHS organisations including The Christie Hospital, NHS Oldham, NHS HMR CCG, Manchester CCG alongside regional ad hoc projects and on-going marketing support.
As a full-service marketing agency we offer our services under strategic partnerships or to compliment the skillsets of in-house teams.
We're renowned for our strategic and creative approach to achieve efficient, engaging and results-driven outcomes.
To find out more email us at clients@cornerstonedm.co.uk
Keep up to date with our client work and latest industry insights by connecting with Cornerstone Design & Marketing on LinkedIn