Email marketing agency Manchester
Generate sales, enhance engagement, attract new customers, create brand awareness and reward customer loyalty. What's not to like?
Take a look at your inbox. Like ours, it probably includes countless messages featuring a compelling communication designed just for you. Welcome to email marketing.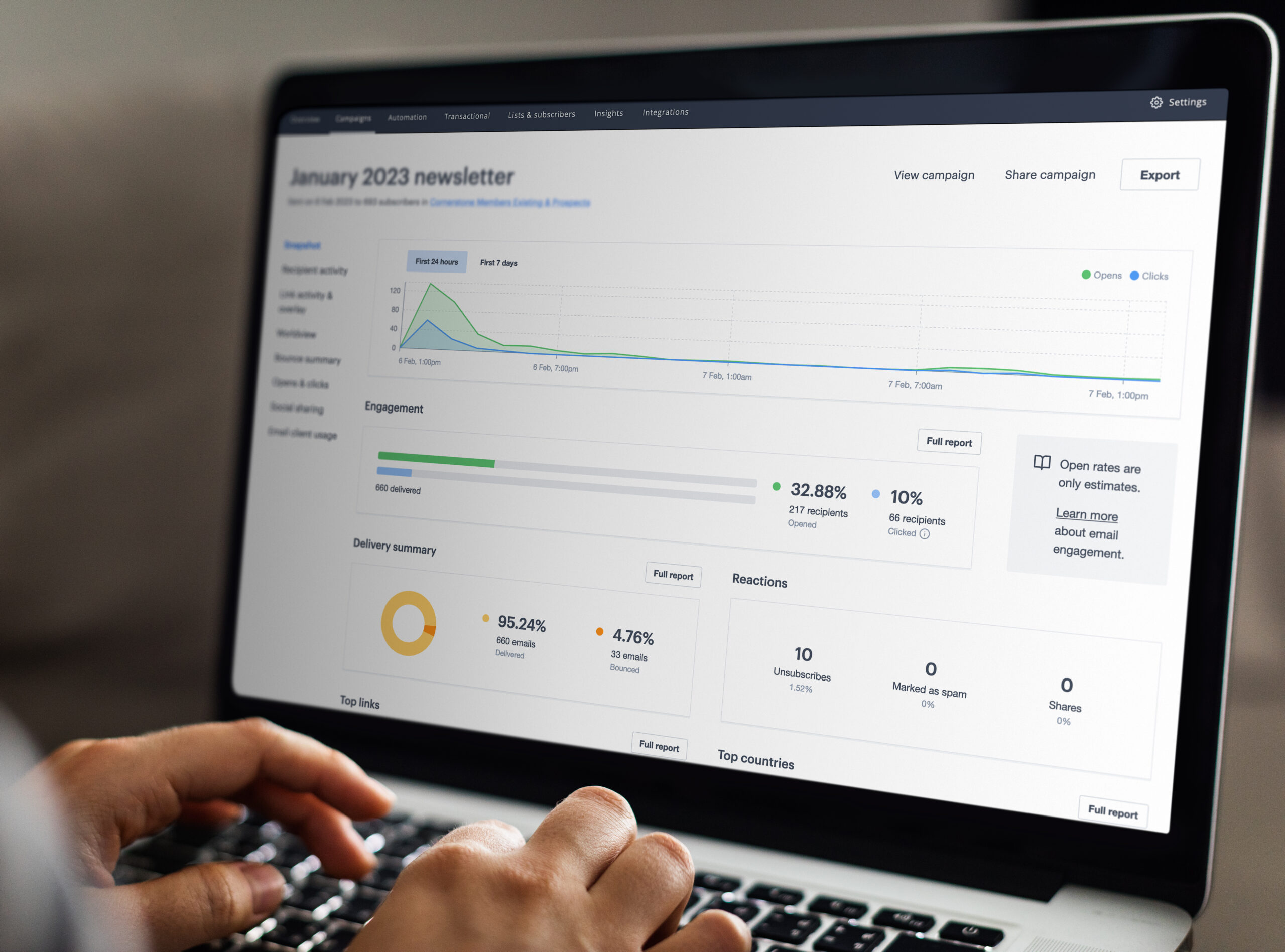 What is email marketing?
Fundamentally, email marketing refers to the use of email communications in a marketing strategy to reach specific business goals. Emails can be used to generate sales, enhance customer engagement (newsletters are a good way of doing this), attract customers, create brand awareness and reward customer loyalty. It can also be used for internal communications and stakeholder engagement.


Why you should use email marketing
For existing clients and customers, email marketing emphasises communication and awareness. For potential customers, emails can be used to entice and attract them.
In other words, the most effective email marketing campaign can be targeted in such a way that it caters for different audiences, or for different personas and initiatives. For example, we'll often devise one campaign designed to attract new customers, while tailoring the messaging to existing ones. Or, we could promote your business offer to attract new customers, while telling your existing customers what's on offer.
What we can do for you
As an email marketing agency, we can do everything from basic, one-off email shots to complex automation.
Email automation is a powerful marketing tool that allows you to send the right message to the right people at the right time, using automated workflows and dynamic, preference based content. This is extremely effective for nurturing leads, and ultimately, to drive sales from potential customers as well as existing ones.
We can undertake data collection, cleansing and segmentation. We can audit your current data, including where it comes from, for example, a customer relationship management (CRM) or third-party system, to ensure it is data protection (GDPR) compliant, and create future-proof data segments in any pre-existing email platforms – or by doing it externally before importing into a new email marketing platform.
We can create these segments based on user journeys and intent in order to create automated email communications that engage your audience and encourage what is known as objective fulfilment – that could be increased sales, brand loyalty etc.
How we do it
If it's an automation project, we'll create a user journey flow map to plot out which email they should receive at which point, and for each user segment.
We create a robust strategy which looks at:
Auditing any current activity.
Setting KPIs.
Establishing tone of voice.
Email template assessment.
List segmentation.
Integration with other systems.
Subscriber growth plan.
Content plan.
Analytics and tracking strategy.
From here, we can develop bespoke, editable email templates before creating each email, which is thoroughly tested before being sent at an optimal time to a particular subscriber segment or list.
What are the different types of email marketing?
Newsletters
As we mentioned earlier, these are highly effective for keeping your customers tuned into your brand with information on new products or services, industry news, important announcements, or any changes in your business that you want to communicate.
Welcome messages
Let your first-time clients know they are appreciated after their online registration, for example. They can also be used for sales generation, follow-up leads, or brand awareness. They work well with a special offer to further generate customer interest or action.
Anniversary or birthday messages
Boost your customer retention and loyalty by sharing milestones important to the brand or the customer. Usually accompanied by a special promotion or discount code.
Limited time offers
This type of campaign is used to target customers in sales, especially those who have purchased similar items or those who have not completed their purchase. These too are usually accompanied by a special promotion or discount code, but with an expiry date.
Abandoned basket emails
Again, for those involved in e-commerce, sending an email about an abandoned cart can encourage customers to complete their purchases. These emails can be automated messages that ask the customer to complete their purchase within a specific timeframe.
This is just a taste of what's possible; we can devise and tailor any campaign exactly to your needs.
Let's take a look at some statistics
According to email marketing platform Campaign Monitor – other platforms are available – the average open rates of advertising and marketing emails is 20.5%, with an average click through rate (CTR) of 1.8%.
When looking at Campaign Monitor's email statistics by day, there doesn't seem to be too much variance in how emails perform on any given day.
Overall, weekdays — as usual — tend to perform the best, with the lowest engagement numbers falling on the weekend. Here's what they show:
Best day with highest email open rates: Monday (22.0%).
Best day with highest click-through rates: Tuesday (2.4%).
Best days with highest click-to-open rates: Tuesday and Wednesday (10.8%).
Email unsubscribe rates were virtually identical throughout the week (0.1%).
Of course, these are just indicative stats, our digital team will work with you to determine the optimal timings for your particular campaign.
Get in touch
As a full-service marketing agency, we have all the tools – expertise and creativity within marketing strategy, design, digital marketing, and PR – to meet all your marketing requirements for a successful email marketing campaign – from strategy and planning to copywriting through to design and implementation.
If you are interested in harnessing the experience, expertise and professionalism of Cornerstone for your email marketing, get in touch.