How a long-standing relationship blossomed into an outstanding collaboration
Re-designing and re-developing a WordPress website for Trustgreen, which provides a sustainable open space management service, saw the blossoming of our relationship with the award-winning company.
Traditionally, open space management was adopted by local and parish councils, but budget constraints have led to a shift of opinion in favour of using specialist third party companies like Trustgreen to take on the responsibility for routine management and maintenance of shared open space in and around residential areas.
But what sets Trustgreen apart from the run-of-the-mill is its passion for sustainability and working with its residents to live healthier, happier lives – from providing the basics such as clean water, shelter, warmth and hope, to creating natural green spaces which bring immeasurable benefits to health and wellbeing.
Capitalising on a decade of growth and acclaim
After a decade of growth and acclaim for its green credentials, Trustgreen – holder of a prestigious International Green Apple Environment Award while striving to achieve Biodiversity Net Gain (BNG) on all its managed sites – had outgrown its existing website; an ageing, off-the-shelf WordPress site built with limited budget and capability.
Trustgreen wanted us to rebuild its website in line with new branding it had been working on, and to take advantage of our exceptional WordPress development skills that would provide the new site with stability, durability and robust security, not to mention market-leading user experience (UX) and user interface (UI) for a simple, seamless customer journey.
Our working relationship with Trustgreen spans many years, originally based on the web support and maintenance services we provided for its old site, built by another company before Trustgreen's re-brand when the business was known as Trustmgt.
It was time to take our collaboration to the next level.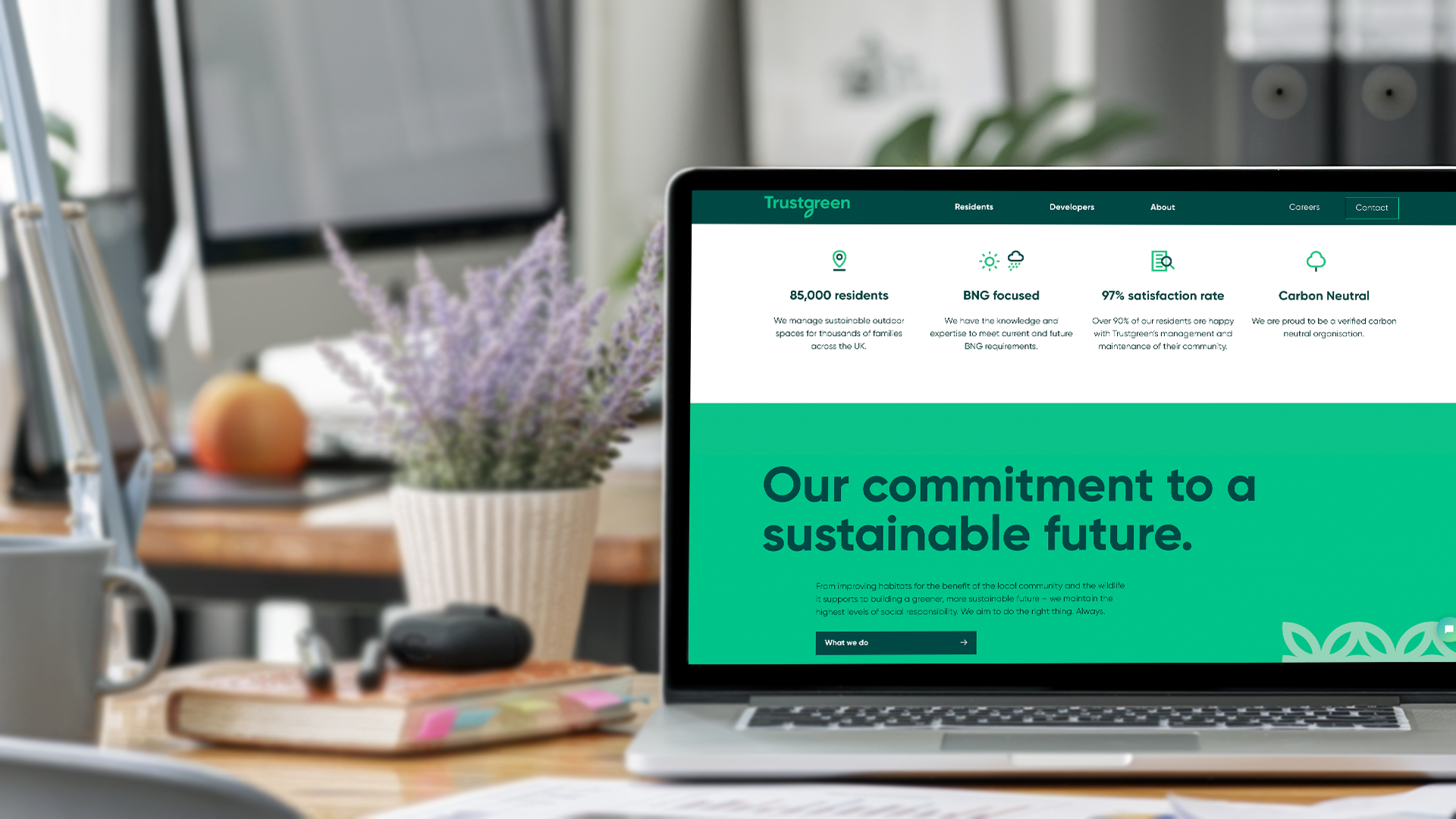 Bringing objectives, vision and branding to life
Working closely with the client, we took time to delve into the business to understand its requirements and integrations, which enabled us to form a detailed specification and competitive project quote. Once approved, this allowed us to carry out our UX process.
Members of the Trustgreen team visited the Cornerstone offices to work with our MD David, Technical Lead Phil and Head of Digital Jess, so they could form a deep understanding of the company's objectives, vision, customer journeys and operational requirements.
From there, the project team formed a full UX strategy, which was supported with wireframes and site maps to ensure the new site's foundations and structure were very much on point and designed for success. The work was presented to Trustgreen's team and was very well received.
With minimal revisions and adjustments, we embarked on our creative process in line with a newly refreshed brand identity the Trustgreen team had been working on.
Our designer Dave spent time considering Trustgreen's new brand identity to integrate it into his work so the new site better reflected the company and what it did, incorporating various brand elements and introducing custom-made animations and scrolling effects to help create a dynamic effect.
Working with Technical Lead Phil, they followed the UX/UI strategy devised by our digital team to ensure the site followed the proposed user journey, was fully functional in its needs and complied with WCAG (Web Content Accessibility Guidelines) for accessibility.
The result of our exemplary communication and collaboration is the stunning online journey you see today, which you can visit here.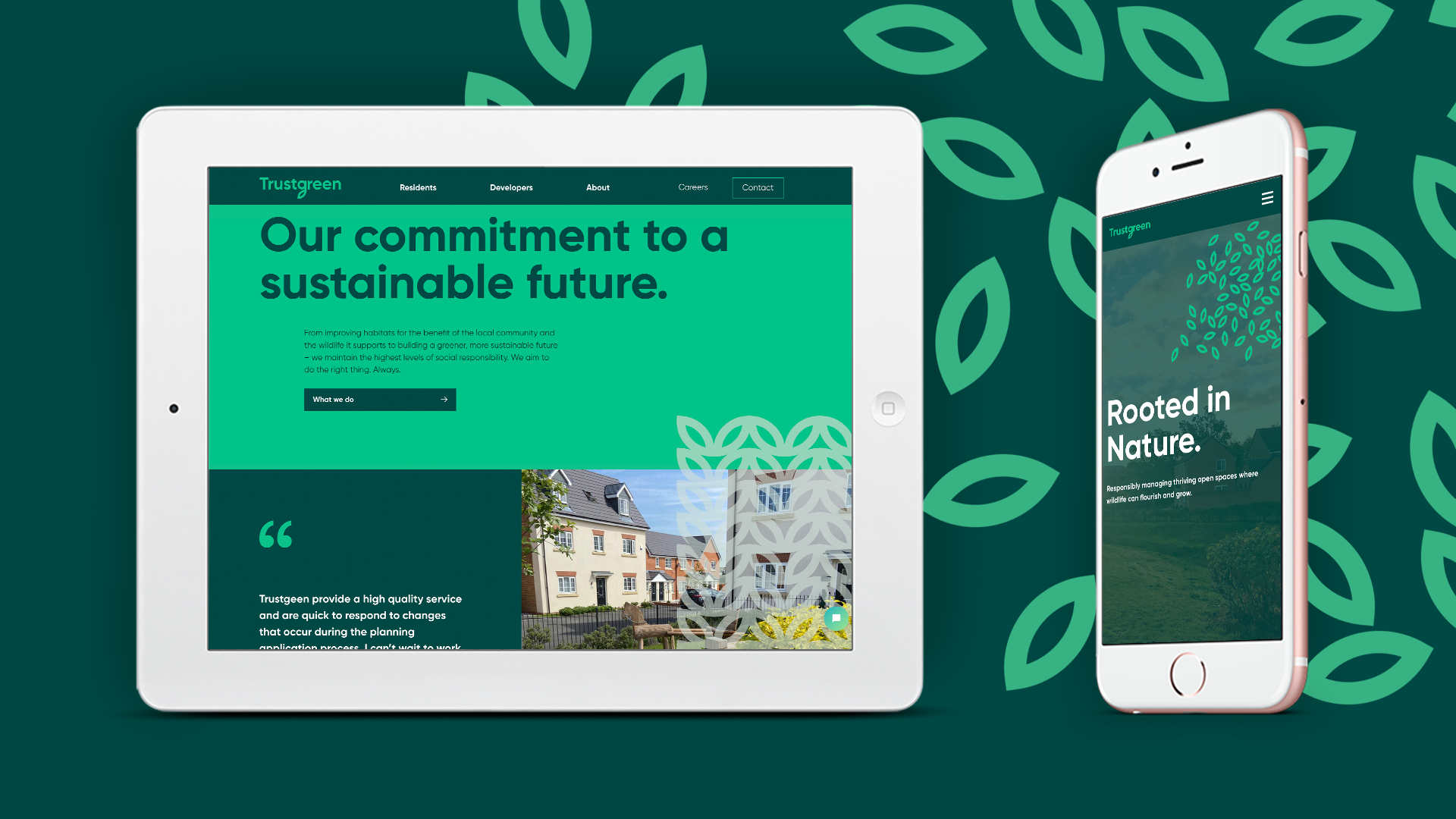 Our Technical Lead Phil and his team love a challenge, and for this site it was the requirement to deliver a solution so residents could pay their management fees online via a payment form.
The answer was a simple but effective entry-level e-commerce solution and payment gateway integration that delivered everything the client needed so Trustgreen could integrate and export into their back office account software. The site was developed using the latest technology for scalability and performance and built to accommodate all devices and screen sizes.
Security was another major worry for Trustgreen. We, therefore, delivered our impressive security solution to give our clients peace of mind. This includes:
Automated scans to ensure site doesn't contain out-of-date software or malicious content.
Multi-factor authentication to help protect against brute force password attacks, and automatic banning (blocking access) of users who attempt such attacks.
Automated website and database back-ups.
A market leading web application firewall and security monitoring service.
Using the power of carefully crafted content
Using our full service approach, our public relations (PR) team sprung to life, helping to craft content for Trustgreen that was on brand, engaging, carefully targeted to user preferences and lovingly constructed for its SEO value.
Our writers took the time to speak to the Trustgreen team to learn about their company ethos, the market, its customers and culture, so they could form an appropriate tone of voice that positioned the business appropriately with content that was fitting, engaging and emotive.
The end results speak (or read) for themselves!
The full-service approach paying dividends
The site was built to current web standards, putting accessibility and the customer journey at the forefront of the build, as well as being backed by a robustly set up SEO-friendly code base.
In the first four months after launch, the new website has seen year-on-year (YOY) increases of 48% in users and a 54% increase in sessions on site. Organic search sessions have also increased 12% YOY proving the strong SEO value of the site and web content derived from our full-service approach, ensuring SEO is considered from UX stage right through the development.
If you'd like to partner with Cornerstone and benefit from our full-service approach to website design and development, get in touch with us here.
Get in touch