WordPress development agency
We don't just 'do' WordPress, we live and breathe it.
If you are looking for a bespoke-built WordPress website that you can update with minimal fuss, ranks well in Google, and means you don't have to contend with any code yourself, then a Cornerstone built WordPress site is likely the platform for you.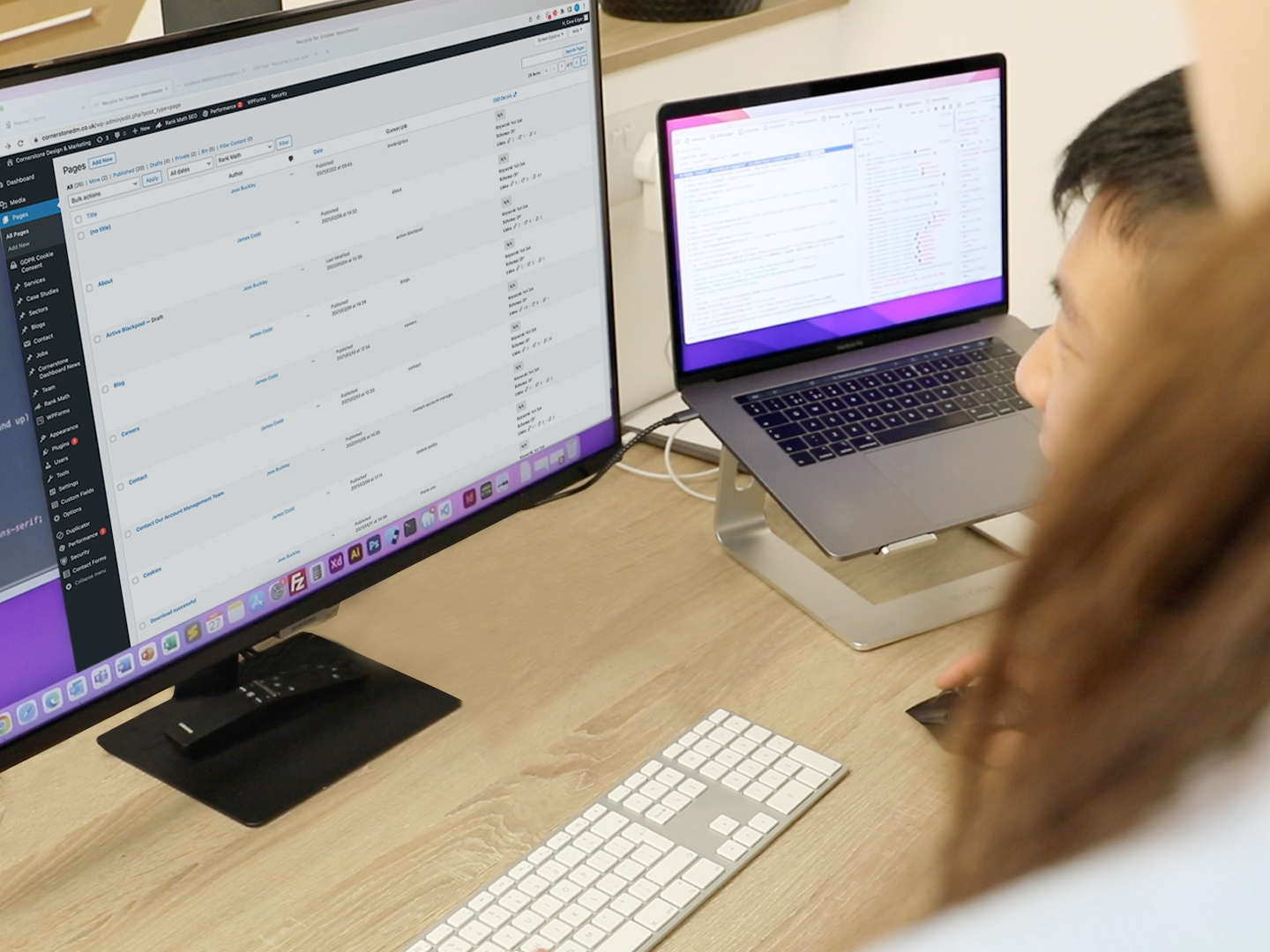 What is WordPress?
WordPress is a content management system (CMS) that allows us to host and build websites that are totally bespoke to our clients, but easy to use and manage from a day to day marketing standpoint, giving users an intuitive, world class user interface (UI) for administering their website.
Whilst WordPress offers a whole host of third party plugins and themes, we're firm believers in lightweight, custom, hand crafted code wherever commercially sensible to do so. That's why each and every one of our builds are bespoke, being carefully developed with user experience (UX) from the outset, beautifully designed creative at its core and strategically considered SEO at its heart. All of this is merged in a bespoke web build that is W3C compliant, and in line with Google guidelines and best practices.
With WordPress now powering 43.2% of all websites on the internet – a figure which continues to rise consistently – we can help you harness the power and benefits of this world-renowned CMS.
Living and breathing WordPress
Here at Cornerstone, we don't just 'do' WordPress development, we truly live and breathe it. We carefully hand craft bespoke themes for our clients which are tailored to commercial requirements and objectives, and immersed in the user journey to maximise ROI and positive customer sentiment.
Most website owners choose WordPress for its flexibility, beginner friendly admin panel, and massive theme and plug-in library. WordPress when developed well, can be a true commercial support for a business wanting to grow and compete within the market.
And by choosing a WordPress website, you'll be among illustrious company with organisations such as Sony Music, PlayStation Blog, Time magazine and even the White House all employing WordPress sites.
Our specialist WordPress developers can provide expert design and development services to gain a significant business advantage and return on investment for your upcoming web projects.
We will guide you each step of the way and provide you with a WordPress development package that meets the needs of you and your business. 
How we do it
Cornerstone design and develop powerful WordPress sites for a huge variety of brands and clients, both nationally and internationally across a range of sectors – all developed to achieve their business goals.
Whether you require a brochure site, directory or web portal, ecommerce website or a more complex API-integrated site, which needs to pull in complex data and organise it to display in your WordPress front-end, we can do it.
Our process begins with collaborative research with the client, followed by user experience (UX) workshops. Sometimes the two merge into one. We then create user personas, UX strategy, information architecture and site-mapping to accompany wireframes (mock-ups) to be signed off by the client.
As a full-service agency we have all the expertise needed to take account of your brand and marketing strategy, design, SEO, digital marketing and PR requirements.
We can also provide a variety of support packages for ongoing maintenance, WordPress hosting and proactive technical support if you need it.
Providing everything you need
User Experience (UX) Design
All web projects start with our carefully honed user experience (UX) process, which has been developed over our 15 years in the industry. We spend time researching your market, customers, competitors and web traffic before conducting a UX survey and workshop, that helps us gain valuable insights about customer journeys and personas, allowing us to form a strategic route forward and wireframes that set you apart from the competition, and encourage repeat visits and conversion from your website users.

WordPress design
Our in-house design team are familiar with working with WordPress sites and create beautiful layouts and elements with a web build in mind. This ensures our development team can develop the site to the exact specification and speed up development time, making your web project as efficient as possible from start to finish.

WordPress development
Our team has more than 100 years' of combined experience developing with WordPress, and we are confident we can develop anything for your business. We've seen WordPress evolve since it's launch as a simple blog platform, meaning that whatever your WordPress requirements are, our team are well positioned to develop a site that will fit your business goals and vision.

WordPress maintenance
Once a site has launched, Cornerstone's dedicated web team can take care of all of its needs and requirements, including critical security updates, performance monitoring, and WordPress core, plug-in and theme updates if necessary.  We'll take care of all the ongoing maintenance a successful WordPress website needs to perform as efficiently as possible.
WordPress marketing
Our digital marketing team are very familiar with WordPress so whether it's posting a reactive news article about a current topic, or setting up conversion-based ads to promote your site to new markets and audiences, from SEO to PPC, we can help get your site out there.
Our WordPress expertise in action
We work with a wide and varied range of commercial businesses and organisations, as well as a diverse roster of public sector, not-for-profit organisations.
One of them is Yes Manchester, an award-winning registered charity working with people looking to improve their lives in some of north Manchester's most deprived districts. The charity runs centres in Newton Heath and Collyhurst and delivers outreach across north Manchester.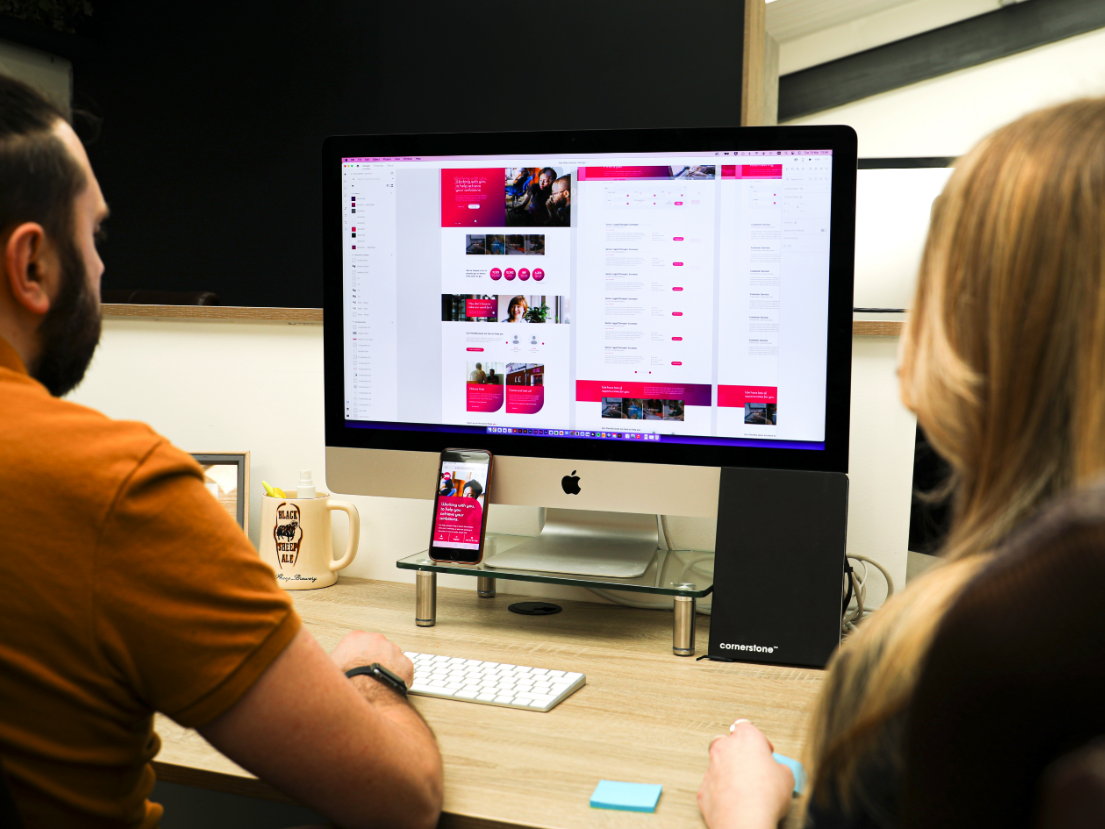 Since 2013, Yes Manchester has helped more than 1,000 north Manchester residents gain employment or launch their own business. It has helped more than 500 residents to gain formal training and over 8,000 with access to computer facilities and the internet. Overall, its three centres have had more than 107,000 visits and its services have generated an estimated total social value of £15million.
As its long-standing marketing partner, Yes Manchester asked us to develop a new WordPress website to help residents, staff and stakeholders get back into work, and develop their careers and skills. It also had to comply with the very latest legal and website standards and be easy to maintain, update and adapt in the future, as required – exactly what WordPress is renowned for.
Sheila Sturgeon, Yes Manchester Chief Executive says: "We needed a new website to serve our changing needs, to comply with the latest disability accessibility, internet and data protection standards, and to provide a range of new features. These include appointment-booking, interactive client profiles, the ability to receive donations and the ability to send automated messages to clients.
"Customers can now create their own profiles on the website with job preferences, skills, areas of interest, training, background and personal information. They can also upload their CVs for employers to see. Yes Manchester staff can analyse individual profiles and partner organisations, businesses and employers can engage with Yes Manchester on community projects, skills, training and job vacancy opportunities."
The new website is now fully compliant with the legal requirements of the Disability Discrimination Act (DDA) and technology standards of the World Wide Web Consortium (W3C), a global organisation which aims to develop the internet towards its best potential.
Let's talk WordPress
It's worth re-stating, the possibilities are endless when it comes to the creation and execution of a WordPress website. Whether it's a landing page or a full e-commerce site, an online learning academy or an interactive informational site for your business or organisation, we can build it for you. Get in touch with us.