Creativity and precision combined to create hoarding for Living Quarter's South London renovation
Hoarding panels are a great way of protecting your building or development, but they're also a great advertising or promotional tool – making them a high impact, low cost solution.
When we were approached by one of our clients to provide hoarding panels to surround a building they were renovating into high quality student accommodation in the Tooting district of south London, we set about creating a highly visual solution that reflected the quality of the development and its location.
The aspirational lifestyle imagery had to portray exactly what was being created while the messaging had to be clear and succinct – grasped at a glance by passers-by.
And given the size of the site – it required 61 panels – the cost effectiveness was second to none.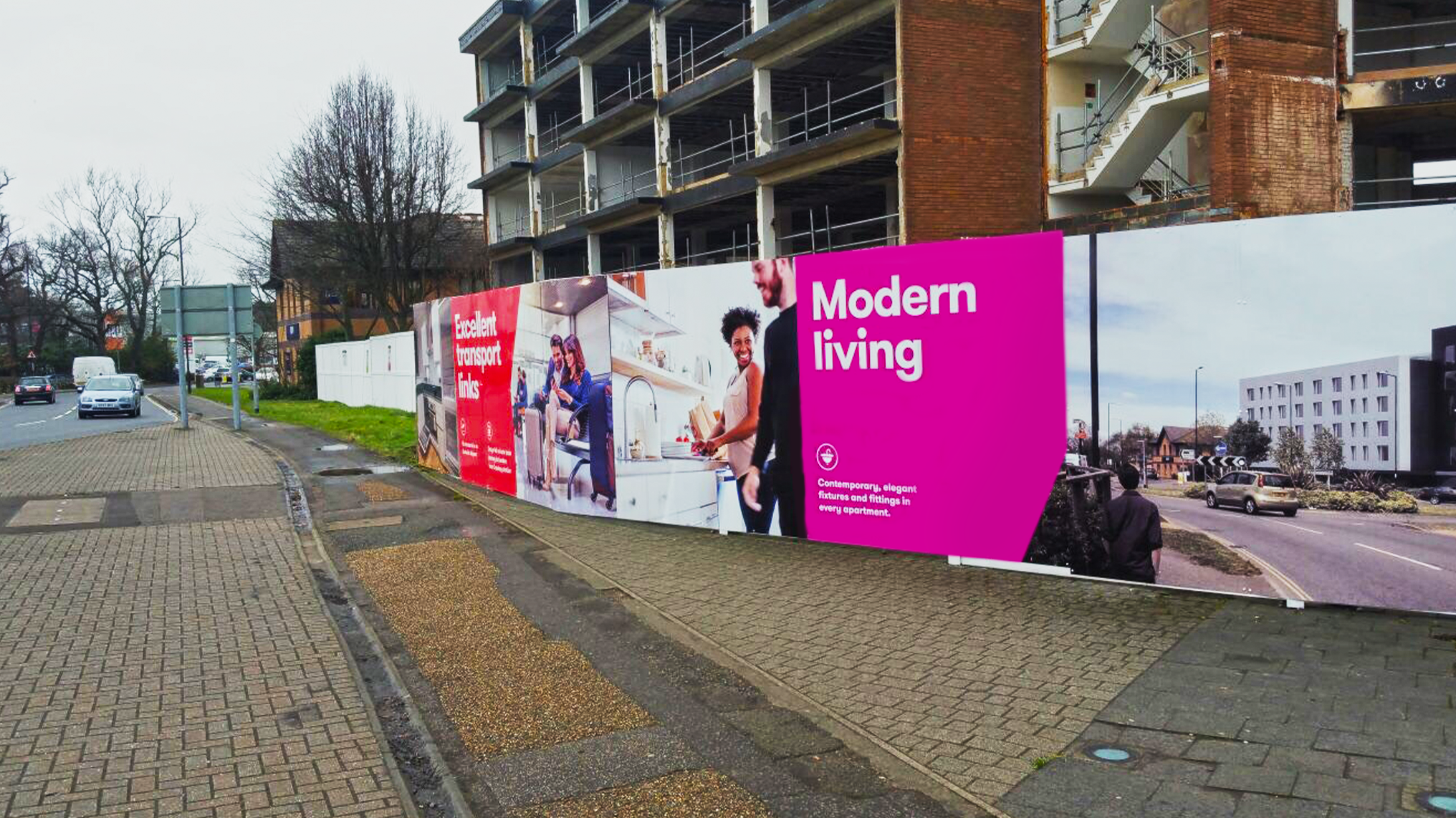 Designing the solution
Living Quarters is part of the Interland Group, a property investment and development company that has gone from strength to strength for more than 35 years. As a full service agency, this wasn't Cornerstone's first encounter with the company, having previously provided hoarding, brochure design and digital services, including the creation and delivery of the Living Quarters website.
Their design brief asked for student lifestyle imagery, with an overall look and feel that reflected the quality and leafy, green space elements of the site, which was within a stone's throw of open parkland. They also wanted the messaging to call out that the accommodation was within easy reach of south and central London colleges and universities.
Cornerstone's award-winning design team boasts over three decades of experience and brief interpretation acumen.
They are responsible for bringing countless campaigns to life and that's where the brief first landed, along with a plan of the site, where the hoardings were situated and the dimensions of the panels.
The department is the creative cog of Cornerstone, offering expertise in illustrating brand vision, eye-catching publicity and campaign concepts, to create a plan that ensured all the artwork was precise and on message.
We then created an installation plan and shared it with the client – the aim, as it is with everyone we work with, was to make the project as easy and problem-free as possible.
An exercise in precision
While the brief was simplicity itself, the execution called for precision design and execution. All the panels had to be numbered, arranged and split perfectly to ensure everything fitted the space – no mean feat when you consider the hoarding panels came in an array of different sizes!
It was akin to designing a jigsaw – albeit with straight edges – in Manchester that was going to be assembled more than 200 miles away with every single piece aligned to the millimeter.
That daunting task landed on the desk of our graphic design guru Sarah, who says: "It was a very technical project to get right. Each hoarding panel comes in a set size so you have to make sure each panel of the artwork matches the size exactly.
"We were just producing the artwork for the panels and Living Quarters were going to be installing it, so we produced a colour-coded plan showing each set of hoardings, their sizes and numbered thumbnails of the artwork that was going on them. All they had to do was look at the plan and match the artwork to the colour-coded area. So, for example, if panels 45 to 61 were colour-coded purple they went on the purple area of the plan. It had to be failsafe, and so it proved."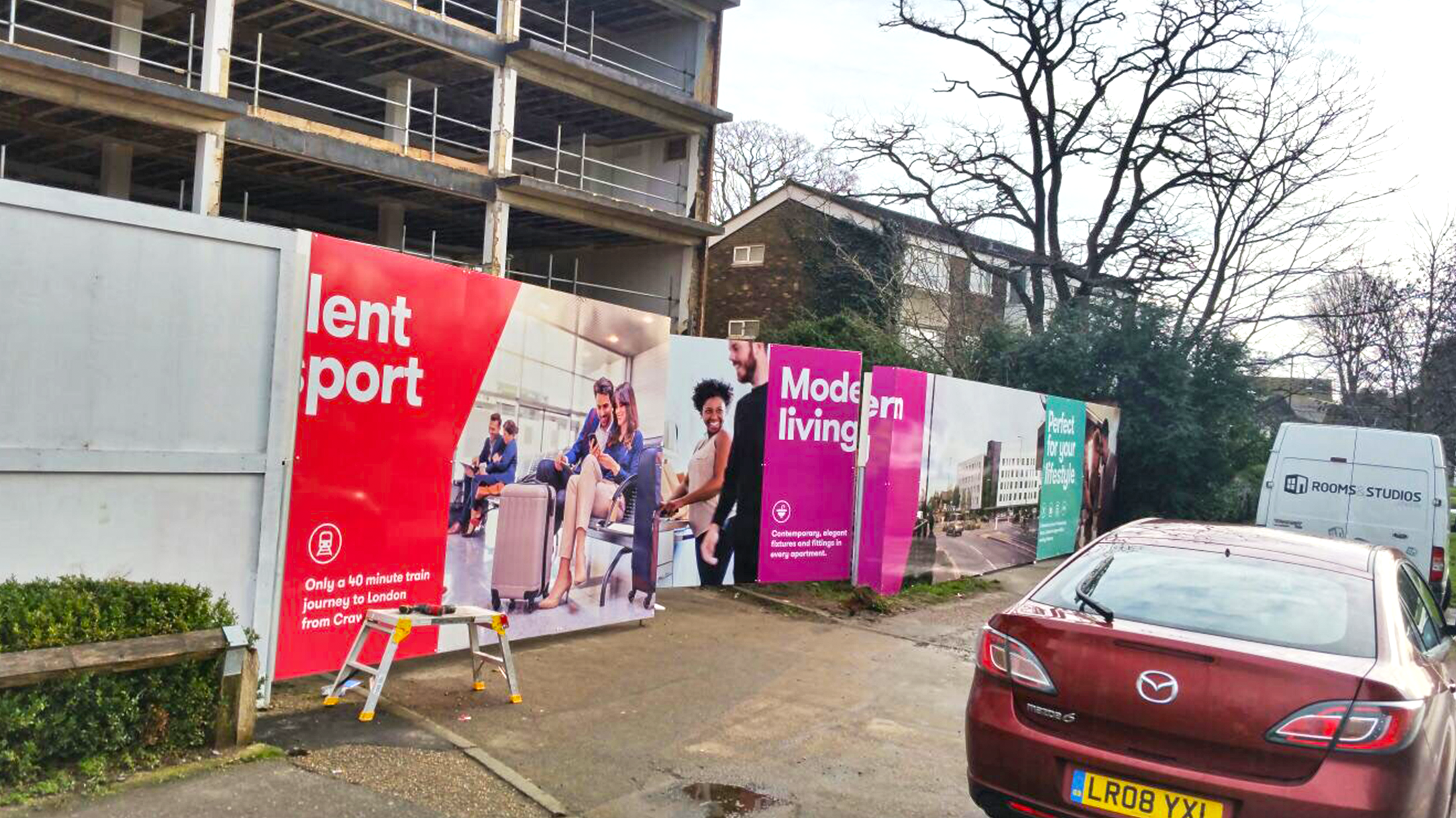 Putting the plan into action
Our collaborative process means we work closely with clients until every aspect of the design and installation is harmonised.
With everything approved by Living Quarters, the project moved on to our print room, where our hoarding board print production services offer top-of-the-range print quality, colour intensity and vibrancy with perfect finishing to create the strongest and longest lasting impact.
Supplied with the numbered artwork to match the installation plan, our production team were able to get to work creating the actual 3mm aluminium composite panels that attached to the hoarding frames. Typically, our hoarding boards are 1.2m wide by 2.4m high and most of the artwork was created at those sizes, although some bespoke panels were needed to complete the run of the hoarding.
All of our hoarding fascias are printed at high resolution, with vibrant inks to make a real impact and leave a long lasting, stunning presence.
We can provide matt, gloss and anti-graffiti laminates for all applications, and can colour match anything required to match existing or old hoardings. On this project we used a 210 gloss laminate, which has a lifespan of approximately five years, at the client's request.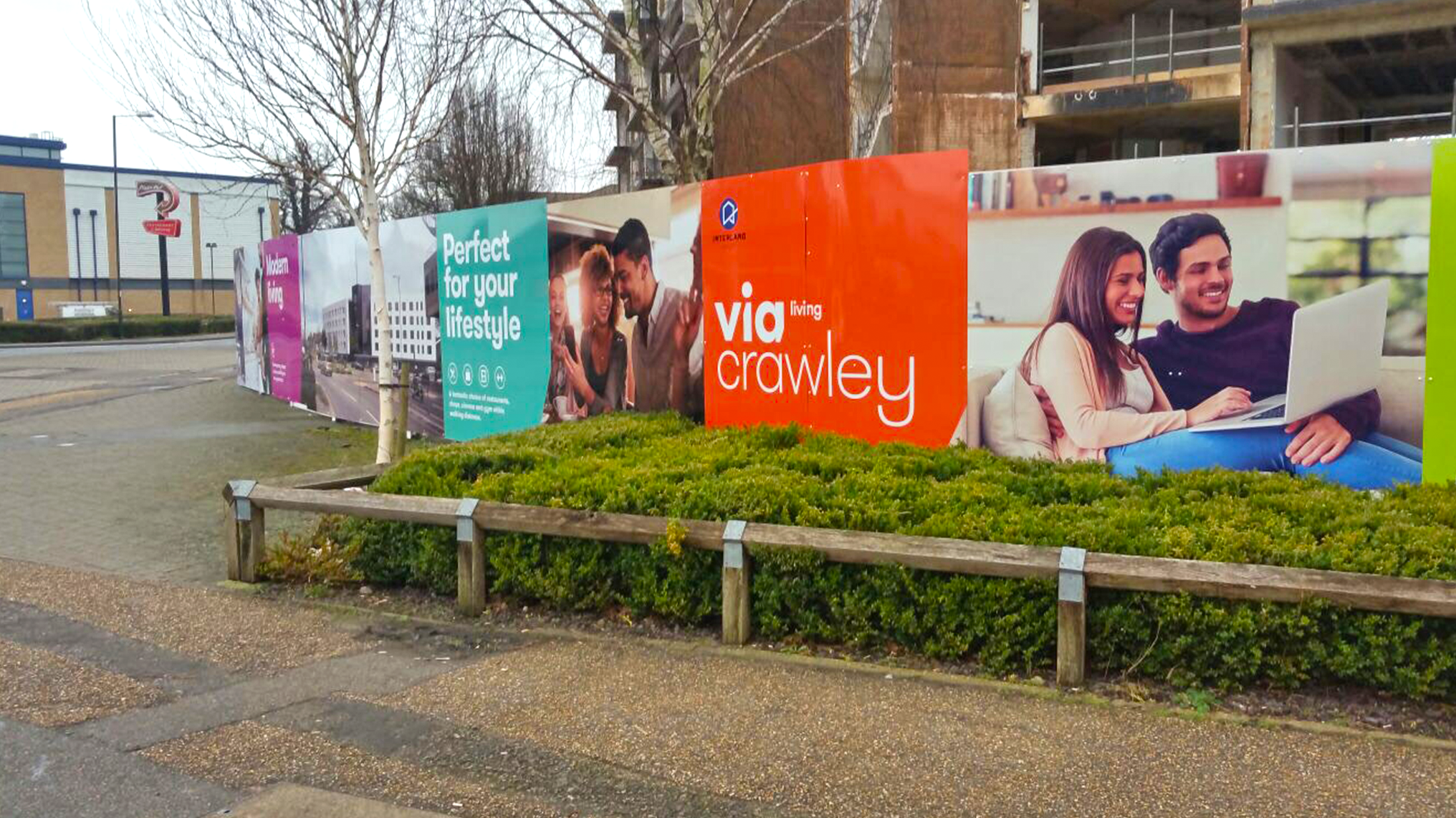 Conclusion
Collaboration, design and execution meant the whole project was delivered on time and on budget within the space of two months.
No job is too big or too small – we can produce whatever you want and fit it to any type of site, from level areas to sloping and curved sites.
And given the size of the site – it required 61 panels – the cost effectiveness was second to none.
Get in touch
We offer a comprehensive site survey service where our installers will help find the right solution to your hoarding board requirement.
They'll take you through installation tips and techniques, and advise on best materials, layouts and formats. We'll ensure your project is well informed, planned with accuracy and initiated with the right materials and products to guarantee a pristine end result.
As this project proves, investing in good design is critical and Cornerstone's design team boasts over three decades of combined industry experience to help bring any project to life.
As a full service agency, we are more than capapble of including your hoardings in a full marketing strategy, or a wider campaign, if you choose. We'll make sure your hoarding is consistent in brand identity and messaging, and any calls to action are optimised. We can make your hoarding as creative, inventive and interactve as your budget allows.
Get in touch today and allow us to bring your hoarding panels to life.