Unified branding that gives all the right trust signals
You've heard the phrase 'Great oaks from little acorns grow'?
Well, our collaboration with one of Greater Manchester's largest leisure trusts was along those lines.
Active Tameside operates leisure centres, children's attractions and community schemes throughout its metropolitan borough.
The trust initially approached us for a website development.
But once we'd unearthed the breadth and depth of its structure and offering, we knew there was so much more we could do to elevate and differentiate this caring and supportive not-for-profit charitable organisation.
That's when the green shoots of a full-service partnership began to sprout…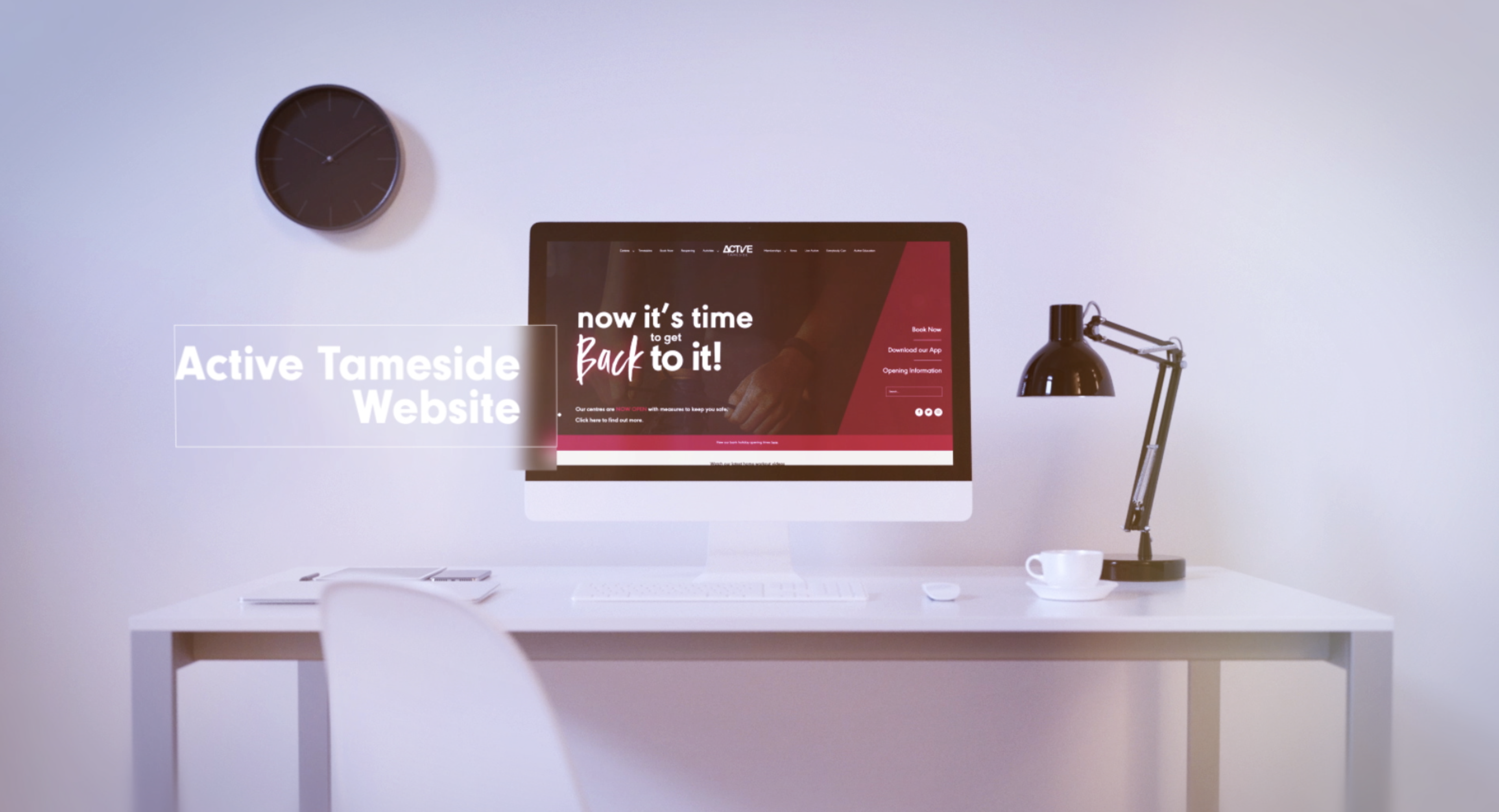 A branding workout
Gyms are gyms.
But leisure trusts are so much more, providing huge value to the communities they serve and making a genuine difference to the lives of many.
Active Tameside provides accessible, high quality gyms, swimming pools, sports facilities and leisure activities as well as highly valuable services through the provision of primary school PE programmes, a GP referral scheme, outreach services to people with learning and physical disabilities and much more.
The trust's offering had expanded and evolved over the years and consequently it's branding identity had failed to keep up.
There was a lack of logo consistency and cohesive branding between its services and attractions.
And that was causing problems for cross-selling to its other offerings.
There was a barrier to clarity and awareness that these offerings were even run by the trust.
For example, health and fitness members were unlikely to know there were also children's attractions they could take their families to.
A branding workshop got things on track; we established a branded house approach for all the different services and a multi-channel comms strategy which would seamlessly umbrella the organisation and define its position as a hub of health, fitness and wellbeing.
We created a tone of voice to help it project its caring, supportive and accessible-to-all ethos and values throughout all its communications.
The acorn
Granted, it's big acorn but the new website planted the seed of a strategic partnership which continues to flourish and branch out.
Active Tameside were looking for a complete redesign of their WordPress website to improve usability, provide more cohesion between their various venues, generate better brand positioning, boost speed and bolster security.
We designed and developed the new site on a bespoke built framework, putting UX at its heart.
This involved reworking the sitemap structure, designing over 20 webpage formats, and streamlining the process of searching, booking and paying through their website via complex API integrations with back office systems.
We identified three main calls-to-action from existing users' habits and highlighted these on the website to drive enquiries and sales.
To unify their venues, we drew in data from Active Tameside's various centres into the main website, uniquely introducing a way to connect all 10 sites under one website roof.
This allowed staff from all locations to use one simple system to add classes and manage members, which would automatically update various pages of the website, cutting down their administration time and hosting and web maintenance fees.
The website includes intuitive flourishes such as accordions to display depth of information succinctly, filter systems, plus a careers page with a filter system and text memory.
After launching in September 2018, Active Tameside gained huge online traction, improving web sessions by 11% and pages per session by 29%.
The finished product and refined branding helped to give the trust a strong and unified presence to rival its commercial competitors.
Socially not awkward
Social media is a key marketing tool for leisure operators and presents them great opportunities to reach out and engage with members and customers and showcase its offerings.
We focussed on renewed efforts across Active Tameside's social channels and thanks to lively, entertaining and informative content, audience and engagement quickly grew to create an invested digital community.
There was a 51% rise in web sessions via social media and a 15% increase in pages visited per session.
Facebook engagement increased by 87% with a healthy 16% of these being shares, showing that Active Tameside's content continues to reach wider audiences.
Facebook reach has also risen significantly by 265% since paid adverts were introduced, with the top post reaching 4,674 people with 266 clicks.
These significant results exemplify how a unified brand across marketing activities can strengthen consumer perceptions and ultimately improve brand engagement.
The oak
From all of the above a marketing retainer grew. We now provide Active Tameside with a comprehensive range of marketing services through a monthly retainer.
It includes marketing strategy, social media marketing, PR and copywriting, design, email marketing, regular multi-channel campaigns, digital reporting and web maintenance – all within one neat and tidy retainer package overseen by a dedicated account manager.
And let's not forget our production department.
The re-brand was also an opportunity for Active Tameside to take advantage of our in-house print service which designed, produced and installed new signage across all its centres including bold and eye-catching internal graphics for the brand-new Tameside Wellness Centre bowling attraction.
When venues reopened following the first wave of the pandemic we designed and produced its in-centre safety signage within the tightest deadlines.
We've also created high quality videos for its annual reports and to promote its community outreach services as well as in-centre photography.
You get the picture.
We have a reputable and long-established and history of helping leisure trusts across the UK to develop strong and effective marketing strategies, allowing them to compete with larger national players.
To find out about working with us call us on 0161 213 9941 or email us at clients@cornerstonedm.co.uk.
You can keep up to date with our client work and latest industry insights by connecting with Cornerstone Design & Marketing on LinkedIn