Full service marketing with clinical precision
Not only do we have the honour of having one of Europe's leading manufacturers and suppliers of laboratory and medical equipment on our Cornerstone doorstep, we're also privileged to be associated with its impressive growth and expansion.
Manufacturing is a core sector for our agency and LTE Scientific, based in Greenfield, Oldham, was among the key drivers of our successful industry portfolio as one of our original clients almost a decade ago.
LTE is both well established and well respected within the science and medical industries, manufacturing and supplying a superior range of steam sterilisation systems and thermal processing equipment to public and private life science and medical sectors.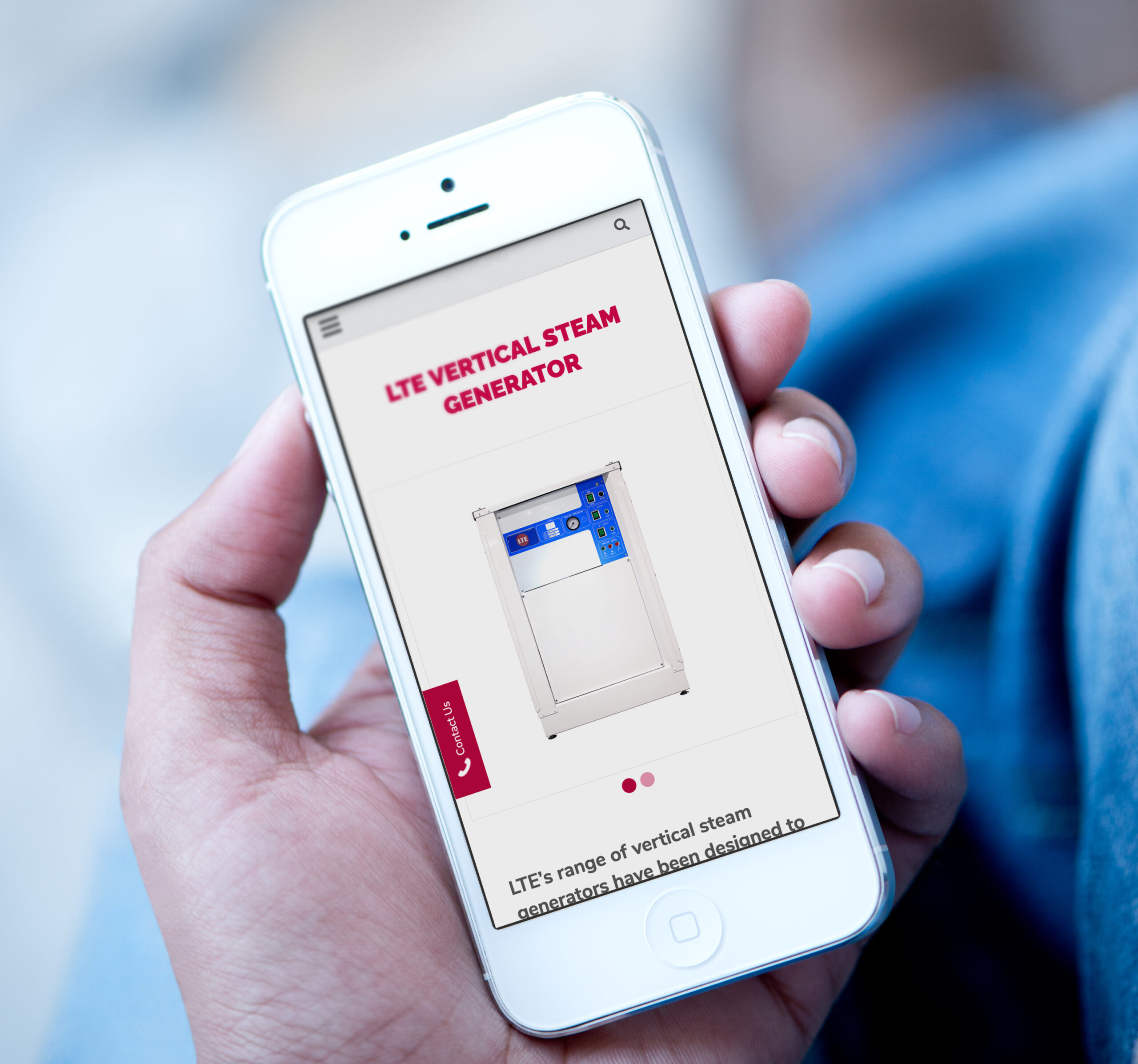 About LTE
Regarded as industry specialists, designing and manufacturing in-house, LTE is also renowned for exceptional after-sales support, providing expert service/testing of laboratory and medical equipment.
Established over 60 years ago, the family-run firm has seen significant growth and investment in recent times.
During the first wave of the Covid-19 pandemic it rose to the unprecedented challenge of urgent autoclave supply and installation to allow the critical commencement of coronavirus testing at a 'lighthouse' laboratory in Alderley Park, Cheshire – a science park offering the widest range of scientific services in the UK. It also secured further business with one of the upcoming UK vaccine manufacturers to provide special sterilisers to assist in bulk vaccine production.
And it's maintained demand and production throughout the virus outbreak to enable it to continue to supply its essential equipment and service to healthcare providers and laboratories across the UK.
Here's how we've been helping LTE – a retainer client drawing on the support of a wide range of our marketing services including digital, design, PR and video production – to maintain its presence on a national and global scale.
Professionalism, extensive expertise and exceptional customer service are essential elements to LTE's success.
When it came to developing its new website, the objective was to not only reflect these significant aspects but also seamlessly maintain its ethos of efficiency and reliability.
We were briefed to build a new site to further leverage its strong position within the marketplace, heavily focussing on a streamlined and succinct user experience.
Ahead of design we carried out a full UX (user experience) review to identify audience touchpoints and areas of functionality.
Bespoke features included an autoclave selector tool, which was custom-built to help customers easily find the right product to suit their requirements.
As well as featuring its wide range of laboratory autoclaves, sterilisation product solutions and maintenance services, the site needed to accommodate a resources portal with downloadable manuals and certificates.
We also incorporated a news and blog section to keep customers in the loop with LTE announcements and activities, as well as updates on new appointments and existing staff who are highly valued as a core asset to the business.
Our designer developed a clean and clinical visual identity for the site to reflect the nature of LTE's products.
There was emphasis on differentiating the company's three service areas of medical, scientific and maintenance and this became a strong focus within the layout and structure of the site within the navigation and banner area on the home page.
The design itself incorporates large elements of white space to echo the clinical environments of the sectors LTE serves.
We created product imagery to support this alongside video for added visual appeal and 'bursts' of the brand's signature colour; crimson red.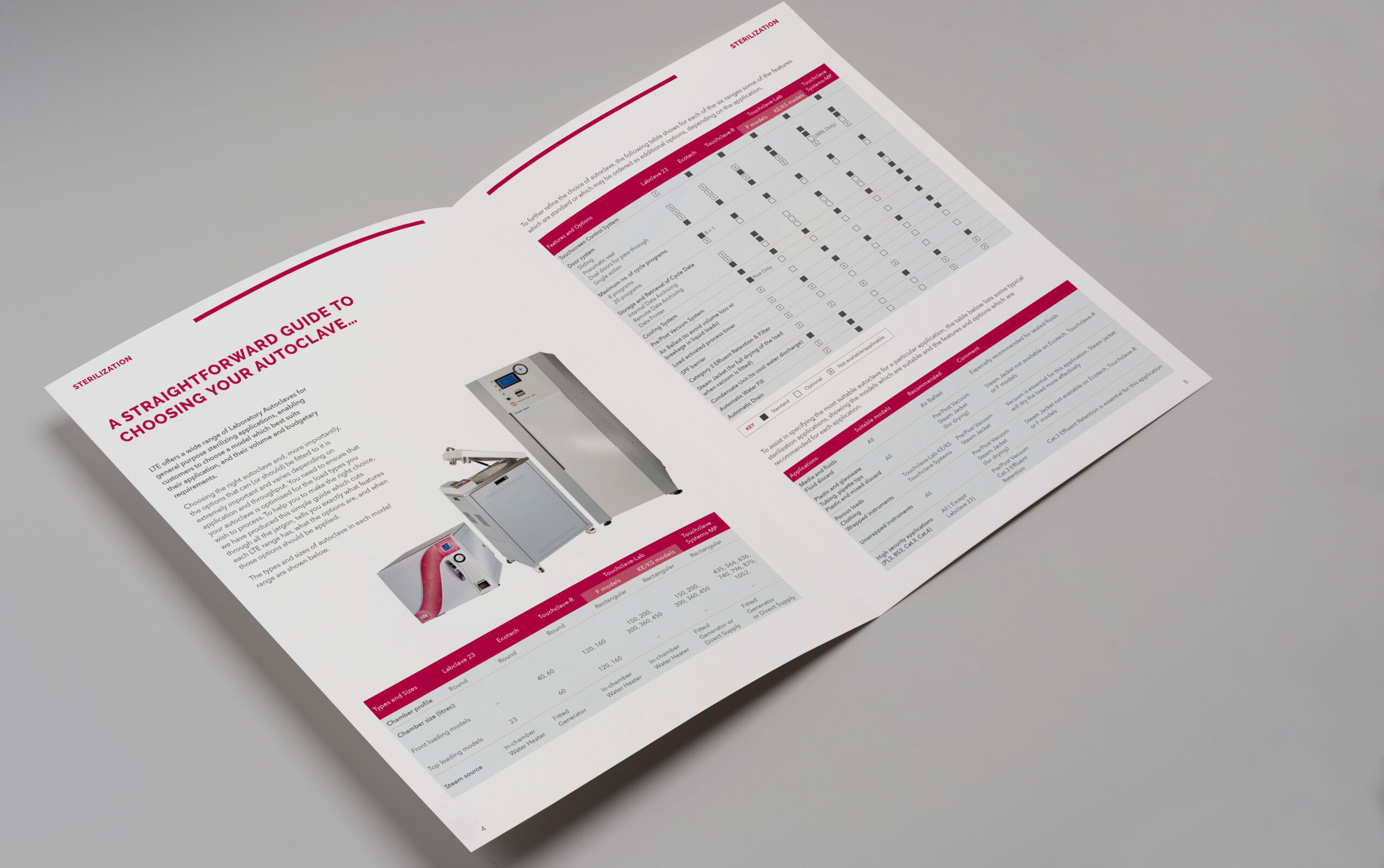 Time for an upgrade
Based on its continuing commitment to customer service excellence, LTE decided to further invest in its website in 2020, commissioning upgrades to enhance user experience through optimised navigation.
This streamlined the product search process with a brand-new product category page to showcase its entire laboratory and medical equipment ranges.
Individual product pages were redesigned to replicate the clean visual appeal seen throughout the website and navigation was enhanced to smooth and assist the product selection process.
We amplified CTAs, providing customers with a quick and simple way to get in touch with the LTE team for further assistance through a 'contact us' tab consistently displayed on every page.
As the hub of LTE's sales and marketing activities we developed a tactical digital approach to heighten search visibility and drive traffic to the site.
This was hinged on an ongoing SEO and PPC strategy designed to generate high quality reach and traffic while consistently improving Google search rankings.
Within 12 months SEO increased the number of new users by 43%, page sessions by 35% and the ranking of keywords by 15%.
PPC saw astounding results securing a 262% increase in traffic and an increase of 2.39 million impressions.
It reduced the average CPC (cost per click) by 38% and increased CTR by 0.5%.
The overall holistic strategy developed for LTE saw a direct traffic increase of 94%, confirming a huge online shift for LTE which led to them far out-performing competitor sites whilst dramatically increasing reach and engagement.
Developing meaningful relationships
In 2020 we expanded our service offering to include PR, targeting trade media and local, regional and national news and business media outlets to announce LTE business developments, product expansions and industry insights.
We're also developing a series of blogs and case studies for the website as well as exploring opportunities to expand their online video library following our production of a short video case study into an autoclave installation for the Royal Liverpool Hospital.
Initial results into shining an industry-wide and news media spotlight on LTE via two press releases into Covid-related developments, business expansion and a new product offering secured an audience reach of around 400,000.
This included coverage in industry titles such as the Health Estate Journal, the Clinical Services Journal and Labmate alongside The Business Insider North West and local newspapers such as The Oldham Times.
As part of our on-going PR strategy for LTE the exposure helped to further brand awareness within LTE's target sectors and among local and regional business audiences.
It also enabled us to develop those all-important valuable relationships with key media contacts.
Providing comprehensive marketing service including design, digital, PR, print production and signage we offer our areas of expertise under strategic partnerships or to compliment the skillsets of in-house teams.
We're renowned for our strategic and creative approach to achieving efficient, engaging and results-driven outcomes.
To find out more email us at clients@cornerstonedm.co.uk
Keep up to date with our client work and latest industry insights by connecting with Cornerstone Design & Marketing on LinkedIn