Full service marketing campaign
Marketing success by mutual agreement
Over a century and a half of heritage is definitely something worth investing in – particularly if you're a building society.
And that's exactly what we helped Chorley Building Society (CBS) to do.
With their 160th anniversary looming, CBS approached us to help them market their major milestone.
Remaining true to its traditional values as a branch-based independent mutual society, CBS was originally founded to help local mill workers buy their homes.
The anniversary was an opportunity to not only demonstrate its heritage, longevity and financial offering but also the positive impact it's had on the local communities.
CBS is a long-standing fundraiser and supporter of worthy causes within its Lancashire locality, so this was certainly a great occasion to be loud and proud.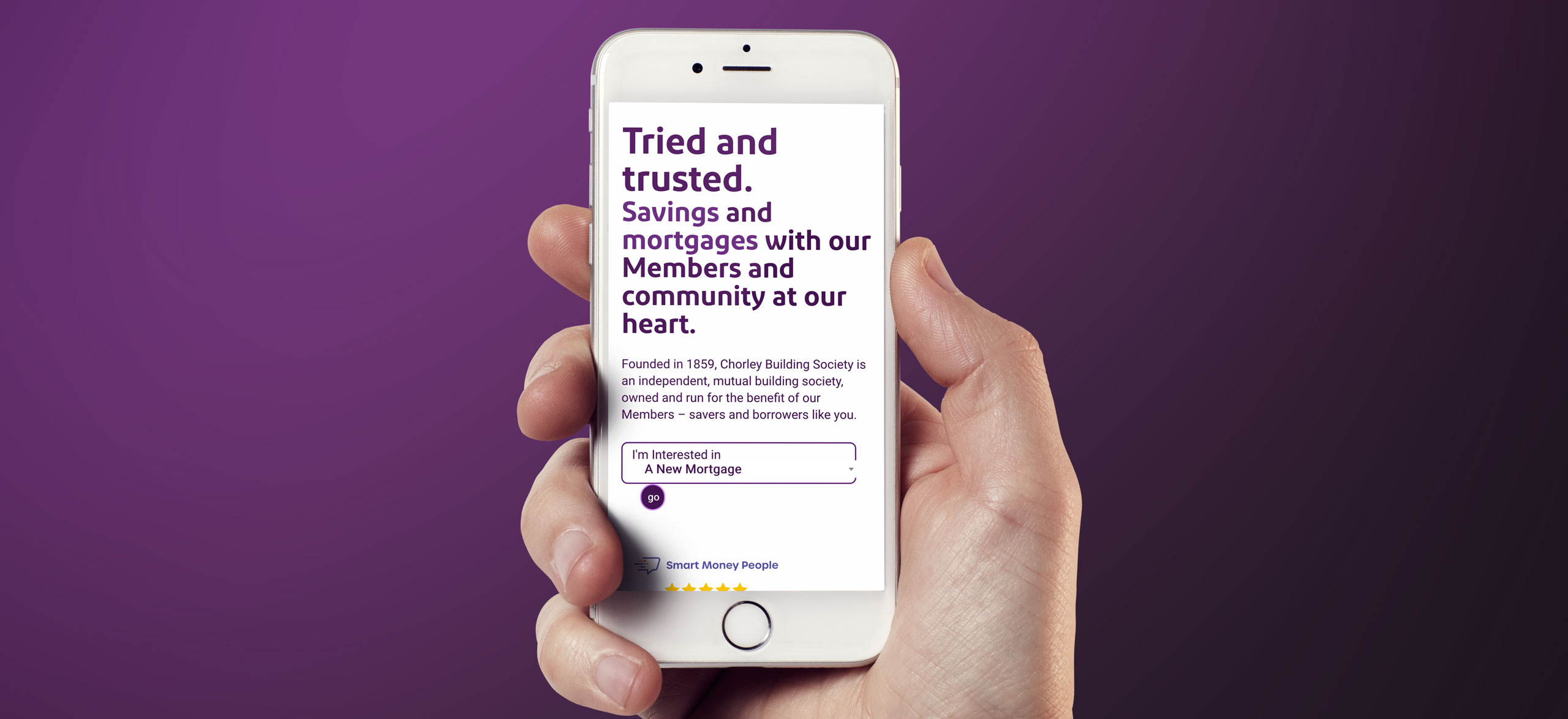 Developing an easy access campaign
A marketing plan which encapsulated the society's success, great value product offering, and philanthropic ethos was pivotal to marking CBS's outstanding anniversary achievement.
Aimed at existing and prospective members, campaign creative focussed on the theme 'At the heart of the community for 160 years'.
Using simple, relatable saving and mortgage product messaging, in branch literature, brochure and leaflet design, posters and online banners were designed to resonate with the daily lives of audiences while conveying a spirit of community togetherness.
Trust signals were a central focus of the promotional campaign demonstrating stability, longevity, reliability and dependability, evoking consistency and permanence against a backdrop of an ever-changing world.
Gaining public interest
To help leverage the 160th campaign beyond existing CBS customers, we formed a targeted PR strategy aimed at key local and regional media outlets.
This centred on the human-interest side of CBS's 160th anniversary and included coverage of staff fundraising activities in the Chorley Guardian and a full-page print and online 'workplace insight' feature in the Lancashire Evening Post, capturing total audiences of 110,000- plus.
Building on success
The huge success of the creative and comms aspect of the 160-year campaign earned further collaboration with CBS.
We were tasked with developing a new website to replace their existing offering which had become outdated and no longer reflected their brand.
After conducting a UX (user experience) workshop we worked on creating a site specifically designed to showcase their modern-day offering, simplifying the user journey to make it easier for customers to pinpoint their search.
The design was refreshed in line with the evolved look and feel that emerged from the 160-year campaign, including new imagery to resonate with target audiences and copy written in line with their newly defined tone of voice.
Due to the fluctuation of product offerings and promotions, flexibility within the build of the site was essential.
Flex content fields were a key consideration along with features to help drive user enquiry conversions.
We created mortgage and buy to let calculators as user-friendly tools to assist the customer decision making process as well as a dynamic solicitor search functionality to support conveyancing.
To ensure brand consistency, as a design agency, our design team rolled out the society's restyled identity across its Annual Report and Standard Financial Statement documents.
Whether it's a standout project or ongoing campaign we provide our full service marketing expertise to numerous sectors and industries.
Through our integrated offering – including strategy, design, digital, PR and print production – we work as either an extension to in-house marketing teams or as strategic partner, providing flexible and adaptable solutions to support all marcomms activities regionally, nationally and globally.
To find out more about working with us call 0161 213 9941 or email us at clients@cornerstonedm.co.uk
You can keep up to date with our client work and latest industry insights by connecting with Cornerstone Design & Marketing on LinkedIn.