Website design and development for a cause
A website project with greater good at its heart
We love the opportunity to be involved with a very worthy cause.
And we love to 'bee' involved in projects which showcase and inspire our wider greater Mancunian community.
The 'We Love MCR Charity' ticks both boxes!
As well as highlighting Manchester's incredible generosity through fund raising, it's a charity devoted to supporting people and communities to thrive and grow, whatever the challenges.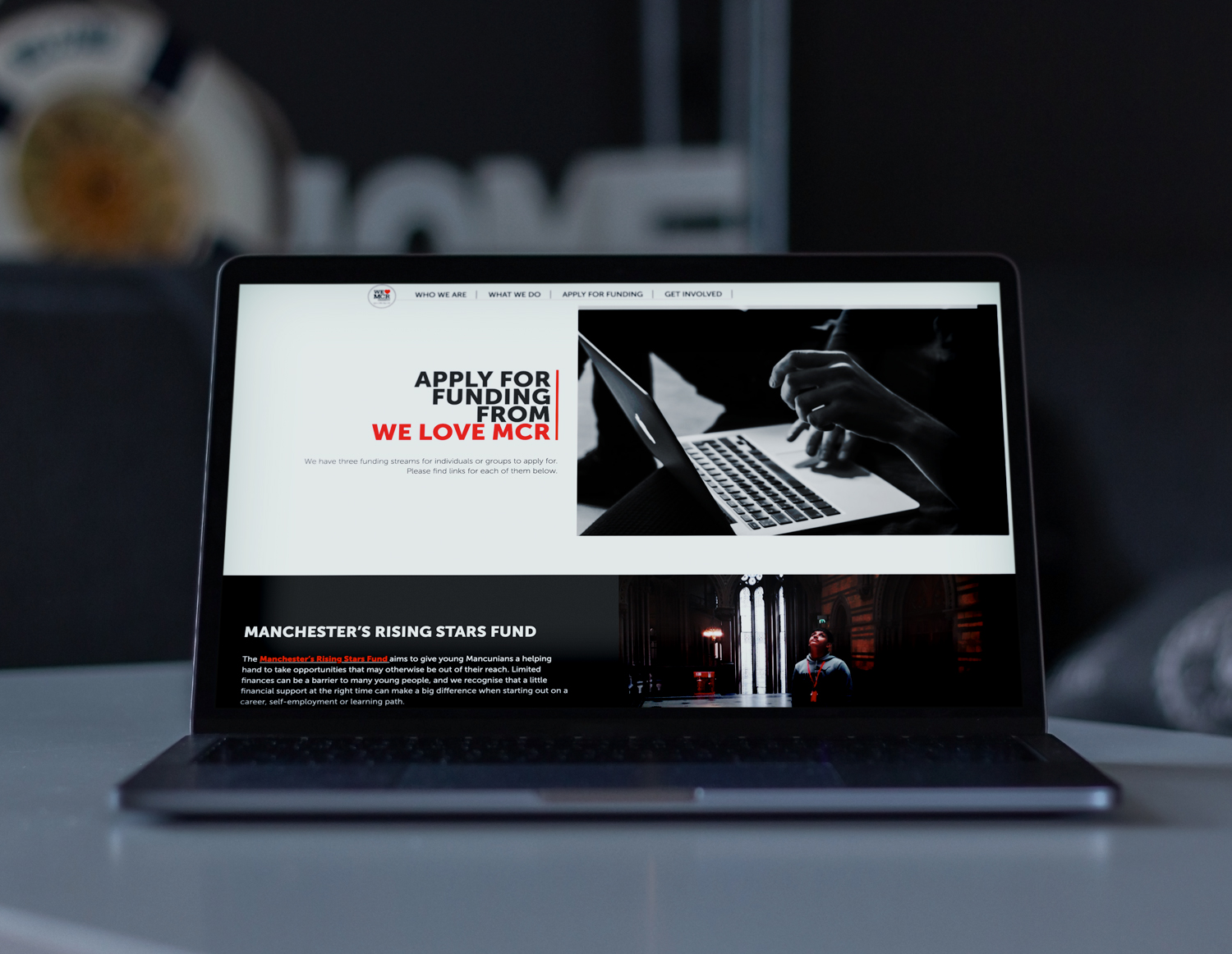 Designing and developing a new website for the We Love MCR Charity was a heart-warming project for us.
Run as the charitable fund for The Lord Mayor of Manchester's office, it's built on the city's proud history of solidarity and making a stand for those who need help.
They support young Mancunians by funding work experience with some of Manchester's top employers and help strengthen communities and families through grants and programmes, such as therapeutic family breaks aimed at building confidence, self-esteem and new skills.
And in line with the charity's 'Give a little, help a lot' messaging, the relatively small part we've played has made a real impact for this fantastic organisation.
An industrious development
Working alongside the Lord Mayor's charity, Manchester City Council commissioned us to create a new bespoke web development to front its compassionate campaign.
It needed to be better targeted towards the charity's stakeholders, users and the media to help raise the charity's profile and visibility while creating a much-improved user experience and perception of the organisation.
The previous site lacked flexibility, so we ensured its successor was user-focused and developed on a more adaptable and accessible platform.
It needed to incorporate key functionalities such as newsletter subscriptions (GDPR compliant), social media integrations, internal staff portal, an online donation link and a grant application page.
In other words, in true Mancunian style, it had to be all-singing, all-dancing, loud, proud, innovative, and hard-working, not mention completely reflective of the charity's incredible ethos and pivotal role.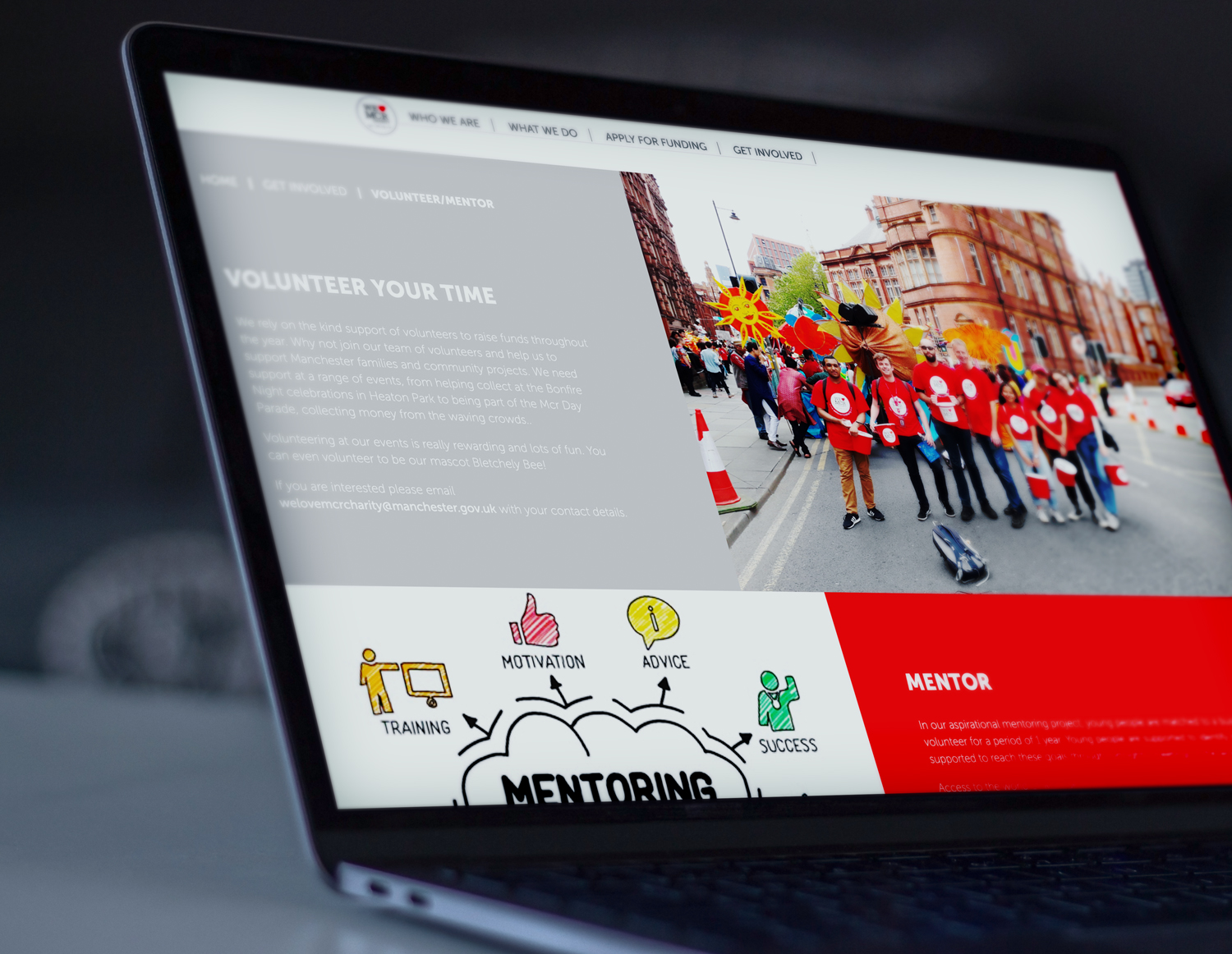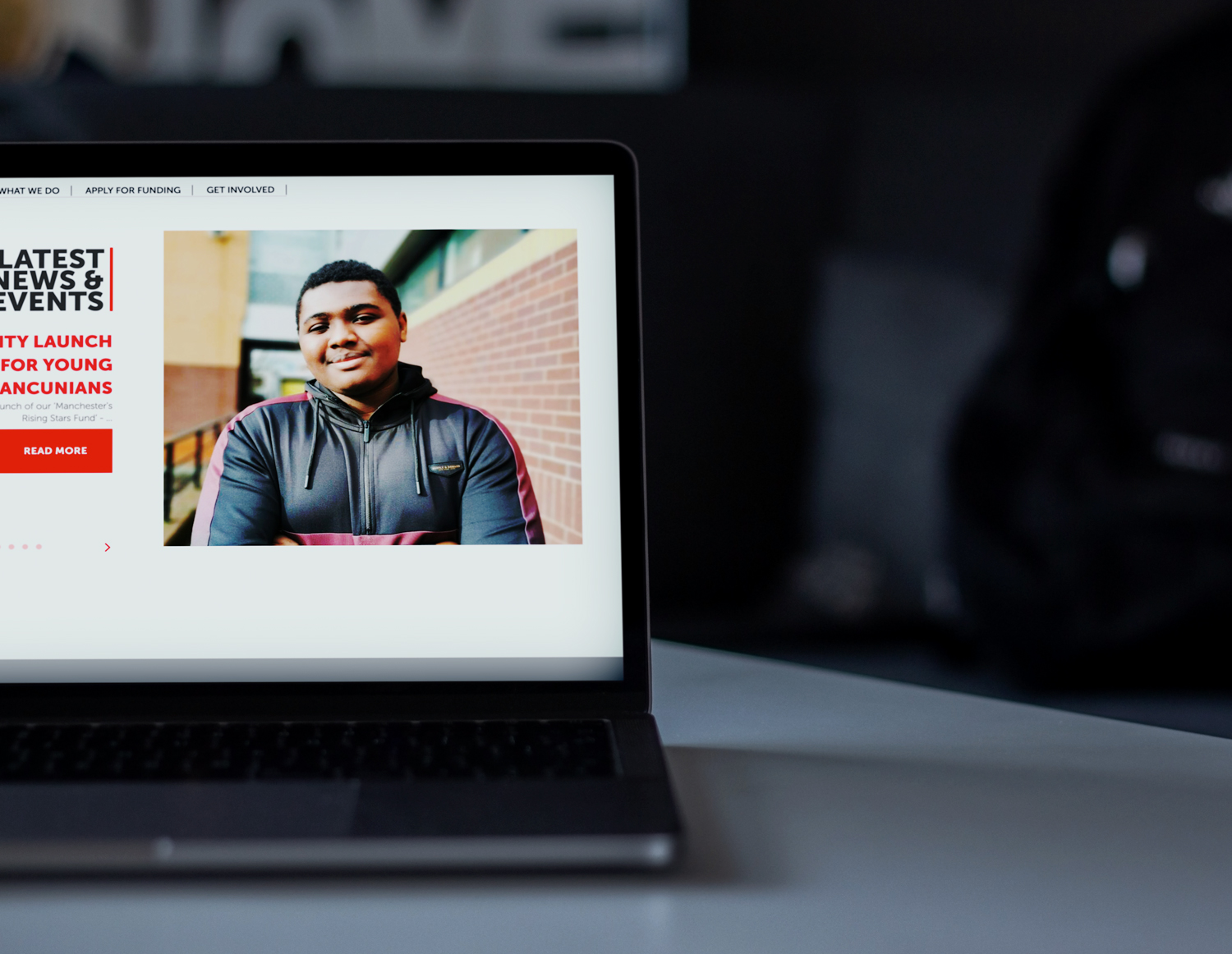 What's not to love about a project like this?
A UX (user experience) discovery workshop is a great place to start on projects like this, helping us to establish those essential audience insights which are crucial to the design and development process.
From there we mapped out personas of each user group to capture their goals and information requirements in detail.
We drew up site maps, wireframes and content plans before our highly experienced designer Nic took over the reins to create the visual element of the site.
Take it away Nic…
"I couldn't wait to get started on this design. It was so very rewarding to work on and to be a part of a project that has such a positive, community-based impact on my home city.
"In terms of the design I wanted to keep it clean, fresh and as simple as possible to allow the imagery, impressive stats and information do the talking. I achieved this through keeping the colour pallet to a minimum and through the use of a simple, clean yet strong font family.
"It was great to see my design brought to life through the coding wizardry of our dev team and to hear of the on-going impact our work continues to have on this exceptionally worthy cause."
Live on the Manchester stage
The site was developed on a highly bespoke WordPress platform and built in-line with the latest legislation, W3C guidelines and Google best practices, ensuring compliance, accessibility and search engine friendly code and structures.
Mobile-optimised, it utilises Google API integrations and social media integrations.
We also integrated HTML5 and CSS techniques that make for a polished user experience, ensuring increased online traffic and better customer journeys.
Another key consideration was admin accessibility for Manchester City Council staff.
This involved hooking up the site to the authority's internal communications portal, creating a streamlined and time-saving process for the team to add regular, updated content.
The new website was launched on our dedicated web server, which is built for speed and high traffic volumes.
This project had pride at its heart and created a website the We Love MCR Charity is truly proud of.
For us, it's doesn't get any better.
As an ethical, full-service agency built on results, reputation, reliability and relationships we work alongside a host of charities and organisations in NHS marketing, healthcare marketing and the life science sector to help them achieve their marketing goals and ambitions.
Our integrated offering enables us to offer expertise across a wide range of marketing services including strategy and research, design, digital marketing, public relations, print production and signage.
From an extension to in-house teams to strategic partnerships, we provide flexible and adaptable solutions to support all marcomms activities regionally, nationally and globally.
To find out more, email us at clients@cornerstonedm.co.uk
You can keep up to date with our client work and latest industry insights by connecting with Cornerstone Design & Marketing on LinkedIn.