When creativity and world class science collide
Manchester has been a beating heart of global health innovation and pioneering scientific discovery for over 100 years.
Manchester Cancer Research Centre (MCRC) is undoubtably one of its most impressive achievements, driving forward the science to transform the clinical care of cancer patients regionally, nationally and worldwide.
We've worked with MCRC since it was established by its founding partners The University of Manchester, Cancer Research UK and The Christie NHS Foundation Trust in 2006.
It's a partnership we're hugely proud of and, as you'll discover, it's for much more than professional reasons.
To be involved with such a revered and iconic institution among Manchester's strong cancer research heritage is a real privilege.
And the fact that it's on our doorstep highlights the incredible role our region continues to play in shaping the future while making such an amazing difference to so many lives.
Here some of the key milestones that have been achieved right here in Manchester!
1917 – discovery of the nuclear model of the atom – Ernest Rutherford
1932 – development of the Manchester Method, the first international standard for radium treatment
1944 – world's first clinical trial of diethylstilbestrol (Stilboestrol) for breast cancer – Edith Paterson
1948 – world's first randomised trial in cancer: adjuvant ovarian irradiation – Ralston Paterson
1948 – world's first stored-program computer ('Baby') – Frederic Williams, Tom Kilburn and Geoff Tootill
1970 – world's first clinical use of tamoxifen (Nolvadex) for breast cancer – Moya Cole and Ian Todd
1987 – world's first pre-surgical use of tamoxifen – Andrew Baildam and Tony Howell
1986 – world's first use of cultured bone marrow for leukaemia treatment
1991 – world's first single harvest blood stem-cell transplant
2002 – world's first clinical use of image guided radiotherapy on a radiotherapy machine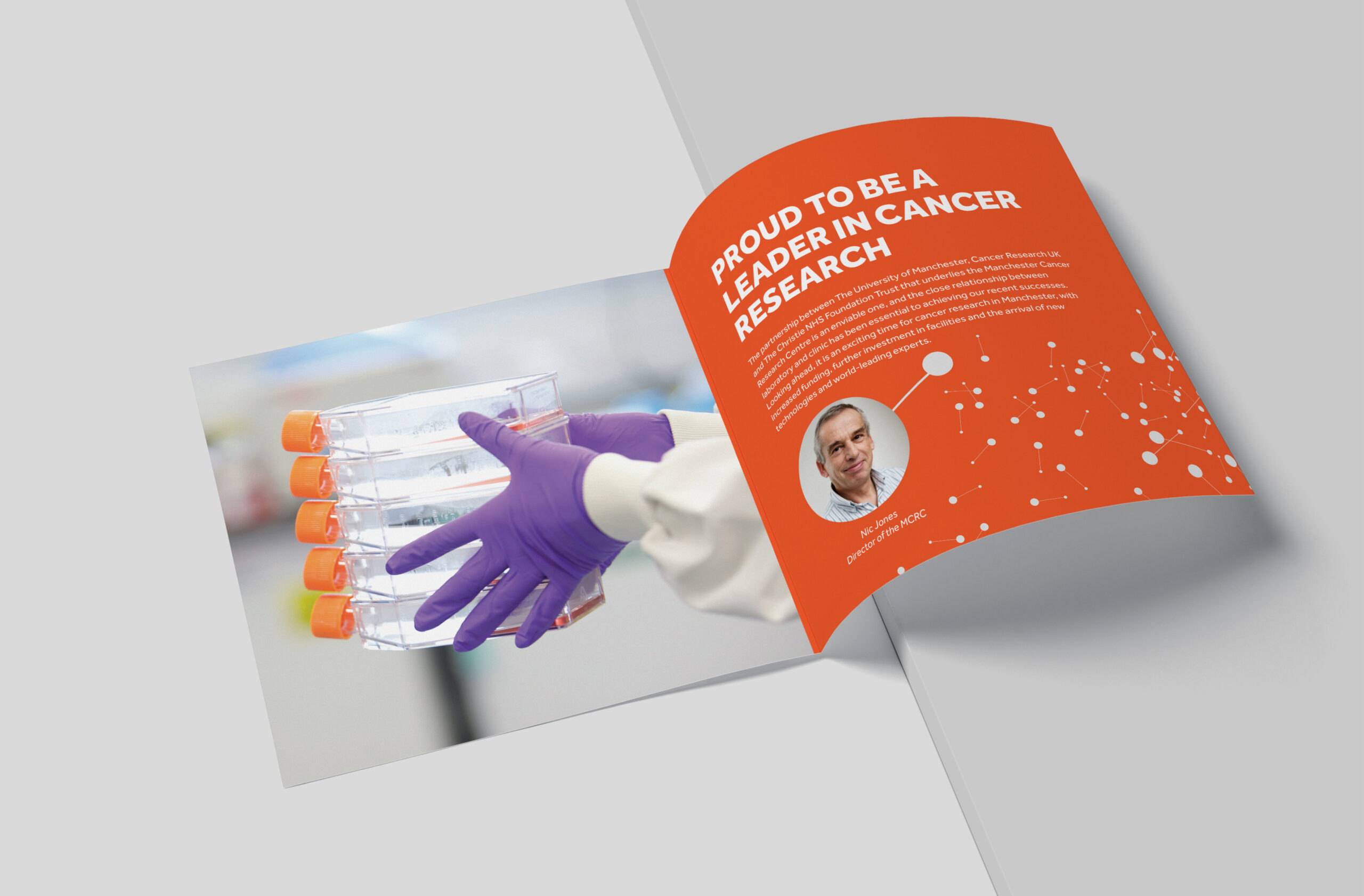 The science behind our creative partnership
As a backdrop to the work we do for MCRC, here's a little more insight into what it does.
MCRC provides outstanding facilities where scientists, doctors, nurses, and other health professional researchers can work closely together.
It brings together the expertise, vision and resources of its partner organisations into one unique collaboration. Those partners each have formidable reputations in the field of cancer research.
As part of MCRC's ambition to be one of the world's leading translational cancer research centres – those which transform the latest discoveries into innovative new treatments – it collaborates with international institutions in China, Australasia, North America and Europe.
It's not every day you get the opportunity to work with such an eminent and highly respected institution – or enter the realm of medical science for that matter.
But even scientists need to call on creativity at times – and we were delighted to be selected.
Following the birth of MCRC in 2006 our creatives were approached to design and procure a range of academic and scientific literature, inter-organisation materials and corporate documents.
The portfolio continues to include progress, annual and corporate reports, medical forms, exhibition materials, PowerPoint presentations, scientific diagrams and stationery items.
When construction on MCRC's Oglesby Cancer Research Building began opposite The Christie, we were commissioned to design and print a community newsletter to keep nearby residents, stakeholders and staff up to speed on the development.
This essential communication succeeded in integrating the local community and MCRC's expansive team into the huge project, providing them with news, progress updates and opportunities to be part of this incredible development which houses 150 scientists and 100 academic and support staff.
Running for 16 issues the 'Neighbour News' received excellent feedback across the board and was integral to upholding a good relationship with local residents during the mammoth build.
For its opening in 2015 we designed a host of literature design to accompany the launch including an introductory brochure, VIP invitations, welcome presentation and supporting graphics, icons and branding.
The strong iconography and brand we created are still used today, helping it easily identify MCRC as a stand-alone organisation providing world class research and revolutionising treatment for cancer patients.
As we said it's not just professional, it's also personal
Sarah, our head of creative, has been heavily involved in our work with MCRC and has overseen design concepts and branding strategy throughout.
Breast cancer research is a cause close to her heart after her mum developed the disease four years ago.
The chance to work alongside MCRC and founding partner The Christie NHS Foundation Trust is particularly significant as it was The Christie which developed the world's first clinical use of tamoxifen, the treatment now used by her mum and many other breast cancer patients.
"This clinical trial holds personal significance to me and I'm sure for many others, as my mum was, and still is, treated with tamoxifen 50 years after that initial clinical trial," said Sarah.
"As an agency we feel honoured to partner with Manchester Cancer Research Centre.
"The huge significance of what they do and achieve is humbling and they're such an inspiring client to work with."
As a healthcare marketing agency, Cornerstone provides a comprehensive range of marketing services to a number of brands, organisations and charities, including medical, pharmaceutical marketing.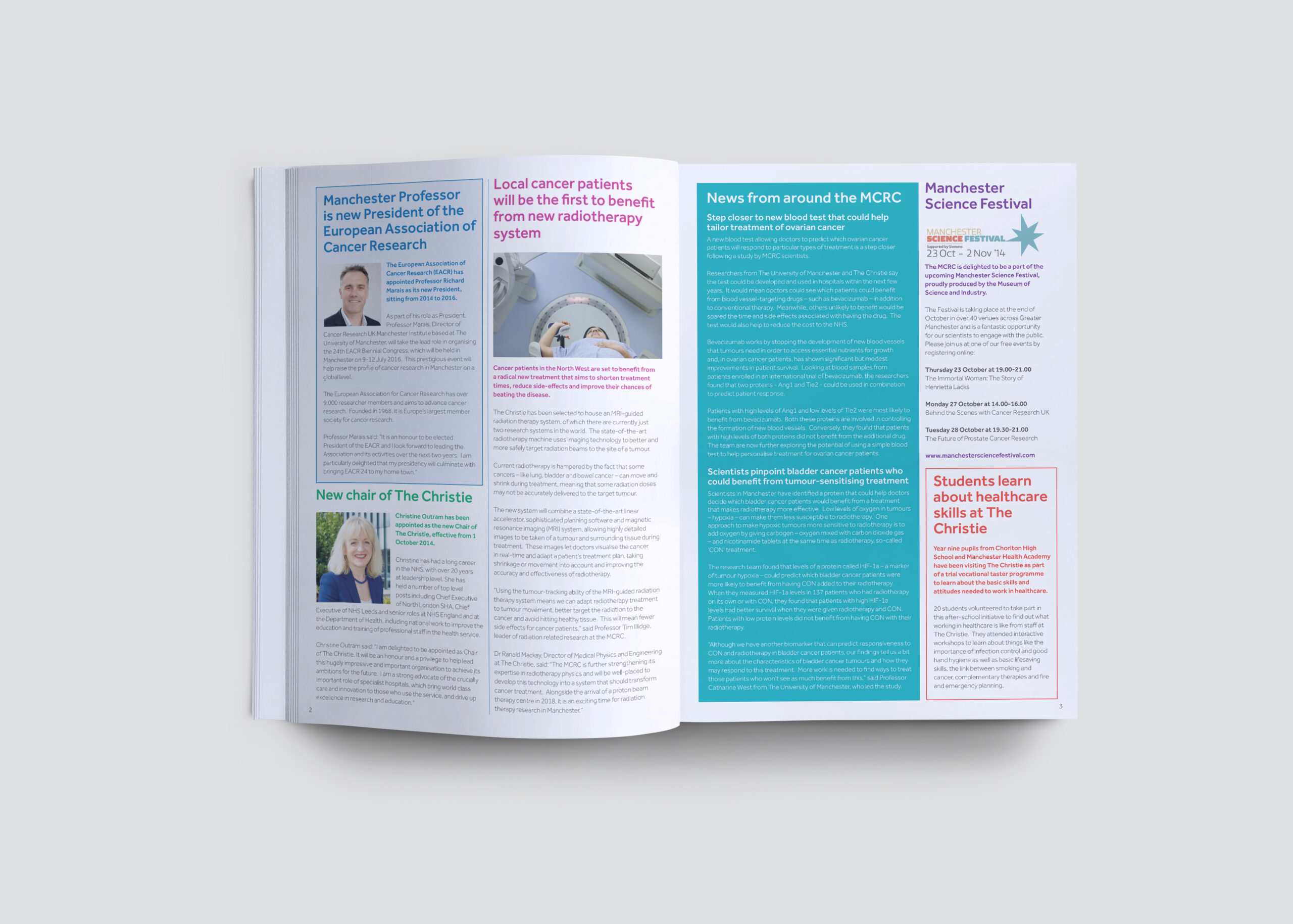 Did you know?
We are a strategic partner to some of the UK's best-known healthcare and pharma brands alongside leading OTC medicine manufacturers and suppliers.
As an associate member of the UK trade association, the PAGB (Proprietary Association of Great Britain, which represents manufacturers of over-the-counter medicines, self care medical devices and food supplements in the UK), we are also specialists in the consumer healthcare industry.
PAGB associate membership demonstrates a commitment to working with the industry long term and gives us as an agency direct access to the body's advertising services to ensure efficiency on behalf of our full member clients.
To find out more about working with us, call 0161 213 9941 or email us at clients@cornerstonedm.co.uk
You'll find all the latest on our client work and industry insights by connecting with Cornerstone Design & Marketing on LinkedIn