Proud to support leisure and wellness in a borough steeped in sporting prowess
Wigan is synonymous with Rugby League, a sport steeped in history and now enjoying a flourishing reputation for diversity and inclusivity thanks to women's and wheelchair Rugby League. It's only fair to note, that the town's football club has experienced its fair share of recognition too, most notably lifting the FA Cup against expectations when beating red-hot favourites Manchester City.
As a marketing agency specialising in leisure, we are delighted to be bringing our expertise to bear in support of a borough with an indelible link to sporting prowess: an organisation that mirrors the values of diversity and inclusivity being displayed by the sport that's made the town famous.
Leisure is a sector we've matured with as a marketing agency and, essentially, it's one that we truly value for the hugely significant role it plays in our communities and society as a whole – just ask anyone who's watched the Warriors win the Challenge Cup, or the Latics lift the FA Cup.
Plenty of choices to suit everyone
Be Well is Wigan Council's new holistic approach to health and wellbeing. Be Well brings leisure and wellbeing services together under one banner, helping to make an even bigger impact on the health and wellness of residents and customers, in the heart of their local community.
Its message is clear and simple: whether you're looking to ease your way back into fitness, or you're already a full-time fitness fan, Be Well has something for everyone regardless of age, fitness, ability, disability or medical condition.
Its facilities and mix of free and paid-for activities provide plenty of choices to suit everyone – from local leisure centres to healthy weight management programmes, guided walks to junior fitness, inclusive activities to water sports.
Be Well has everything residents in the borough need to get fit and active and lead healthier, happier lives as a result.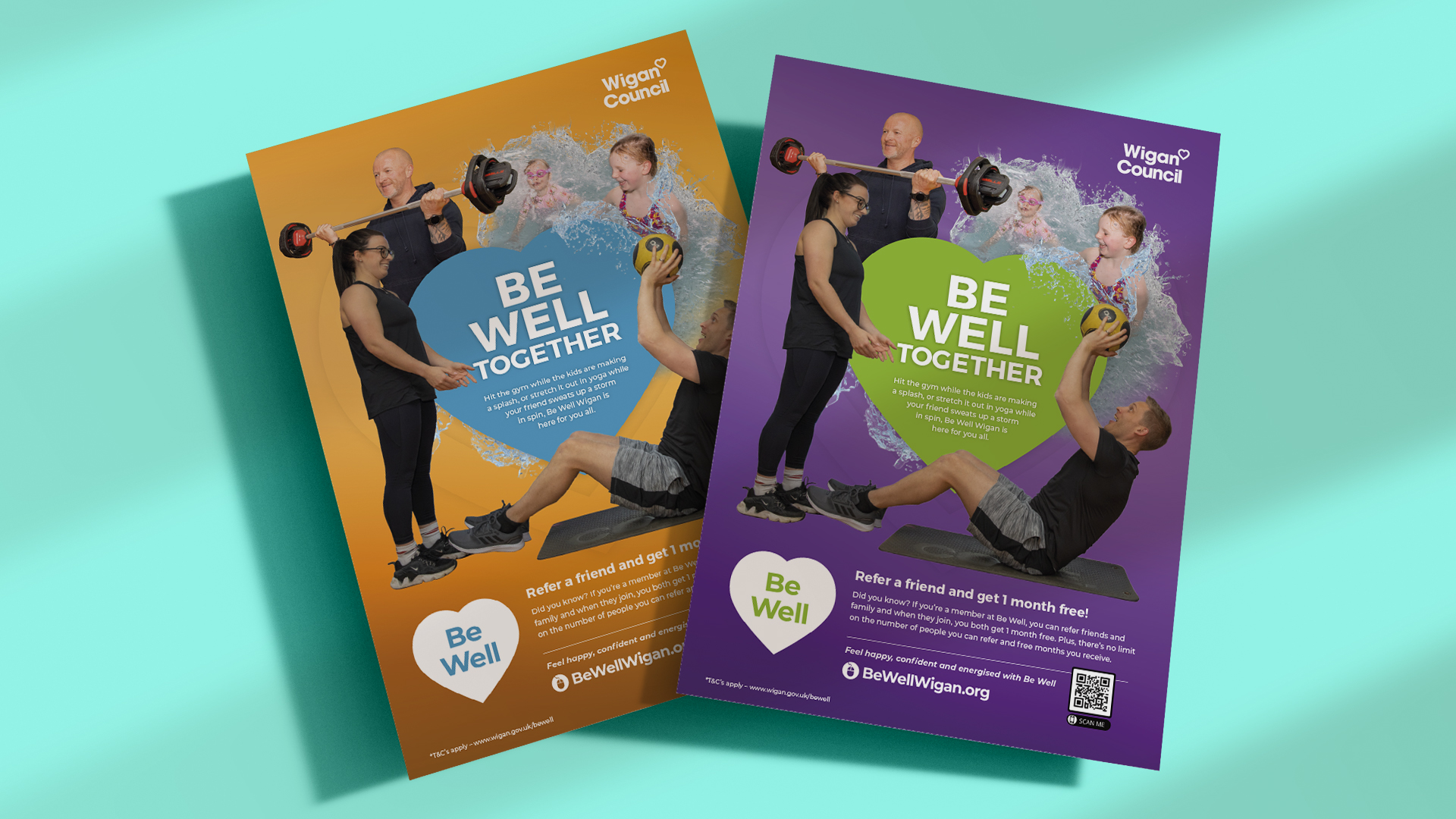 Delivering for all of Be Well's needs
As a full-service agency, we have all the tools – expertise and creativity within design, digital marketing, PR and print production – to deliver everything Be Well needed as it began its journey under the stewardship of the local council.
We were tasked with creating a marketing strategy that would seamlessly deliver for all of Be Well's needs:
Development of campaign themes and concepts.
Internal and external communications.
Email marketing campaigns for membership retention, referrals and acquisitions.
Printed assets including flyers, posters, outdoor banners, pull up banners and exhibition banners.
Press activity including print and online advertising.
Brand concept and creation of the Be Well Outdoors brand and supporting with the associated website – more of that in a moment!
Our work also included broadcast media, with a radio advertisement for Haigh Woodland Park
This was combined with our media buying activity, which secured half page ads in the Liverpool Echo and Manchester Evening News, along with digital ads on both papers' websites. We also placed advertising in Family on the Go and the Wigan Post to increase awareness and boost visitor numbers.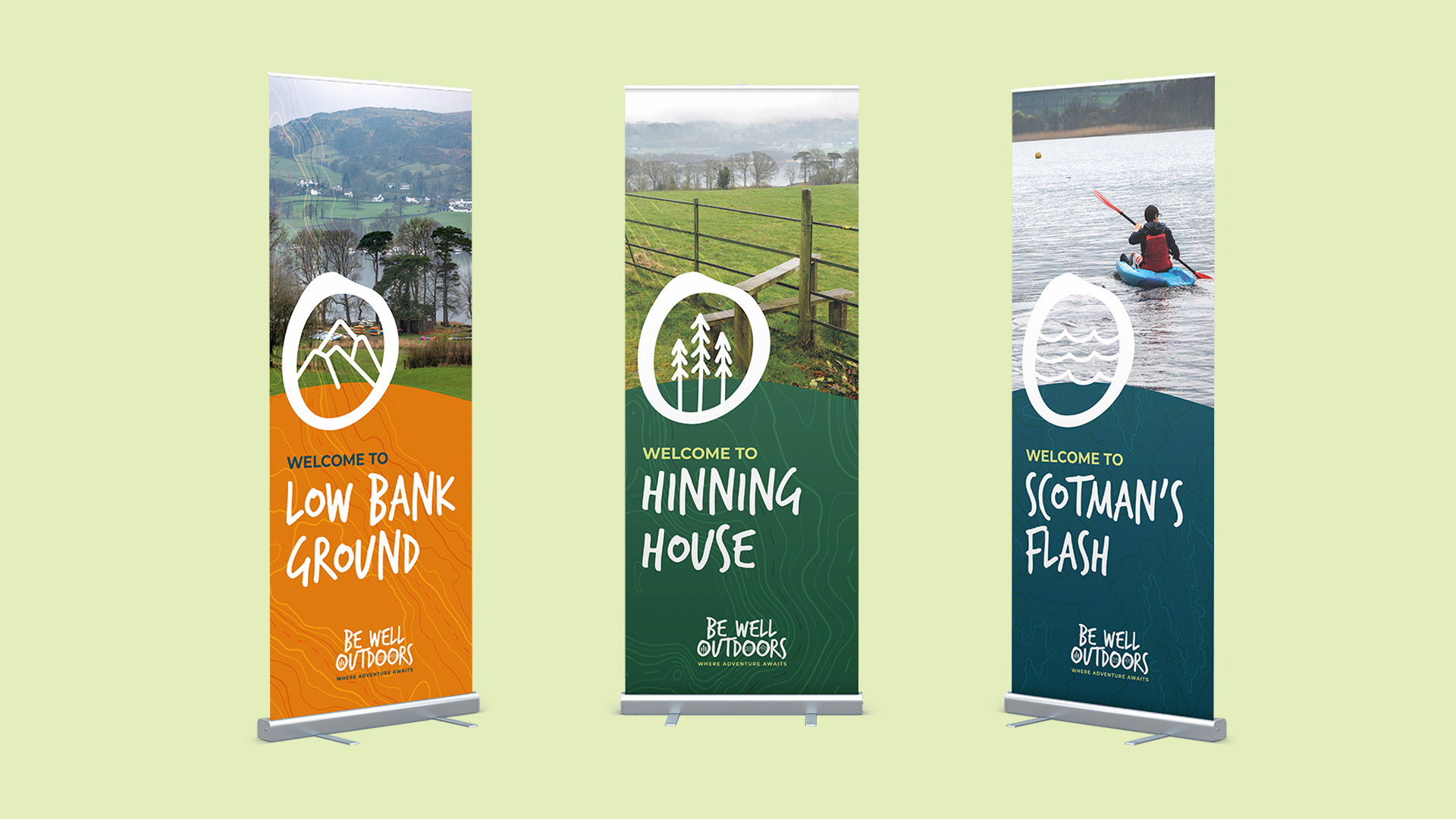 Be Well Outdoors
Be Well Outdoors is a project to develop branding and a website for Be Well's Low Bank Ground and other outdoor facilities. Our vastly experienced and hugely talented creative team has conceived new brand guidelines, with some eye-catching results for the main brand logo (above) and sub-logos (below) featuring an icon unique to its location/activity to support the main brand logo.
Meanwhile, our digital team is supporting the development of a dedicated Be Well Outdoors website with the delivery of a UX (User Experience) workshop and wireframes. Both are important steps in achieving the end results Be Well was seeking.
UX is the process we use to create a site that provides a meaningful and relevant experience for users. It involves the design of the entire process of acquiring and integrating the product, including aspects of branding, design, usability and function
Wireframing, meanwhile, is essential to help ensure that the website will achieve its objective once designed and live. Without wireframing, you could end up with a beautiful site that doesn't actually achieve what it is supposed to do.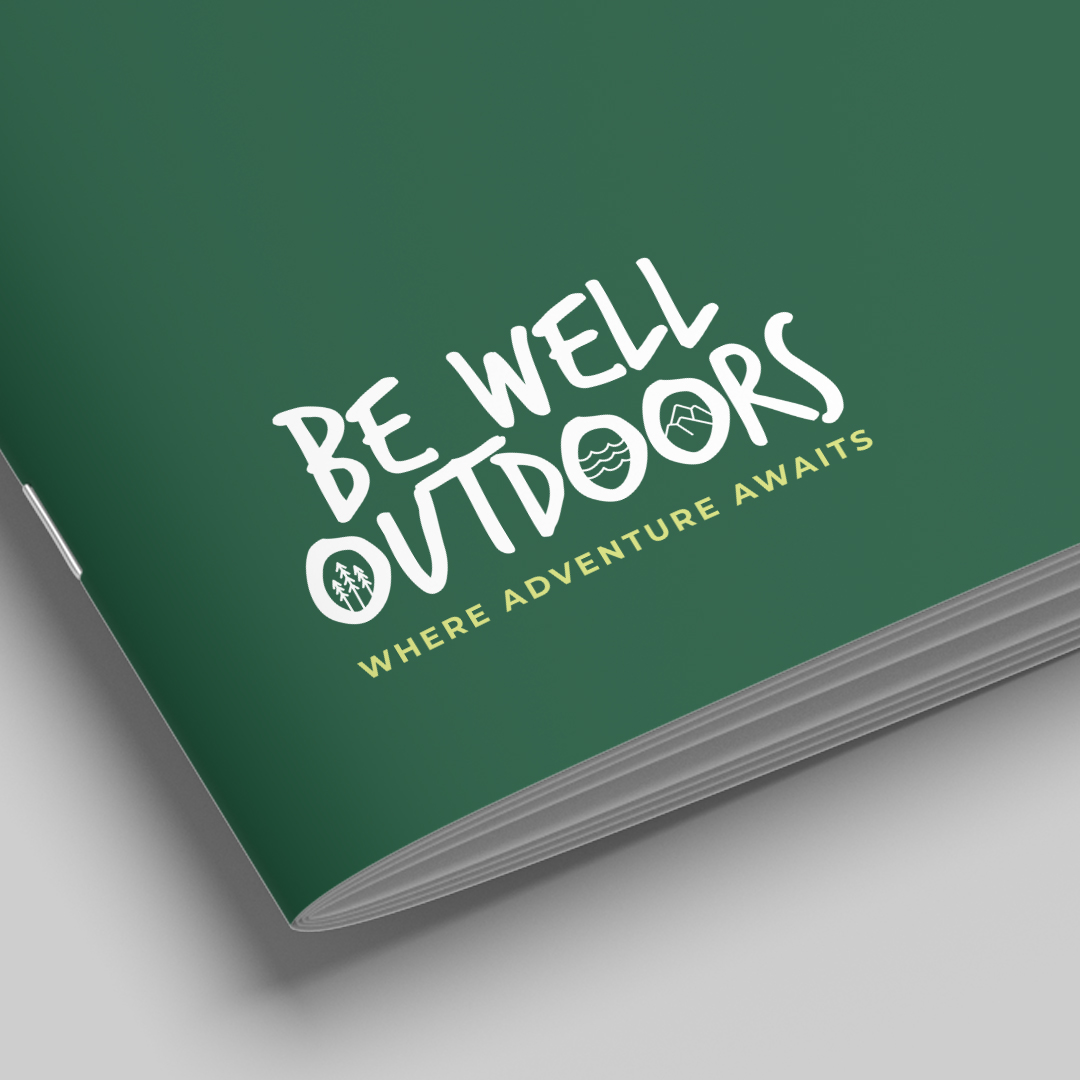 On the campaign trail
No, we weren't canvassing for votes, but we did want locals to vote with their feet and enjoy what we've called the Be Well Benefit.
Since working with Be Well we have devised and delivered campaigns for membership retention and acquisition, often weaving them into wider seasonal activity.
Existing members, including casuals, in order to either upsell a casual member to a full membership, or to generate referrals from existing members to new members via a referral campaign. We targeted a broad range of member categories, with refined messaging per category.
New prospects who have either never engaged with Be Well or who have lapsed or cancelled in the past.
For existing members this included tactical activations such as email marketing direct to an existing member list, in-centre posters with QR code, text message marketing encouraging referrals, a website banner reminder on timetable pages. Other tactics included a referral page on the Be Well website, where members could enter referral details.
For new prospects we created an exposure and awareness campaign via one of our tactical activations such as PPC, display network, out of home advertising such as 'ad vans' around Wigan, and email marketing campaigns to lapsed members.
The Haigh Woodland Park campaign mentioned above was targeted at families to highlight what the 250 acres of woodland and green space has to offer for a fun-filled, family day out and was timed to coincide with school summer holidays.
Our other campaigns have been aimed at getting the , putting the focus on a toolkit for schools to get the message out to the borough about the Be Well benefit, which included a range of digital assets such as email copy, imagery and social posts.
And we have developed a range of ongoing PPC campaigns including an autumn fitness campaign and a targeted campaign for Howe Bridge and Leigh leisure.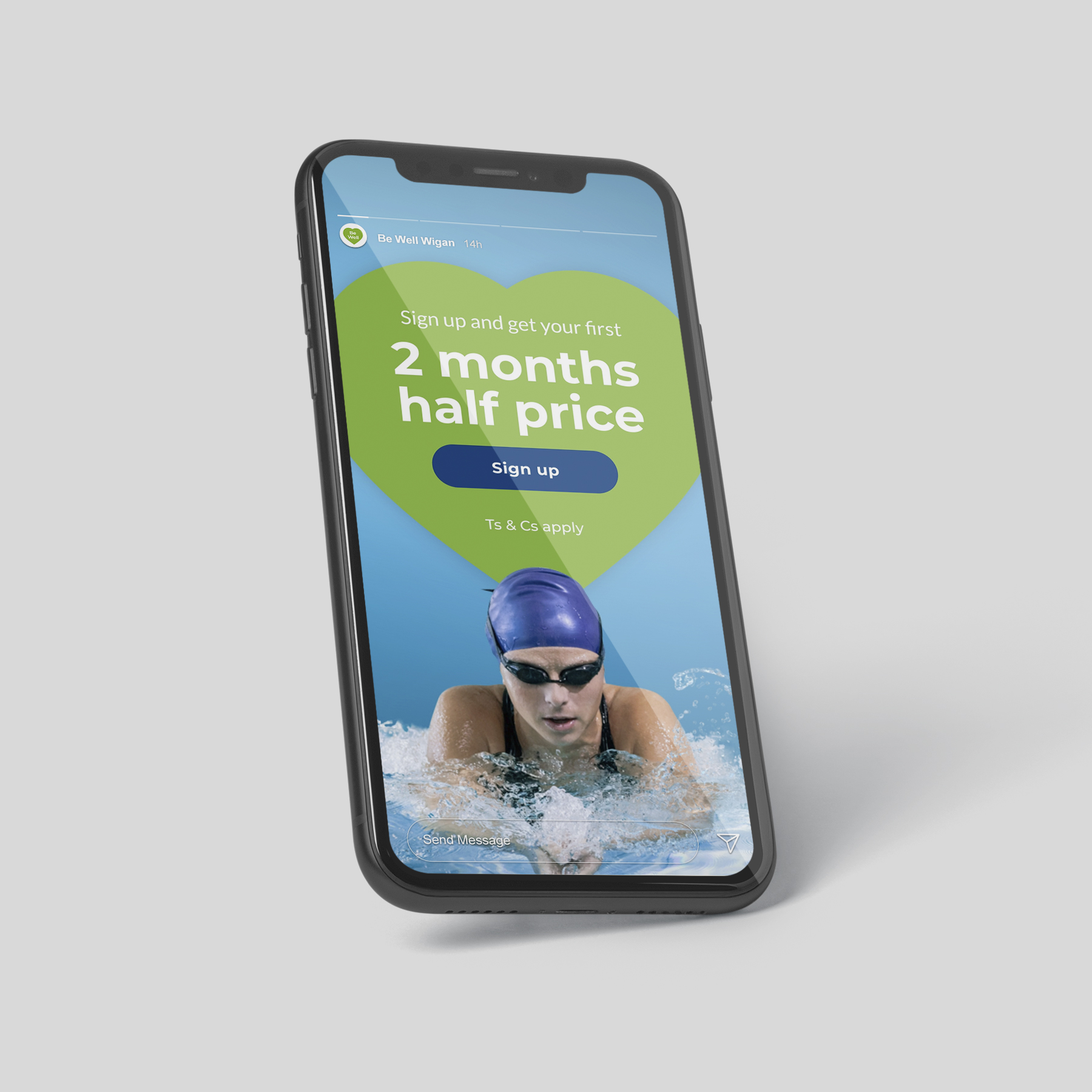 What has our work achieved?
The following statistics from our digital team reveal the impact our work has achieved for Be Well. Between June and November 2022, Be Well's Facebook reach increased by 134%, with even more impressive figures for Instagram, which saw reach increase by almost 600%, impressions increase by 589%, and profile visits increase by 66%.
Website clicks have increased by 1000% and the number of followers have increased by 24%. Twitter retweets (the sharing of Twitter content) increased by 77% and the number of followers increased by 19%.
If you'd like to see your organisation benefit in the same way Be Well has, get in touch.