PPC agency Manchester
PPC is an integral part of everyday business success.
With billions of people on social media globally, including 57.6 million in the UK, understanding how to market on various social platforms has become an integral part of everyday business success.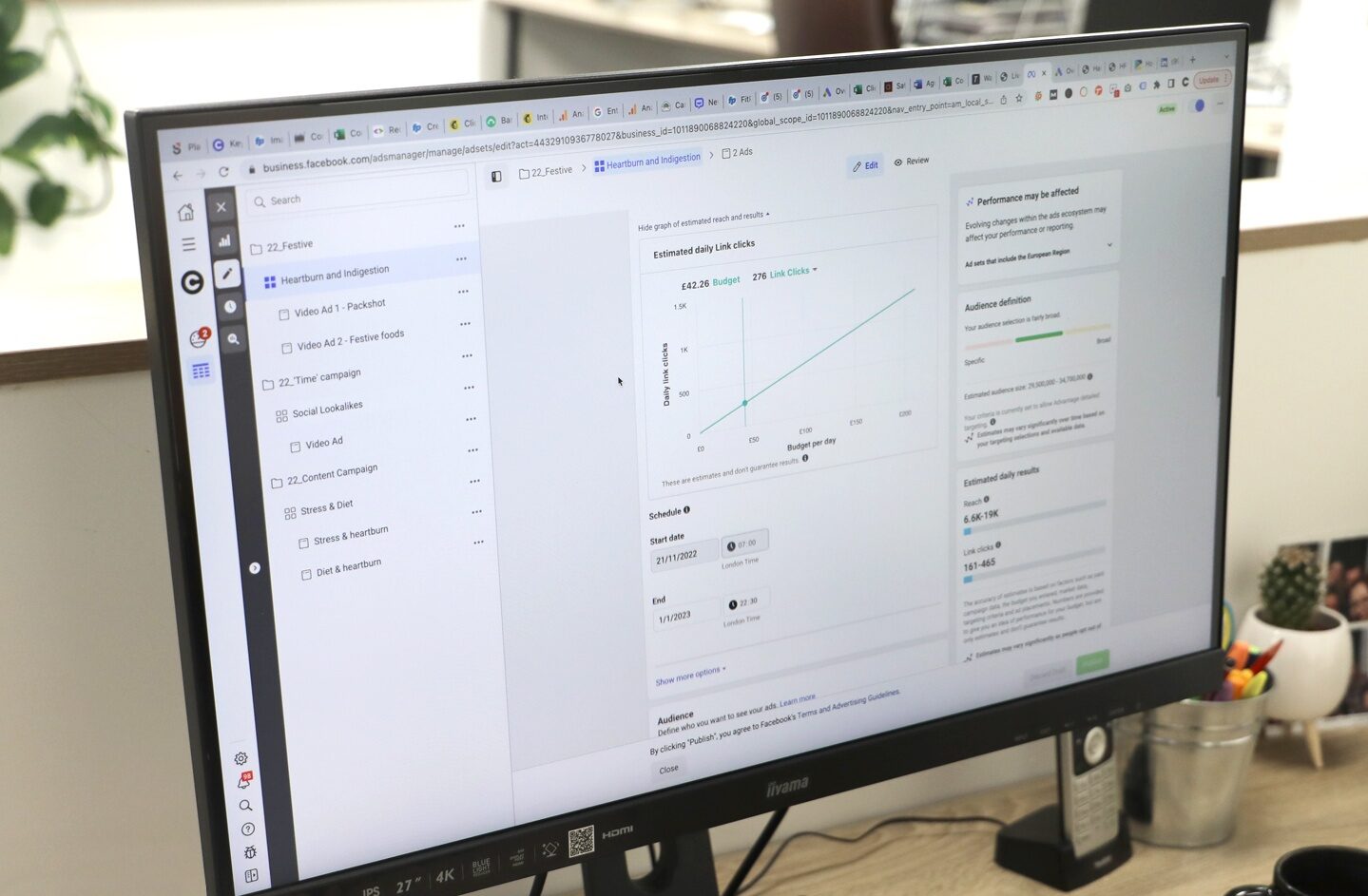 What is PPC?
PPC, or pay-per-click, is a type of internet marketing in which advertisers pay a fee each time one of their advertisements is clicked. Simply put, they are only paying for the advertising that is actually clicked on – hence the name 'pay per click'. Essentially, it's a way of 'buying' visits to a business or organisation's website, in addition to driving organic website traffic.
However, PPC has become a more generic term for all kinds of digital advertising online from Facebook and Google advertisements to LinkedIn and Reddit advertisements and all platforms in between.
In reality, when you run campaigns nowadays, you don't just pay per click, you can pay per impression, pay per conversion, or pay per return on ad spend – it all depends on your objectives and desired outcomes. Put your trust in our digital team to help you identify your objectives and outcomes, and the most effective ways of achieving them.
PPC is a great way to position your brand
PPC advertising is ideal for budget management. We can set daily budgets, lifetime budgets, and gear those budgets more towards certain audiences and channels where required. This enables us to manage how much you will be spending when your ads are displayed. In essence, it ensures your ad spend isn't wasted, as you're likely to attract more people with an interest in your product or service.
It is a great way to position your brand in front of users at all points in the sales funnel, from brand awareness to re-targeting engaged users who might have visited your site but left without buying anything. In this instance, we can create ads that encourage them to return to your site and buy. Used in harmony with search engine optimisation (SEO), PPC can boost visibility of your business and brand, drive traffic and thus increase sales.
What are the benefits of PPC?
PPC has many advantages that can benefit a business or organisation. They include:
Optimised PPC is cost-effective.
Your ad will be displayed on the first results page when someone searches for a related term.
More exposure and brand visibility as targeted traffic is directed to your site.
You can run multiple ad campaigns for each keyword.
It results in higher click-through rates (CTR), more conversions, and increased sales revenue.
Engaged traffic.
A lot goes into putting together a strong PPC strategy. It consists of choosing the right keywords, arranging those keywords into well-organised campaigns and ad groups, audience research and benchmarking, budget optimisation and bid strategy, setting up PPC landing pages that are optimised for your objectives, and aligning with your wider marketing strategy communications.
What are the different types of PPC advertising?
Search ads
This is one of the most common types of PPC. Search engine providers show your ad to users who search for certain keywords. We'll set up your campaign(s) by writing ad copy, selecting relevant keywords and choosing a suitable landing page on your site.
Display advertising
Display ads are banner, image or text ads that appear on websites we've targeted on your behalf to engage particular audiences. These ads will link to your website. Although they generally return a lower click-through rate (CTR) than search ads, they can be useful for building brand awareness.
Video ads
Video campaigns allow you to reach and engage with your audience on YouTube and through Google video partners. We'll help you choose campaign goals, subtypes and ad formats that tell people about your products and services and get them to act.
Shopping ads
Shopping campaigns to promote your online and local inventory, boost traffic to your website or local store, and find better qualified leads.
Social media advertising
Platforms such as Facebook, have high numbers of users who could be potential customers. PPC advertising on these platforms can help you achieve higher CTRs to your website. Different channels can be used to target specific demographics and interests.
Retargeting PPC advertising
This uses cookies on a user's browser to show them specific ads based on their previous online actions. It is also called remarketing. That's why when you search for something online, you'll see ads for similar products.
What we can do for you
You name it, our digital team can do it. And as a full-service agency, we have all the tools – expertise and creativity within marketing strategy, design, digital marketing, PR and print production – to meet all your marketing requirements for a successful PPC campaign – from strategy and planning to copywriting through to design and implementation.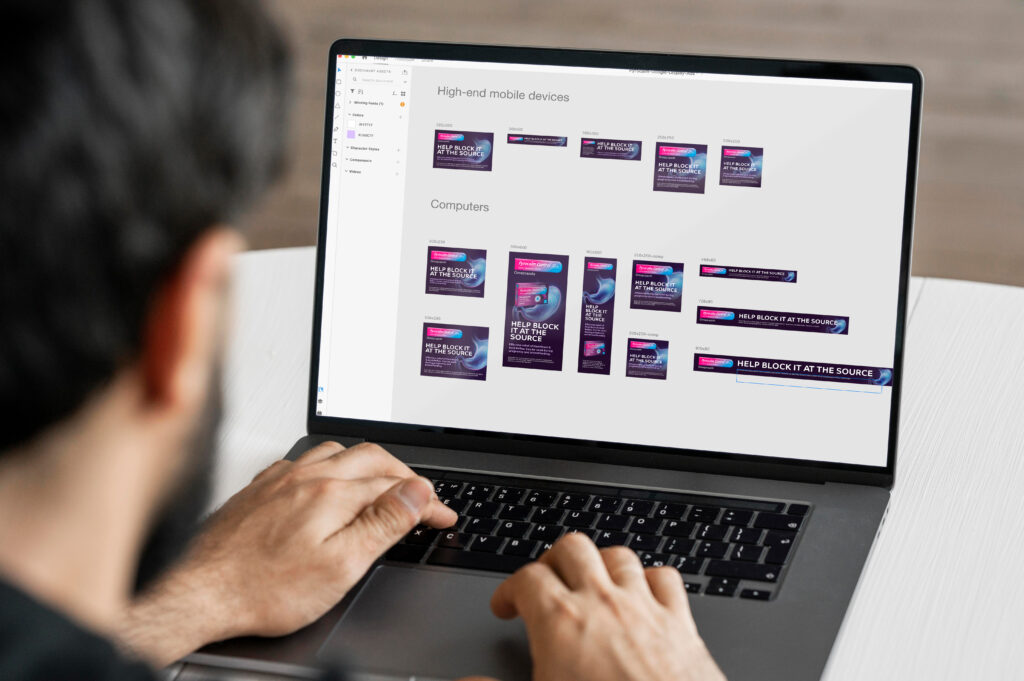 We can create:
Facebook network advertisements – this includes Instagram reel ads, feed and story ads on Instagram and Facebook, plus ads on millions of apps and websites owned by Facebook parent company, Meta.
Google network advertisements – this includes search ads (text ads at the top of a Search Engine Returns Page (SERP), display ads (image ads displayed on Google partner sites), YouTube and video ads, and shopping ads.
LinkedIn advertisements – seen as greatly successful for lead generation, but also good for raising brand visibility to highly targeted audiences.
We can also create ads for Twitter, Bing, Amazon, Reddit, TikTok, Pinterest and Snapchat.
Paid social
Paid social works in a very similar way to PPC. We use paid social strategies alongside wider client social tactics to boost visibility and engagement. This includes a combination of advertising campaigns and the tactical boosting of organic posts to amplify the reach of their content.
This allows us to capture more of a client's audience, quicker. Paid social is a competitive arena and clients rarely have time to be producing unique video content for multiple platforms daily which is, reductively, the key to social success. We can, therefore, use paid social strategies to boost quality content to give it more longevity for a wider audience, therefore increasing engagement and following.
It's important to consider paid social in a wider strategy not only because it's one of the least expensive forms of advertising, from both a digital and traditional perspective, but also because it allows you to be hyper targeted in presenting your content to the right audience.
Our PPC process
Our highly experienced digital team draws on client-collaboration throughout the process from initial project scope to launch.
Communication is key and our team of specialists can advise and ensure your PPC campaign meets the needs of you as a client and best targets your customers.
It begins with you, the client, giving us a brief, budget and objectives which we then take away to devise a plan that generates the best results. The plan is usually based on channel recommendations, audience research and planning, keyword research and segmentation, budget and bidding optimisation and creative and copy outlook.
Once the plan is signed off, we work closely with our design team, which has more than five decades of industry experience and brief interpretation acumen behind it, to ensure the campaign is going to capture the attention of its target audience before creating all the necessary assets.
Once it's all systems go, we then check in on client campaigns on a daily or weekly basis depending on requirements.
Every campaign we create is given KPIs, with which we hold ourselves to account on, and so we can report transparently on a monthly basis. We also complete an in-depth final report to prove that we've met client expectations. We can also automate reports direct to clients on a more regular basis – daily or weekly, for example.
Get in touch
A Google Network campaign for an NHS client made 19 million impressions, while we regularly run successful Facebook Network and Google Network campaigns that meet or exceed KPIs for a host of leisure clients. Other campaigns for a pharmaceutical client captured diverse audiences, and we've used Google search ads to drive traffic to the website of a new company in the motor industry. Get in touch to see how we could help you.