Kwells: A smooth pharmaceutical marketing journey

We have been on board since 2020, helping this heritage travel sickness brand to raise its profile and make its way towards today's digital destination.
It's been one heck of an enjoyable ride so far – so buckle up as we take you on the pharmaceutical marketing journey of this well-known remedy which has been preventing and relieving travel sickness by sea, air, car and train since 1949…

A fascinating throwback!
Believe it or not, travel sickness, often referred to as motion sickness, goes way back.
No, way, way further back than that even – all the way to 800 BC! The ancient Greeks knew all about seasickness and the Chinese discovered children were more susceptible around 300 AD. There was even camel sickness which was discovered during Napoleon's Egyptian campaign in the late 1700s.
Early treatments included fasting, specific diets, nice smelling things, medicinal plants or a mixture of wine and wormwood.There were many more weird and wonderful options – including hiding earth from the kitchen hearth under your hair. This age-old condition, known historically as 'a plague at sea and on land', is as prolific now as was when it was first stumbled upon all those years ago.

How many of us have a pack of adult Kwells or Kwells Kids handy in the car just in case?
It's nostalgic brand many people will remember from their childhood travels but as we get older and grow out of travel sickness (mostly) we tend to leave it behind – until we have kids of our own of course.
Kwells was fairly quiet on the consumer scene – until the great Kwells shortage of 2017 due to supply issues! – but when its UK license was acquired by Dexcel Pharma in 2020, that was all set to change.
Being a heritage pharmaceutical brand, it already had a strong identity and market position and good consumer recognition. The objective was to refresh and reignite the brand to increase awareness across new and emerging audiences and give it an enviable online presence which its key competitors didn't have.
We began by developing a Kwells website to offer informative and insightful advice to sufferers and travel tips through the creation of blogs while using SEO to send the website soaring in terms of Google rankings.
The initial strategy included launching a social media presence on Facebook, Twitter and Instagram to link back to the website.
We also formed a PR strategy with firm objectives of reaching a minimum of 1m consumers across respected travel publications and platforms such as Family Traveller, national newspapers and lifestyle magazines targeting families and frequent travellers.
A mission statement was formed on which to base messaging and comms – to put the fun back into journeys and reduce anxiety and worry about travel sickness among sufferers and parents.
Simply put, our mission was to help consumers to 'travel happy' again.
The vision was to position Kwells as a go-to travel sickness product through strong, consistent and engaging marketing communications across all channels while building on its heritage and effectiveness.
Research also unearthed a relatively untapped motion sickness market among VR gamers who were experiencing similar symptoms to travellers while wearing VR headsets due to game design limitations.
We created a blog to offer insights and advice on VR gaming sickness, promoting across our social media channels and driving traffic through digital ads which featured VR gaming video and imagery.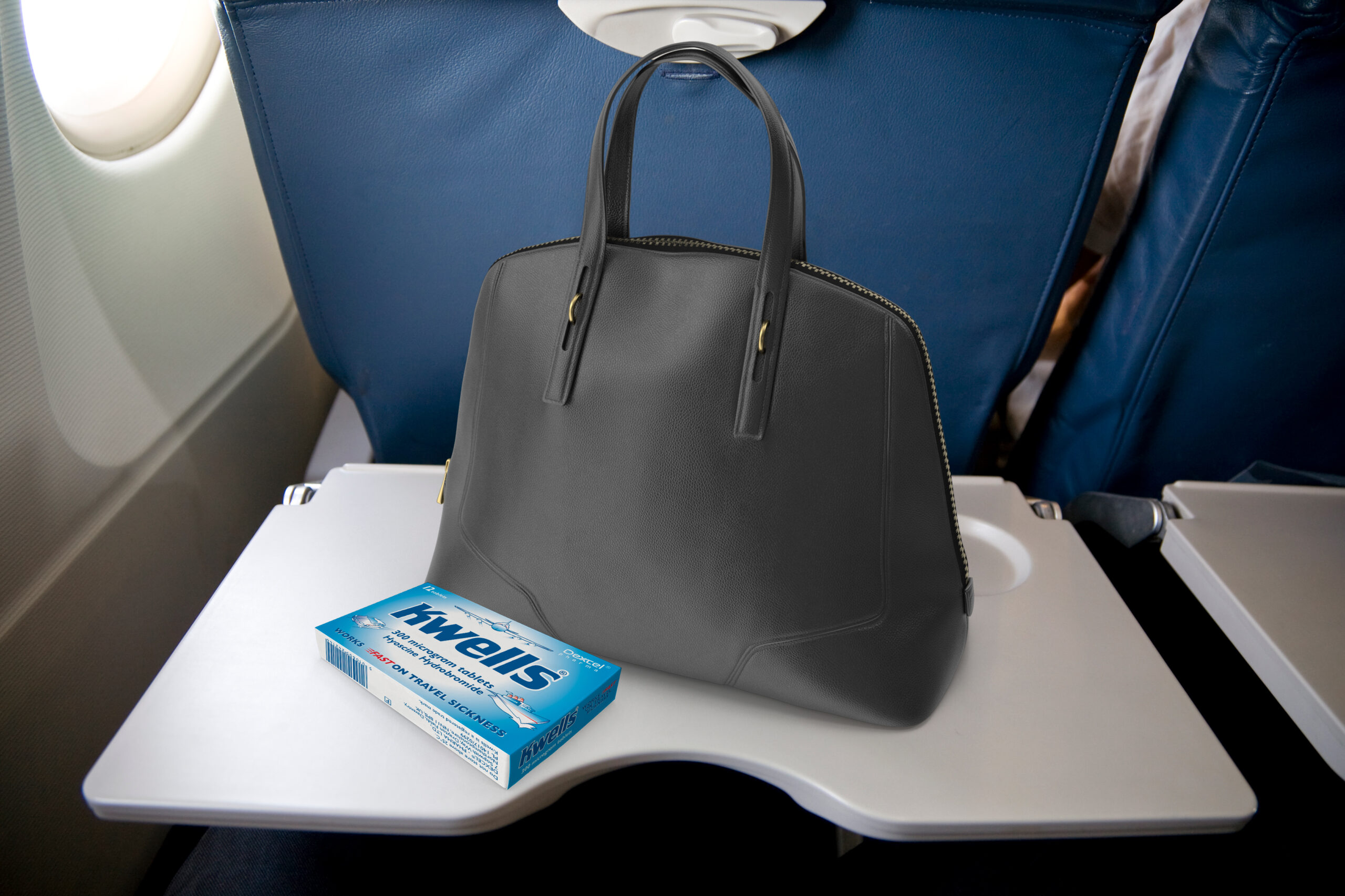 Modern designs on a heritage brand
Kwells arrived at our agency with a traditional and established pharmaceutical aesthetic.
To bring the brand image in line with the strategic marketing direction and digitalisation, our head of creative Sarah worked on designing a new refreshing look and feel.
This focussed on the concept of Kwells being part of the route to enjoying travel free from the misery and anxiety of travel sickness and to conjure up the excitement and aspiration of holidays and day trips.
Using Kwells' signature blue brand colour Sarah created a range of designs to depict soaraway skies, paper planes and boats and introduced new iconography to represent the products use across all forms of transport.
This is especially evident across the Kwells website.
The design work is complemented by the use of family-orientated travel lifestyle imagery across social, media placements and digital advertising.
In 2022 we were asked to collaborate with Dexcel Pharma's Israel-based design company to refresh the Kwells packaging, modernising in line with the rest of the brand while retaining its 70-year plus heritage.
Packing a punch with PR
Within 12 months of rolling out our PR strategy we'd amassed an audience reach of over 2.3m – way over our 1m target.
Aligning supportive advice and insight for travel sickness sufferers while extolling the virtues of day trips, holidays and far-flung adventures gave us the opportunity to re-position Kwells as more than just a remedy.
The aim was to link it to the route of experiencing good times, memorable trips and aspirational getaways. 
And this was particularly poignant post pandemic when holidays home and abroad had sadly become a distant memory for many.
We embraced the lifting of travel restrictions – albeit slightly cautiously along with the rest of the UK population!
But we began sowing the seeds of the opportunities on the horizon and a newfound joy and appreciation of holidays and spending time with family again.
By the time we'd arrived at the year-end destination we'd clocked up a reach of over 6.8m, introducing a mix of both tried and new travel-focussed publications and websites, lifestyle magazines, parenting platforms and national newspaper advertorials.
Kwells was already among the top UK market leading travel sickness treatment brands but by mid 2022 it was placed within the top five key players in the Global Motion Sickness Medicine market representing strong sales across the board.1 
Digital stats that keep on soaring
The Kwells website continues to attract traffic thanks to strategic pharmaceutical digital marketing and insightful go-to content.
Primarily driven through social media, digital advertising, media placements and digital PR, SEO has also played a big part in drawing in an audience for its unique offering of travel sickness advice, self care tips, light-hearted blogs and travel insights.
Since launch to early 2023 organic users have increased 1,238% YOY and organic sessions have increased 1,194% YOY. The number of keywords ranked for increased 487% in 2022 – from 49 to 288 – and organic impressions increased 430% YOY (Jan – March 2023 vs Jan – Mar 2022).
Growing social media channels organically takes time, particularly for a pharma brand.But with the help of informative and light-hearted content, seasonal giveaways to coincide with summer holidays and Christmas breaks we soon started making in-roads.
YOY (2022-23) Facebook following grew 116%, reach increased 3,045% to 1.07M and engagement increased 42%.Instagram following increased 2,176% YOY and reach increased 10,587%.
We set out on 2022's journey aiming to reach 3.5m consumers through PR and paid media. The end result far surpassed this target, achieiving an impressive 6.8m-plus audience reach.
The final word… from our client!
Cornerstone are a unique PR/Marketing Agency who provide one of the most competitive holistic services versus many competitor agencies.
The team are knowledgeable in their field of expertise, enthusiastic, fun, extremely creative, joint collaborative thinking, positive approach to new and existing projects, always ahead of the game, and great at managing tight deadlines and last-minute requests.
I would recommend this agency with no hesitation. Their work speaks for itself!
– Dexcel Pharma Ltd
If you'd like to find out more about our pharmaceutical marketing agency services including PR, design, digital and website development call 0161 213 9941.