Social media marketing agency Manchester
Connect to your target audience with the power of social media marketing.
Grow your brand, generate leads for your business and capitalise on the billions of people that use social media daily.
What is social media marketing?
Social media marketing (SMM) is a form of internet marketing that uses social media apps as a marketing tool.
These social media platforms – Facebook, Twitter, Instagram, LinkedIn, TikTok etc – enable brands to connect with their audiences to:
Build a brand.
Increase sales.
Drive traffic to their website.
Build a community of followers to share and engage with their content.
They're all good reasons why a business or organisation should employ social media marketing.
Relevant content and effective messaging
Producing relevant content that users will share with their own networks helps brands increase their exposure. It also extends their reach towards devotees, potential customers and even potential employees if used as a recruitment tool.
As a social media marketing agency, Cornerstone DM can devise anything from short term campaign social plans to wider annual strategies that work hard alongside all other channels to meet your commercial objectives.
We'll help you devise and deliver your messaging to ensure it reaches the right people at the right time, through free and paid methods.
Social media also enables brands to learn more about their audience's personal, geographic and demographic information. This enables them to customise their messaging and content for the best engagement. But we're getting slightly ahead of ourselves. How do we do all this for you?
What we can do for you
You name it, our digital team can do it. And as a full-service agency, we have all the tools – expertise and creativity within marketing strategy, design, digital, PR and print production – to meet all your marketing requirements for a successful social media marketing campaign – from strategy and planning to copywriting through to design and implementation.
Our exhaustive onboarding process creates our understanding of your objectives, audiences, and desired outcomes.
This is how we go about it
1. Audit
Audit current channels and performance.
2. Research
Undertake hashtag research and schedule optimisation, making sure we post at the best times.
3. Plan
Devise a content plan and create specific channel targeting plans.
4. Goal setting
Set KPIs.
5. Strategy
Create a growth and engagement strategy and create a paid social strategy if required.
Social media for your business
All this will help to:
Increase awareness of your brand – social media marketing will boost brand awareness through engagement – things like comments, likes, shares, re-posts and saves. It can also drive traffic directly to your website or ecommerce site.
Generate leads and boost sales – promoting and sharing your offer on social media is a simple advertising tool that can increase sales because you are reaching people who have decided to engage with you.
Build relationships with your customers – connect and engage by responding to customers' questions and comments, providing them with any help they require. It's also a good way getting customer feedback, and/or running giveaways to build loyalty.
Social media is also a good way of keeping an eye on your competitors. What tactics are they employing, what products are they promoting, what's their interaction with customers? It can answer all these and many more questions.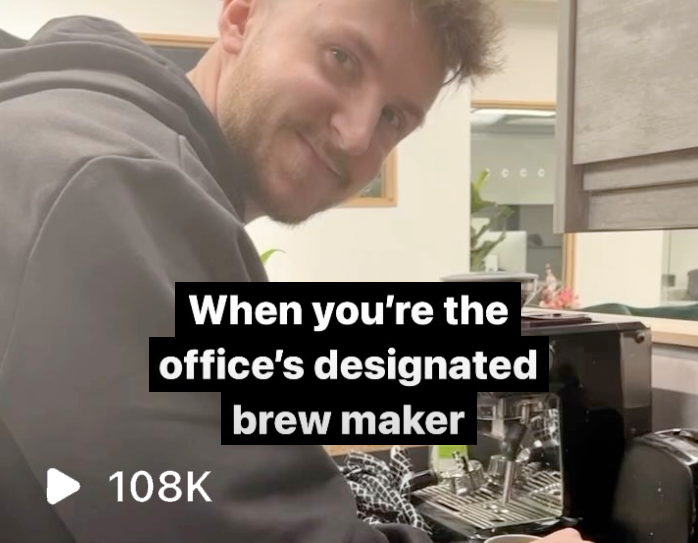 The brew views proving the power of social media marketing
"Who wants a brew?" Our SEO guru, Harrison, was taken aback when 10 people in the office said yes.
He flippantly suggested his prowess in the kitchen would make a good video for Cornerstone's Instagram Reels. Indeed, it did. Fast forward three hours and a video of our man's tea and coffee-making abilities had been viewed more than 100,000 times and boasted more than 2,500 likes.
A simple, yet powerful, example of how social media can be harnessed to promote a business and its activities – even brew times. To view the full reel check out the Cornerstone Instagram account!
The stats about social media
If you're still in doubt about social media marketing, let's take a quick look at some of the stats (taken from Hubspot):
Facebook – almost 2 billion daily active users worldwide.
Twitter – 211 million daily active users worldwide.
Instagram – 1 billion monthly active users.
LinkedIn – 774 million active users worldwide.
TikTok – 1 billion active monthly users globally.
That is just a snapshot of social media reach, and each channel has its own audience demographics and industry impacts. For example, LinkedIn is aimed at professional business-to-business (B2B) audiences, while Twitter is good for B2B and business-to-customer (B2C) activity.
Due to the sheer number of people on social media, your business could be missing out on the potential reach of thousands, if not millions, without a presence.
Get in touch
Our social media marketing activity for one client has seen their Facebook page following grow by 6,500 – a 9% year-on-year (YoY) increase. In one month, the page reached 183,000 followers – a 22% increase YoY. It included 96,959 from paid reach and 92,187 from organic reach.
In the same month, the organic reach rapidly improved from 22,862, which is a fantastic 403% increase YoY, which shows that our current social media marketing efforts are resonating and engaging with the channel's target audience, leading to an increase in shares and reach.
If you'd like your business or organisation to benefit from our expertise, get in touch.