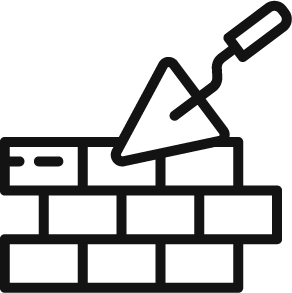 Construction Marketing Agency
Just like every building needs a plan, a construction company needs to ensure its marketing building blocks are well aligned, built on strong foundations and structured perfectly.
We have the knowledge, expertise, tactics and tools to design and build the perfect marketing plan to fulfil your construction firm's needs – everything from raising brand awareness, to creating marketing collateral, to generating sales.
As a full-service construction agency, our marketing mixer can provide a compelling fusion of skillsets that include:
---

---

– identifying and setting the goals and objectives you want to reach

Digital (such as SEO, PPC, email marketing, social media and content marketing)
PR and copywriting (including blogs)
Web design and UX

Media buying
…all delivering engagement and building brand loyalty that sells your business and services.
The construction industry is a key sector of the economy – a cornerstone you might say – and is a sector that we love to support with our full-service offering. Let's take a closer look at a couple of our construction campaigns.
Putting a brand new company on the map.
We helped a brand-new company launch into the UK property and construction sector – and also primed it for wider global markets and growth. The fascinating journey included complex considerations and global conversations with multiple stakeholders, working to a tight deadline.
But our resulting branding project, visual and written assets and purpose-built, optimised website created a perfect launch for Brawdia – pronounced Braw-deeah, a mix of old Scottish and Latin languages that roughly translates into 'excellence every day'.
Rising to multiple challenges with our specialist in-house teams are among the distinctive characteristics of our agency. We did exactly this for Brawdia, a new building and construction consultancy with stakeholders in the UK and the US. Brawdia specialises in insurance-related surveying services for commercial property clients, and we supported it with a full-service rebrand and launch.
We developed branding, a logo, strapline and tone-of-voice guidance to guide Brawdia's marketing and communications. In addition, we developed and designed its website and created written content to clearly convey its services to appeal to its target audiences.
You can read an in-depth case study of our work for Brawdia here.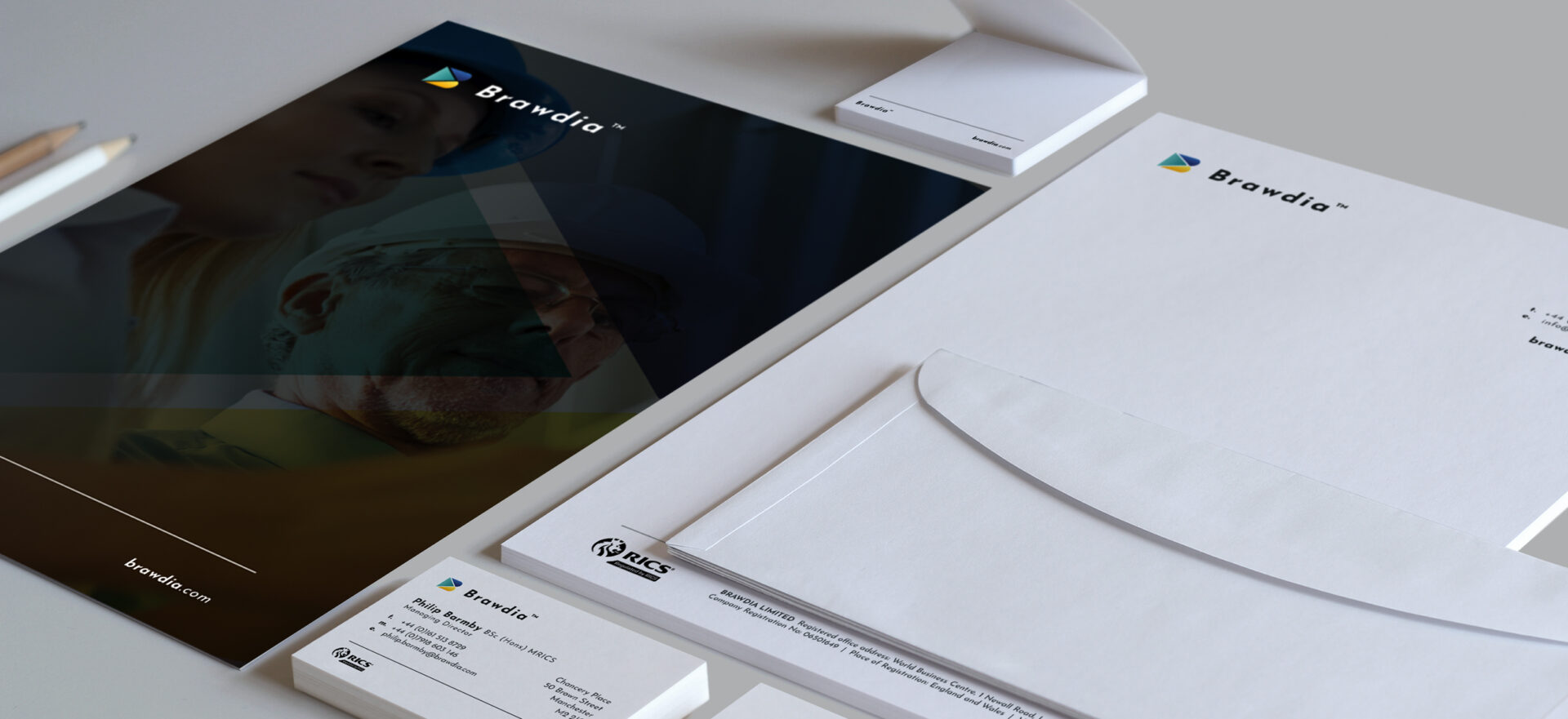 A visual solution for new student accommodation.
Living Quarters is part of the Interland Group, a property investment and development company that has gone from strength to strength for more than 35 years. As a full-service agency, this wasn't Cornerstone's first encounter with the company, having previously provided hoarding, brochure design and digital services, including the creation and delivery of the Living Quarters website.
We were asked to provide hoarding panels to surround a building they were renovating into high quality student accommodation in the Tooting district of south London, so we set about creating a highly visual solution that reflected the quality of the development and its location.
The design brief asked for student lifestyle imagery, with an overall look and feel that reflected the quality and leafy, green space elements of the site, which was within a stone's throw of open parkland. They also wanted the messaging to call out that the accommodation was within easy reach of south and central London colleges and universities.
As this project proved, investing in good design is critical and Cornerstone's design team boasts over four decades of combined industry experience to help bring any project to life.
You can read an in-depth case study of our work for Interland here.
Here's a glimpse of what we produced…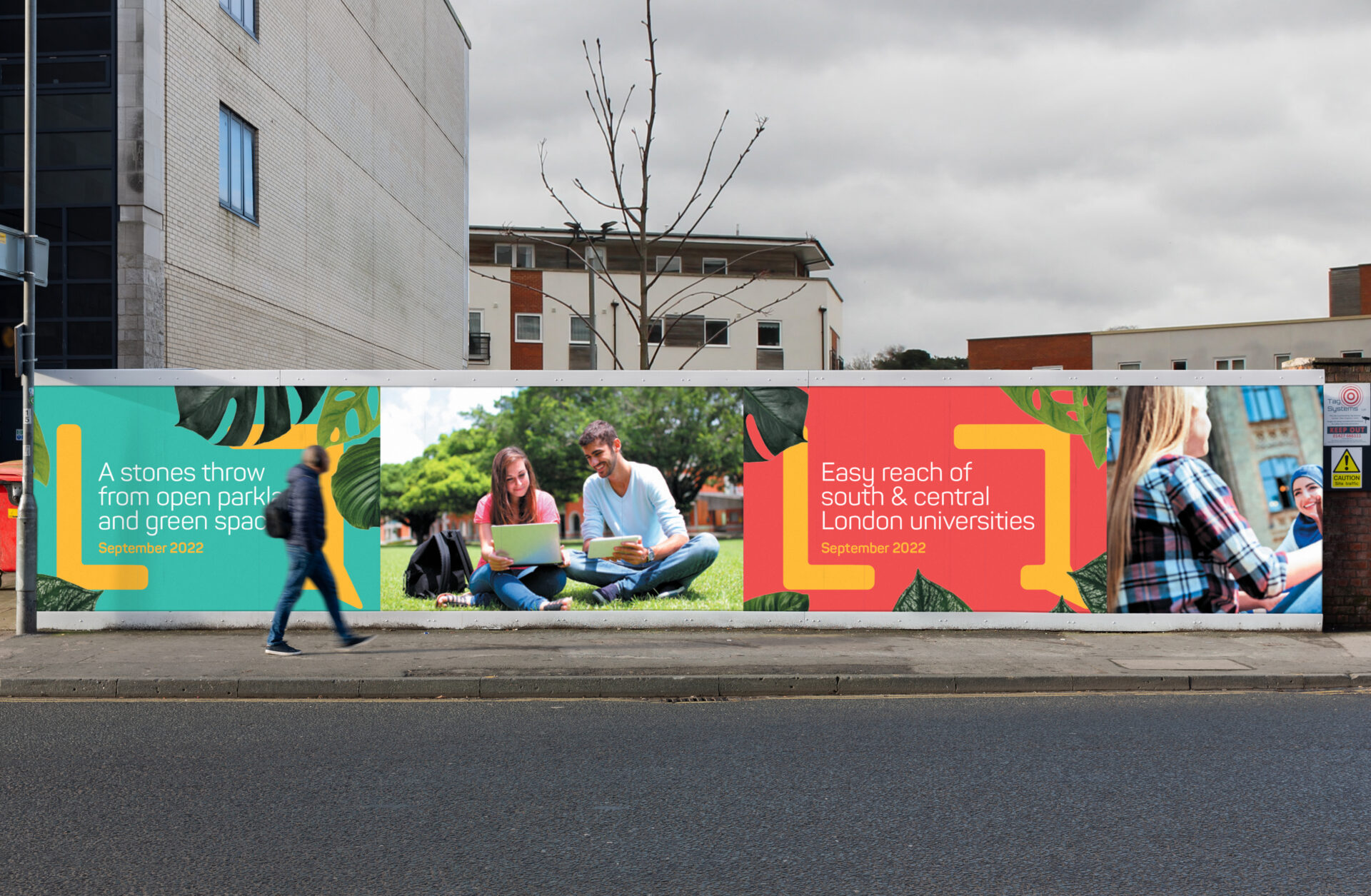 What else can we offer?
Whether your existing marketing efforts are underperforming, or you lack the in-house expertise or resources to build your own strategy and/or campaign, we can address your challenges and break down the barriers through bespoke solutions carefully tailored to your brand and/or business.
Although we listed our marketing disciplines earlier in this piece, we wanted to flag a couple of options particularly suitable for the construction industry.
Newsletters, usually sent out via email, are a great way to regularly build and maintain a relationship between a construction company and their target audience.
In fact, newsletters are valuable resource for internal and external communications, such as:
Introducing new projects.
Communicating company changes.
Discussing sales and discounts.
Promoting community outreach.
Sharing company achievements.
Last but not least, blogs are a powerful marketing tool for construction companies too – they can build knowledge, increase your firm's credibility and improve your website's traffic. By including a blog page on your website, it creates more opportunities to use effective keywords and search engine optimisation strategies to your advantage.
Construction is a diverse sector with multiple types of organisations and audiences. It includes small and large companies, professions, trades, chartered institutes, and brands – but what unites them all is that we have the expertise to help them.
If you'd like to know more about our full-service offer, visit our services page here, or get in touch: https://cornerstonedm.co.uk/contact/