Helping Brawdia launch into UK and global property markets
We launched a brand-new company into the UK property and construction sector
We helped a brand-new company launch into the UK property and construction sector – and also primed it for wider global markets and growth. The fascinating journey included complex considerations and global conversations with multiple stakeholders, working to a tight deadline. But our resulting branding project, visual and written assets and purpose-built, optimised website created a perfect launch.
Property and construction industries are key sectors of the economy – cornerstones you might say – and are sectors that we love to support with our full-service offering.
The property world is also diverse with multiple types of organisations and audiences. It includes small and large companies, professions, trades, chartered institutes, and brands.
Helping a client to launch a new property business and creating and positioning a new brand into the market is a fascinating challenge. Ensuring the new brand and assets are suited for both UK and global markets, including trademarks and domain registrations, adds yet another dimension.
But rising to multiple challenges with our specialist in-house teams are among the distinctive characteristics of our agency. We did exactly this for Brawdia, a new building and construction consultancy with stakeholders in the UK and United States. Brawdia specialises in insurance-related surveying services for commercial property clients and we supported it with a full-service rebrand and launch.
We developed branding, a logo, strapline and tone-of-voice guidance to guide Brawdia's marketing and communications. In addition, we developed and designed its website and created written content to clearly convey its services to appeal to its target audiences.
A new name led by industry stalwarts
Brawdia has UK bases in Manchester and London, along with a range of international stakeholders and ambitions to grow globally. The company name, pronounced 'Braw-deeah', comes from old Scottish and Latin languages. It roughly translates into 'excellence every day'.
The new consultancy has a team of RICS-registered surveyors with deep experience and expertise of technical surveying for commercial and residential property stakeholders and property insurance professionals who face diverse challenges or risks with buildings and land. They serve clients including property owners, developers, financers and insurance professionals such as loss adjustors.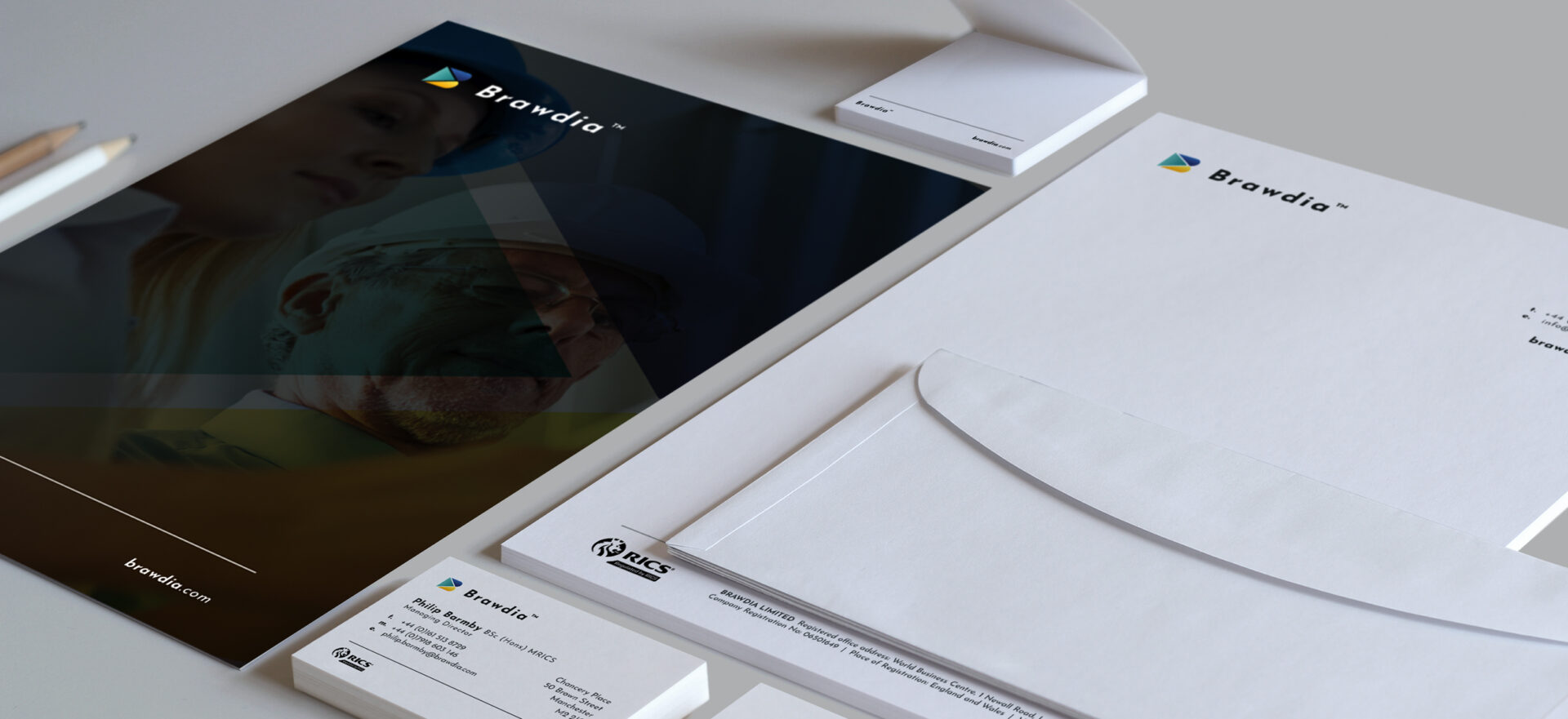 Expanding a brand worldwide
Driven directly through referral, we came recommended because Brawdia aimed to overcome the challenge of creating and positioning their new brand within the UK market, with a view to ensuring it was expandable worldwide.
Our agency's managing director, David, led the project which involved detailed, complex discussions and considerations as part of the process, with marketing strategy underpinning our service offering. As part of our strategic work, we facilitated detailed input and feedback from various stakeholders at Brawdia, in the UK and overseas. This was then distilled into meaningful commercial outcomes covering the new brand and other elements of the project.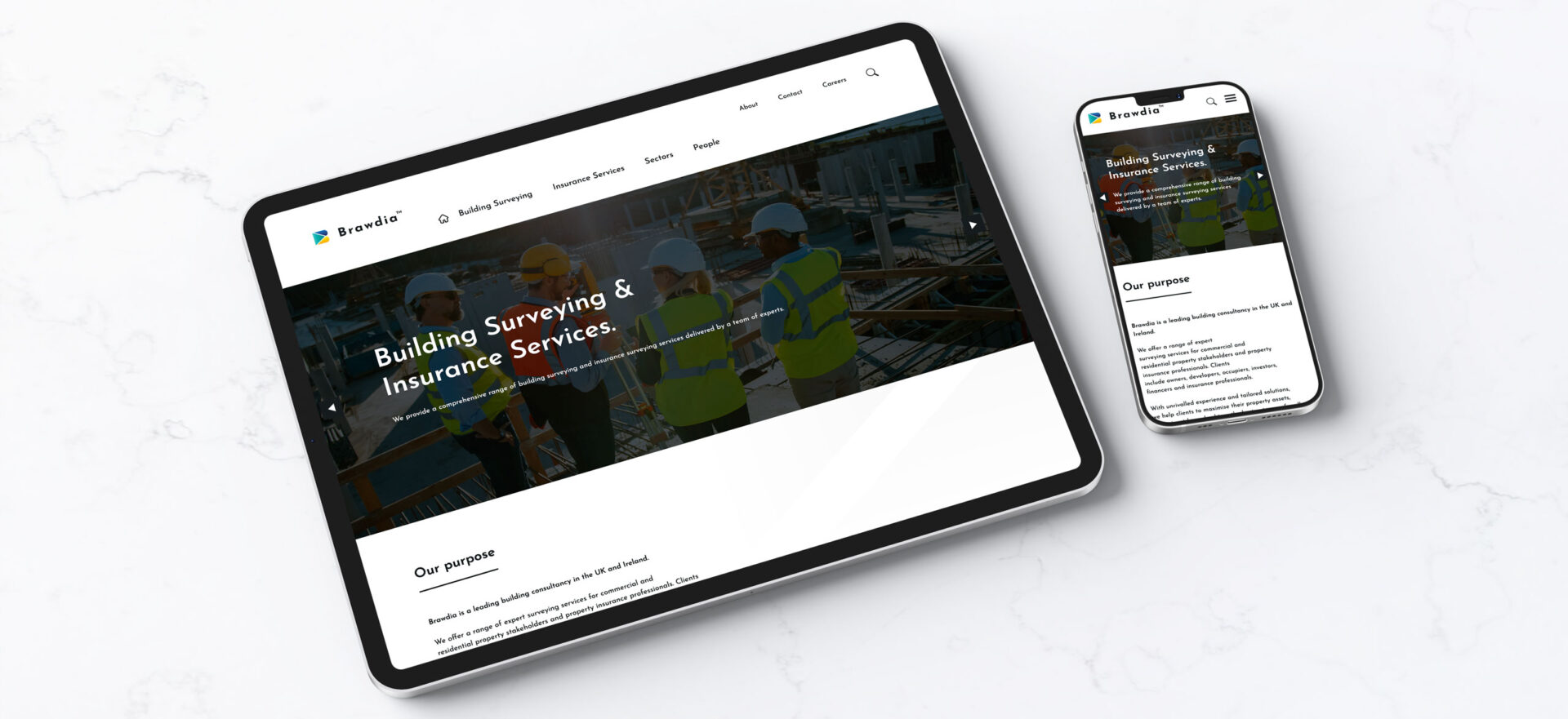 We held a branding workshop to fully understand and interpret the thoughts, feelings and insights from directors in the UK and United States regarding the brand, marketplace and target audiences.
There were a number of naming options suggested and preferred by stakeholders. Our task was to verify, validate and consider the impact of each within the market, in the UK and globally. This meant working with the client's legal teams on trademarking and domain registrations.
Following a brand facilitation workshop, we formed a branding proposal document with key combinations or variations of the names discussed, with the end result being Brawdia.
Vision, mission and value statements for the new consultancy were also formed and proposed. Once approved, these were migrated into a brand guidelines document and developed by our creative design team for a unique visual identity.
Visual work had to echo the values and vision of the new business and align with objectives outlined by all key Brawdia stakeholders to ensure long-term success. The brand was developed over a number of weeks and integrated into a variety of literature and digital assets.
Website workshop
Alongside the branding exercise, we developed a new website for Brawdia, providing the design, development, content creation and search engine optimisation (SEO). The website was designed with lead-generation campaigns, brand awareness and digital activity in mind. It forms a strong foundation for the client's marketing activity moving forward.
In the UX workshop with the client's management teams in the UK and United States, we discussed objectives, user personas, convincers and enablers that were needed on the website. We also conducted a website design benchmarking exercise, looking at other websites that the team liked for consideration and inspiration. When looking at website structure, we used an online collaborative tool to replicate using sticky paper notes in a physical meeting, which added a little bit of fun too. You can view their new website here.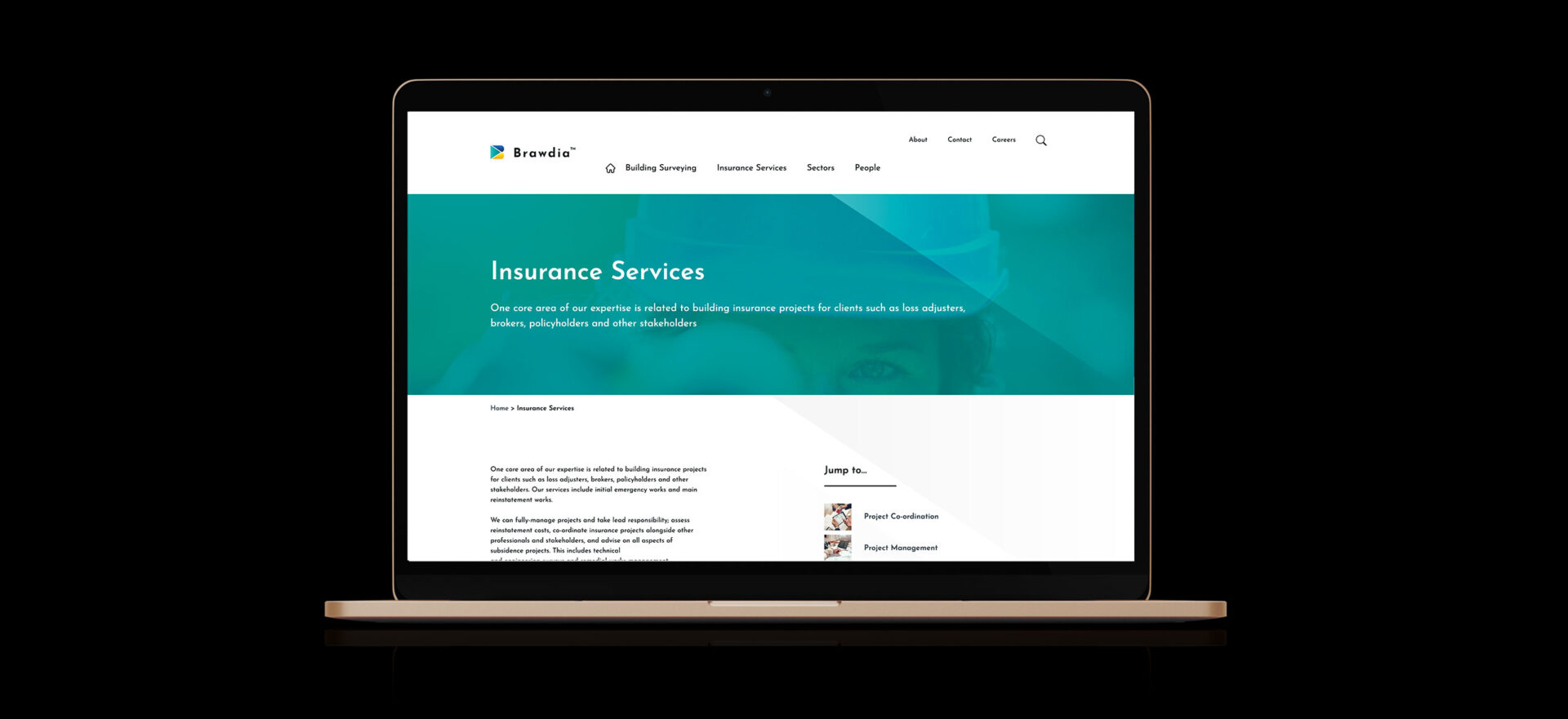 Written content was produced by our PR team, which included introductory summaries and in-depth details of Brawdia's surveying services.
The tone-of-voice and brand message were key considerations in this project, especially because this was a new business. Everything had to communicate trust and expertise along with Brawdia being a pioneer in its field.
The whole Brawdia project faced a tight timescale to achieve pre-agreed launch dates. But we completed the various phases in good time before each deadline. It was the icing on the cake.
Brawdia had all the design and marketing requirements ready for launch and we look forward to watching its development and hope to continue our work together as it grows.
Benefits of a full-service solution
Our agency's full-service offering differentiates us from others and gives us an edge when it comes to delivering high quality performance in a streamlined and efficient manner.
Like Brawdia, we aim to deliver excellence every day too.
Whether you're launching a brand-new venture or want to grow an existing business, get in touch to discuss the many ways we can help. Email: clients@cornerstonedm.co.uk.