Building trust on firm marketing foundations
Burnley Leisure is a fast-growing, entrepreneurial leisure trust which goes way beyond simply being a traditional health and fitness operator.
It has a strong cultural string to its bow through the running of the historic Burnley Mechanics Theatre.
It operates a number of sport and recreational sites alongside it's two leisure centres including golf courses, an athletics track, hospitality venues and The Boathouse, a park-based facility offering boat, kayak and canoe hire and a popular café.
It is an all-encompassing charitable trust dedicated to the health and wellbeing of the people of Burnley and surrounding areas, driven by the vision: 'To make a real difference to the communities we serve'.
But due to its rapid growth and expansion in recent years, Burnley Leisure's well-honed offering wasn't centre stage for its audience.
Individually, venues lacked a joined-up business and marketing approach, resulting in silos competing for share of voice and consumer attention.
Find out how we've been helping Burnley Leisure to unify its voice and tone up its marketing activities with the aim of shining a spotlight on its fantastic facilities for years to come…
A reputation for results
The foundation of our partnership with the trust exemplifies Cornerstone as an agency; 'Built around results, recommendation, strong working relationships and reputation'.
Burnley Leisure approached us in early 2019 following a recommendation from a fellow leisure trust for which we'd previously carried out a full marketing audit.
As leisure sector specialists we regularly conduct these investigative, in-depth reviews on behalf of clients.
Led by Cornerstone MD David Wadsworth, the audit drills down into current marketing practices, needs and requirements to form a robust and comprehensive road map of activities.
These defined objectives help to reposition and refine a client's existing marketing strategy for long term success.
As well as unearthing the potential to unify the arms of the business, the Burnley Leisure audit identified a need to synchronise digital touchpoints such as social media and ramp up online marketing.
Our research covered multiple aspects, delving into consumer and competitor landscapes as well as internal structures and staff.
This gave us a strong understanding of brand and digital interactions and in-centre experiences, allowing us to form a carefully considered strategic review to drive on-going success for years to come.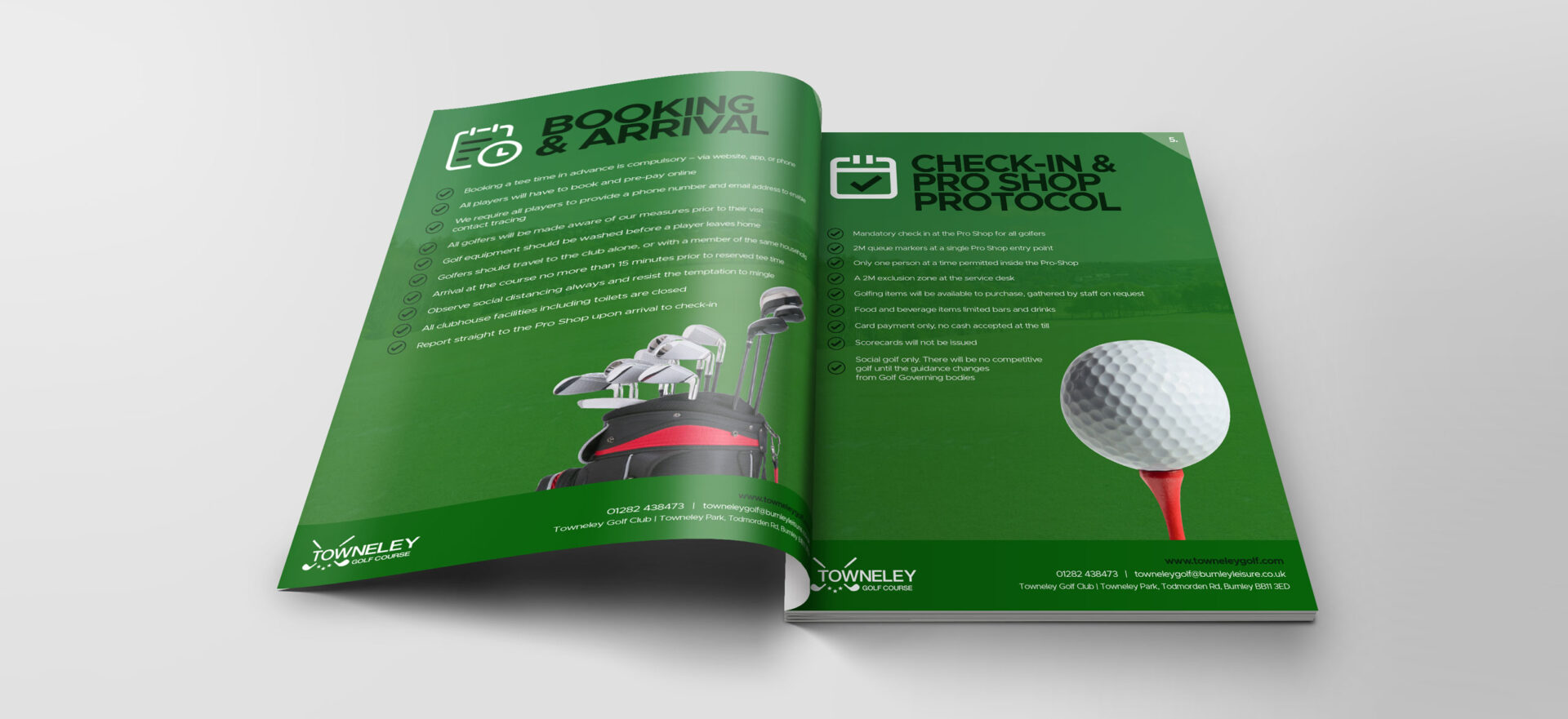 Redefined and aligned
A master marketing plan emerged following a series of trust-wide consultations, brand strategy workshops, skills audits and departmental insights.
This two-year strategy was designed to redefine the trust in terms of marketing collaboration and consumer perception.
The recommendations were filtered into a 12-month marketing planner with distinct goals and objectives for both sides to work towards.
It included a unified rebrand under which to house the individual Burnley Leisure venues and offerings and a plan to reposition the trust within its core demographics.
Its online presence was to be re-invigorated with a new, bespoke built website development, packed with SEO tools and API integrations into third party providers.
Essentially it needed a strong and effective UX strategy to help users navigate the site effectively, while exposing them to more activities and recreational offerings than ever before.
A social media strategy was implemented to increase audience reach and engagement alongside PR planning to raise brand awareness and reputation within its locality.
There was a strong member recruitment and retention focus through the integration of systems such as timetable, membership and marketing software and a cross-selling strategy across the organisation which was underpinned by email marketing.
And throughout, there was an emphasis on upskilling and supporting the trust's teams to aid the successful implementation and delivery of these renewed marketing and sales efforts.
The stats
So, here's what you really want to know.
Was it actually achieved?
While there's always still work to be done, we think you'll agree there's been some impressive results to date.
Website:
18% increase

in web sessions

via the

new website

19,000 new users

visiting the website in year 1
85% increase

in sessions

57% increase

in page views
Social media:
30% increase

in total Facebook likes

116% increase

in Facebook engagements
Organic Facebook

reach of 1.26M

Paid reach of over 173,000 with

above industry average CTR

Instagram follower

growth of over 37%

with reach nearing 50,000

85,000

Instagram impressions
PR:
206,000 total reach

via earned PR activity
Earned media value of

over £37,000

within a 6-month period
Digital PR (earned) reaching

over 80,000

of our target audience
Membership and email marketing:
Exceeded membership targets

for all campaigns delivered in 2019/20
Email marketing open rate averaging between

40-50% with CTR well above industry benchmarks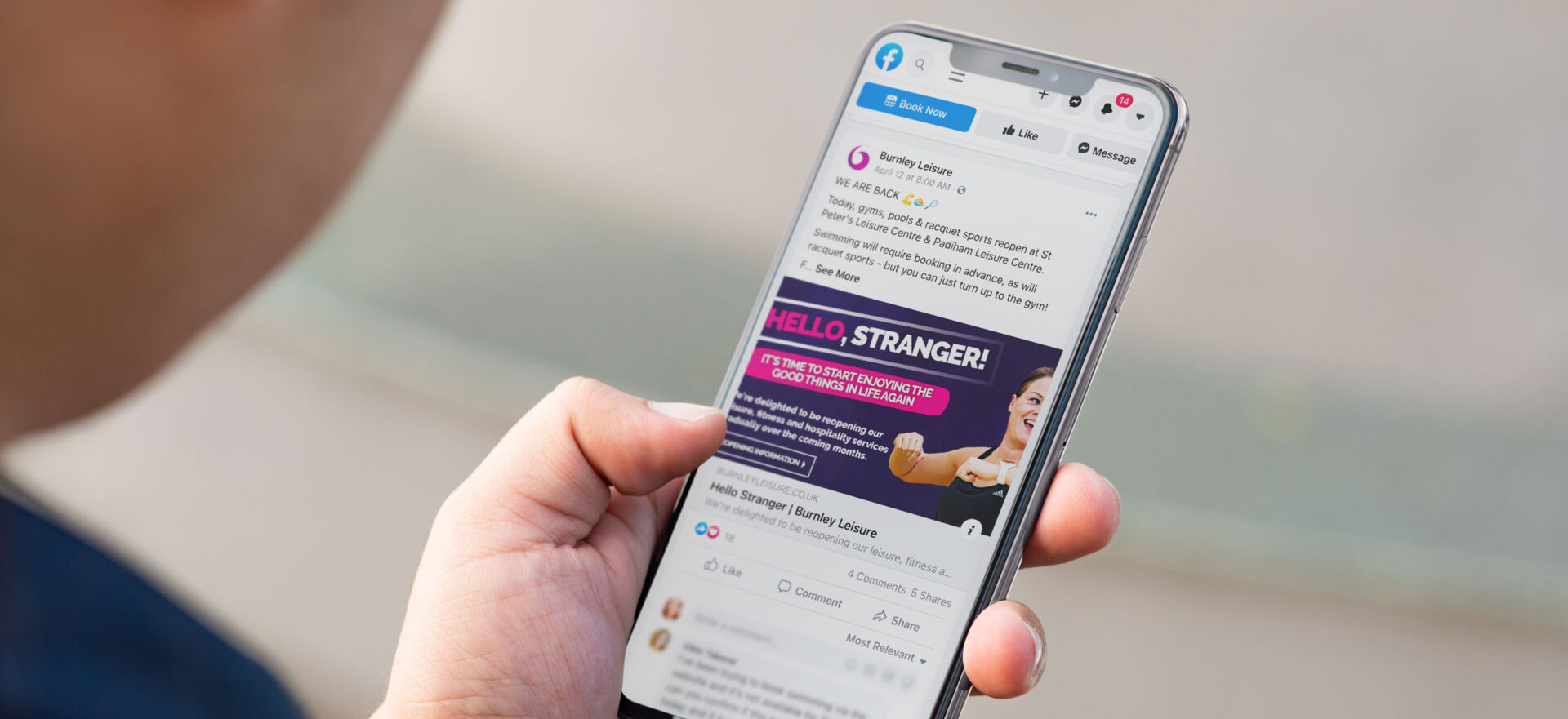 Unified success
Delivered in a structured format that delivers against KPIs, marketing has helped to significantly increase ROI.
Brand perception among consumers has risen as well as awareness of the wider Burnley offering with proven cross sells now taking place and enhancing the overall Burnley Leisure experience.
Bringing the brands together has helped create a stronger more cohesive customer experience, and one that is now driving recommendation and referral.
Digital touchpoints have also increased, particularly during the first wave of the pandemic.
Social media marketing helped Burnley Leisure to keep in touch with their members, followers and the wider community through the use engaging, supportive content.
From online workouts and quizzes to health and wellness schemes for the elderly and vulnerable, its social platforms helped to inject some much-needed fun, joy and energy into a community the trust are heavily invested in.
Forging a healthy future
We're proud of what we've achieved so far, and we're delighted that Burnley has seen the immense value of our full-service offering, ongoing as part of a monthly retainer.
Further investment in the trust's marketing activity continues and, at the time of writing, an exciting brand roll out is imminent across all its centres.
Time to introduce the lead strategist, Cornerstone MD David.
"Burnley Leisure has been an exciting client to work with from the very beginning.
"What's refreshing is their entrepreneurial and commercial approach to their activity. They have a very dynamic, forward thinking way of delivering exceptional experiences to their customers.
"We started out with Burnley as a consultant, helping to get under the skin of their business and its marketing activity, to understand where improvements and enhancements could be made.
"From carrying out our initial audit, we were immediately invested and engaged, and were grateful to be given the opportunity to help develop their brand and marketing strategy into the cohesive, high performing entity it is today."
Don't take our word for it
"We spent several months discussing the best way to improve our marketing although we had been successful, we knew we needed to step up to another level if we were to continue to grow the business further.
"After interviewing several companies, we decided to work with David and his team at Cornerstone, impressed with their down to earth approach and a talented team with different skills to work with.
"We spent around 6-8 months reviewing everything in detail throughout the business and then prioritising a plan of action to move forward.
"We started on a journey initially to consolidate our brand with a refresh and ensure our key messages were being promoted along with developing a new website and overhauling our social media channels. The Covid-19 pandemic meant adapting our plan and Cornerstone proved invaluable in scaling up our digital and online presence during lockdown propelling this area forwards at speed much quicker than many of our competitors giving us a competitive edge.
"We are still on a journey continuing to adapt and move forward with our plans, our brand is stronger, and our community awareness is bigger than ever putting us in a good position as we come out of lockdown.
"David and his team are a delight to work with and they have a real partnership approach not just a customer client relationship and would recommend them if you need to upscale and review your marketing operations big or small."
Neil Hutchinson – Head of Group Operations at Burnley Leisure
The perfect fit
At Cornerstone we've been working as reputable, renowned and trusted specialists with regional leisure clients for over a decade.
We offer expertise across marketing strategy, digital, design, PR, web development, print and signage.
As a full-service agency, we're able to provide a complete package of well worked out marketing disciplines to either compliment the skills of in-house teams or as a strategic partner.
If you're looking to seriously tone-up your marketing output, get in touch on either 0161 213 9941 or at clients@cornerstonedm.co.uk.
You can keep up to date with our client work and latest industry insights by connecting with Cornerstone Design & Marketing on LinkedIn.