Bespoke WordPress design & website development
When it comes to p-p-p picking up diverse projects, Pop Up Penguins pretty much takes the biscuit.
This Wild in Art trail featuring 105 street sized and mini penguin sculptures was set in New Zealand, dotted around one of the world's most unique destinations, the city of Christchurch.
It also helped to raise awareness of global burning issues such as conservation and climate change including its threat to Antarctica, the frozen homeland to many of these incredible creatures.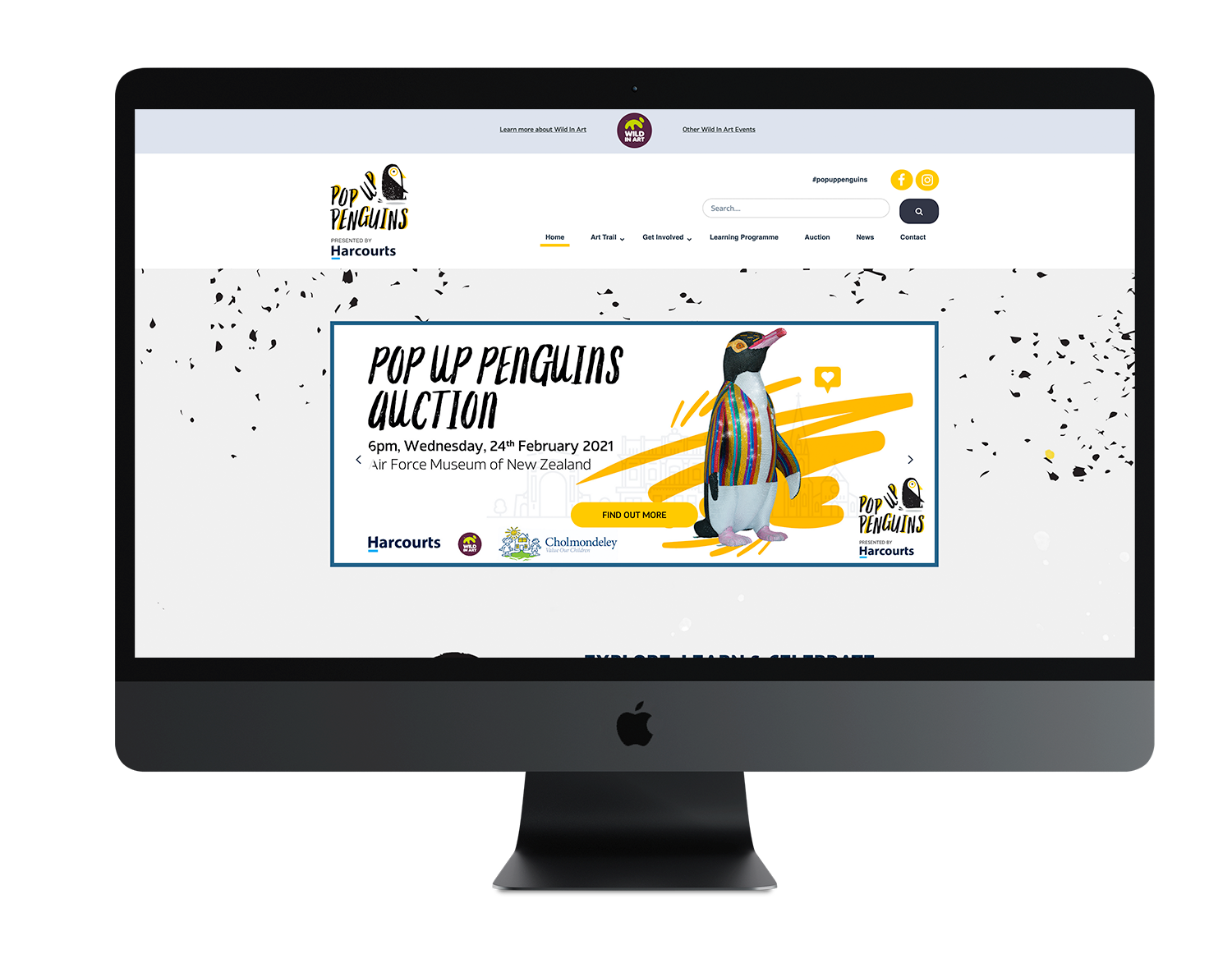 The website is fully responsive and content managed
Supporting a children's charity, sponsored by companies and decorated by established and emerging artists and local schools, this beautiful, fascinating, fun-filled public art event was a delightful journey of discovery to help educate the generations on hugely pressing concerns.
And we were fortunate enough to be involved.
We've worked with Wild in Art – an organisation which orchestrates popular public art events across the globe – for several years, overseeing the design and development of websites to promote a host of sculpture trails including Manchester's Bee in the City in 2018.
But this website evolved during the first wave of the pandemic.
And that in itself made this a unique and innovative project for both its hosts and our web developers.
Making penguins pop
So how did we end up Down Under?
Our rich legacy in helping to widen the audience and enlighten the public to Wild in Art's stunning sculpture adventures through our website development projects made us the perfect partner.
Wild in Art event producer Claire Cowles is based in the city and was involved in the 'Christchurch Stands Tall' Wild in Art Trail which featured giant giraffes to celebrate the community's recovery following a devastating earthquake in 2011.
From Africa's statuesque beasts to the much smaller, newly awarded New Zealand Bird of the year, this trail's stars of the show were based on the Hoiho or Yellow-eyed Penguin, one of the rarest and most threatened penguin species in the world.
The Pop Up Penguin's website followed the same design and development brief as its predecessors, Bee in the City and the Snowdog Art Trails; a bespoke, content-managed site to showcase and reflect the spirit of the event and the community behind it.
However, this time it needed to incorporate additional functionality to overcome a tricky problem thrown up by coronavirus.
Commissioning the artists normally involves business sponsors viewing the undecorated sculptures before choosing a piece and an accompanying creative based on examples of their work at a dedicated face-to-face viewing.
But lockdown restrictions dashed all hopes of this happening so instead we developed an online gallery to allow Wild in Art to upload designs to the website to stage a virtual viewing for sponsors.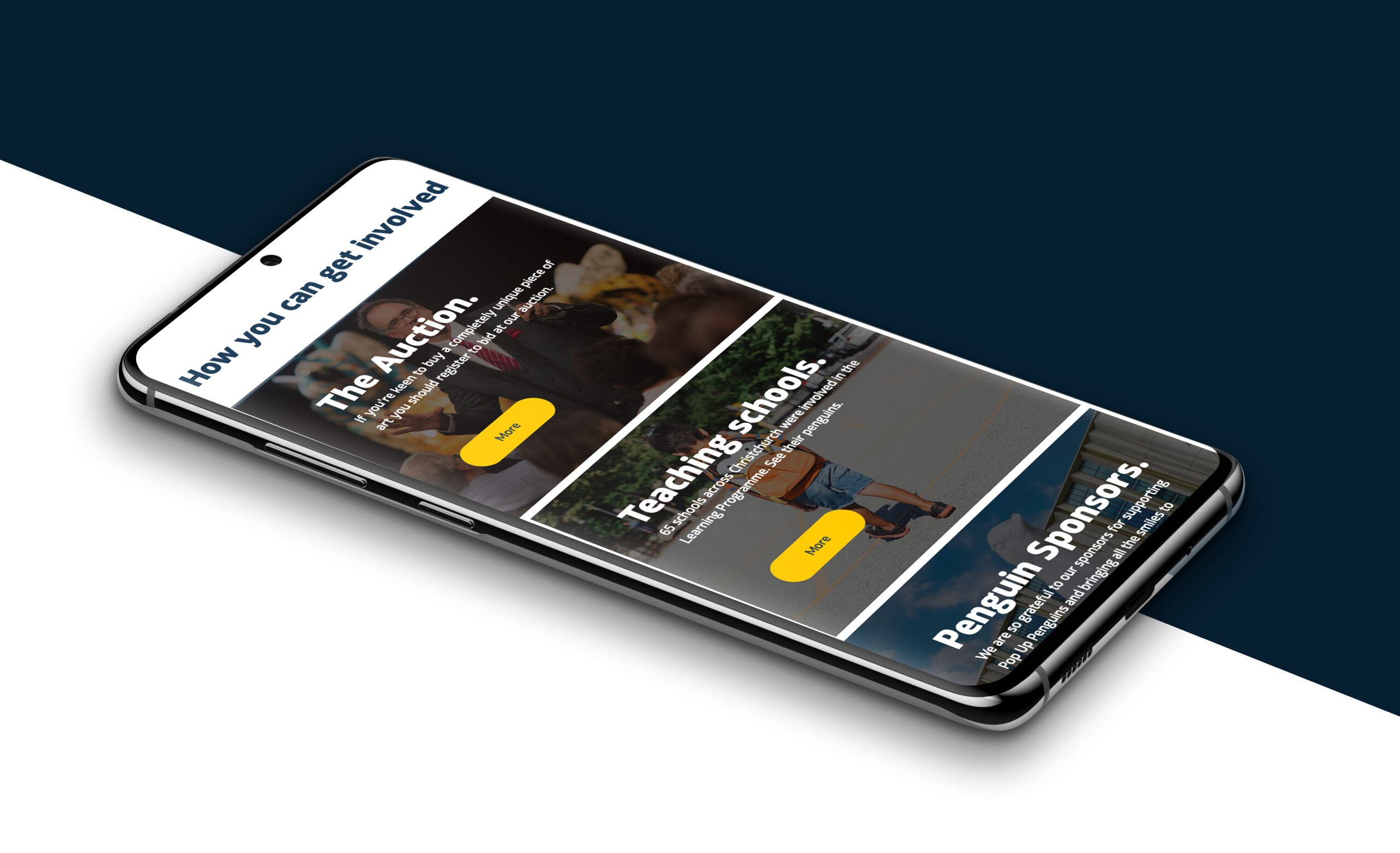 Wild in Art sites are understandably popular projects among our creatives and web developers
They're as fun to design as they are to view and the sense of purpose and philanthropy behind Wild in Art's events makes it a highly rewarding experience.
At the time of writing, Pop Up Penguins was mid-way through it's nine-week run with its stunning sculptures due to be auctioned off – in traditional Wild in Art style – by event presenting partner Harcourts Real Estate NZ to support Cholmondeley Children's Centre in Christchurch.
But with the excitement and feel-good factor riding high among residents and visitors alike, there was a huge surge of interest way before it even started.
And with its website live and ready, this was one bird-themed trail that was set to soar – unlike its adorable star attractions!
The site itself was built on a handcrafted WordPress website for high-level customisation to enhance both functionality and user-experience.
Easy navigation and clear calls-to-action were front of mind as well as accessibility to a broad range of users including schools, businesses, sponsors and families.
Working with us
We're an ethical, reputable, integrated agency providing results-driven projects and campaigns to our clients across a wide range of industries and sectors including arts, culture, leisure and hospitality.
Our expertise spans across all marketing disciplines including strategy and research, public relations, design, digital marketing, print production and signage.
Find out more and get in touch via email at clients@cornerstonedm.co.uk.
You can keep in the loop with our client work and latest industry insights by connecting with Cornerstone Design & Marketing on LinkedIn.