Active, clean and green spaces for everyone
A bespoke website to communicate GM's vision for a greener future
Greater Manchester is adopting a clear and ambitious approach to climate action with individual, community, educational and industry action at its heart.
So, when the Greater Manchester Combined Authority (GMCA) – made up of Greater Manchester's 10 local councils and city-region Mayor Andy Burnham – wanted a website to put at the core of its ambition, it was our honour to provide the solution.
We'd already worked with GMCA on a variety of websites in the past, including Nature GM and Plastic Free GM – two campaigning sites which aimed to get more people to engage with nature and use less plastic.
It was decided a third site, GM Green City, would be the one for GMCA to share its vision and mission – where we all have an opportunity take action by making better choices, investing in and embracing more sustainable businesses, practices and lifestyles.
After successfully navigating the tender process, we had one objective – to bring together their three existing sites into one engaging and interactive hub – GM Green City, with the objective of showing how we can all easily play a part in facing up to the challenges that threaten our environment and the climate.
The target audience was simple – everyone in Greater Manchester from differing communities, backgrounds and locations, but with particular focus on a number of harder-to-engage groups across our region.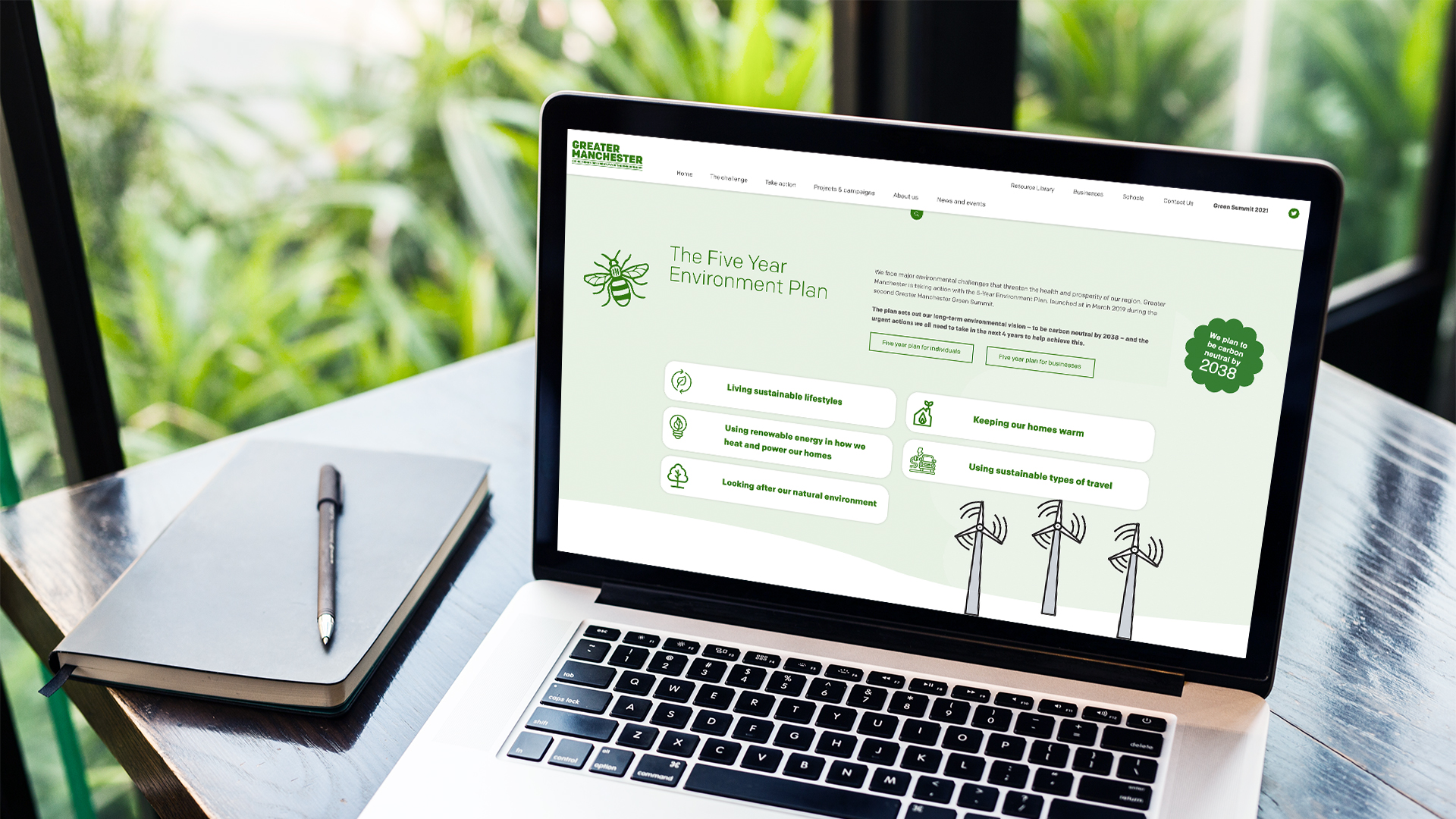 Research driven and objective orientated
We began where most Cornerstone web projects begin, with solid research and this is where our User Experience (UX) workshops come into their own.
The ultimate goal of this site would be to drive changes in people's behaviour and actions to create a positive impact on the environment, driving an overarching objective to become a carbon neutral community within 20 years.
We spent many hours engaging with stakeholders, consumers and experts across the GM city-region to gain valuable insights into the way they would use the site, and what would engage and encourage them to achieve the ultimate goal.
A raft of questions later, and extracting valuable insights and information, we were able to confirm the key objectives of the site and set out a positive user experience and road map for success via a solid UX strategy and information architecture.
Gaining consumer insights to drive exceptional user journeys
Using our research and UX process, and insights from consumer personas, our team set about confirming a comprehensive set of wireframes and creative design routes which were extremely well received by GMCA. Following sign off, our web development team were busy beavering away to develop the site to hit a key launch date deadline.

Meanwhile, we wanted the content to be user-driven to maximise engagement and interaction. Time for more insights.
Consumer insights drive exceptional user journeys, so we engaged in a focus group of 10 key target audience members to help us shape key headlines, calls to action, menu labels and ways to influence and encourage behavioural change that would positively impact the local environment.
Lots of messages came through loud and clear, including the colour-scheme and, not surprisingly, the client stressed the need for its green bee logo – green for the environment and the bee synonymous with Manchester – to be prominently displayed at every possible opportunity, which was well liked by and resonated with consumers in each focus group.

Taking climate action today, tomorrow, together
The finished site has been hailed a triumph by the client. See it for yourself…
We're very proud of it too. It was an exciting build which took three existing websites and seamlessly dovetailed each and every piece of information into a cohesive, engaging and enjoyable journey for the end-users.
The animated home page banner was lovingly crafted by Dave from our creative team, helping to capture brand personality and a positive outlook for residents of GM. We love it just as much as the client.
The site will now play its part in communicating GMCA's five-year environment plan for creating a greener, cleaner, carbon neutral future for residents across GM, and has already been put to good use for wider schemes and initiatives thanks to being built in a flexible and scalable manner.
The next challenge
No sooner had the site launched, than we were asked to update it with a new section promoting the Greater Manchester Green Summit.
Currently in its fourth year, and hosted by Mayor Andy Burnham, the summit focuses on the actions we can all take to reduce our carbon footprint and improve our environment. It showcases many of the great actions that have been taken so far, what we can all achieve as a collective, given the right support, direction and funding.
The summit includes these key sessions:
 Environment through the ages – what does climate change mean for all of us?
Nature and green spaces including the Greater Manchester Environment Fund, social prescribing and community action;
Smart energy, including the Green Homes Grant and community solar projects;
Waste and resources including the Recycle for Greater Manchester food waste campaign, renew shops and innovative local community projects;
Transport, including active travel and public transport;
Research, innovation and creativity – the story far, green skills and planning for the future.
It's all there – a downloadable agenda, and a full diary of events and sessions and an active live stream allowing deleagtes from across the world to participate.
And we're not resting on our laurels. We're now embarking on collecting more insight, through user acceptance testing.
Our goal is to ensure the software can handle real-life tasks, perform up to expectations and meet the objectives we set out achieve. It's a way of fine-tuning what we've created to ensure the user-experience is as positive as possible. It can also highlight anything that needs fixing or improving.
Our digital project manager Paige, explains: "Every question has a rationale behind it. It's a way of us checking that the site's functionality is easy to use and everything works as intended as well as ensuring that we have met the client's objectives."
"For example, is The Challenge the correct name for one of the menu items? Does The Challenge sound like something you have to sign up to, when it's really about the challenge facing the environment. Do we need to call it something else?" Our testing will give us an answer.
Working with us
We're an ethical, reputable, integrated agency providing results driven B2B and B2C projects and campaigns to our clients across a wide range of sectors and industries.
Our expertise spans all marketing disciplines including strategy and research, public relations, design, digital marketing, print production and signage.
To find out more about working with us clients@cornerstonedm.co.uk
You can keep up to date with our latest client work and industry insights by connecting with Cornerstone Design & Marketing on LinkedIn