Creative rebrand with web design and development
A green rebrand development driving greater good
Recycling plays a huge part in helping to tackle climate change and the significance of this rebrand and new website build certainly wasn't wasted on us.
With overall responsibility for the 'greater' region's waste recycling, Recycle for Greater Manchester (R4GM) works with local authorities to inspire and encourage people to waste less and recycle more.
Following a successful pitch, we were given the green light to create a full rebrand and develop a new website for R4GM under the direction of its governing organisation Greater Manchester Waste Disposal Authority (GMWDA).
This was a rebrand that required real consideration and conceptualization – not a mention a little recycling on our behalf…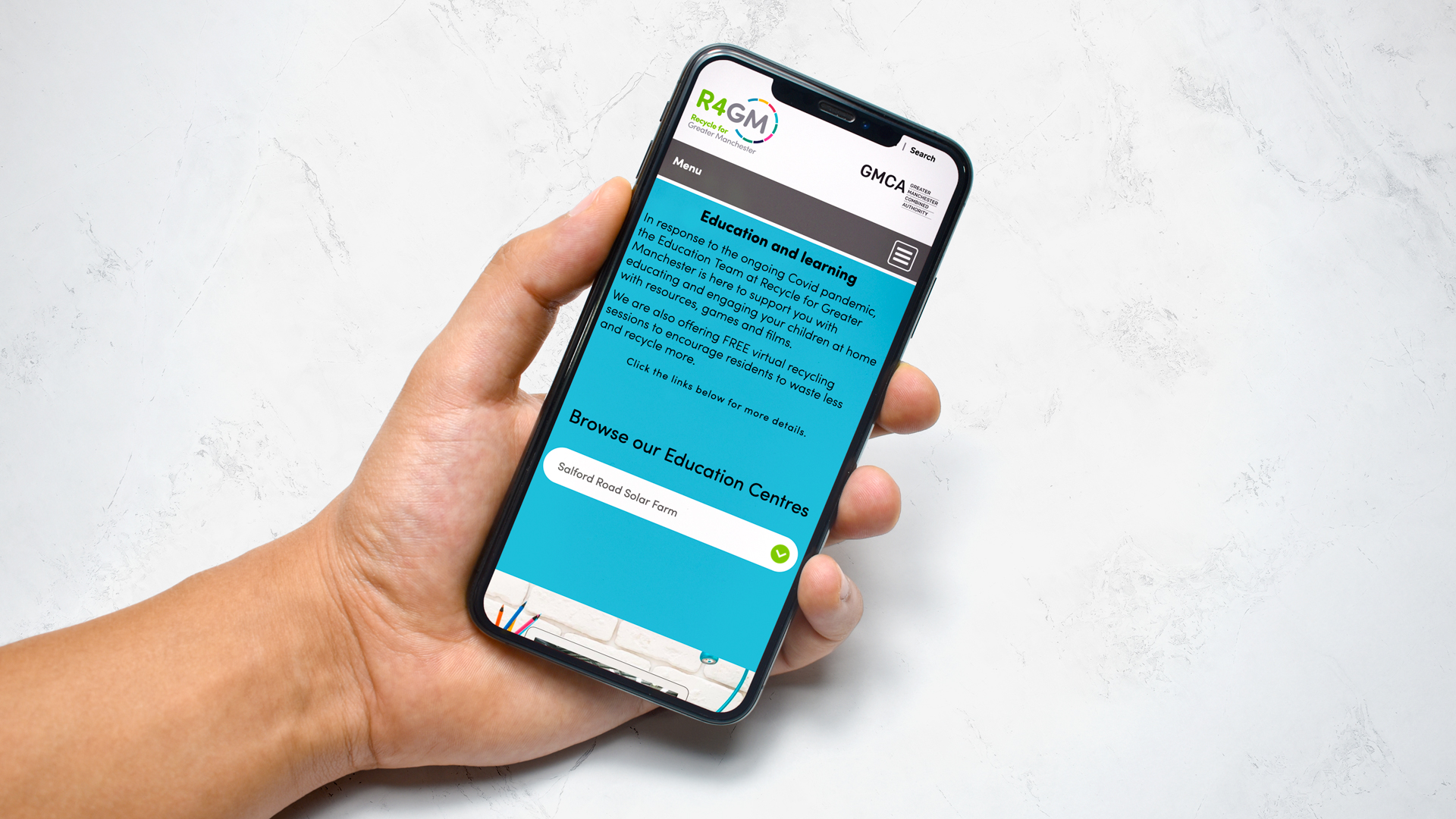 Making a positive impact
There's no doubt recycling is an easy, everyday way for us to have a positive impact on the world.
R4GM's role is to convey this positive messaging through education and engagement, helping residents to see waste as a valuable resource to help conserve and preserve the planet.
The R4GM branding is essential to its on-going campaign visibility and therefore there were many factors to consider during the design process.
We were tasked with creating a strong brand family.
But that family consists of 'brands' already established in their own right – nine Greater Manchester councils.
Each reflects its different key target audiences and the areas they operate in.
The challenge was to incorporate all these individual branding elements to create a new look and feel without deviating too far from R4GM's existing logo, the widely recognised recycling 'swoosh' symbol – that's where our recycling came in.
We designed a range of logo creative to kick off the project with refinement options to satisfy the core branding requirements.
We pitched these to the client and the selection process began.
The chosen design combined the representative colours of R4GM's council partners in a format which echoed the shape of the recycling swoosh.
We used focus groups to carry out consumer perception exercises which resulted in tweaks to the final design before R4GM welcomed its new brand family with open arms.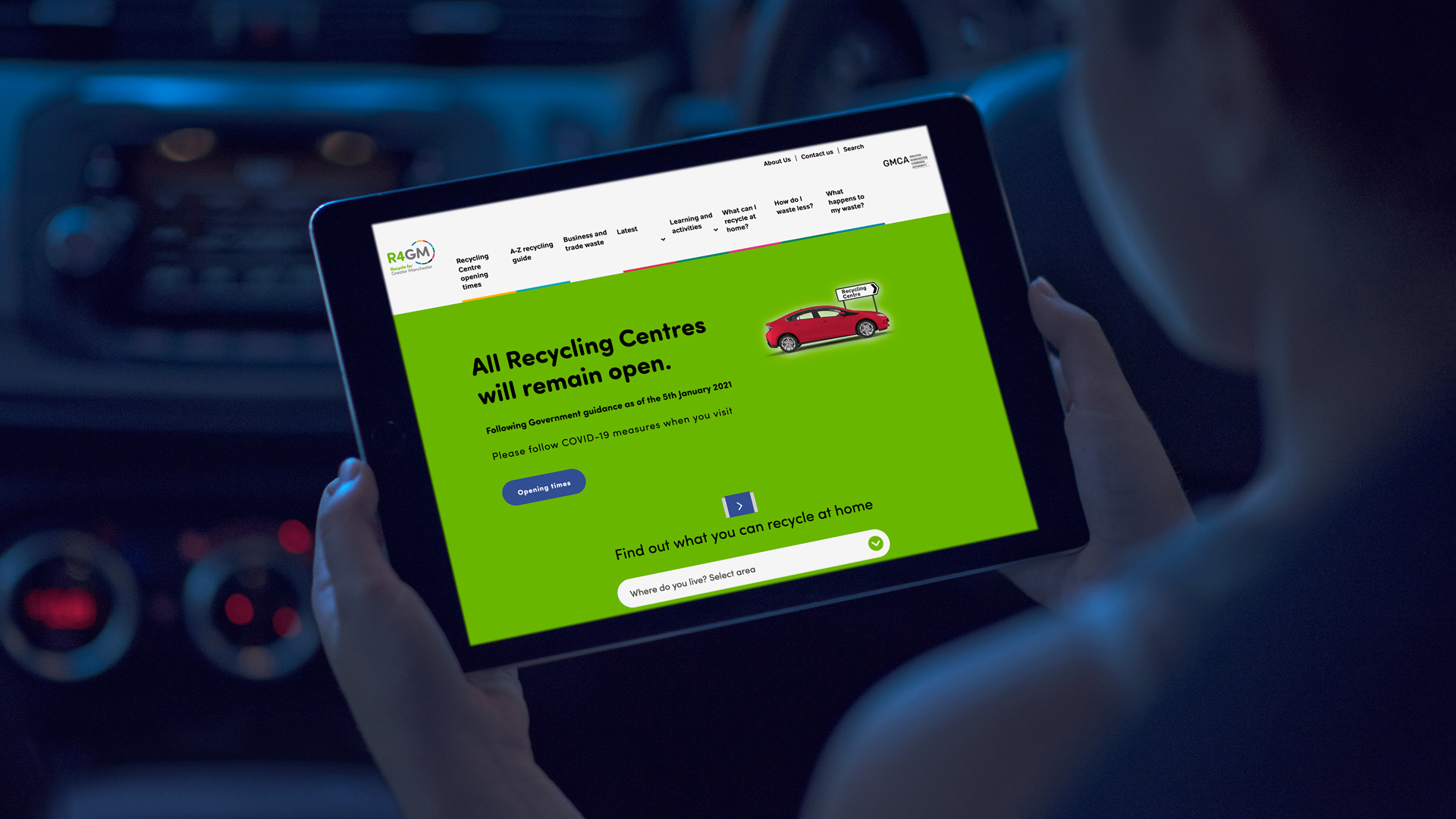 Engaging and effective
We were briefed to develop a highly bespoke website which required a substantial user focus alongside a carefully considered user experience (UX) design.
First and foremost, it needed to be consumer friendly as the public-facing arm of the brand family, conveying key information in the simplest way possible.
The website needed to strike a fine balance; visually appealing while effectively and efficiently communicating the organisation's crucial messaging.
Research revealed that the majority of visitors accessed the site via Google searches meaning they frequently landed on a range of pages rather than initially seeing the homepage.
Therefore, the website needed to have a cohesive look and feel throughout, pushing strategic calls to action across several of its key pages.
With UX at the forefront we developed a site with well-structured content and information accompanied by a range of touchpoints to highlight the main messaging elements.
Illustrations play a significant part in the design, helping to engage and achieve the brief's behaviour change objectives.
The website continues to have a hugely positive impact on R4GM's goals and waste reduction ambitions – driving a change in attitudes and actions to equal genuine environmental effect within its communities and beyond.
Working with us
We're an ethical, reputable, integrated agency providing results driven B2B and B2C projects and campaigns to our clients across a wide range of sectors and industries.
Our expertise spans all marketing disciplines including strategy and research, public relations, design, digital marketing, print production and signage.
To find out more about working with us email clients@cornerstonedm.co.uk 
You can keep up to speed with our latest client work and industry insights by connecting with Cornerstone Design & Marketing on LinkedIn.