Full service pharmaceutical marketing support
We're taking Care of a great British brand
Working with Care, the No.1 brand sold through UK pharmacy*, has been a fascinating and rewarding brand journey for Cornerstone, and one that has helped forge some strong industry organisation and trade media relationships which are helping the brand to embrace a new era.
As one of Britain's leading over the counter (OTC) brands they were perceived as having a more traditional outlook in the marketplace. They were seeking a change in direction and looking to evolve the brand to help broaden their reach and reinforce the messaging around the scope of their unrivalled range of products and pharmacy support.
You're about to find out the part Cornerstone has played in the healthcare and pharmaceutical marketing support – helping to drive this superb pharma brand forward within the industry.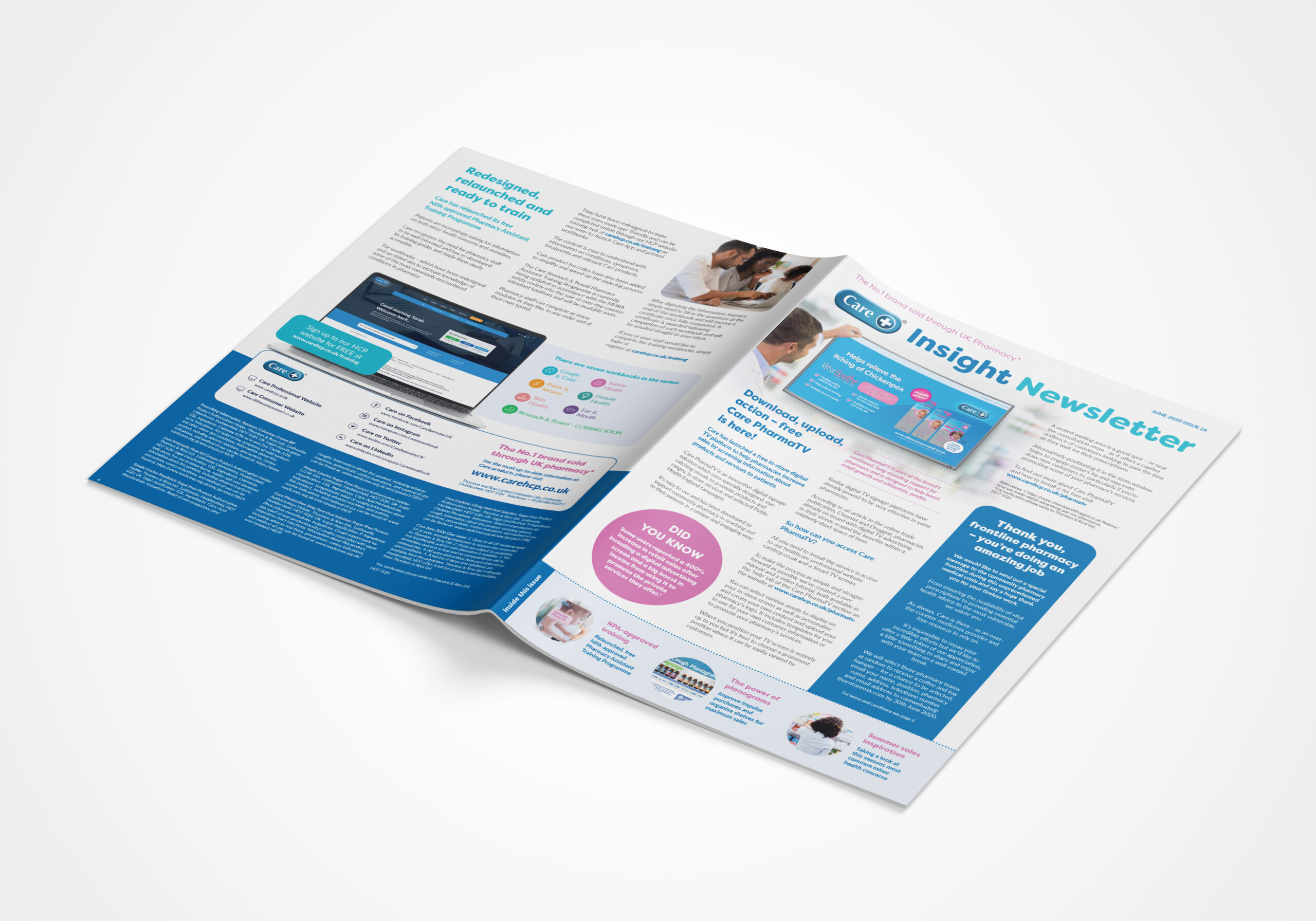 Developing a brand that prides itself on providing quality and value
As part of our creative and brand development programme, Cornerstone helped Care to fully reposition its brand identity to better reflect its position as a leader within the independent UK pharmacy market.
Drawing on our creative teams' skills and experience, we developed a new look brand identity.
This was rolled out across its trade and consumer channels to reaffirm its No.1 status and re-engage with customers within the trade as well as consumers – the generations of families who have turned to the brand during their times of need.
This was the first step in ensuring a stronger appeal for the brand and a more cohesive visual identity.
Leveraging a proud brand to become louder
Historically Care was seen as a traditional brand within the marketplace and therefore needed to fire up its brand presence to keep the product range front of mind with its target audience of healthcare professionals.
First things first.
We researched and developed a long-term PR and digital media strategy.
We then began targeting the strongest, most relevant publications and organisations across the UK pharmacy market to loudly and proudly promote the brand's unique and powerful messaging; that Care is the No.1 brand sold through UK pharmacy*, offering one of the most comprehensive ranges of quality, largely UK-manufactured OTC medicines and remedies on the market, for almost every minor health concern.
Our work saw the brand shift swiftly from its 'traditional' reputation to having a clear and prominent share of voice within the market.
We achieved a staggering PR audience reach of well over half a million – 580,059 to be precise – across print, online and email marketing in just four months.
Developing digital tools that add real value
Another critical part of our work for Care was to develop digital tools that could add real value for healthcare professionals.
Our aim was to also ramp up the brand's offering as a crucial pharmacy support partner in what is a rapidly changing primary care landscape due to the NHS emphasis for patients to self-treat minor health conditions.
Our digital innovation commenced with a bespoke built HCP (healthcare professional) website and healthcare learning portal, which offered in-depth search functionality as well as placing information about Care products, free training, patient self-treatment advice, industry insights, retail expertise and POS ordering at the fingertips of pharmacy.
Following a successful launch with users signing up from across the UK, we recently expanded the site to develop an innovative and uniquely free in-store digital signage service for Care's pharmacy customers.
The custom-built TV platform allows UK pharmacies to sign up and access Care's TV software to display digital messaging – including product placement visuals and selected Public Health England campaigns – in their stores through the use of WIFI and Smart TV technology.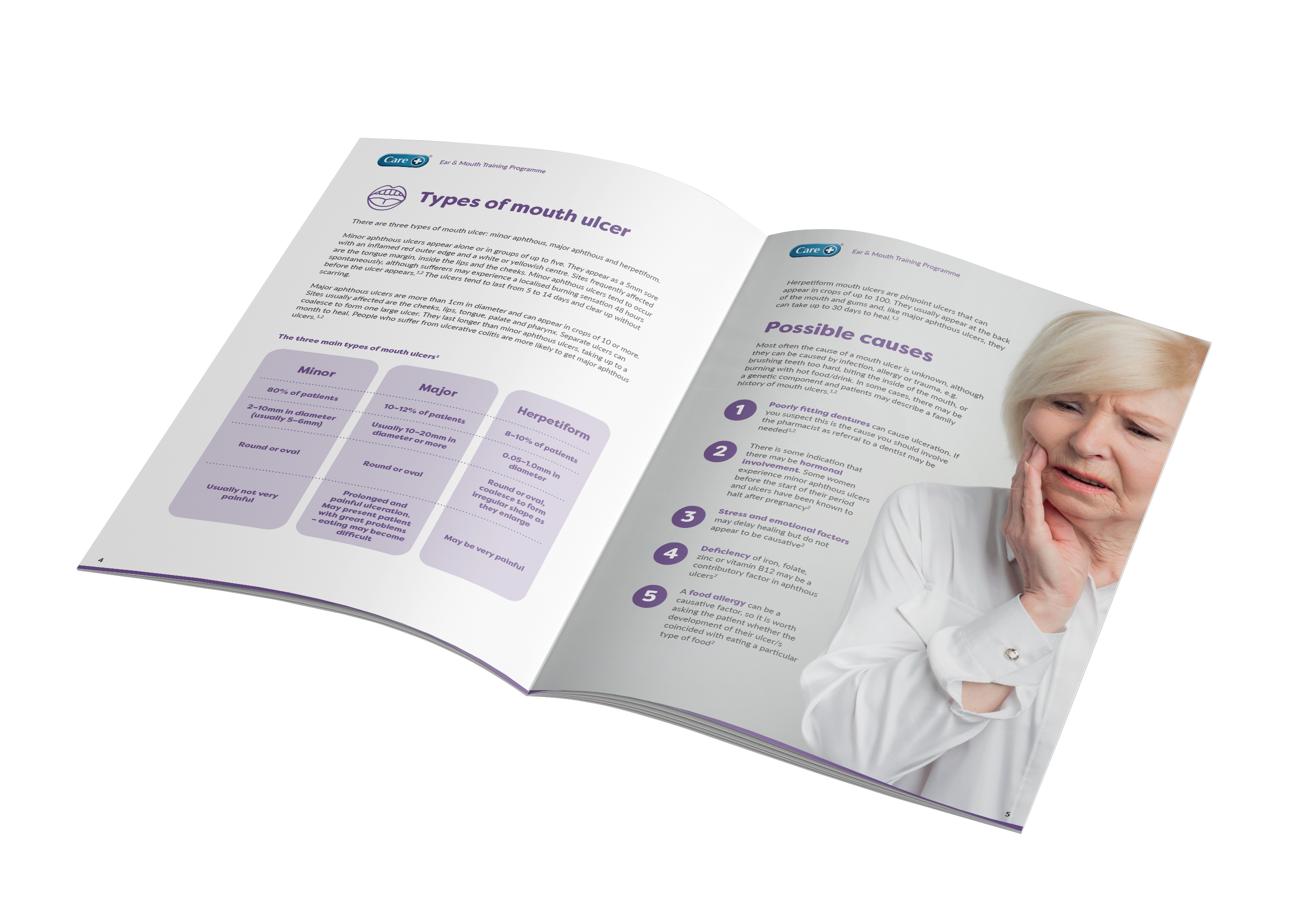 Providing true support through valuable training and personal development
Care's ethos is simple. To support pharmacy in any way it can, including through the provision of a range of free, expert-developed resources.
It's continued to do this throughout its existence, but Care has now dramatically increased its offering and embraced digital formats to fit the needs of modern-day pharmacy.
Cornerstone's head of creative oversaw the redesign of Care's Pharmacy Assistant Training Programme which offers vital learning on a variety of conditions commonly encountered in pharmacy.
As well as revamping the design of their printed training guides to fit with Care's contemporary vision, we digitally enhanced the training to make it easily accessible on the new HCP website's learning portal.
With increasing pressure on pharmacy staff to provide an even wider range of help and advice to patients, providing access to high quality learning is essential.
Cornerstone's redesign and electronic modification means Care is now in a prime position to provide this valuable resource, via both traditional print versions and its online training portal.
Care's training is optimised to enable staff to stay fully up to speed and compliant with pharmacy and patient requirements, whenever and wherever they choose.
Care now and in future
The relationship between Cornerstone and Care continued to evolve.
We're always hungry to be briefed on our next project as well as conceive and conceptualise bright new strategies and solutions to help Care to continue to achieve its marketing-leading objectives.
Cornerstone's PR, design and digital teams collaborated with Care on a number of on-going campaigns.
We helped to further develop innovative new digital marketing services, PR and sponsorship opportunities, trade engagement, consumer product awareness and meaningful partnerships to help boost the brand to its rightful position within the marketplace.
Care and its products are there to provide TLC – we'd like to think we did the same for a great British brand to be proud of.
* For verification, please write to Thornton & Ross HD7 5QH.