Navigating a leisure provider's voyage to a new era
Barrow in Furness is a deep-water port famous for its industrial and ship-building heritage.
So, it was a privilege when we were asked to navigate the voyage of a local authority's leisure centre as it embarked on a new era.
In fact, we're not without our own heritage when it comes to providing full-service marketing expertise and creativity in support of the leisure and wellbeing industry, working with several local authority leisure trusts and associated organisations – many of which have come to us through word-of-mouth recommendations.
Indeed, it was via a recommendation from another trust about our service and quality of work that we came on board when Barrow Forward Limited, a local authority trading company owned by Barrow Borough Council, began managing operations at the Barrow Park Leisure Centre in February 2022.
With only a matter of weeks to plot the route to this new horizon, we had to draw on every ounce of our experience and expertise to ensure this was going to be plain sailing.
Developing a deep understanding
Barrow in Furness has a population of almost 68,000, with 62 per cent of residents of working age (16-64) and 21 per cent aged 65-plus. The working age population is predicted to decline in number along with that of younger people (aged 0-15), while the proportion of the 65-plus population is expected to increase[1]. Life expectancy is below the average for England for both men and women[2].
Operating in a highly challenging marketplace with new competitors moving into the area in addition to some existing health and fitness providers, Barrow Park Leisure Centre is an inspiring wellness facility that includes a swimming pool, gym, sports hall, soft play area, fitness classes and a host of other facilities. It has a wide range of memberships that span personal, family, teen, children's, corporate and over-65s packages.
Through our in-depth onboarding process, we discovered Barrow Forward Ltd was dedicated to providing the local community with outstanding, affordable leisure, recreation and wellbeing facilities and activities to influence healthier, happier lifestyles across Barrow-in-Furness.
It was determined that Barrow Park Leisure Centre should be open to the entire community, offering a welcoming, inclusive, accessible and enjoyable place to improve physical and mental wellbeing, regardless of age, ability, disability, fitness levels, and health conditions.
And it was resolute that as a caring and supportive, not-for-profit organisation, it would be committed to reducing health inequalities across the community, improving health and wellbeing for members and visitors alike.
The not-for-profit status means any profits generated over the course of a year are reinvested into delivering even more wellbeing activities and support for the people of Barrow – a position Barrow Forward Limited was eager to promote.
Sources:
[1] Cumbria County Council
[2] Office for National Statistics (ONS)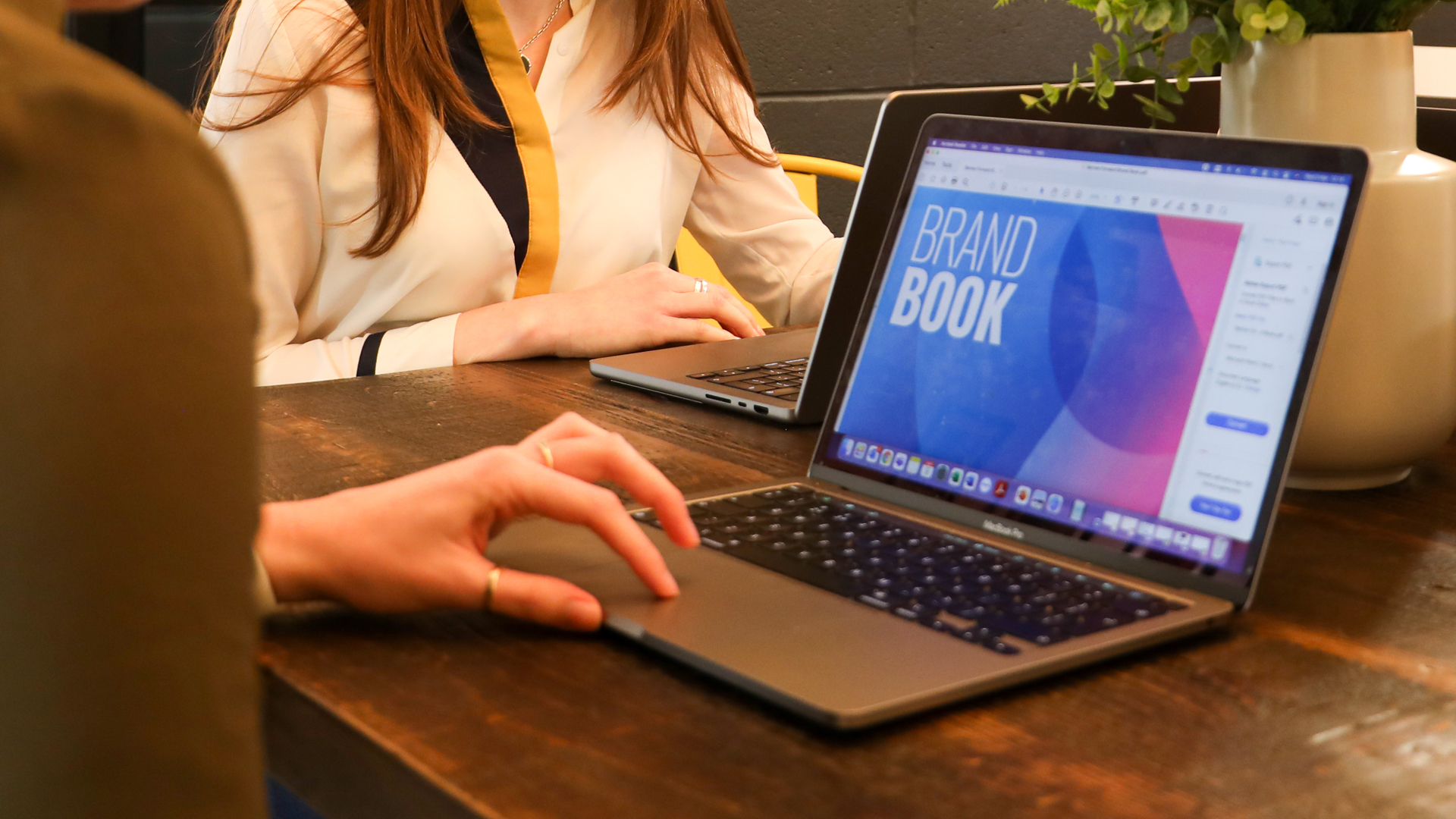 Delivering on the goals and objectives
We were tasked with creating a marketing strategy that would seamlessly deliver for all Barrow Forward's needs, which included:
Brand refinement and identity creation
Campaign planning & delivery
Internal and external communications
Increased social media presence
PR & Media
Membership retention and referrals
Membership prospecting campaigns
Interior and exterior signage
Effectively, we became Barrow Park Leisure Centre's marketing department, working closely with their enthusiastic and committed team to deliver on their goals and objectives in a targeted, segmented and cost-effective way. In addition to our strategic input, the brief included and day-to-day support when necessary.
Getting off to an 'appy' start
The Barrow team was already working on an app that would allow members to make and manage bookings online, see class timetables and availability, and hear about the centre's new classes and activities.
A third party was in the throes of working on functionality, but we were asked to lead on design, which gave us the opportunity to unveil Barrow's new identity.
We also created an in-centre campaign alongside the release to encourage sign-ups while familiarising members with the new brand.
We developed engaging messaging and calls to action that stimulated members to sign up to the app and engage in Barrow's ongoing messaging, ensuring a smooth transition. This was delivered across a range of in centre print media, digital comms, social media marketing, and messaging for use on the Cornerstone digital signage platform – another Cornerstone innovation that is a web-based solution that allows businesses, brands and organisations to tailor their communications to their target audience via strategically positioned smart TV screens or digital signage screens.
Launching the app in tandem with the rebrand helped to present Barrow Park Leisure Centre in its new identity to members while illustrating the new management team was committed to making improvements for the centre and members alike.
The app became available for download on 1st February and received more than 1,000 sign-ups in the first month.
An eye-catching brand identity
Our vastly experienced creative team was behind the brand identity exercise, drawing on the success of our work with other leisure and wellbeing providers to refine aand create an eye-catching corporate colour palette and wider brand identity for all publicity material and signage.
Blue was chosen as the base for the overall identity with a selection of different shades as the base for brand materials. We then opted for bright and vibrant colours to complement the core blue and to reflect the brand's diversity and inclusivity.
With smooth-flowing curves dominating the aesthetic, we also introduced a curved device based on the bottom of the logo's B icon to provide an extra element. We think the results are stunning. See for yourself…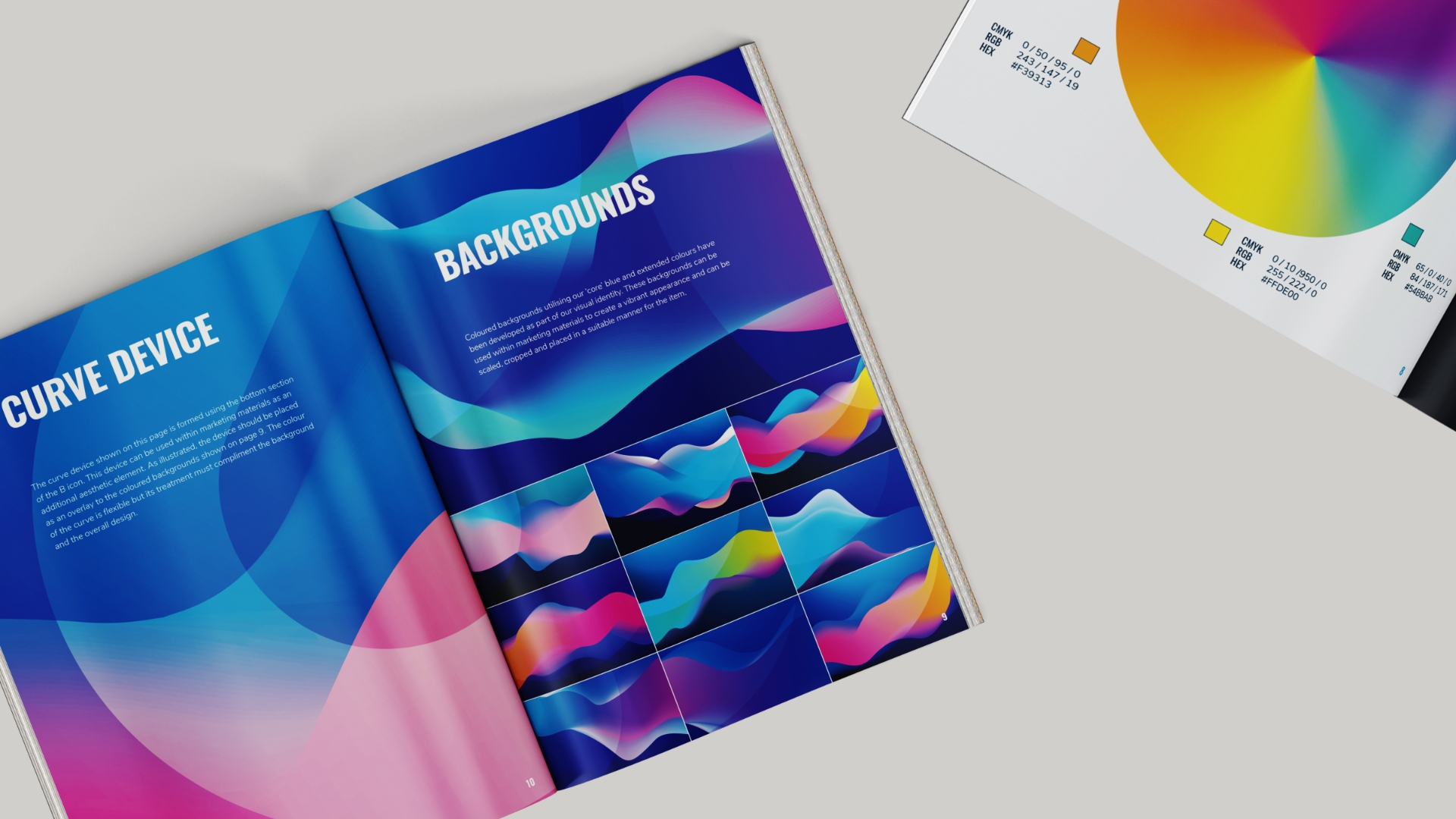 Welcome to the Feelgood Family!
Our brand awareness campaign was founded on Barrow Park Leisure Centre's desire to build on its commitment to provide recreation and wellbeing facilities and activities to influence healthier, happier lifestyles.
We also wanted to create a message that Barrow Park Leisure Centre was an inclusive, caring, supportive, not-for-profit organisation for members and visitors of all ages, abilities and backgrounds.
And so, the Feelgood Family concept was born to reflect its mission, vision and its values of inspiration, integration, accessibility and leading the way.
The feelgood represents the benefits of being active while the family is reflective of the inclusivity that is inherent in the organisation.
Since its inception it has proved its flexibility by featuring in campaigns for everything from swimming lessons to membership drives and email newsletter campaigns, which we launched to maintain a consistent and steady stream of communication with members, along with newsletters for staff.
Another element of the concept is to represent the radical changes taking place in the leisure industry, with a pivot away from purely leisure to health and wellbeing. Our campaign literature captures the shift by stressing the benefits that being physically active have on health, body and mind.
We have capitalised on Barrow Park's not-for-profit status and inclusivity by publicising its collaborations with local charities supporting both ends of the age spectrum – Age UK and Family Action Barrow, a child and family support service based in the town.
Timely news releases about activities involving both good causes garnered earned media coverage reaching a potential online monthly audience close to Barrow's 68,000-strong population.
Reaping the benefits
While our creative, strategic planning and PR teams were busy with the branding and messaging, our digital team was busy boosting Barrow Park Leisure Centre's social media presence via Facebook and Instagram.
Organic Facebook reach has increased 79% year-on-year to 277,000, while page growth has increased by 20% YOY. Instagram reach is currently 62,000.
Facebook advertising campaigns have so far made over half a million impressions with a click through rate almost 2% above industry averages. We've also seen a 56% increase in clicks year-on-year and an 84% increase in impressions.
However, our support goes further than just increasing social presence. As Barrow Forward seceded from a previous provider, we have worked directly with Facebook to transfer the ownership of the Facebook business account to Barrow Forward Ltd.
Sales-related banners created by our design team have been printed by our signage team to help publicise membership and children's activity campaigns.
Here's what our client had to say
In February 2022 we transitioned from one company to another and it was a really challenging time operationally, so when Cornerstone DM came on board as our marketing company it was a huge help. Right from the outset they have been very organised, professional, and helped guide us through building our brand while maintaining our core values. Their understanding of the leisure industry has been really useful too. 
The best thing about David and the Team is the wide variety of expertise I can call on all under one roof. Whether it's PR, design, print, or account management, I know they have it all covered for us, and I don't have to micromanage. Our account manager keeps me well informed on all aspects of their work and cross checks everything to ensure we are happy.
I would highly recommend Cornerstone to any leisure organisation.