'This song sucks!' Rock star has say on ChatGPT AI-created lyrics
10 minute read
Can artificial intelligence call the tune on content creation?
This song sucks! Legendary rock star Nick Cave didn't hold back when one of his fans sent him lyrics created by an artificial intelligence (AI) system that had been tasked with writing a song in the style of the Bad Seeds frontman.
The words had been created by ChatGPT, an AI-powered chatbot that has been trained to generate content and human-like responses to prompts, such as asking for a song 'in the style of Nick Cave'.
Despite its attempts to re-create Cave's dark religious imagery, the singer branded the lyrics 'a grotesque mockery' and 'a travesty', reported BBC News.
And yet, if I was a betting man, I might be tempted to head to the bookies and have a little dabble on when the first chart-topping song to be written by AI would come about. Would it be in the next three…two…one year? Pondering on the chances, I asked ChatGPT what it reckoned, and this is the answer…
Not a bad answer at all, in my opinion.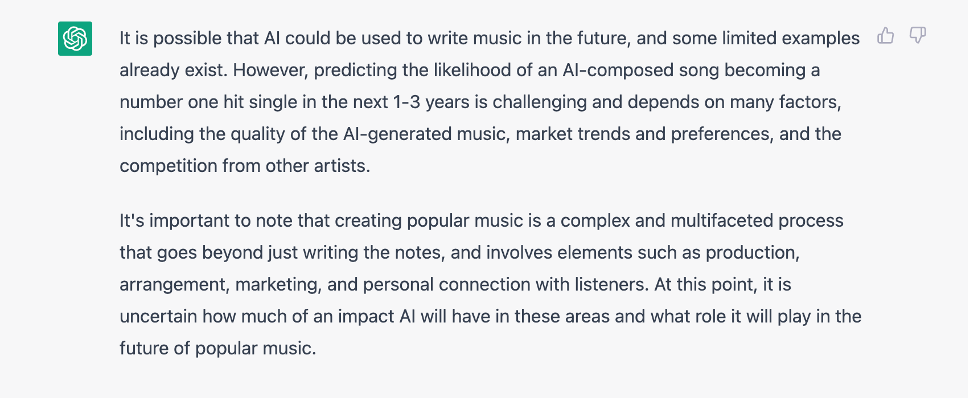 What is ChatGPT?
ChatGPT (the GPT stands for generative pre-training) was only launched as a prototype on 30th November 2022. Since then, it has created quite a stir on social media – although that should come with an understatement alert.
Announcing its arrival, its creators, US-based OpenAI, said: "We've trained a model called ChatGPT which interacts in a conversational way. The dialogue format makes it possible for ChatGPT to answer follow-up questions, admit its mistakes, challenge incorrect premises, and reject inappropriate requests.
"We are excited to introduce ChatGPT to get users' feedback and learn about its strengths and weaknesses. During the research preview, usage of ChatGPT is free."
Following the release, OpenAI was valued at $US 29billion. Given the attention ChatGPT has received, not to mention OpenAI's market valuation, the other tech giants have been quick to jump on the bandwagon.
ChatGPT has been described as a 'Google killer' as it can be used as a search engine, prompting Google to launch its own version, known as Bard.
Meanwhile, some schools in the US and Australia have banned students from using ChatGPT out of fear they could use it to complete their assignments.
And in the latest twist in the race for world AI supremacy, Microsoft has announced it is integrating ChatGPT into its Bing search engine. If you can't beat 'em, join 'em!
What is ChatGPT good for?
If and when you use ChatGPT keep in mind that it's clever, but not that clever. It's just a machine that has no ulterior motive or purpose. It does not want to help or mislead you; it has no concept of what is real and no morals. It is what it is – AI that generates text based on a lot of information it has been trained on.
Even though its uneven factual accuracy has been identified as a significant drawback, it still has its uses, and here are some of them.
Finding a needle in a haystack
Well, sort of. ChatGPT is fairly good at summing up long pieces of text. This comes in handy when you need to quickly scan reams of a report, studies, and other documents. You can even ask the tool to give you the most important points, pick up a quote or find information about the author(s).
Questions and answers
ChatGPT can help you conduct research about events, individuals and pretty much anything else. Be warned though, it will cheerfully make stuff up if it does not know the answer.
Creating headlines
If you are doing A/B testing, challenge yourself with your headlines vs the AI. You can ask it for different versions of a headline: funny, negative, or positive, remove the jargon or make it into a specific number of words. Another warning though, ChatGPT struggles with maths as much as an ageing blog writer who never passed his maths exam!
Generating email subjects and writing emails
Although you will need to edit the final version, ChatGPT can speed up the process of emailing your clients or colleagues as you can generate a sound message with one swift prompt. Just fill in the blanks and send it away. A genuine time-saver.
Generating social posts
Posting on socials is useful but can be time-consuming. You can ask ChatGPT to write a tweet or a LinkedIn post on a topic, freeing your time and brainpower for more worthwhile writing. As always, check before posting.
Providing context
You can ask ChatGPT to give you context about a topic, and it can also explain how something works, which might be useful if you need to explain something in simple language. But at the risk of sounding like a broken record – check the results.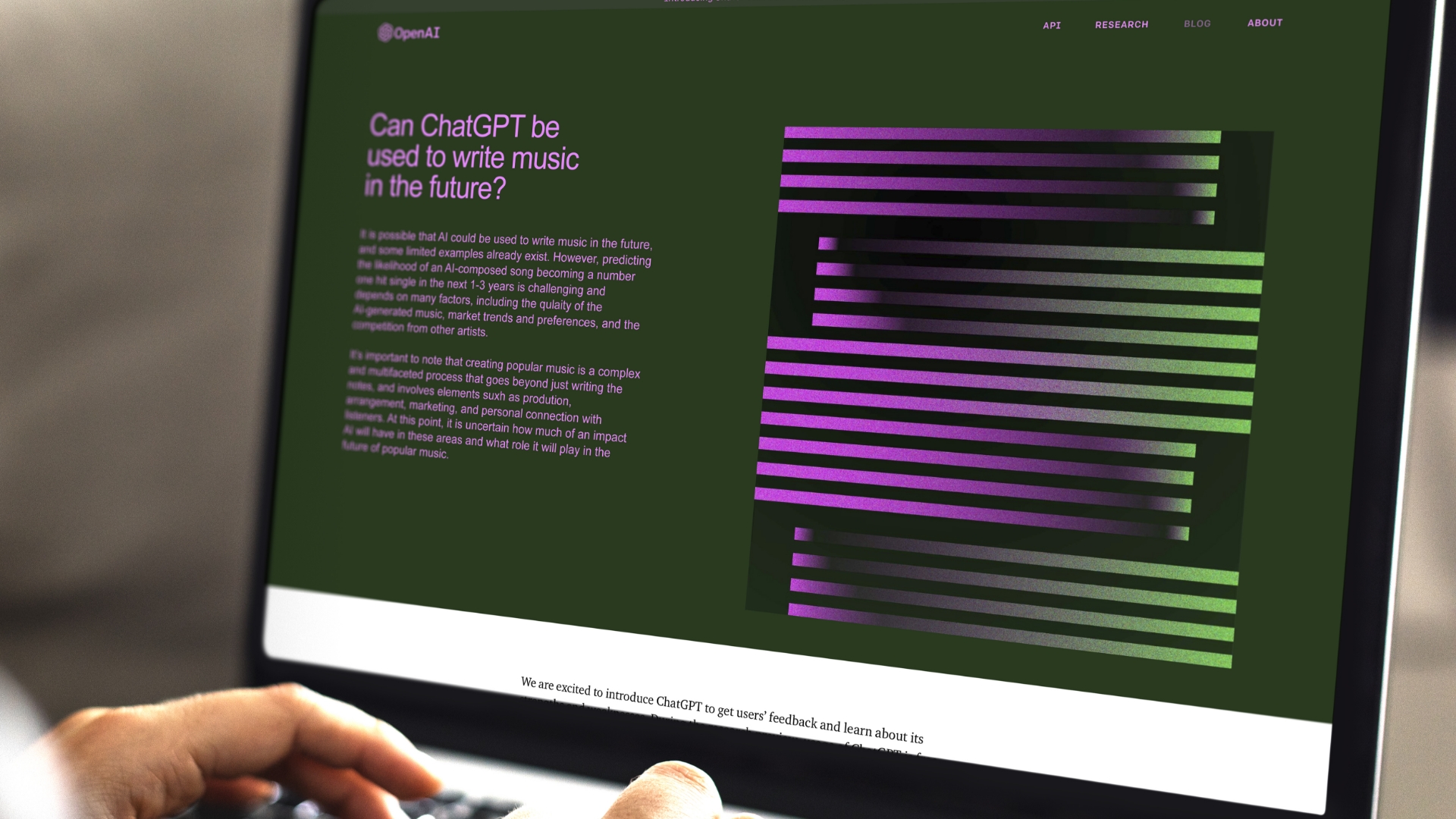 What is ChatGPT not so good for?
Check maths, names and places, and always make sure that everything ChatGPT creates for you is real and/or actual.
The tool has also been known to give biased answers. For example, it has been trained on what humans, past and present, have written about women or minorities. Although it has been reportedly trained not to give sexist or racist answers, make sure you do not use anything that may cause offence or harm.
Accuracy!
Despite its pretty decent answer to my music-related question earlier, ChatGPT's uneven factual accuracy has been quickly identified in its short lifespan to date.

As alluded to earlier, it is not averse to making stuff up. For example, you can ask it for subject matter experts or information about a topic, but what it tells you is not always accurate, especially if the topic is too niche, where you might find the tool generating totally fictional names.

Lost in translation?
Like any other AI-powered translation tool, ChatGPT is very approximative. However, it can come in handy if you need to get a general sense of text in a different language. If you want to get something a bit more accurate, stick with Google Translate.
What do we think of ChatGPT?
Always at the cutting edge of technology, some of the Cornerstone team have been putting ChatGPT to the test in the course of their day-to-day work.
One of them is our Head of Digital, Jess, who says: "When one of our account managers recently briefed us on a new client campaign proposal, instead of grabbing pen and paper to start brainstorming, I copy and pasted elements of the brief into ChatGPT and asked it to create five slogans.
"Once it had returned those, I asked it to give me five more. The campaign really needed to evoke emotion, so I then asked it to write a poem based on everything I'd told it so far. I took all the responses to our creative campaign planning meeting, and we had a really strong base to start generating ideas for campaign messaging, tying it into other ideas from the PR and creative teams too.
"I think using ChatGPT as a starter for ten to get your creative juices flowing is going to save a lot of time at campaign ideation stage."
Another is Harrison, our SEO guru. He says: "I've used ChatGPT to generate content ideas, I'll ask it something along the lines of – give me content ideas for certain keyword-related topics – and this will usually help me to get started with keyword research. I've tried using it to generate content, but I've not really liked what it's given me – maybe I've just not used the right prompts?"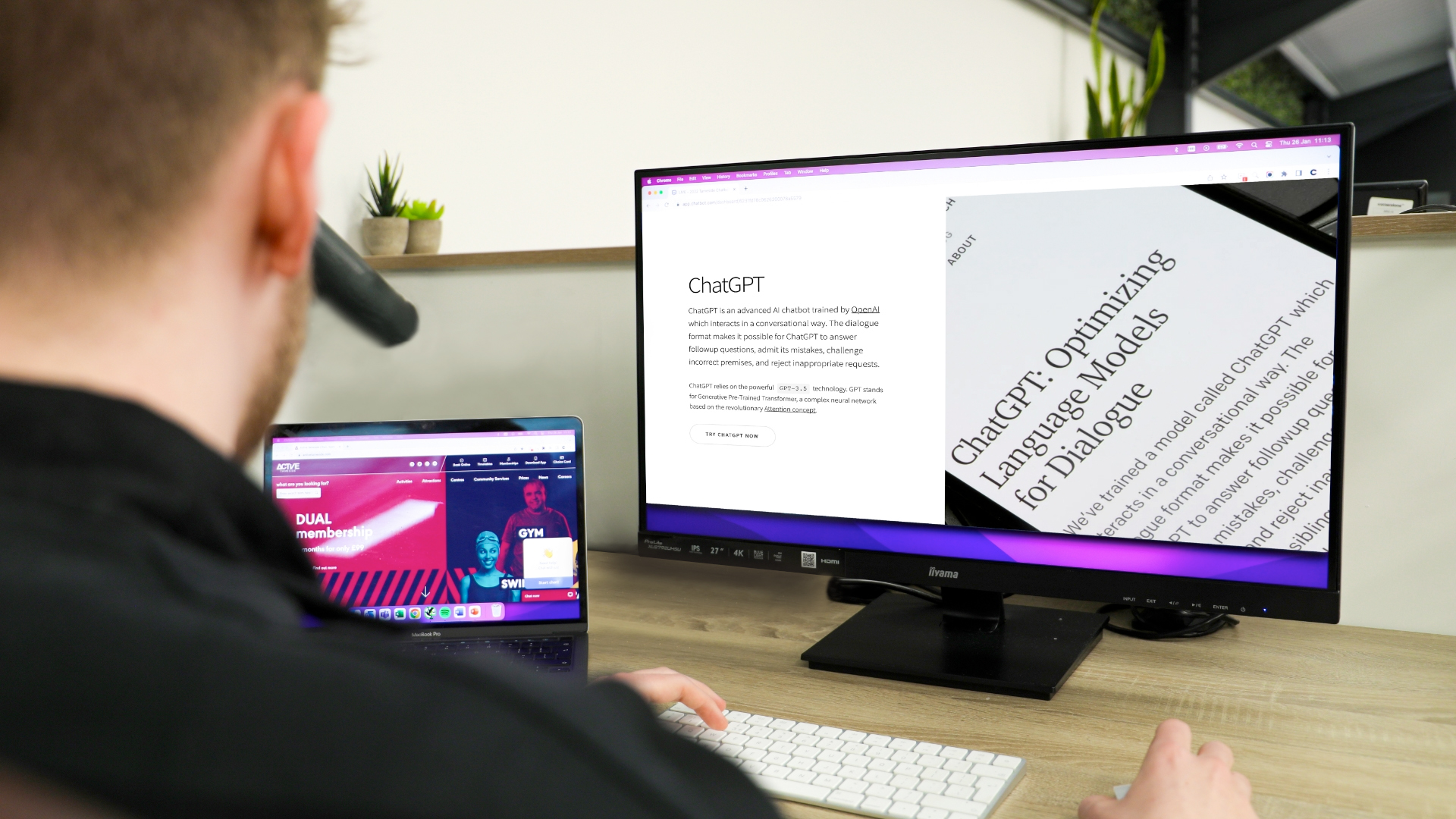 The age-old question…could robots replace humans?
When I first considered writing this blog, I asked one of our account managers if she could put some time in my work planner to write about ChatGPT.
"What's that?" she asked, to which I flippantly replied: "It's a type of chatbot that can originate content that will replace me!"
But it would be remiss of me to look at the strengths and weaknesses of this advanced example of AI and not pose the age-old question – could AI ever replace humans?
I couldn't resist posing the question to the bot itself, and here is the answer…

It's also been said AI can't think outside the box. True, but then again, that can also be said of some humans!
With thanks to Marcela Kunova of Journalism.co.uk for the inspiration and some of the information in this article.
By Nigel, PR & Copywriter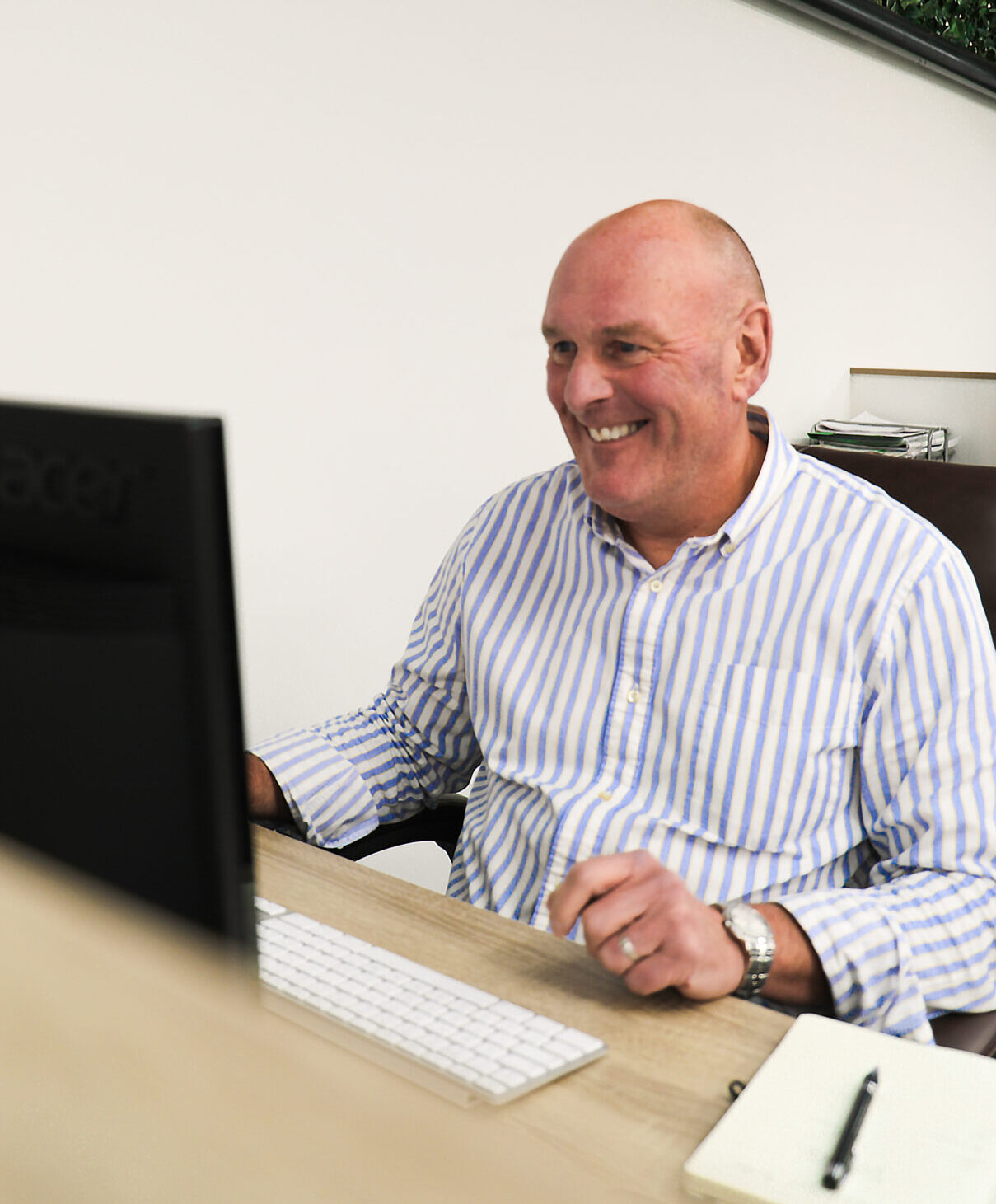 Nigel has been a journalist since the days of typewriters (not even electric typewriters)! He has edited several weekly newspapers across Greater Manchester, been the editor-in-chief of several more and edited a daily newspaper in Northern Ireland. He came home to work on the former Greater Manchester regional TV station Channel M. Having dropped the […]
Find out more about us