Chris
Senior Designer
Superpower
Manchester United (so, that's why he sits alone...), collecting football shirts, buying design prints that I have no wall space in the house to put up, and a love of all things 80s film and TV, such as Transformers, Knight Rider, Ghostbusters and Back to the Future!
Kryptonite
Sugar, particularly a Bourbon biscuit, or a cup of tea and a slice of cake. Hoarding – I can't bear to part with anything. It'll be worth something in the future you know!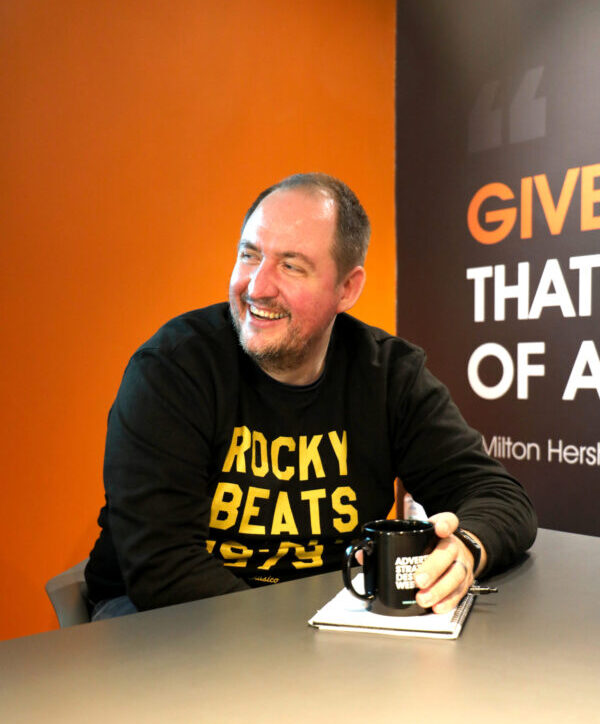 Our Senior Designer Chris is a fully paid-up member of the 'how time flies' brigade, having been in the design industry for the best part of 20 years following his graduation from Nottingham Trent University. 
On his way to Cornerstone, he's worked at design agencies in Leicester and Manchester, serving many different sectors and clients, which include the NHS, Regis Hairstylists, LaSenza, JCB, Tyco Fire and Safety, the National Space Centre, Phonak, SRL Traffic Systems and a variety councils and universities.  
His role with us is expanding his horizons even more, giving him the opportunity to work across print and digital projects on anything from branding, printed literature, indoor and outdoor signage, to websites and digital marketing campaigns. 
WHY I DO IT
As a kid my job criteria was that I wanted to do colouring in, and never have to wear a suit. So, in a roundabout way I've kind of made it!  
I love the idea of starting a project and seeing where the journey takes us, whether it be a simple logo or developing a website, or a brochure. Joining Cornerstone has been a fantastic opportunity for me. The people here, the opportunities, the support and the importance of doing good work with good people has been a joy to be part of.