Tia
Junior Digital Marketing Executive
Superpower
Colour co-ordination – on EVERYTHING! I love things to be colour co-ordinated as it makes my life make sense. Every one of my pens has a corresponding highlighter and sticky note in the same colour and that just makes me happy and keeps me organised!
Kryptonite
Snacks – especially Maltesers!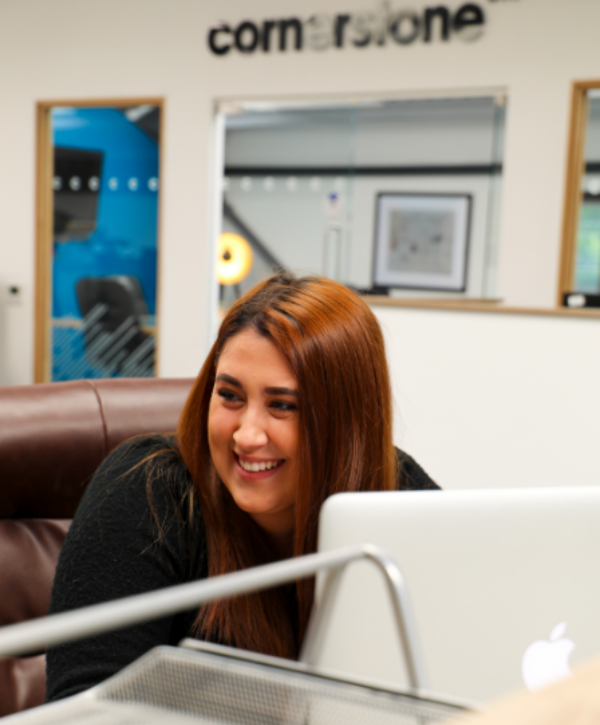 A local lass who hails from Saddleworth, Tia initially studied Primary Education at Edge Hill University (a few weeks in and the daily office chorus of 'Good-morning-Miss-Walsh' did appear to be wearing a bit thin!). It was while working part time in telesales during her degree she discovered a 'thing' for digital marketing. She completed an online diploma in social media marketing to further her knowledge before undertaking a master's degree in Marketing Communications and Branding at Edge Hill University. Tia joined Cornerstone fresh from freelancing as a social media marketing manager and is now a core member of our digital team, working across a wide range of clients on everything from social media and PPC to email marketing.
WHY I DO IT
I'm a creative person, both with words and visually, so I enjoy creating content for social media and email campaigns and feel my role fits me rather well.
I enjoy watching a project come together and a big part of a job for me is being able to look at something amazing and know that I contributed to that - that sort of thing happens regularly here at Cornerstone which makes my job really satisfying!