Creativity – the intrinsic particle of business success
10 minute read
Why creativity is top of the effectiveness charts
We often describe our design team as Cornerstone's creative cog – somehow the words creative and design seem to go together.
But when you stop to consider, the word creative has connotations for every single fibre of a business. Without creativity a business stagnates, without innovation it can't grow.
For example, designing the most cost-effective, efficient method of despatching your product is just as crucial as the creativity that went into the packaging design.
This study of why creativity is fundamental to the success and effectiveness of any business is beautifully summed up by Sarah, ironically our Head of Creative!
She says: "Everyone has the capacity for creative thinking, and we can't just assume that being creative only applies to certain job titles or job roles. When you acknowledge this and encourage EVERYONE to embrace creative thinking your business discovers endless possibilities.
"It's not just about the end goal – whether that's a piece of graphic design work, or a creative piece of writing. Creativity can help people problem solve, it can spark innovation and growth, it can generate new ideas, positive change, create an open environment for sharing new ideas and ultimately increase profitability – all incredibly important in the tough economic climate."
Creativity – an in-demand skill (according to Harvard)
Sarah's viewpoint is mirrored by the world-renowned Harvard Business School no less, whose insight into creativity encapsulates where the drive for creative thinking is most prolific, and therefore significant in the world we live in.
According to Harvard Business School, creativity is an in-demand skill, and these are the industries/sectors employing the most people with what it describes as design thinking skills:
If you're wondering what design thinking means, this is how Harvard describes it: "While creativity is highly important in business, it's an abstract process that works best with a concrete structure. This is where design thinking comes into play.
"Design thinking – a concept gaining popularity in the business world – is a solutions-based process that ventures between the concrete and abstract. Creativity and innovation are key to the design thinking process."
In Harvard Business School Dean Srikant Datar's course Design Thinking and Innovation, the process is broken down into four iterative stages:
Clarify  |  Ideate  |  Develop  |  Implement
IMAGE (Courtesy of Harvard Business School Online)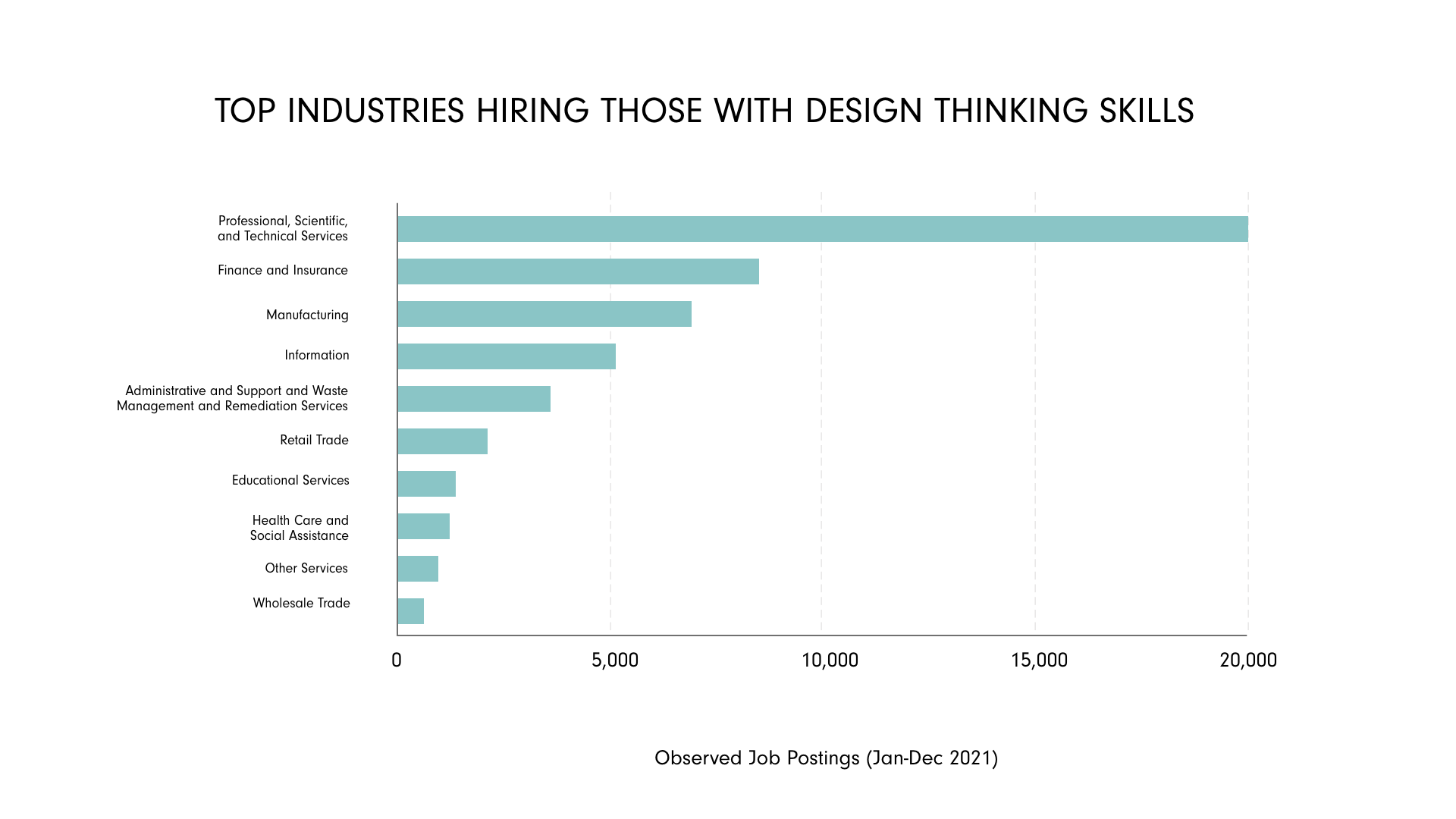 Reap the rewards of creativity
When Cornerstone celebrated its 15th anniversary, we captured our story in 15 significant milestones. Whilst that was creative in itself, it paints a picture of a business that has grown, innovated, generated new ideas and products and increased turnover and profitability – coming through the pandemic with strength and compassion and prospering in tough economic times in the process.
We are a full-service agency, which means we provide every discipline of marketing – design, digital, PR, print and signage, strategy and web – each and every one underpinned by the creative thinking so eloquently described by Sarah earlier in this blog. Our ability to develop new and/or imaginative ideas and turn them into reality is innate in every one of us.
As our milestones illustrate, it's stood us in good stead in the past and continues to do so as we look to make even more landmarks.
That's why your business needs creativity. It's what sets you apart from the competition, and it's what helps you succeed in a crowded marketplace. But creativity can be difficult to nurture and develop – especially when you're busy running your business. So, if you're reading this, you know where to find us!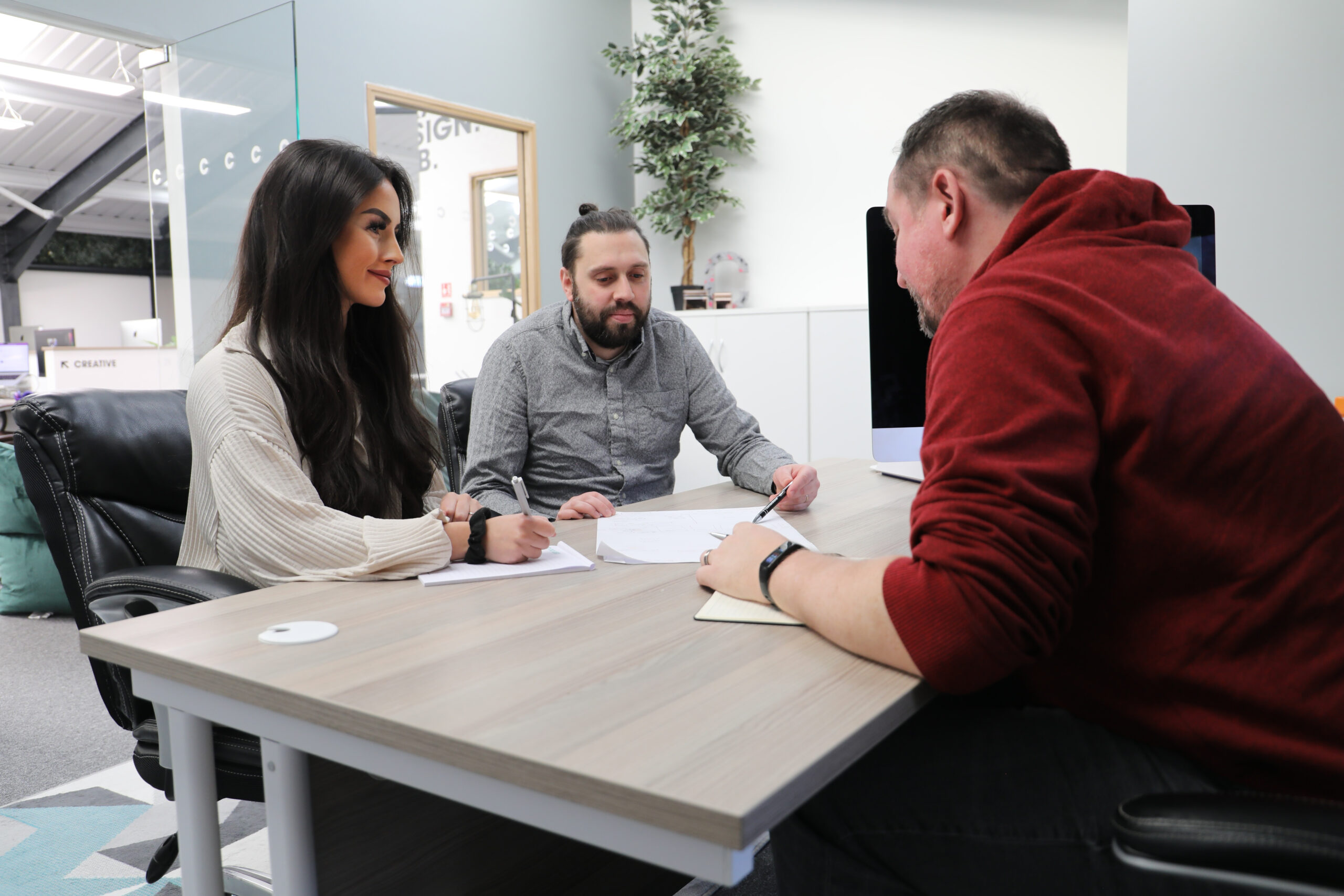 Why you should foster a creative environment
A place where people can think outside the box and be innovative, will encourage your team, or teams, to come up with new and better ways of doing things. This can help reduce costs, save time, and create a more efficient workplace, which usually equates to a healthier bottom line.
The ability to quickly assess new situations and develop strategies is an essential skill in today's business world. Ever expanding technology makes it even more necessary to be creative as digital environments constantly change.
It's simple to say foster a creative environment, but how do you do that?
We've found that creating a positive work environment where the team feels comfortable sharing their ideas and pushing the boundaries is a great place to start. Practice what you preach, and you'll open the door to new ideas. It has often been said a work environment reflects its owner.CS BLOGS
Here are some more ideas:
Reward creativity by recognising and praising employees who come up with innovative ideas and/or good work.
Brainstorm and learn together – this can be done in a meeting, during a learning lunch, and even socially after work.
Create diverse teams – don't forget that opposites can attract.
Encourage flexible work arrangements – they can help employees feel more comfortable and productive.
Nurturing a creative mindset
Creativity has always been a valuable currency for businesses but arguably the pandemic added to its worth. It created a new world, one where the need for flexibility, for new ways of working, for thinking outside the old world boundaries could mean the difference between sink or swim. The demand for that kind of mindset has stayed with us.
A creative mindset is what helps businesses overcome challenges and succeed in this day and age. By thinking outside of the box, you can discover innovative solutions to the obstacles you face and prosper in the business world, regardless of the situation.
Easier said than done sometimes. How do you nurture a creative mindset?
As we're talking about being creative, Bay Atlantic University in Washington DC has some good and unusual ideas:
Take a walk – According to a study based on the Kaplan theory, nature can enhance creative ways of thinking. This theory suggests that natural environments help recharge directed attention that is required when analysing and developing ideas. Research also suggests people are more creative when they're standing rather than sitting down.
Broaden your knowledge – every idea you have is a combination of concepts that you already know. That is why the more knowledge you have, the greater your potential of generating unique ideas.
Analyse and develop – your first idea might not be that great, but it could develop and get better.
Be bored – a study by the Journal of Experimental Social Psychology suggested that participants who felt bored performed better on creativity tests than the ones feeling distressed or relaxed. Give yourself the space to be creative, especially around technology.
Go on, give it a go!
Those of a certain age will recall the Sinclair C5 electric buggy (Google it!) for getting about town. That same generation will remember the first mobile phone. Some ideas work, some don't – but remember, some of the greatest inventions ever made were once just ideas. And ideas are born from creativity.
If you are interested in harnessing the experience, expertise, professionalism and creativity of Cornerstone DM to benefit your business or organisation, get in touch
Get in touch with us