The Health Informatics Service (THIS)
The Health Informatics Service (THIS)
A brand in good health thanks to our full-service makeover
Established in 2006, The Health Informatics Service (THIS) is a well-established, innovative and award-winning digital healthcare and IT specialist working predominantly within the NHS.
Health informatics is the intelligent use of information and technology to provide better care for patients. All healthcare professionals, managers and administrators, rely on fast, accurate information to deliver the best care they can.
Based in Elland, West Yorkshire, THIS works with public, private and charitable health and care organisations across the UK and Ireland. It is hosted by Calderdale and Huddersfield NHS Foundation Trust.
It has over 230 expert staff leading and helping the digital transformation of primary, secondary and third sector care. Being linked to the NHS, its deep knowledge of public healthcare systems and values are unrivalled and its digital healthcare services have played a key role in the Covid-19 pathology testing and vaccine roll-out.
It is the only NHS informatics service to hold three ISO standards of ISO9001 (Quality Management), ISO20000 (Service Management) and ISO27001 (Security). It was also the first to gain Informatics Skills Development Network (ISDN) accreditation in the Yorkshire and Humber region.
That's an awful lot to be proud of.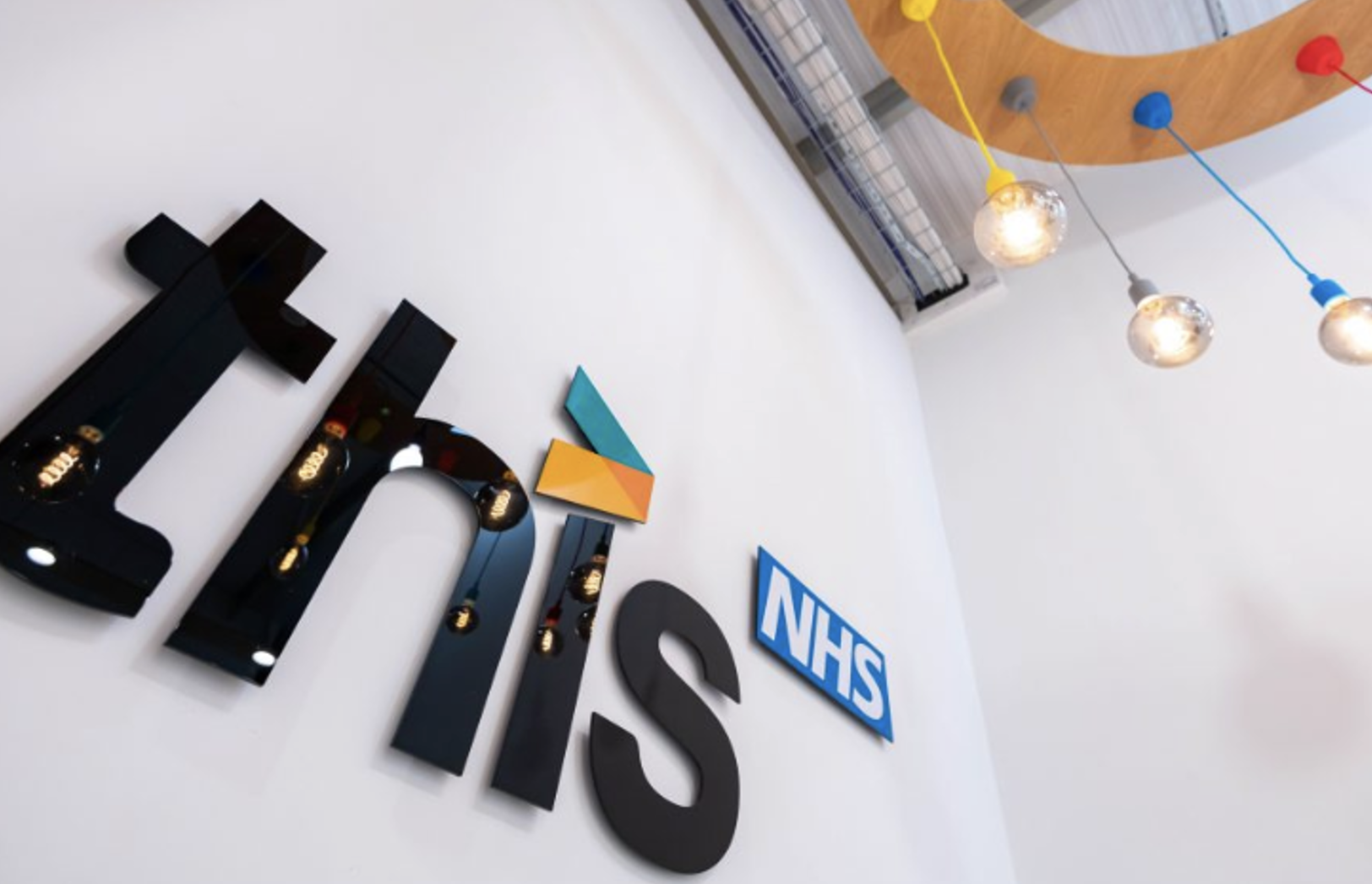 Success, growth but potential for more
THIS largely attributed its commercial success and organic growth to word-of-mouth recognition and recommendations. But it identified the need to tackle a number of factors to ensure its endeavours were funnelled and sustained to ensure its continued growth and prosperity.
And that's where we entered the fray – coincidentally as a result of a recommendation! THIS turned to us to take it on a rebranding journey that would:
Position it in its rightful place in the competitive landscape. The brand and its offering had evolved and expanded significantly over the years and the brand identity – its logo and designs – needed development and refinement to better reflect its distinctive qualities, what it does and what it achieves.
Grow brand awareness to increase its share of the market. It was already successfully delivering for its host trust (the Calderdale and Huddersfield NHS Foundation Trust) and a number of clients across other sectors, but the potential for further growth was compelling.
Develop and roll out a multi-channel marketing strategy; to achieve those aspirations – spanning owned, earned and paid routes.
Results that win us recommendations
The foundation of our partnership with THIS exemplifies Cornerstone as an agency. As our own marketing collateral says, Cornerstone is 'built around results, recommendations, strong working relationships and reputation'.
Led by our MD David Wadsworth we embarked on an investigative and in-depth marketing audit, which drills down into current marketing practices, needs and requirements to form a robust and comprehensive road map of activities.
These defined objectives help to reposition and refine a client's existing marketing strategy for long term success.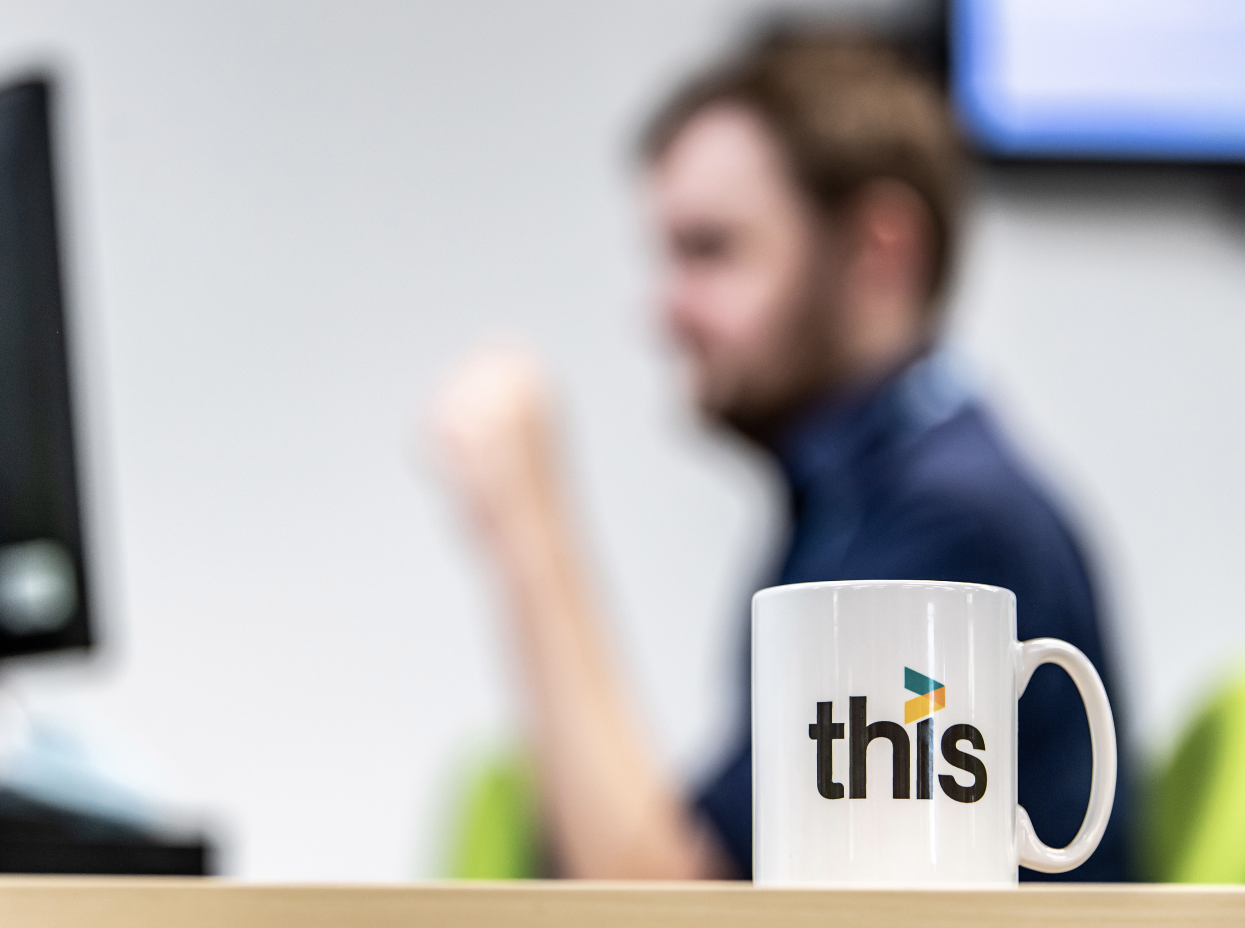 Voice of the customer research
Through our work with numerous clients, we find that giving their customers a voice provides us invaluable insights. In this case we issued a carefully compiled questionnaire to a broad sample of THIS' customer base asking about the breadth and depth of THIS' service offerings, and whether they perceived THIS' association with the NHS as a positive or negative?
This gave us an understanding of their perceptions so that brand development could draw on strengths and address any potential misconceptions. The findings, combined with insights from THIS, then informed our proposed routes forward on everything from brand identity to SEO strategy.
The building blocks of a brand
With a master marketing plan starting to become clear, we undertook a comprehensive review of the brand identity, which included everything from THIS' logo, to typography, colours, iconography, brand assets and imagery.  Setting the brand at an early stage, before roll out and channel activity took place was key in ensuring that the right messaging, presentation and perceptions were in place for target audiences new and existing.
Full brand guidelines were produced at this stage – including tone of voice (not what you say but how you say it), which would inform the direction and style of all future written content.
The logo was redesigned, iconography and visuals were created to represent each of the service areas and an extensive brand roll out plan took place thereafter.
Although we love letting our creative instincts run free, we knew from our work with other NHS clients that creating a brand identity in this sector takes careful consideration.
The NHS logo is one of the most recognised and cherished in the world, so it was essential that all branding created by us complied with the NHS identity guidelines, to solidify THIS' values and mission within one of the most envied healthcare systems in the world.
The result is a beautiful balance of the two, as you can see here: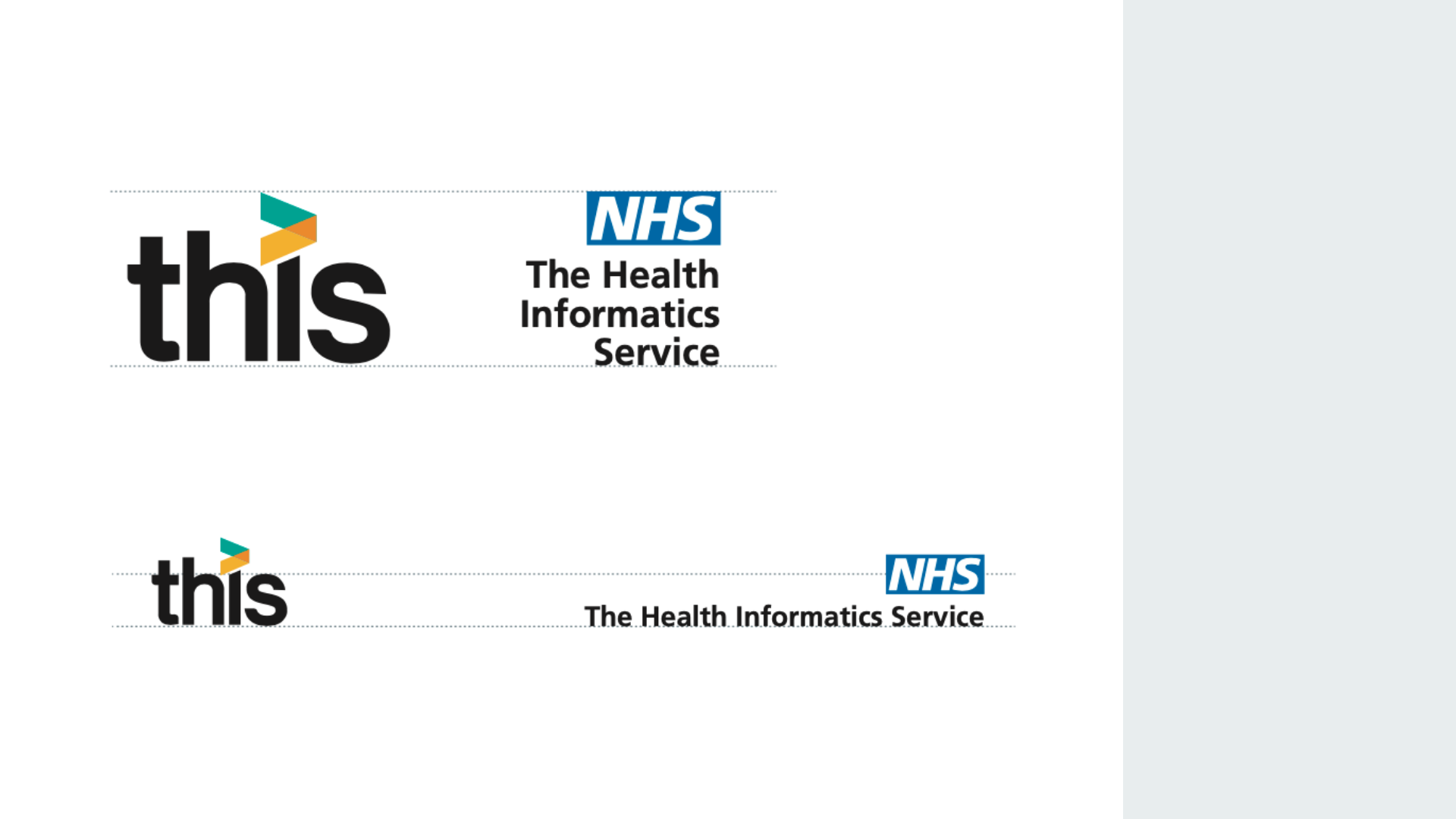 Research, insights and web design
With the new brand identity signed off to the client's delight, we began working on a new website, starting where most Cornerstone web projects begin, with solid research. This is where our User Experience (UX) workshops come into their own.
Using our research and UX process, as well as insights from consumer personas, our team set about confirming a comprehensive set of wireframes and creative design routes which we then handed over to THIS' in-house web development team to be built.
A large part of this work was to ensure the new site would work as hard as possible to accurately communicate the full breadth of THIS' service offering, something the previous site struggled to do.
The masters of marketing
With everything in place, our full B2B marketing strategy was geared up and ready for roll out.
From targeting, positioning and segmentation, right through to channel strategy and tactical activations, each and every message was carefully crafted, honed and analysed to ensure that our omni-channel approach to raising THIS' brand awareness, perception and recall was delivered on time, and to agreed objectives.
With a clear set of objectives, a 12-month activation plan and a highly targeted plan of action, our team set out on delivering a fully integrated marketing campaign that would see brand, digital, PR and paid media statistics raise the roof.
The stats
So, here's what you really want to know. While there's always still work to be done, we think you'll agree there's been some impressive results to date:
Social Media – the combined audience has grown organically by 32%
Web users have increased by 93%
Organic web traffic has increased by 208%
Email – 35.47% open rate (12.07% above the industry average and 53.7% above the industry average)
PPC – 7.6m impressions
Google search advertisements have an average click through rate of 8.5% – 5.5% above the industry average
PR – our stories, insights and case studies have reached a total potential audience of 288,500.
THIS now leads search visibility ahead of all key competitors for tracked keywords. (For context, search visibility is calculated using how many keywords a website ranks for and at which position, for example if you ranked first for all of your tracked keywords, you'd have a 100% visibility.)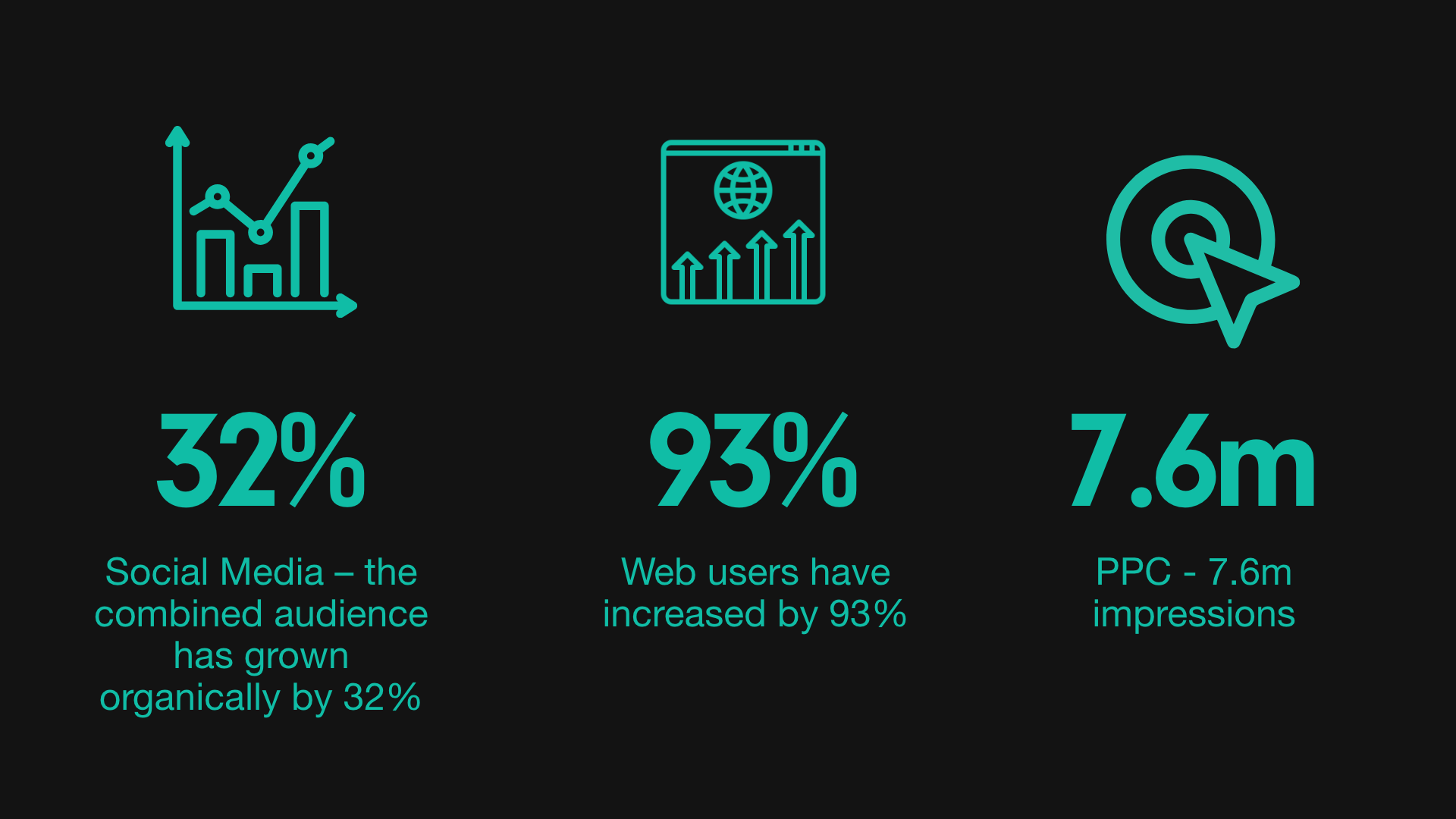 Providing the full picture
As a full-service agency, Cornerstone's objective-driven strategies are designed to complement each other perfectly, like any multi-channel strategy should – in a joined-up manner.
We have extended the new brand into THIS' physical office environment, designing, producing and installing a full update of their external and internal signage. This included vehicle graphics, internal wayfinding, branding and a full wall graphic of a local landscape to dress the internal office space, creating a much appreciated and pleasant working environment for staff.
We've also undertaken a full day's photoshoot at THIS' Elland HQ – capturing the new office space the staff love and take pride in, plus staff portraits and teams in action – something needed as part of our brand identity work to better represent the team, the people and the talent behind the services.
We never stand still…
With the rebrand complete and embedded, we're not resting on our laurels.
We are now concentrating on long-term strategies, designed to grow awareness and solidify THIS' brand positioning. They include:
PR – Spanning owned, earned and paid media opportunities across trade and regional outlets with content tailored to effective positioning. Part of this includes content creation, including case studies and white papers – one of which we've just published on the THIS website here.
SEO – Audit and strategy with carefully researched keywords, competitor analysis, content plan to address keyword ranking, search visibility and organic traffic results.
Social Media – Audit and strategy addressing objectives of reach and positioning through appropriate channels, each with their own proposed use, audience profiles, content strategies and growth KPIs.
PPC – Spanning search, display and LinkedIn, carefully written, targeted and timed for optimum impact. LinkedIn ads are lead generating adverts using the white papers and case studies from PR activity.
We also create regular email newsletters using a bespoke designed email template and provide ongoing design support on anything from sales literature to presentations.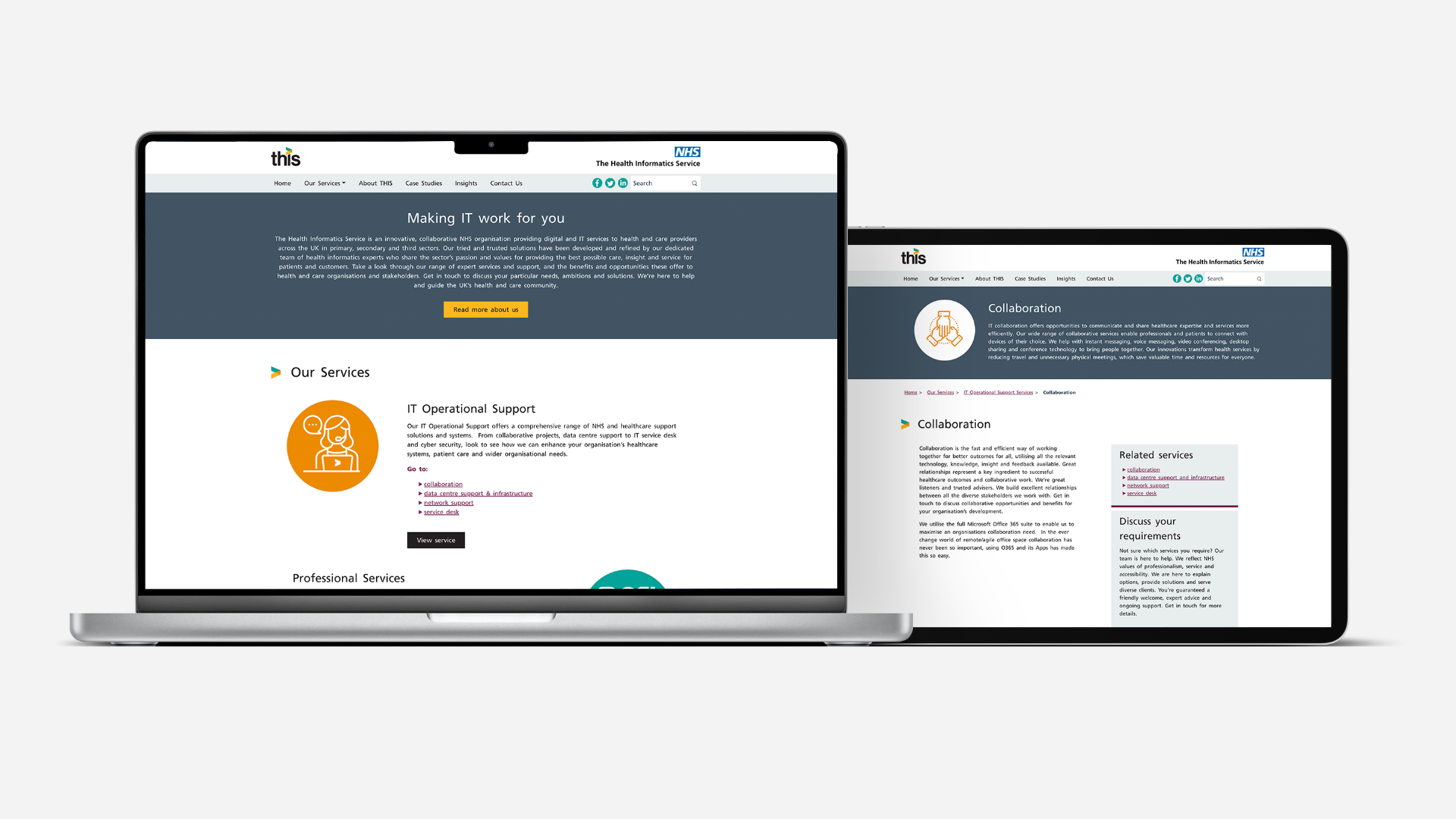 Full-service marketing. Done right.
Cornerstone Design & Marketing is built around results, recommendations and strong working relationships. We collaborate with brands and organisations we cherish and believe in – forward-thinkers, innovators and movers and shakers seeking the very best opportunities for their business or organisation.
As you can see in our work with THIS, our expertise spans all marketing disciplines including strategy and research, public relations, design, digital, print production and signage.
And you can keep abreast of our latest client work and industry insights by connecting with Cornerstone Design & Marketing on LinkedIn.
Trust Green
How a long-standing relationship blossomed into an outstanding collaboration
Re-designing and re-developing a WordPress website for Trustgreen, which provides a sustainable open space management service, saw the blossoming of our relationship with the award-winning company.
Traditionally, open space management was adopted by local and parish councils, but budget constraints have led to a shift of opinion in favour of using specialist third party companies like Trustgreen to take on the responsibility for routine management and maintenance of shared open space in and around residential areas.
But what sets Trustgreen apart from the run-of-the-mill is its passion for sustainability and working with its residents to live healthier, happier lives – from providing the basics such as clean water, shelter, warmth and hope, to creating natural green spaces which bring immeasurable benefits to health and wellbeing.
Capitalising on a decade of growth and acclaim
After a decade of growth and acclaim for its green credentials, Trustgreen – holder of a prestigious International Green Apple Environment Award while striving to achieve Biodiversity Net Gain (BNG) on all its managed sites – had outgrown its existing website; an ageing, off-the-shelf WordPress site built with limited budget and capability.
Trustgreen wanted us to rebuild its website in line with new branding it had been working on, and to take advantage of our exceptional WordPress development skills that would provide the new site with stability, durability and robust security, not to mention market-leading user experience (UX) and user interface (UI) for a simple, seamless customer journey.
Our working relationship with Trustgreen spans many years, originally based on the web support and maintenance services we provided for its old site, built by another company before Trustgreen's re-brand when the business was known as Trustmgt.
It was time to take our collaboration to the next level.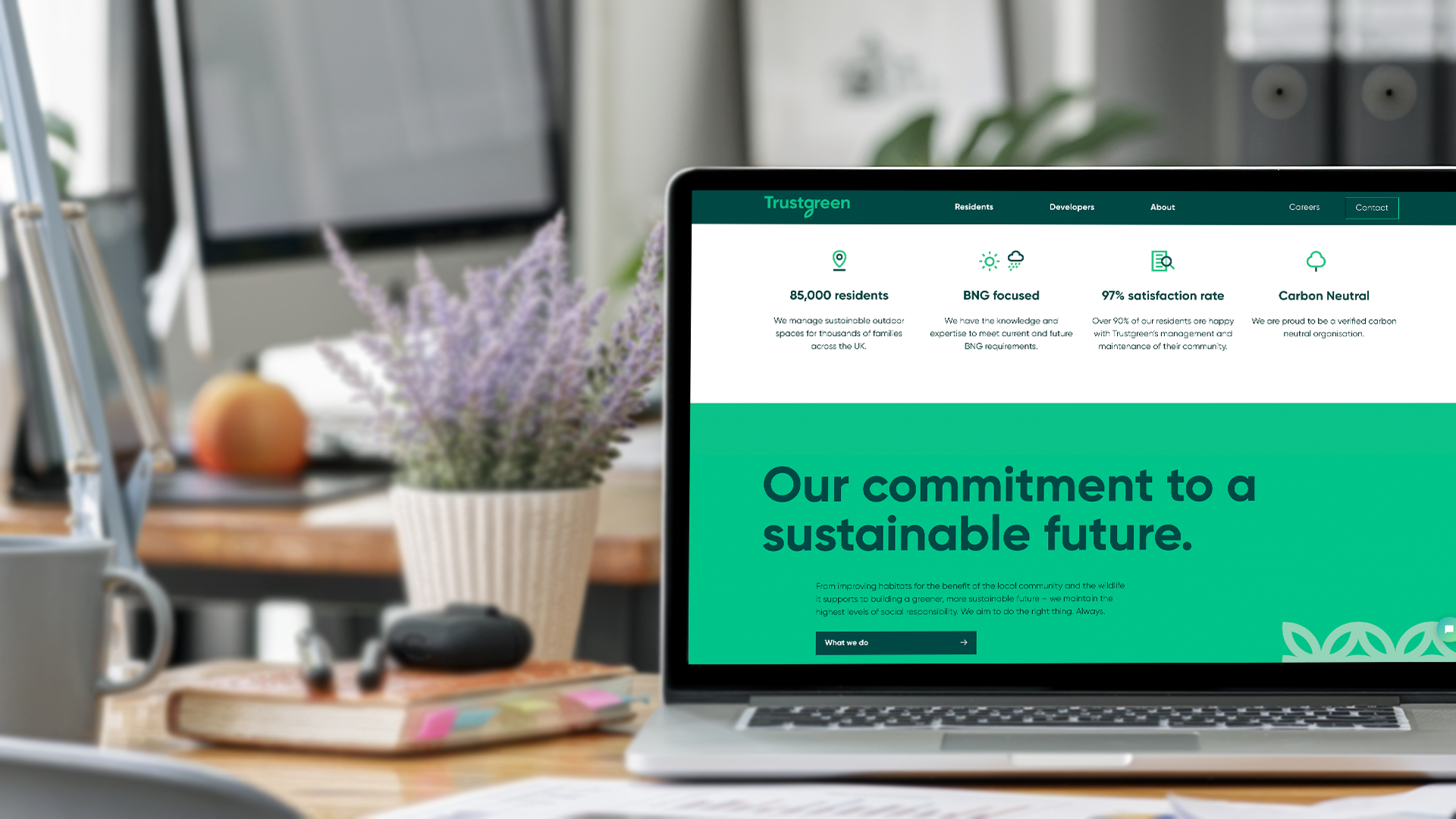 Bringing objectives, vision and branding to life
Working closely with the client, we took time to delve into the business to understand its requirements and integrations, which enabled us to form a detailed specification and competitive project quote. Once approved, this allowed us to carry out our UX process.
Members of the Trustgreen team visited the Cornerstone offices to work with our MD David, Technical Lead Phil and Head of Digital Jess, so they could form a deep understanding of the company's objectives, vision, customer journeys and operational requirements.
From there, the project team formed a full UX strategy, which was supported with wireframes and site maps to ensure the new site's foundations and structure were very much on point and designed for success. The work was presented to Trustgreen's team and was very well received.
With minimal revisions and adjustments, we embarked on our creative process in line with a newly refreshed brand identity the Trustgreen team had been working on.
Our designer Dave spent time considering Trustgreen's new brand identity to integrate it into his work so the new site better reflected the company and what it did, incorporating various brand elements and introducing custom-made animations and scrolling effects to help create a dynamic effect.
Working with Technical Lead Phil, they followed the UX/UI strategy devised by our digital team to ensure the site followed the proposed user journey, was fully functional in its needs and complied with WCAG (Web Content Accessibility Guidelines) for accessibility.
The result of our exemplary communication and collaboration is the stunning online journey you see today, which you can visit here.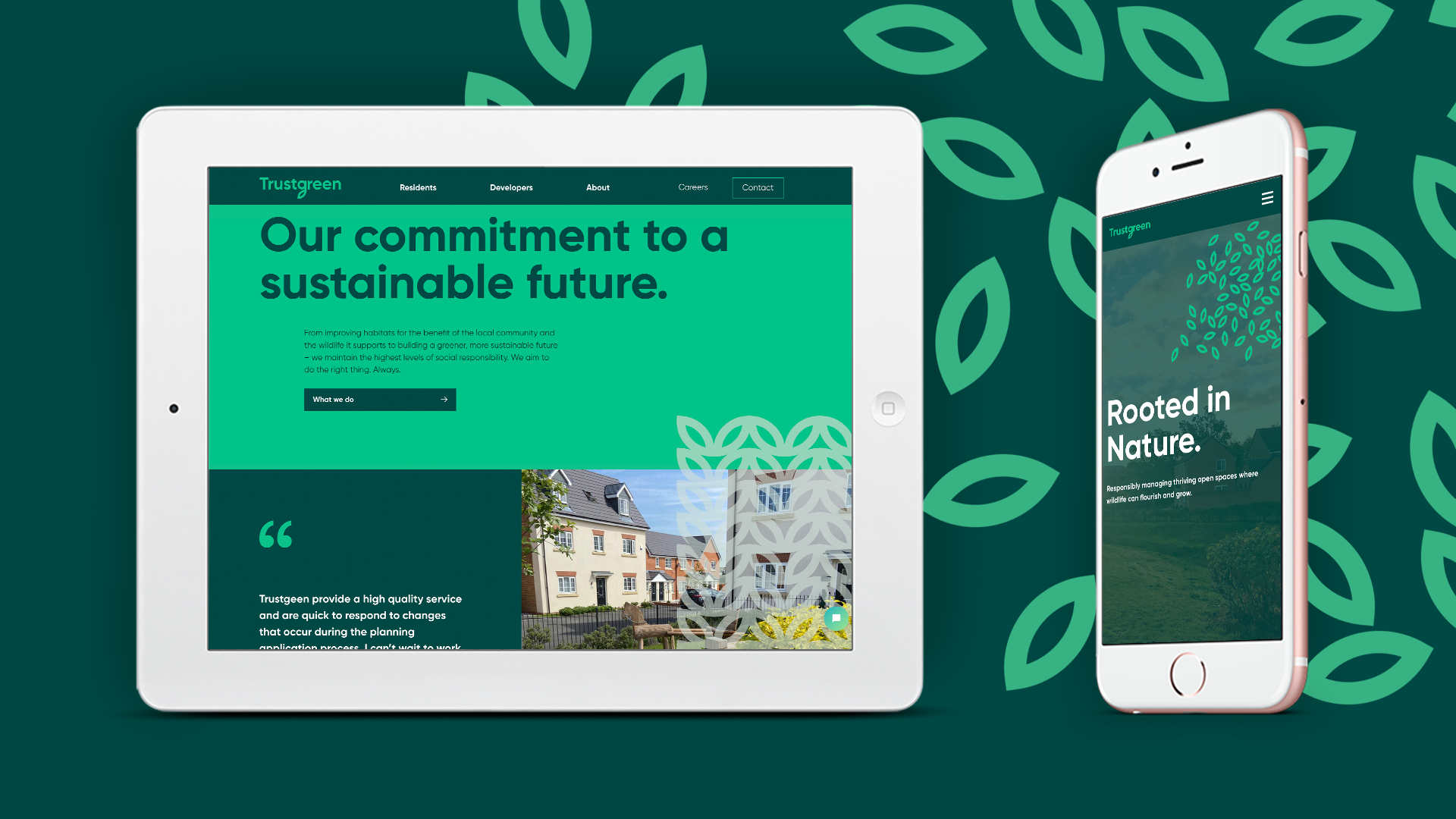 Our Technical Lead Phil and his team love a challenge, and for this site it was the requirement to deliver a solution so residents could pay their management fees online via a payment form.
The answer was a simple but effective entry-level e-commerce solution and payment gateway integration that delivered everything the client needed so Trustgreen could integrate and export into their back office account software. The site was developed using the latest technology for scalability and performance and built to accommodate all devices and screen sizes.
Security was another major worry for Trustgreen. We, therefore, delivered our impressive security solution to give our clients peace of mind. This includes:
Automated scans to ensure site doesn't contain out-of-date software or malicious content.
Multi-factor authentication to help protect against brute force password attacks, and automatic banning (blocking access) of users who attempt such attacks.
Automated website and database back-ups.
A market leading web application firewall and security monitoring service.
Using the power of carefully crafted content
Using our full service approach, our public relations (PR) team sprung to life, helping to craft content for Trustgreen that was on brand, engaging, carefully targeted to user preferences and lovingly constructed for its SEO value.
Our writers took the time to speak to the Trustgreen team to learn about their company ethos, the market, its customers and culture, so they could form an appropriate tone of voice that positioned the business appropriately with content that was fitting, engaging and emotive.
The end results speak (or read) for themselves!
The full-service approach paying dividends
The site was built to current web standards, putting accessibility and the customer journey at the forefront of the build, as well as being backed by a robustly set up SEO-friendly code base.
In the first four months after launch, the new website has seen year-on-year (YOY) increases of 48% in users and a 54% increase in sessions on site. Organic search sessions have also increased 12% YOY proving the strong SEO value of the site and web content derived from our full-service approach, ensuring SEO is considered from UX stage right through the development.
If you'd like to partner with Cornerstone and benefit from our full-service approach to website design and development, get in touch with us here.
Get in touch
Harveys Workwear
Harveys Workwear: Taking a heritage business and placing it firmly in the modern marketplace
Here at Cornerstone, we are proud of our Oldham roots and particularly pleased if we can help another local business boost its fortunes, especially when it mirrors our own ethos for high quality and exceptional customer service.
That's certainly the case with Harveys Workwear, an Oldham born-and-bred family business that we've been delighted to add to our roster of much valued clients utilising our full-service marketing credentials.
We first engaged with Harveys in 2019, as the business – which was first formed just after World War ll -grappled with an ever-changing and volatile marketplace of cheap imports and a shifting employment landscape, while passionate about remaining true to the high quality and exceptional customer service values that had stood the company in such good stead for the previous 70 years.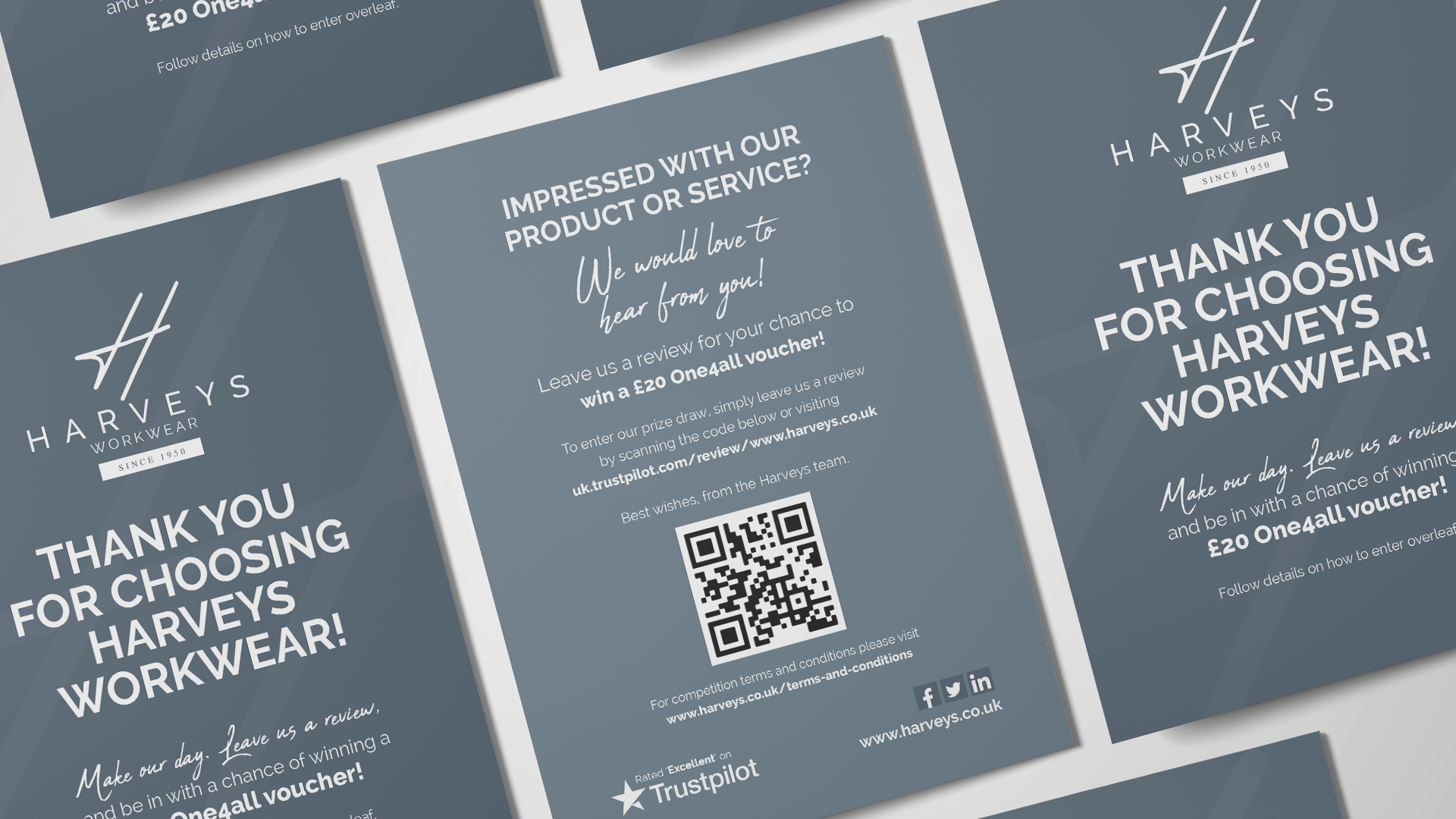 Removing a shroud to expose a true identity
Our challenge was to raise awareness of the Harveys brand and offering, positioning both to compete and succeed in the competitive arena.
At face value, customers could be mistaken in thinking Harveys lagged behind more advanced and modern competitors. We set out to change all that by rectifying Harveys low exposure and the disconnect between corporate identity and business offering that ran the risk of hampering its efforts to meet sales growth objectives.
An integrated, strategic marketing approach was required: one that would look at customer journeys, develop market insights, introduce email marketing, create a social media presence and tell the brand story to customers, thus pitting the business against the perceived market leaders to grow market share.
Seizing on the unique selling points
As always, we took the time to develop a keen understanding of the business, its brand and its driving forces.
At that time, a large percentage of Harveys' customers were distributers, but interest was waning due to a proliferation of online stores, giving customers / end users more direct access to competitors and other wholesalers.
It also created an extremely price sensitive marketplace and a different competitive landscape – no bad thing for Harveys given its competitive prices, high quality products and superior customer service capabilities.
And so, we seized on the need to grow awareness and sales from the end user businesses, focusing on Harveys' USPs to target end users directly via the channels that would reach them and in a manner that would appeal to them.
A quick win we identified immediately was to embark on a social media marketing campaign to create a marketplace presence and awareness.
Such was its success this quickly evolved into a visual rebrand, ongoing search engine optimisation (SEO) activity, email marketing, PR and blog writing, printed promotional collateral, outdoor signage, pay per click (PPC) advertising, and social media competitions – all key components of a Cornerstone marketing strategy.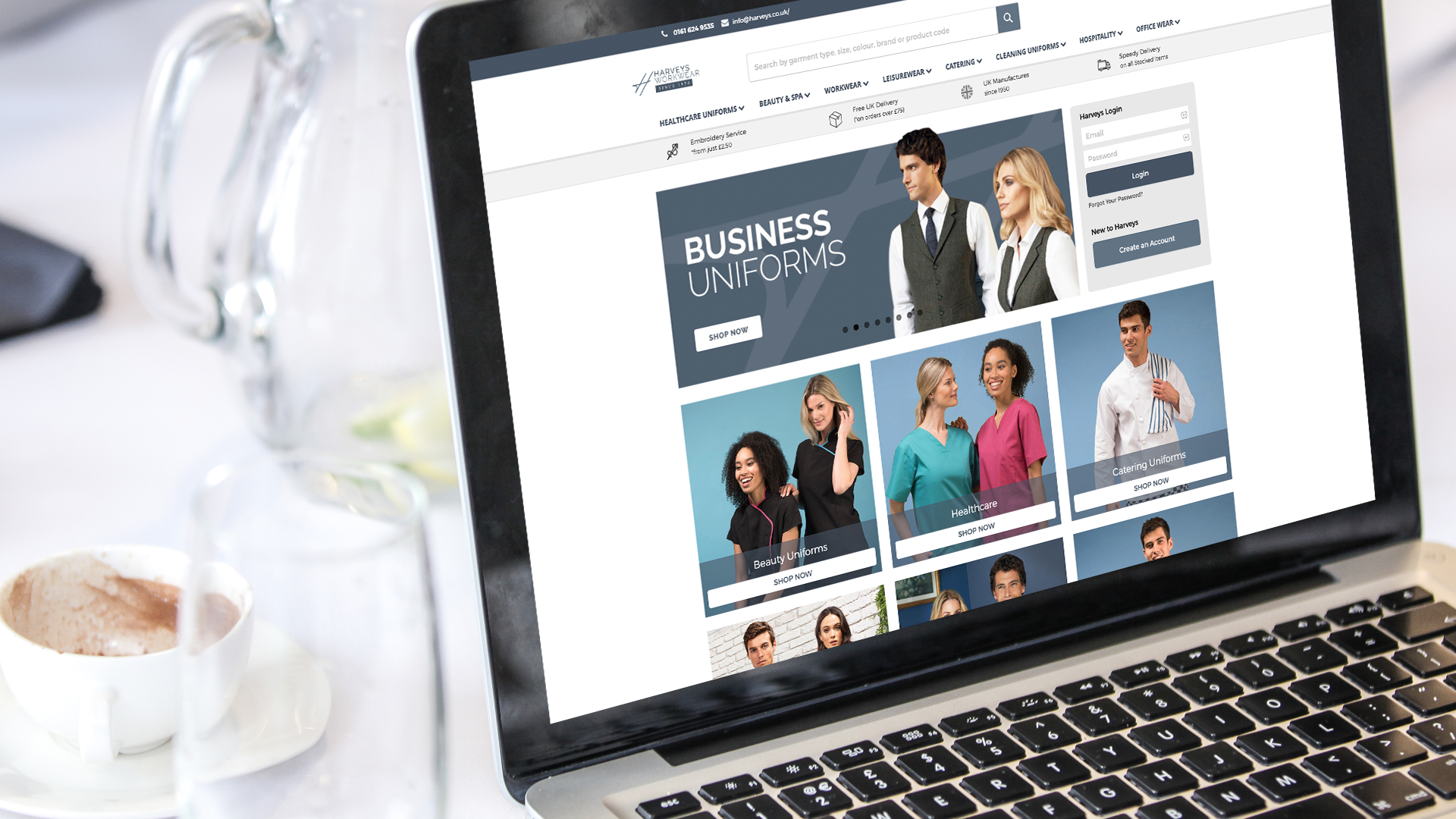 Merging heritage with a modern identity
Harveys is a family business established in 1950 by the grandfather of current owner, Harvey Wild. The company originally supplied the huge demand for workwear to the large industrial workforces of the UK and beyond.
This was a time when jobs were very manual, involving dirty and hard work, so appropriate protective clothing and uniform was required by a huge number of businesses in sectors such as manufacturing, mining and construction.
In addition to these, Harveys supplied huge quantities of uniforms to the Ministry of Defence (MOD) and NHS, both of which required extremely high quality and attention to detail to meet the required standards.
Soon after coming on board, Harveys asked us to look at its visual branding, which they considered dated and weak.
Following an audit of its visual presence compared to its competitors, we identified the opportunity for Harveys to occupy a unique, differentiating space in the market that reflected its standing as a heritage brand with vast  experience as a high quality manufacturer and supplier.
The result is a visual identity that balances the strengths of the firm's heritage whilst still being appealing in the modern marketplace. It had to be flexible too, working nicely on the firm's website, digital channels and in print.
It also had to be easily created as an embroidered logo on its workwear labels.
See the results for yourself…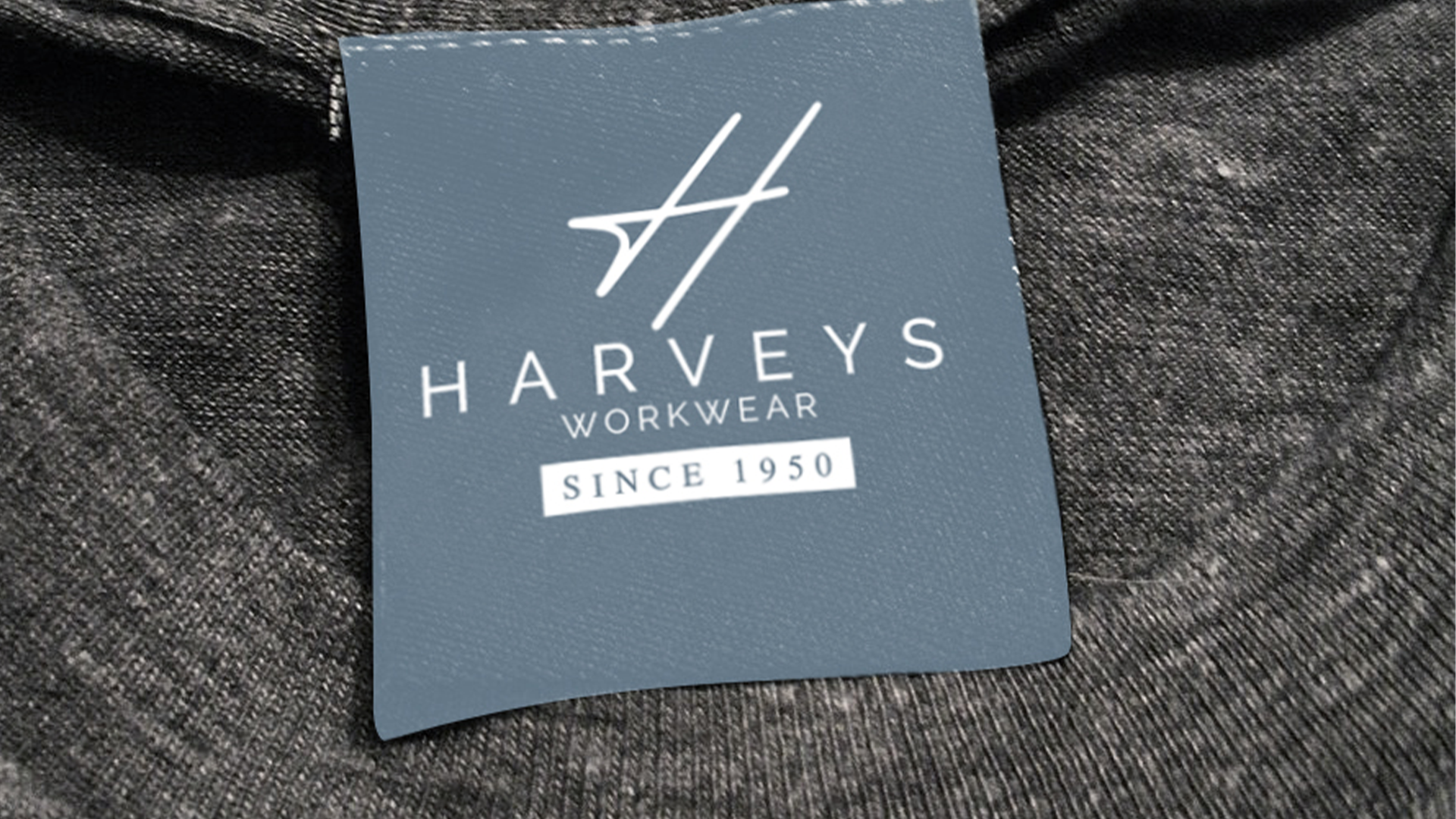 Growing revenues and visibility
Harveys has seen its website sales revenues grow in two of the three years it's been working with us, albeit thanks to the pandemic in 2020 when it increased by a whopping 95%, which has now been followed by a 40% increase so far this year.
Our SEO work has made a big difference too. Our keyword ranking tools show that in June 2019 when the contract began, Harveys ranked for 1,752 keywords in total. That total has now more than doubled to 3,726 keywords thanks to more enriching content, robust internal link strategies and ongoing technical optimisations.
These are the percentage increases in ranking positions:
Top 3: +150%
4 – 10: +227%
11 – 20: +60%
21 – 50: +273%
51 – 100: +61%
Further to this, Harveys didn't appear in any featured snippets across the search engine results page (SERP) in 2019, where they now feature under 18 including valuable Also Asked features for high value keywords.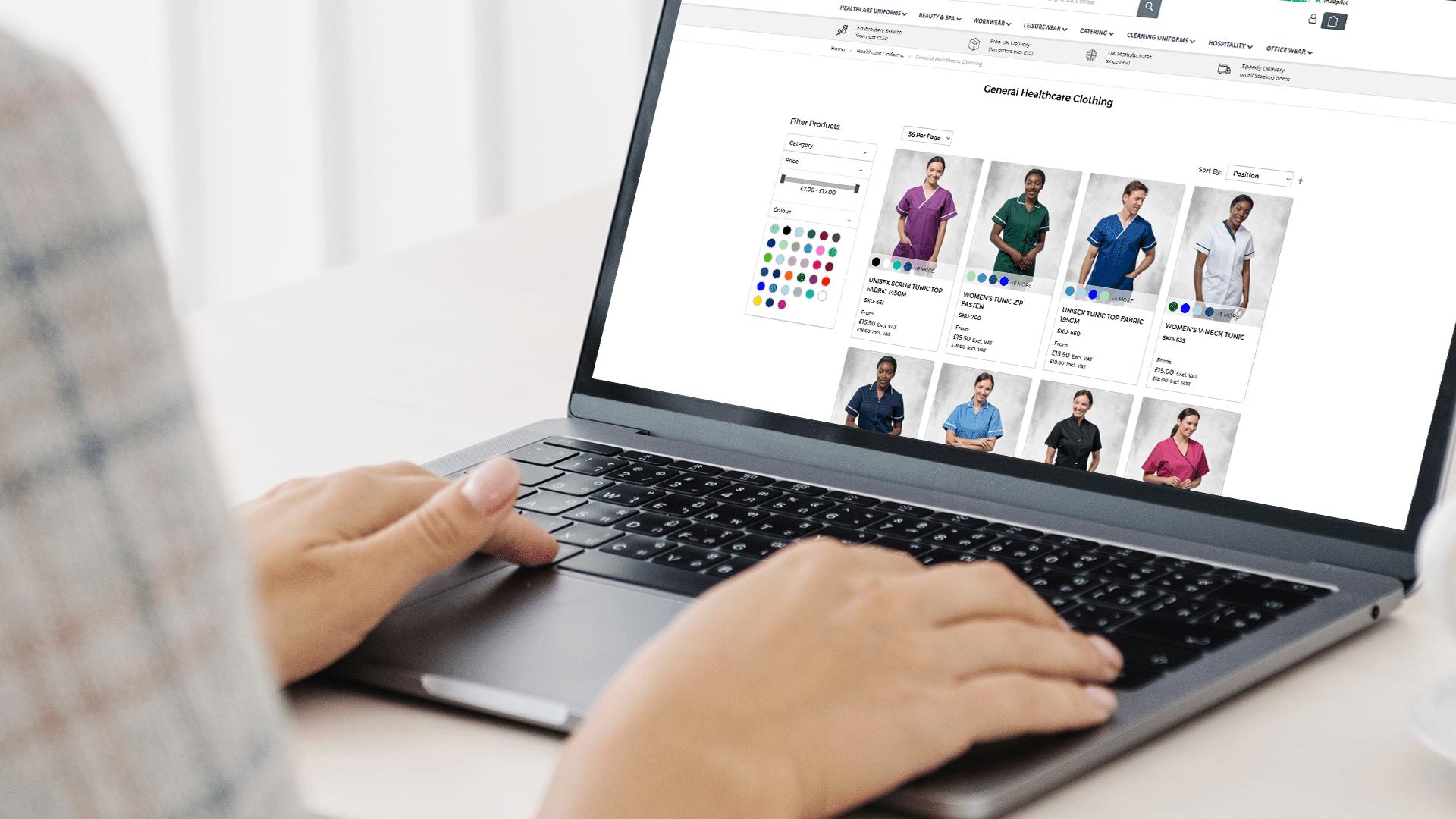 And the work doesn't end here…
Harveys has recently increased its contract with us to enable more activity such as direct mail and other exciting plans subject to commercial confidentiality.
But we have arrived at this juncture thanks to a strategy that identified Harveys' strengths and points of difference compared to its competitors and exploiting them with an all-round targeted approach to increase market presence, awareness and, consequently, sales and revenue.
A typical period of marketing activity includes email and blog writing, social media content creation along with social assets, SEO optimisation, and email marketing – all underpinned by meticulous briefing, planning and execution.
In short, it's paid dividends for Harveys to shop local!
If you think we'd be the perfect fit to size up your position in the marketplace and make it stand out from the crowd, get in touch with us now.
Get in touch
Active Ava – how a chatbot was born
Active Ava – how a chatbot was born
How Active Ava took the stress out of a post pandemic avalanche of enquiries
The Covid-19 pandemic turned the leisure sector on its head. Complete shutdown was then followed by a cautious re-opening with extensive precautions to ensure the safety of those heading back to the gym or their favourite fitness class.
But the pandemic had another side effect – a huge increase in questions and enquiries from members and customers.
Active Tameside was no different. They were experiencing increased pressure on phone lines with call centre and reception staff fielding more calls than ever before, risking service levels in centre, as a lot of time was being eaten up on fielding questions and requests.
What set Active Tameside apart was the solution they sought to solve the dilemma, and that's where our Cornerstone ChatBot came to the rescue.
Alleviating concerns about cost and feasibility
Senior leaders at Active Tameside had already considered a chatbot solution from another provider but had some serious concerns about cost and feasibility.
Our partnership with Active Tameside is a long-term success story, we've been involved strategically in many aspects of their marketing and operations for more than eight years. Given the close relationship that we have created, coupled with the confidence Active Tameside have in our ability to deliver, they asked if we had a more cost-effective way forward.
Indeed, we did.
Active Tameside felt the solution we offered would work well and wanted to know more. We took time to carefully map out the potential scope and specifications our ChatBot would need, ensuring clarity was there from the outset before the project began. The client was pleased with our proposal, timeline and cost, and approved Cornerstone to work with them on creating their bot.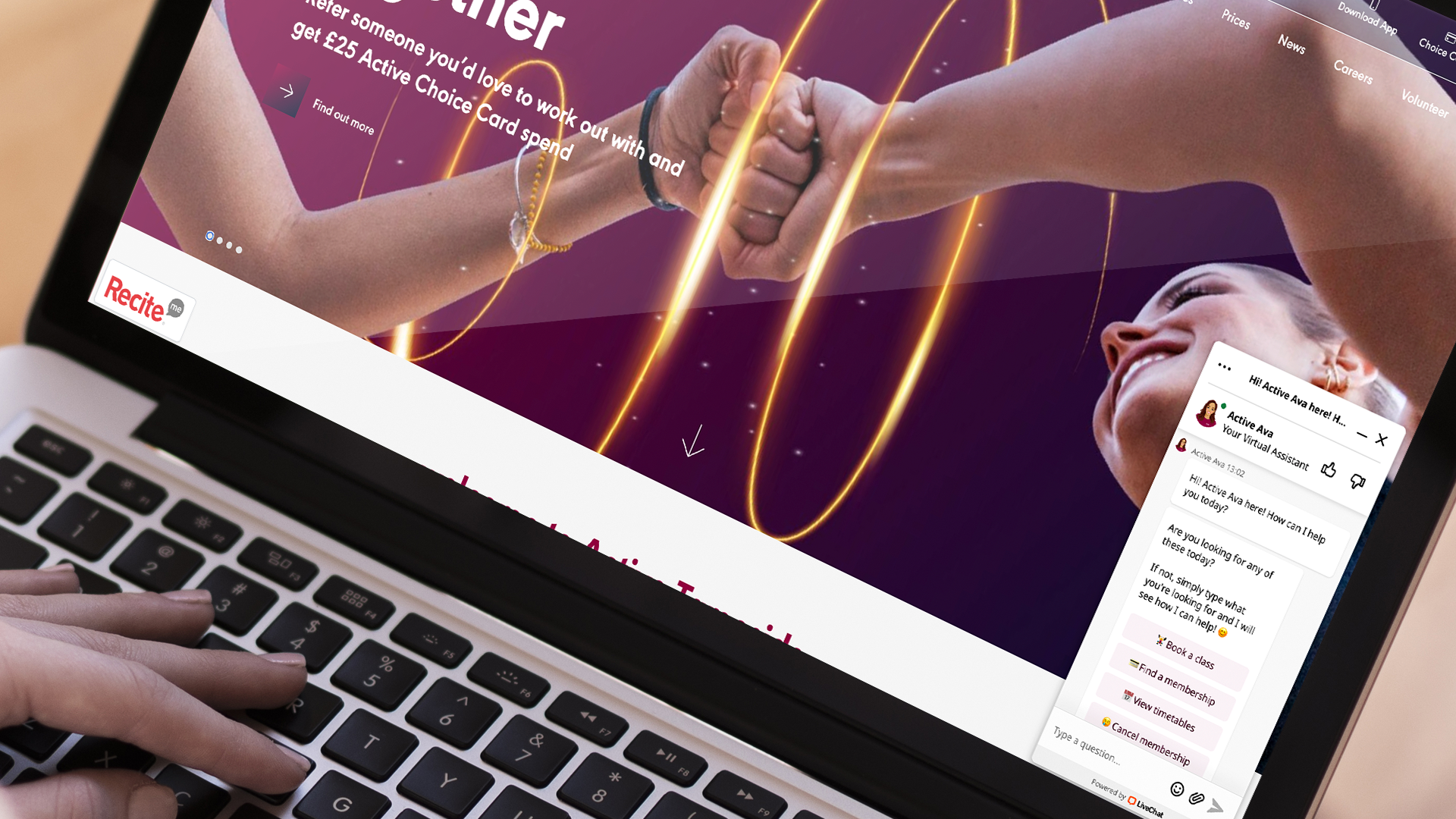 Our service spans concept to launch
As a digital marketing agency, our ChatBot service spans concept to launch and includes:
Onboarding workshop – we spent time with Active Tameside to understand every aspect of the business and the queries and problems our ChatBot could solve. We collected literally thousands of pieces of information, likely queries and interactions with end customers to fuel the bot's ability to respond.
Set-up and testing – after onboarding, our digital team started to form the user journeys and responses, building the bot from the ground up. We mapped out every possible user journey, which was followed by rigorous testing by our digital team.
Client testing – we provided Active Tameside with a staging site with the challenge to try and break it by posing complicated queries. They even incentivised testing with members, so we had real-life member data to consider.
Client training – we then trained the staff in all they needed to know; and we are always on hand for any ongoing training needs.
After several months of careful planning, information inputting and bot training, not to mention some industrial strength user testing, our ChatBot was nearing launch, but there was something missing. A name!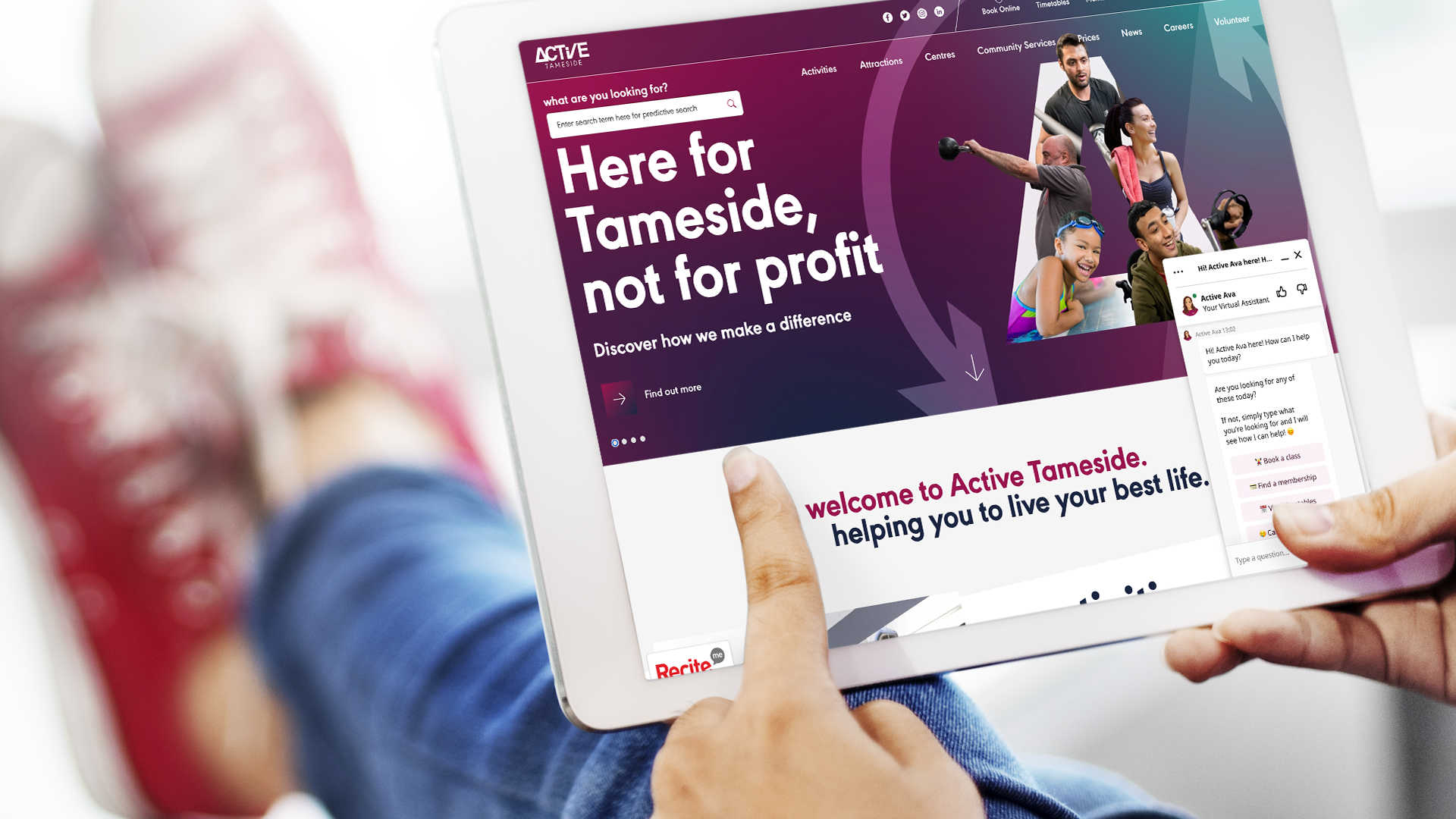 Adding the human touch where it's needed
Our ChatBots are fully customisable with avatars, language settings and branding. (We also make sure it is GDPR compliant.)
Our PR and creative teams set to work on finding a suitable name – and Active Ava was born with a persona / avatar, to give the bot a more friendly, personable feel that reflected Active Tameside's values and tone of voice.
From there, Active Ava was launched, being integrated into the Active Tameside website, as well as being integrated into a live chat function we also provided.
While our ChatBot is fully automated, we can build live chat into our service. We'll set up our ChatBot to answer customer questions as much as possible until it gets to a point where they can choose to start a live chat with a member of a customer service team.
With everything up and running, we supply monthly reports outlining training delivered to the bot to keep the information it provides up-to-date and an analysis of any trends in user behaviour. We also provide a report on related data like the number of chats, displayed greetings, or post chat survey results.
Results that speak for themselves
Since launch, there have been 43,271 chats between Active Ava and members of the Tameside community.
For when LiveChat agents are offline and Active Ava hasn't been trained to respond to a query, users can submit a ticket. Since launch, there have been 882 tickets solved with a 79% ticket satisfaction rate, meaning that even when your contact or customer service team are offline, customers still receive a productive experience.
More generally on site, since the launch of ChatBot, session duration is down 3.77% with key events increasing by 29.8%, suggesting that users are finding answers and achieving their end goal quicker thanks to ChatBot.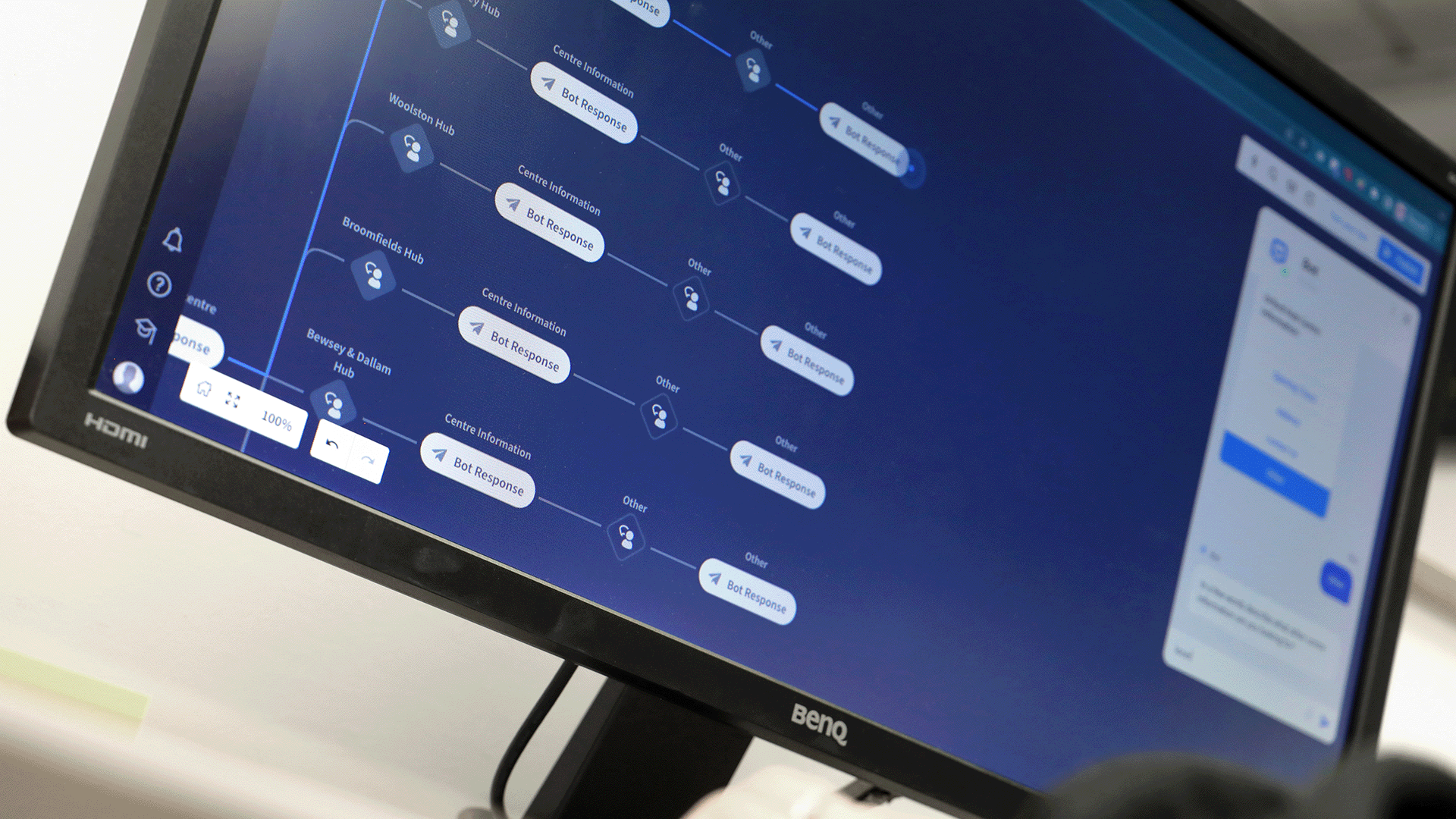 A bright future for Active Ava
As you've just read, Active Ava has been a resounding success for Tameside, reducing calls and enquiries, allowing staffing pressures to be alleviated and customer service and satisfaction to be vastly improved.
(Gill – could you ask Lee / Elliot for this information please)
Active Ava is due to be integrated into Active Tameside's social media channels soon, with further enhancements such as online payments being explored.
Our ChatBot can be integrated onto any website and across the web, from Facebook Messenger and Slack to Zendesk and Zapier, which gives it the ultimate power to be applied web wide.
If you would like us to supercharge your customers' online experience whilst driving efficiency with a Cornerstone ChatBot get in touch below.
Get in touch
Dexcel Pharma: Kwells
Kwells: A smooth pharmaceutical marketing journey

We have been on board since 2020, helping this heritage travel sickness brand to raise its profile and make its way towards today's digital destination.
It's been one heck of an enjoyable ride so far – so buckle up as we take you on the pharmaceutical marketing journey of this well-known remedy which has been preventing and relieving travel sickness by sea, air, car and train since 1949…

A fascinating throwback!
Believe it or not, travel sickness, often referred to as motion sickness, goes way back.
No, way, way further back than that even – all the way to 800 BC! The ancient Greeks knew all about seasickness and the Chinese discovered children were more susceptible around 300 AD. There was even camel sickness which was discovered during Napoleon's Egyptian campaign in the late 1700s.
Early treatments included fasting, specific diets, nice smelling things, medicinal plants or a mixture of wine and wormwood.There were many more weird and wonderful options – including hiding earth from the kitchen hearth under your hair. This age-old condition, known historically as 'a plague at sea and on land', is as prolific now as was when it was first stumbled upon all those years ago.

How many of us have a pack of adult Kwells or Kwells Kids handy in the car just in case?
It's nostalgic brand many people will remember from their childhood travels but as we get older and grow out of travel sickness (mostly) we tend to leave it behind – until we have kids of our own of course.
Kwells was fairly quiet on the consumer scene – until the great Kwells shortage of 2017 due to supply issues! – but when its UK license was acquired by Dexcel Pharma in 2020, that was all set to change.
Being a heritage pharmaceutical brand, it already had a strong identity and market position and good consumer recognition. The objective was to refresh and reignite the brand to increase awareness across new and emerging audiences and give it an enviable online presence which its key competitors didn't have.
We began by developing a Kwells website to offer informative and insightful advice to sufferers and travel tips through the creation of blogs while using SEO to send the website soaring in terms of Google rankings.
The initial strategy included launching a social media presence on Facebook, Twitter and Instagram to link back to the website.
We also formed a PR strategy with firm objectives of reaching a minimum of 1m consumers across respected travel publications and platforms such as Family Traveller, national newspapers and lifestyle magazines targeting families and frequent travellers.
A mission statement was formed on which to base messaging and comms – to put the fun back into journeys and reduce anxiety and worry about travel sickness among sufferers and parents.
Simply put, our mission was to help consumers to 'travel happy' again.
The vision was to position Kwells as a go-to travel sickness product through strong, consistent and engaging marketing communications across all channels while building on its heritage and effectiveness.
Research also unearthed a relatively untapped motion sickness market among VR gamers who were experiencing similar symptoms to travellers while wearing VR headsets due to game design limitations.
We created a blog to offer insights and advice on VR gaming sickness, promoting across our social media channels and driving traffic through digital ads which featured VR gaming video and imagery.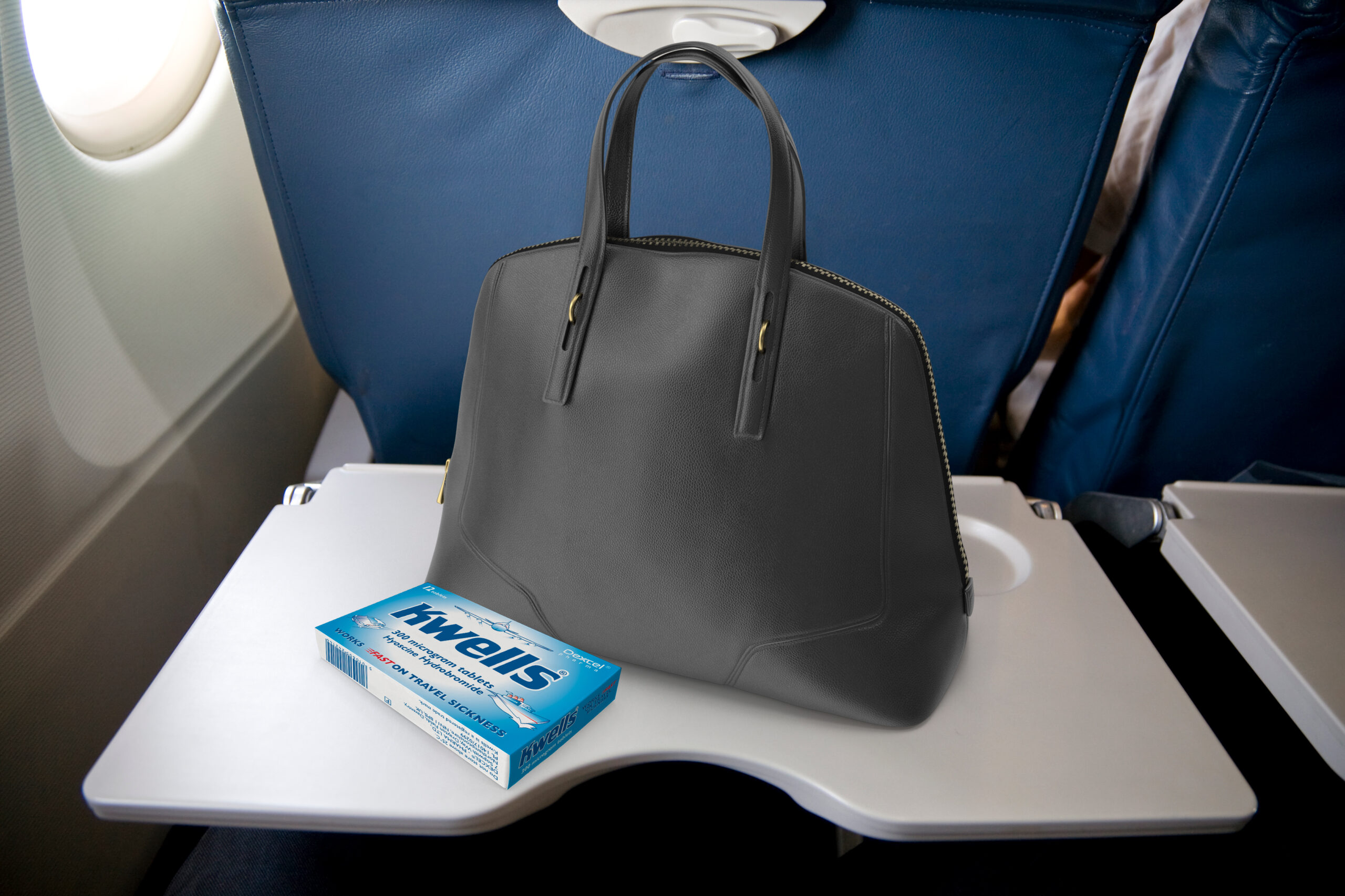 Modern designs on a heritage brand
Kwells arrived at our agency with a traditional and established pharmaceutical aesthetic.
To bring the brand image in line with the strategic marketing direction and digitalisation, our head of creative Sarah worked on designing a new refreshing look and feel.
This focussed on the concept of Kwells being part of the route to enjoying travel free from the misery and anxiety of travel sickness and to conjure up the excitement and aspiration of holidays and day trips.
Using Kwells' signature blue brand colour Sarah created a range of designs to depict soaraway skies, paper planes and boats and introduced new iconography to represent the products use across all forms of transport.
This is especially evident across the Kwells website.
The design work is complemented by the use of family-orientated travel lifestyle imagery across social, media placements and digital advertising.
In 2022 we were asked to collaborate with Dexcel Pharma's Israel-based design company to refresh the Kwells packaging, modernising in line with the rest of the brand while retaining its 70-year plus heritage.
Packing a punch with PR
Within 12 months of rolling out our PR strategy we'd amassed an audience reach of over 2.3m – way over our 1m target.
Aligning supportive advice and insight for travel sickness sufferers while extolling the virtues of day trips, holidays and far-flung adventures gave us the opportunity to re-position Kwells as more than just a remedy.
The aim was to link it to the route of experiencing good times, memorable trips and aspirational getaways. 
And this was particularly poignant post pandemic when holidays home and abroad had sadly become a distant memory for many.
We embraced the lifting of travel restrictions – albeit slightly cautiously along with the rest of the UK population!
But we began sowing the seeds of the opportunities on the horizon and a newfound joy and appreciation of holidays and spending time with family again.
By the time we'd arrived at the year-end destination we'd clocked up a reach of over 6.8m, introducing a mix of both tried and new travel-focussed publications and websites, lifestyle magazines, parenting platforms and national newspaper advertorials.
Kwells was already among the top UK market leading travel sickness treatment brands but by mid 2022 it was placed within the top five key players in the Global Motion Sickness Medicine market representing strong sales across the board.1 
Digital stats that keep on soaring
The Kwells website continues to attract traffic thanks to strategic pharmaceutical digital marketing and insightful go-to content.
Primarily driven through social media, digital advertising, media placements and digital PR, SEO has also played a big part in drawing in an audience for its unique offering of travel sickness advice, self care tips, light-hearted blogs and travel insights.
Since launch to early 2023 organic users have increased 1,238% YOY and organic sessions have increased 1,194% YOY. The number of keywords ranked for increased 487% in 2022 – from 49 to 288 – and organic impressions increased 430% YOY (Jan – March 2023 vs Jan – Mar 2022).
Growing social media channels organically takes time, particularly for a pharma brand.But with the help of informative and light-hearted content, seasonal giveaways to coincide with summer holidays and Christmas breaks we soon started making in-roads.
YOY (2022-23) Facebook following grew 116%, reach increased 3,045% to 1.07M and engagement increased 42%.Instagram following increased 2,176% YOY and reach increased 10,587%.
We set out on 2022's journey aiming to reach 3.5m consumers through PR and paid media. The end result far surpassed this target, achieiving an impressive 6.8m-plus audience reach.
The final word… from our client!
Cornerstone are a unique PR/Marketing Agency who provide one of the most competitive holistic services versus many competitor agencies.
The team are knowledgeable in their field of expertise, enthusiastic, fun, extremely creative, joint collaborative thinking, positive approach to new and existing projects, always ahead of the game, and great at managing tight deadlines and last-minute requests.
I would recommend this agency with no hesitation. Their work speaks for itself!
– Dexcel Pharma Ltd
If you'd like to find out more about our pharmaceutical marketing agency services including PR, design, digital and website development call 0161 213 9941.
Pyrocalm
Pyrocalm Control Case Study: A heart-warming read for all challenger pharma brands
It can seem like a David and Goliath situation. Pitching a challenger brand against the big players in a very crowded pharma market is not for the faint hearted. You're often looking at squeezed marketing budgets versus the bottomless pockets of well-known brands, little or no in-house marketing expertise versus global-scale agency capacity and zero comms experience versus the pick of PR prowess.
It's not easy. And the odds are stacked. Or so you'd think.
None of that deterred international pharmaceutical manufacturer Dexcel Pharma. They had the innovation, development and manufacturing capabilities to bring a new over the counter (OTC) heartburn and acid reflux treatment to the market.
And while they did face the challenge of all the above, you could say they picked the right David to take on the heartburn and indigestion Goliaths – our MD and lead strategist David Wadsworth.
We're also on the same page as Dexcel Pharma when it comes to company mantras, 'Where others see obstacles, we see opportunities'…
Find out how we helped Dexcel Pharma to not only build national attention for the launch of a new product with unique USPs but also gain ground on well-known brands while attracting the attention of major retailers to see that all-important increase in market share.
Back to the beginning
As an associate member of the PAGB we have access to its regulatory advertising services which, combined with our sector PR and design experience, ensures compliancy and efficiency when it comes to handling the often-complex nature of consumer and trade facing pharma and healthcare industry communications.
Clearly this was an advantage from the very beginning.
Not only did we have the in-roads, experience and knowledge to assist PAGB member Dexcel Pharma and their fledgling brand Pyrocalm Control, we also had the systems in place to quickly kick start a strategic route to greater consumer and trade brand awareness.
We began by gaining a greater understanding of the product, the gastro medicine market, the key challenges, target audiences and personas and main competitors.
Innovation was at the forefront of development for this product so when it came to USPs we had plenty to work with.
Not only was Pyrocalm Control launched as the first OTC branded omeprazole 20mg product on the market, it's also a product that can be used to treat heartburn during pregnancy and breastfeeding. Something its key competitors couldn't claim.
As heartburn is a common side effect of pregnancy Pyrocalm Control provides another treatment option for mums-to-be who have failed to find long-term symptom relief through lifestyle changes and OTC antacid and alginate treatments which temporarily relieve the condition rather than tackling the cause.
Our introduction to Dexcel Pharma came through the PAGB – the Proprietary Association of Great Britain, which represents manufacturers of branded OTC medicines, self care medical devices and food supplements in the UK.
Alongside forming mission and vision statements and a new tone of voice for Pyrocalm Control, we implemented a pivotal marketing mix strategy to fire up brand recognition and awareness among targeted consumer audiences.
We launched a 'Block it at the source' trade campaign in tandem with CIG Healthcare Partnership – which owns a portfolio of pharmacy-facing magazines and pharmacy training services – to bring greater brand awareness and product understanding among pharmacists and their teams.
Setting the design tone
As an associate member of the PAGB we have access to its regulatory advertising services which, combined with our sector PR and design experience, ensures compliancy and efficiency when it comes to handling the often-complex nature of consumer and trade facing pharma and healthcare industry communications.
Clearly this was an advantage from the very beginning.
Not only did we have the in-roads, experience and knowledge to assist PAGB member Dexcel Pharma and their fledgling brand Pyrocalm Control, we also had the systems in place to quickly kick start a strategic route to greater consumer and trade brand awareness.
We began by gaining a greater understanding of the product, the gastro medicine market, the key challenges, target audiences and personas and main competitors.
Innovation was at the forefront of development for this product so when it came to USPs we had plenty to work with.
Not only was Pyrocalm Control launched as the first OTC branded omeprazole 20mg product on the market, it's also a product that can be used to treat heartburn during pregnancy and breastfeeding. Something its key competitors couldn't claim.
As heartburn is a common side effect of pregnancy Pyrocalm Control provides another treatment option for mums-to-be who have failed to find long-term symptom relief through lifestyle changes and OTC antacid and alginate treatments which temporarily relieve the condition rather than tackling the cause.
Our introduction to Dexcel Pharma came through the PAGB – the Proprietary Association of Great Britain, which represents manufacturers of branded OTC medicines, self care medical devices and food supplements in the UK.
Alongside forming mission and vision statements and a new tone of voice for Pyrocalm Control, we implemented a pivotal marketing mix strategy to fire up brand recognition and awareness among targeted consumer audiences.
We launched a 'Block it at the source' trade campaign in tandem with CIG Healthcare Partnership – which owns a portfolio of pharmacy-facing magazines and pharmacy training services – to bring greater brand awareness and product understanding among pharmacists and their teams.
A multi-channel approach
Every element of PR, creative and digital was linked to firm objectives and KPIs and we worked on brand positioning and identity to give Pyrocalm Control a strong foothold in a highly competitive market
We created a social media presence for the brand across Facebook, Twitter and Instagram and expanded owned PR activity through the creation of blogs on the Pyrocalm Control website, providing supportive and informative advice to heartburn sufferers to allow them to make informed decisions on preventing and treating their symptoms.
We launched a consumer 'Help block it at the source' media campaign, working with trusted parenting publications and platforms such as Mother & Baby, Healthy Child and Emma's Diary, national newspapers and lifestyle magazines to reach our varied target audiences.
These include mums-to-be, those with busy working lifestyles and an older demographic more likely to suffer from heartburn.
All of this activity was underpinned by a PPC campaign across Google and Facebook Networks, Spotify and YouTube.
Targeted and consistent, it helped to put Pyrocalm Control on the OTC heartburn treatment radar, giving it the initial amplification it needed among consumers and the trade.
Generating ripples within the existing market
The set audience reach KPI for 2021 was a minimum of 1.5m consumers.
The end result for PR and media campaign activity was an incredible 12.9m-plus!
We continued to apply the same foundational brand building tactics throughout 2022.
And we ended a successful and ground-breaking year for the brand with a festive activation – tis more likely to be the season for heartburn! – introducing the out-of-home (OOH) advertising for the first time.
Targeting commuter audiences across key London Underground stations and national radio advertising on Heart and Smooth FM, we rolled out a 'No time for heartburn' campaign.
This was supported by press advertisements in the Metro, PPC, Facebook, Instagram and Google Network ads and festive heartburn advertorials across national newspapers, supplements and lifestyle magazines.
2022's activity gave the brand a combined audience reach of 30m – yes, that's around half of the UK population – helping to position Pyrocalm Control as a truly emerging household brand.
Disrupting the market
Initially available in community pharmacy and online pharmacy outlets, mid-way through 2021 Pyrocalm Control's presence caught the eye of its first major high street retailer with Superdrug launching the brand into nationwide stores and online.
This sparked a real turning point for this challenger brand and in 2022 – just 18 months into our strategic partnership there was a flurry of interest and subsequent buy in from the UK's largest multiple retailers including Tesco, Asda, Morrisons, Boots, Home Bargains and B&M.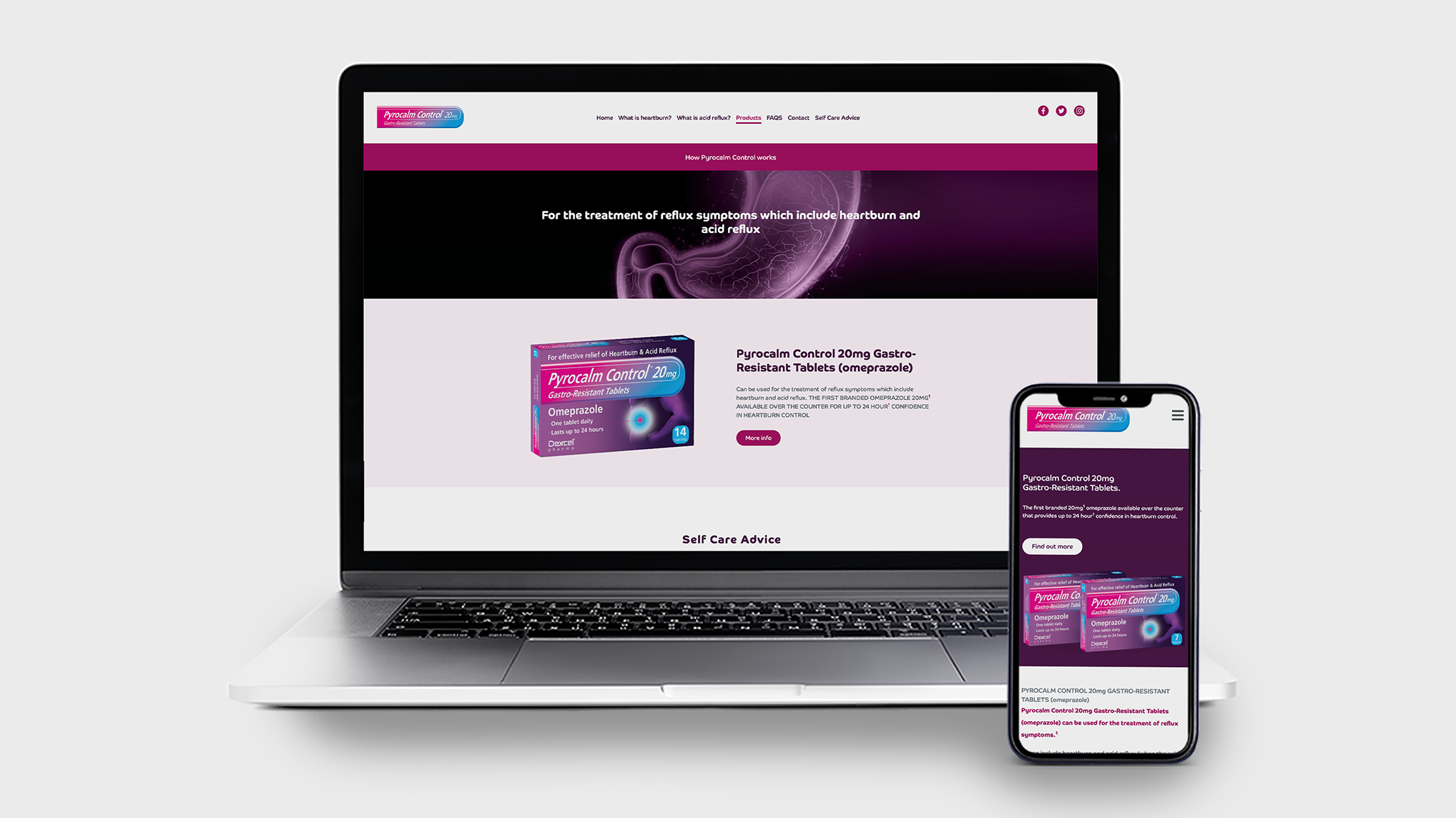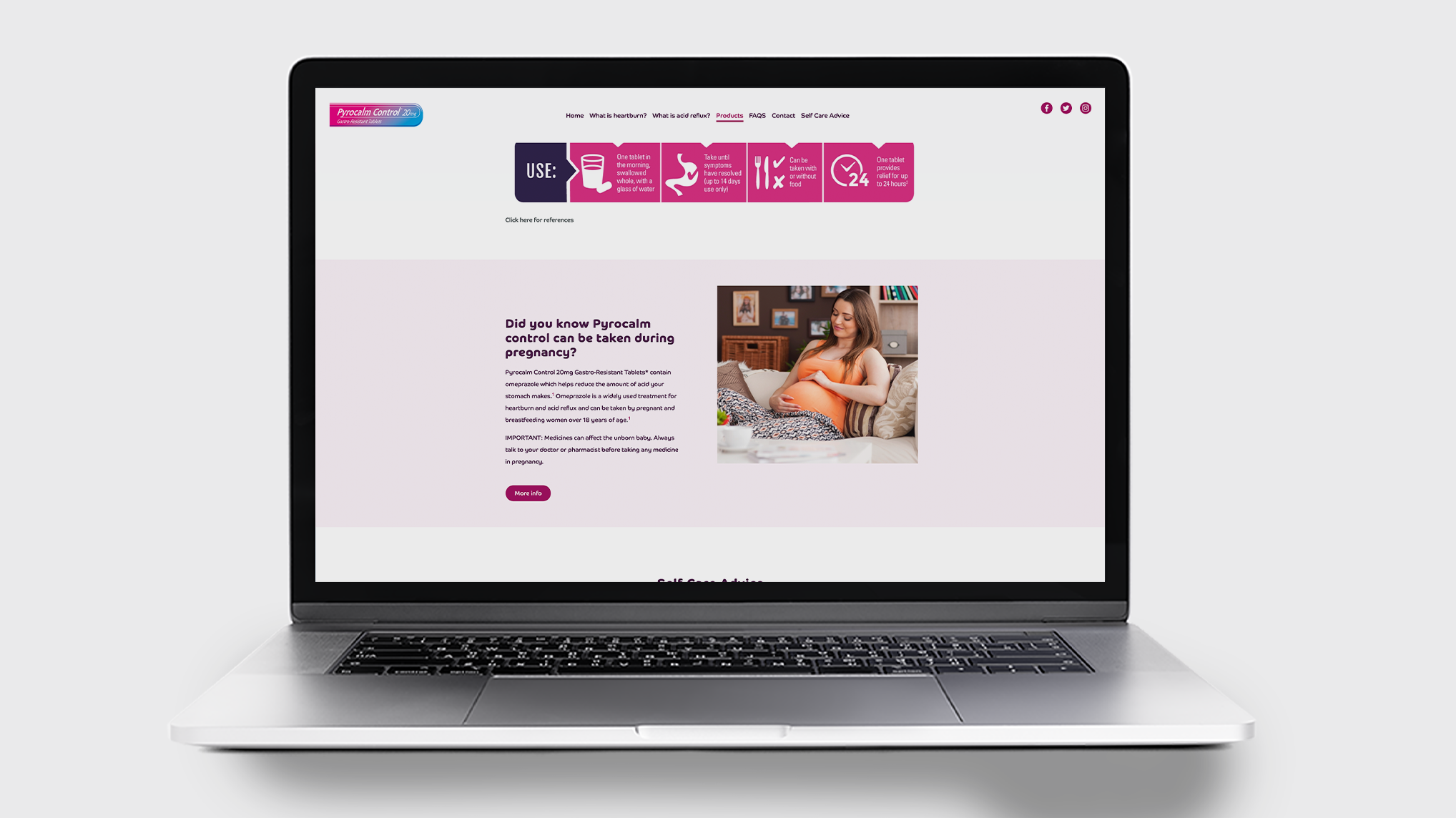 Smashing targets and stratospheric stats
Our initial 2021 targeted and combined approach through PR and digital campaigns saw an audience reach of over 13m, far exceeding its 3m objective.
In 2022 their new website gave a stratospheric boost to stats, increasing organic users by 137% YOY and organic sessions by 118% YOY.
The number of keywords ranked grew 859% (from 39 to 374 in total) and organic impressions increased 925% in Q1 2023 compared to Q1 2022.
Paid users increased 468%, paid sessions increased 508% and visitors to the site from Pyrocalm Control's social channels grew 4,517%
It's social channels also took off.
Facebook following grew 84% YOY, engagement increased 207% and reach increased 2,777%.
On Instagram following increased 1,210% YOY alongside an increased reach of 693% and a 945% increase in engagement.
The marrying of PR and digital helped to drive huge growth in brand awareness and product sales and, of course, a much-coveted increasing market share.
The buoyancy of the marketing impact and increasing profitability of Pyrocalm Control continues to attract larger marketing budgets YOY, allowing us to expand our strategic horizons, goals and of course the excitement of taking Pyrocalm Control to new, unexplored frontiers!
Here to take on the challenger!
There's so much more to come for this 'challenger brand' which now holds a significant share of the heartburn and indigestion market.
OOH campaigns are set to go national, we're running targeted PPC on Spotify and YouTube, and we're heightening the creative application of the brand as we speak.
So, to end this David and Goliath story with a marketing morale…
The to-date success of Pyrocalm Control isn't just a heart-warming tale for Dexcel Pharma and us as a pharmaceutical marketing agency, it's an incentive and example for all those challenger brands out there who are fighting for attention among the much larger, well-established brands.
It's proof you don't need those bottomless pockets.
What you do need is high-quality and value for money strategic expertise, ambitious marketeers, solution-led strategies and in-depth market knowledge and understanding – along with a team of digital, PR and design experts who take the time to get under the skin of your business.
And that's Cornerstone design and marketing.
We have a reputation for working with some of the UK's best-known healthcare and pharmaceutical brands alongside leading OTC medicine manufacturers and suppliers.
From results-driven strategic campaigns to marketing research, re-branding, design, PR, digital and web development, we have extensive experience in both B2B and B2C creative communications.
We'll leave the last word to our client…
Cornerstone are a unique PR/ Marketing Agency who provide one of the most competitive holistic services versus many competitor agencies. The team are knowledgeable in their field of expertise, enthusiastic, fun, extremely creative, joint collaborative thinking, positive approach to new and existing projects, always ahead of the game, and great at managing tight deadlines and last-minute requests. I would recommend this agency with no hesitation; their work speaks for itself!
Barrow Forward
Navigating a leisure provider's voyage to a new era
Barrow in Furness is a deep-water port famous for its industrial and ship-building heritage.
So, it was a privilege when we were asked to navigate the voyage of a local authority's leisure centre as it embarked on a new era.
In fact, we're not without our own heritage when it comes to providing full-service marketing expertise and creativity in support of the leisure and wellbeing industry, working with several local authority leisure trusts and associated organisations – many of which have come to us through word-of-mouth recommendations.
Indeed, it was via a recommendation from another trust about our service and quality of work that we came on board when Barrow Forward Limited, a local authority trading company owned by Barrow Borough Council, began managing operations at the Barrow Park Leisure Centre in February 2022.
With only a matter of weeks to plot the route to this new horizon, we had to draw on every ounce of our experience and expertise to ensure this was going to be plain sailing.
Developing a deep understanding
Barrow in Furness has a population of almost 68,000, with 62 per cent of residents of working age (16-64) and 21 per cent aged 65-plus. The working age population is predicted to decline in number along with that of younger people (aged 0-15), while the proportion of the 65-plus population is expected to increase[1]. Life expectancy is below the average for England for both men and women[2].
Operating in a highly challenging marketplace with new competitors moving into the area in addition to some existing health and fitness providers, Barrow Park Leisure Centre is an inspiring wellness facility that includes a swimming pool, gym, sports hall, soft play area, fitness classes and a host of other facilities. It has a wide range of memberships that span personal, family, teen, children's, corporate and over-65s packages.
Through our in-depth onboarding process, we discovered Barrow Forward Ltd was dedicated to providing the local community with outstanding, affordable leisure, recreation and wellbeing facilities and activities to influence healthier, happier lifestyles across Barrow-in-Furness.
It was determined that Barrow Park Leisure Centre should be open to the entire community, offering a welcoming, inclusive, accessible and enjoyable place to improve physical and mental wellbeing, regardless of age, ability, disability, fitness levels, and health conditions.
And it was resolute that as a caring and supportive, not-for-profit organisation, it would be committed to reducing health inequalities across the community, improving health and wellbeing for members and visitors alike.
The not-for-profit status means any profits generated over the course of a year are reinvested into delivering even more wellbeing activities and support for the people of Barrow – a position Barrow Forward Limited was eager to promote.
Sources:
[1] Cumbria County Council
[2] Office for National Statistics (ONS)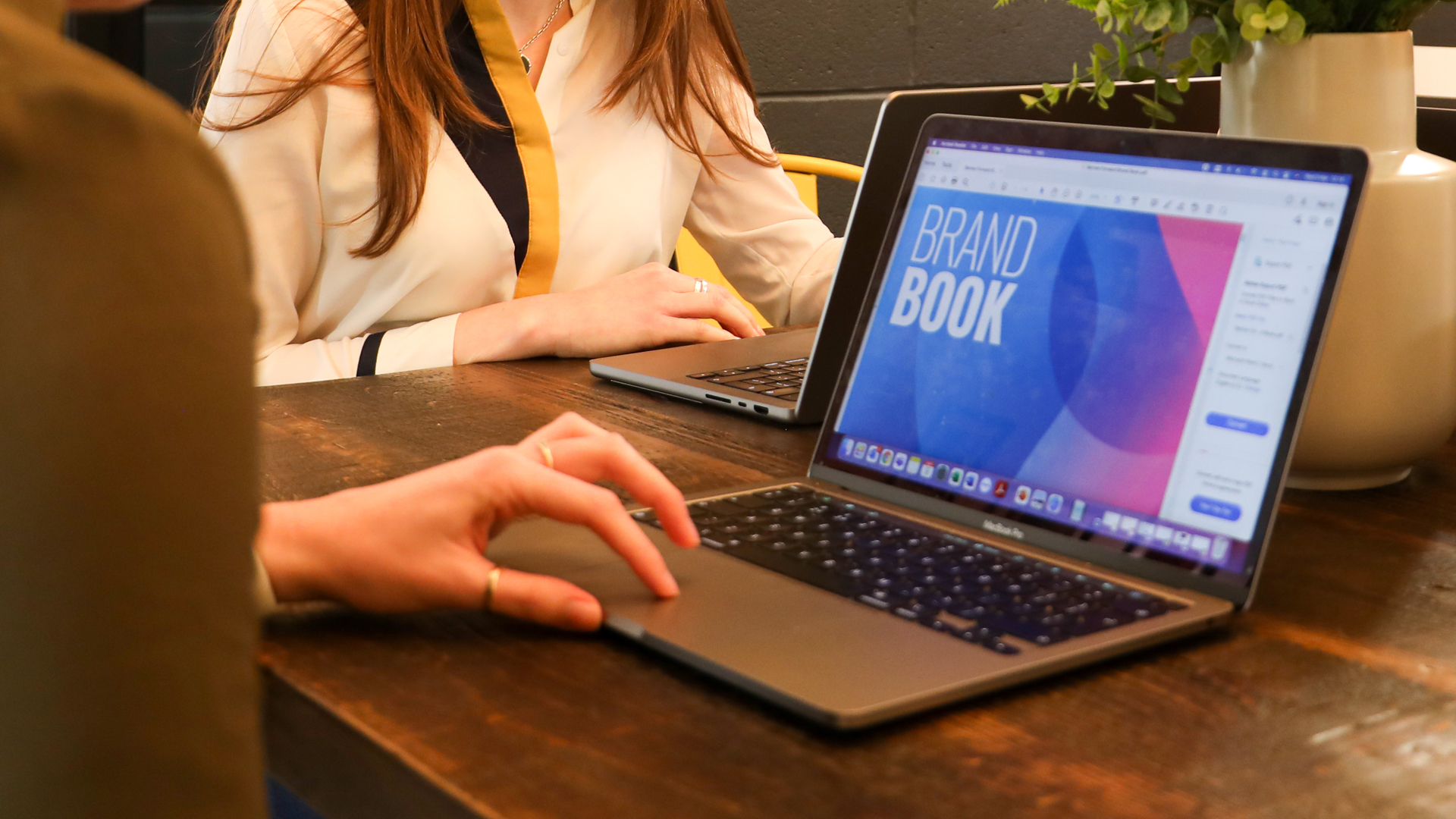 Delivering on the goals and objectives
We were tasked with creating a marketing strategy that would seamlessly deliver for all Barrow Forward's needs, which included:
Brand refinement and identity creation
Campaign planning & delivery
Internal and external communications
Increased social media presence
PR & Media
Membership retention and referrals
Membership prospecting campaigns
Interior and exterior signage
Effectively, we became Barrow Park Leisure Centre's marketing department, working closely with their enthusiastic and committed team to deliver on their goals and objectives in a targeted, segmented and cost-effective way. In addition to our strategic input, the brief included and day-to-day support when necessary.
Getting off to an 'appy' start
The Barrow team was already working on an app that would allow members to make and manage bookings online, see class timetables and availability, and hear about the centre's new classes and activities.
A third party was in the throes of working on functionality, but we were asked to lead on design, which gave us the opportunity to unveil Barrow's new identity.
We also created an in-centre campaign alongside the release to encourage sign-ups while familiarising members with the new brand.
We developed engaging messaging and calls to action that stimulated members to sign up to the app and engage in Barrow's ongoing messaging, ensuring a smooth transition. This was delivered across a range of in centre print media, digital comms, social media marketing, and messaging for use on the Cornerstone digital signage platform – another Cornerstone innovation that is a web-based solution that allows businesses, brands and organisations to tailor their communications to their target audience via strategically positioned smart TV screens or digital signage screens.
Launching the app in tandem with the rebrand helped to present Barrow Park Leisure Centre in its new identity to members while illustrating the new management team was committed to making improvements for the centre and members alike.
The app became available for download on 1st February and received more than 1,000 sign-ups in the first month.
An eye-catching brand identity
Our vastly experienced creative team was behind the brand identity exercise, drawing on the success of our work with other leisure and wellbeing providers to refine aand create an eye-catching corporate colour palette and wider brand identity for all publicity material and signage.
Blue was chosen as the base for the overall identity with a selection of different shades as the base for brand materials. We then opted for bright and vibrant colours to complement the core blue and to reflect the brand's diversity and inclusivity.
With smooth-flowing curves dominating the aesthetic, we also introduced a curved device based on the bottom of the logo's B icon to provide an extra element. We think the results are stunning. See for yourself…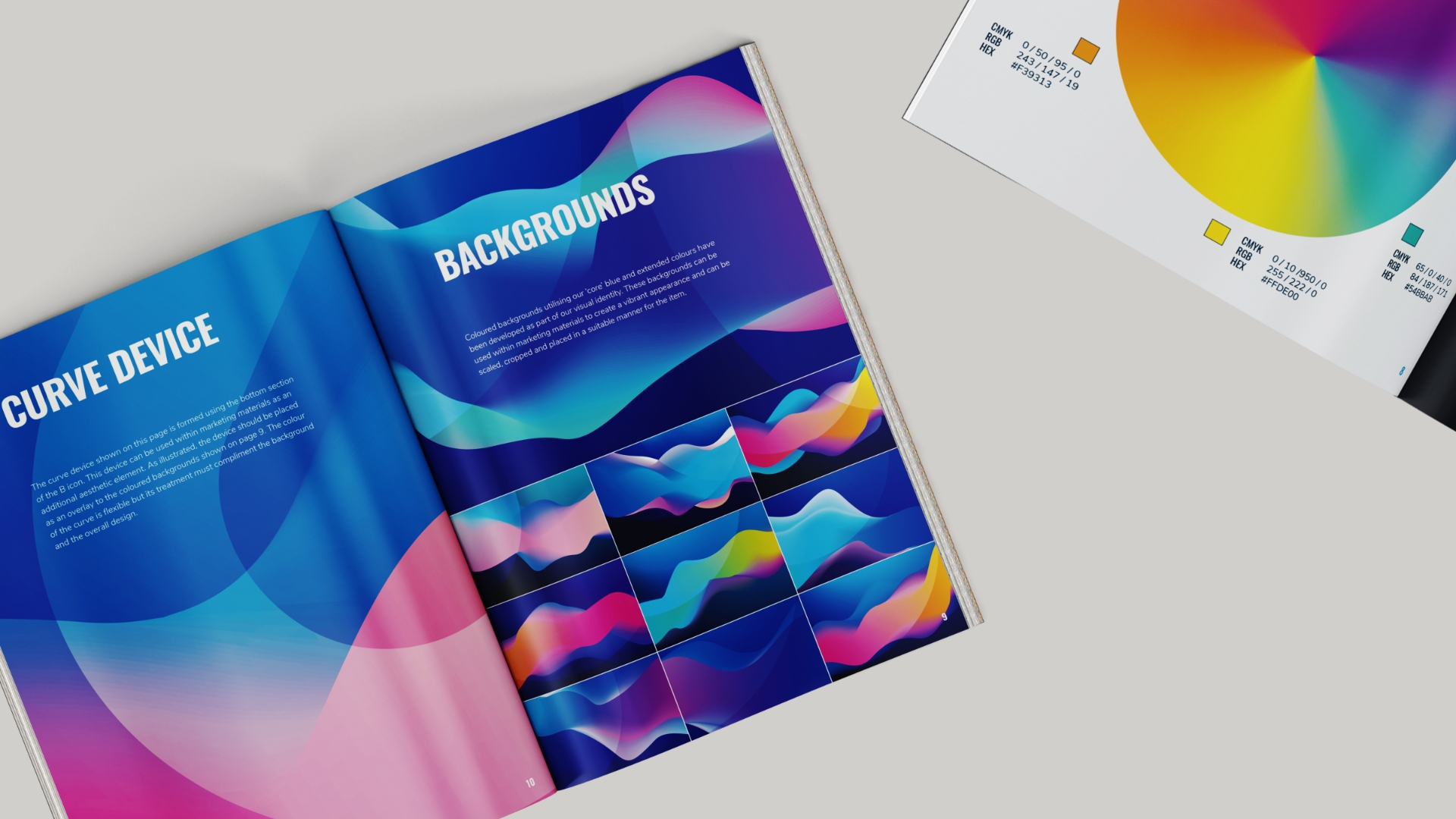 Welcome to the Feelgood Family!
Our brand awareness campaign was founded on Barrow Park Leisure Centre's desire to build on its commitment to provide recreation and wellbeing facilities and activities to influence healthier, happier lifestyles.
We also wanted to create a message that Barrow Park Leisure Centre was an inclusive, caring, supportive, not-for-profit organisation for members and visitors of all ages, abilities and backgrounds.
And so, the Feelgood Family concept was born to reflect its mission, vision and its values of inspiration, integration, accessibility and leading the way.
The feelgood represents the benefits of being active while the family is reflective of the inclusivity that is inherent in the organisation.
Since its inception it has proved its flexibility by featuring in campaigns for everything from swimming lessons to membership drives and email newsletter campaigns, which we launched to maintain a consistent and steady stream of communication with members, along with newsletters for staff.
Another element of the concept is to represent the radical changes taking place in the leisure industry, with a pivot away from purely leisure to health and wellbeing. Our campaign literature captures the shift by stressing the benefits that being physically active have on health, body and mind.
We have capitalised on Barrow Park's not-for-profit status and inclusivity by publicising its collaborations with local charities supporting both ends of the age spectrum – Age UK and Family Action Barrow, a child and family support service based in the town.
Timely news releases about activities involving both good causes garnered earned media coverage reaching a potential online monthly audience close to Barrow's 68,000-strong population.
Reaping the benefits
While our creative, strategic planning and PR teams were busy with the branding and messaging, our digital team was busy boosting Barrow Park Leisure Centre's social media presence via Facebook and Instagram.
Organic Facebook reach has increased 79% year-on-year to 277,000, while page growth has increased by 20% YOY. Instagram reach is currently 62,000.
Facebook advertising campaigns have so far made over half a million impressions with a click through rate almost 2% above industry averages. We've also seen a 56% increase in clicks year-on-year and an 84% increase in impressions.
However, our support goes further than just increasing social presence. As Barrow Forward seceded from a previous provider, we have worked directly with Facebook to transfer the ownership of the Facebook business account to Barrow Forward Ltd.
Sales-related banners created by our design team have been printed by our signage team to help publicise membership and children's activity campaigns.
Here's what our client had to say
In February 2022 we transitioned from one company to another and it was a really challenging time operationally, so when Cornerstone DM came on board as our marketing company it was a huge help. Right from the outset they have been very organised, professional, and helped guide us through building our brand while maintaining our core values. Their understanding of the leisure industry has been really useful too. 
The best thing about David and the Team is the wide variety of expertise I can call on all under one roof. Whether it's PR, design, print, or account management, I know they have it all covered for us, and I don't have to micromanage. Our account manager keeps me well informed on all aspects of their work and cross checks everything to ensure we are happy.
I would highly recommend Cornerstone to any leisure organisation.
Be Well Wigan
Proud to support leisure and wellness in a borough steeped in sporting prowess
Wigan is synonymous with Rugby League, a sport steeped in history and now enjoying a flourishing reputation for diversity and inclusivity thanks to women's and wheelchair Rugby League. It's only fair to note, that the town's football club has experienced its fair share of recognition too, most notably lifting the FA Cup against expectations when beating red-hot favourites Manchester City.
As a marketing agency specialising in leisure, we are delighted to be bringing our expertise to bear in support of a borough with an indelible link to sporting prowess: an organisation that mirrors the values of diversity and inclusivity being displayed by the sport that's made the town famous.
Leisure is a sector we've matured with as a marketing agency and, essentially, it's one that we truly value for the hugely significant role it plays in our communities and society as a whole – just ask anyone who's watched the Warriors win the Challenge Cup, or the Latics lift the FA Cup.
Plenty of choices to suit everyone
Be Well is Wigan Council's new holistic approach to health and wellbeing. Be Well brings leisure and wellbeing services together under one banner, helping to make an even bigger impact on the health and wellness of residents and customers, in the heart of their local community.
Its message is clear and simple: whether you're looking to ease your way back into fitness, or you're already a full-time fitness fan, Be Well has something for everyone regardless of age, fitness, ability, disability or medical condition.
Its facilities and mix of free and paid-for activities provide plenty of choices to suit everyone – from local leisure centres to healthy weight management programmes, guided walks to junior fitness, inclusive activities to water sports.
Be Well has everything residents in the borough need to get fit and active and lead healthier, happier lives as a result.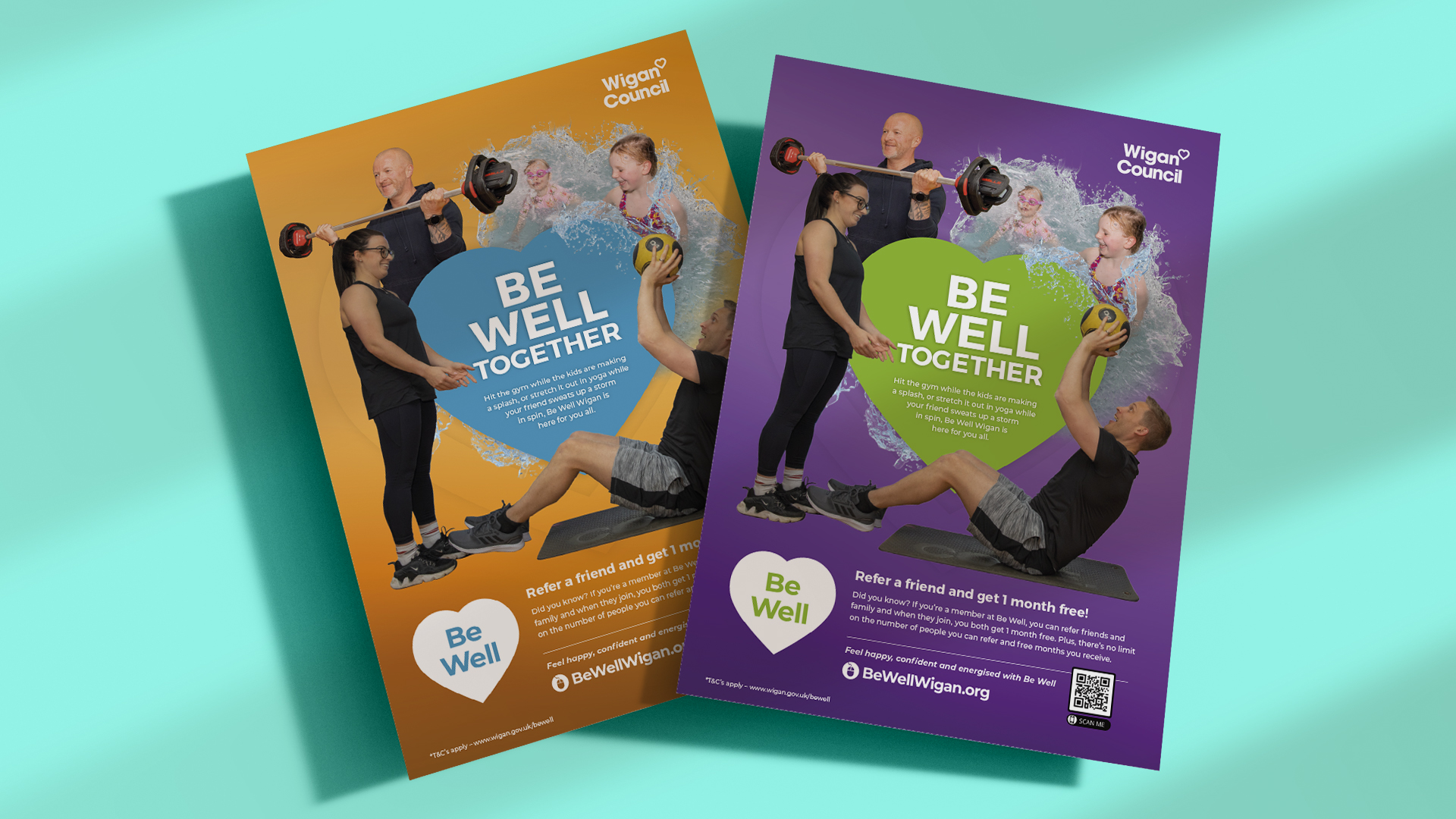 Delivering for all of Be Well's needs
As a full-service agency, we have all the tools – expertise and creativity within design, digital marketing, PR and print production – to deliver everything Be Well needed as it began its journey under the stewardship of the local council.
We were tasked with creating a marketing strategy that would seamlessly deliver for all of Be Well's needs:
Development of campaign themes and concepts.
Internal and external communications.
Email marketing campaigns for membership retention, referrals and acquisitions.
Printed assets including flyers, posters, outdoor banners, pull up banners and exhibition banners.
Press activity including print and online advertising.
Brand concept and creation of the Be Well Outdoors brand and supporting with the associated website – more of that in a moment!
Our work also included broadcast media, with a radio advertisement for Haigh Woodland Park
This was combined with our media buying activity, which secured half page ads in the Liverpool Echo and Manchester Evening News, along with digital ads on both papers' websites. We also placed advertising in Family on the Go and the Wigan Post to increase awareness and boost visitor numbers.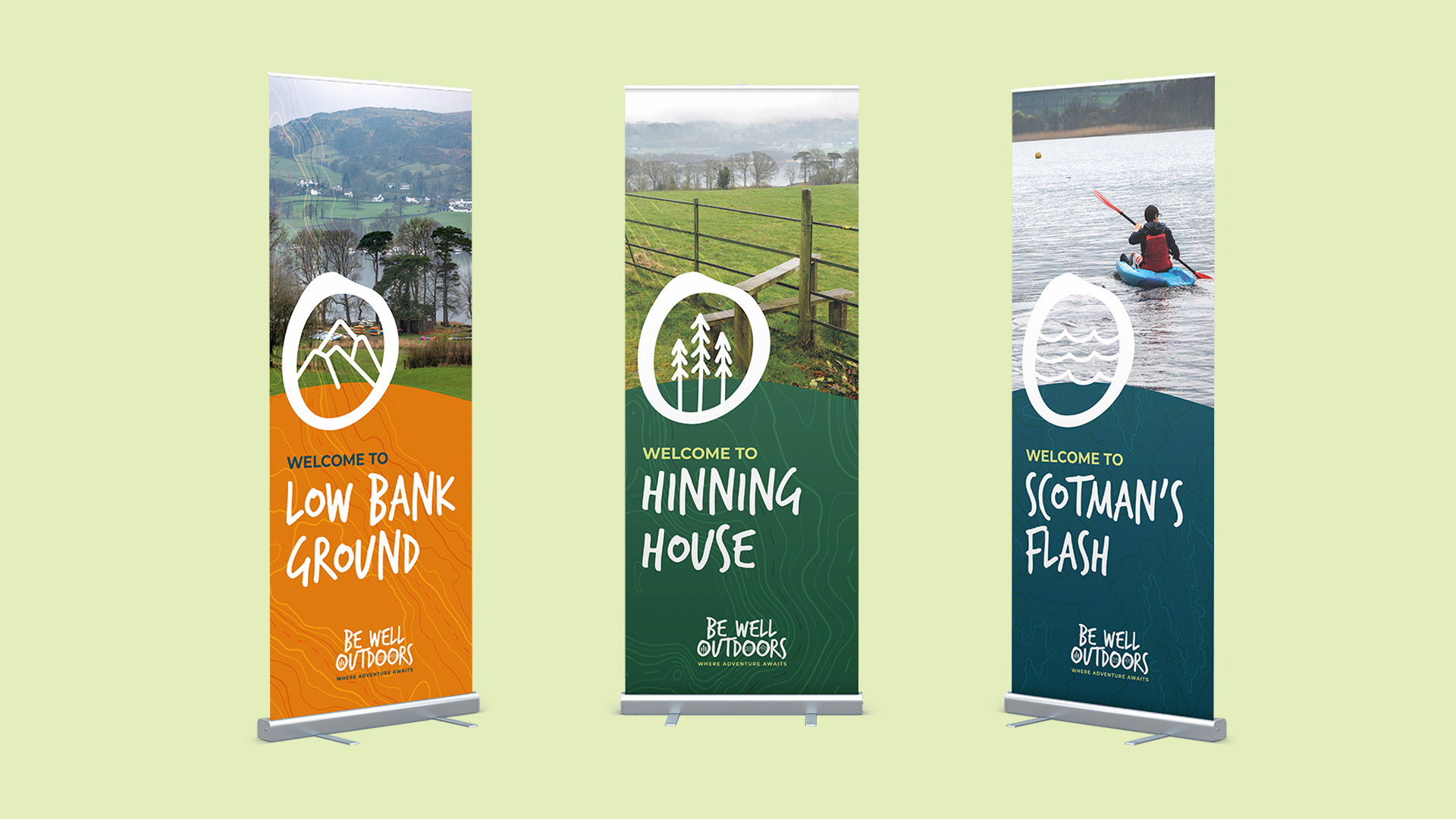 Be Well Outdoors
Be Well Outdoors is a project to develop branding and a website for Be Well's Low Bank Ground and other outdoor facilities. Our vastly experienced and hugely talented creative team has conceived new brand guidelines, with some eye-catching results for the main brand logo (above) and sub-logos (below) featuring an icon unique to its location/activity to support the main brand logo.
Meanwhile, our digital team is supporting the development of a dedicated Be Well Outdoors website with the delivery of a UX (User Experience) workshop and wireframes. Both are important steps in achieving the end results Be Well was seeking.
UX is the process we use to create a site that provides a meaningful and relevant experience for users. It involves the design of the entire process of acquiring and integrating the product, including aspects of branding, design, usability and function
Wireframing, meanwhile, is essential to help ensure that the website will achieve its objective once designed and live. Without wireframing, you could end up with a beautiful site that doesn't actually achieve what it is supposed to do.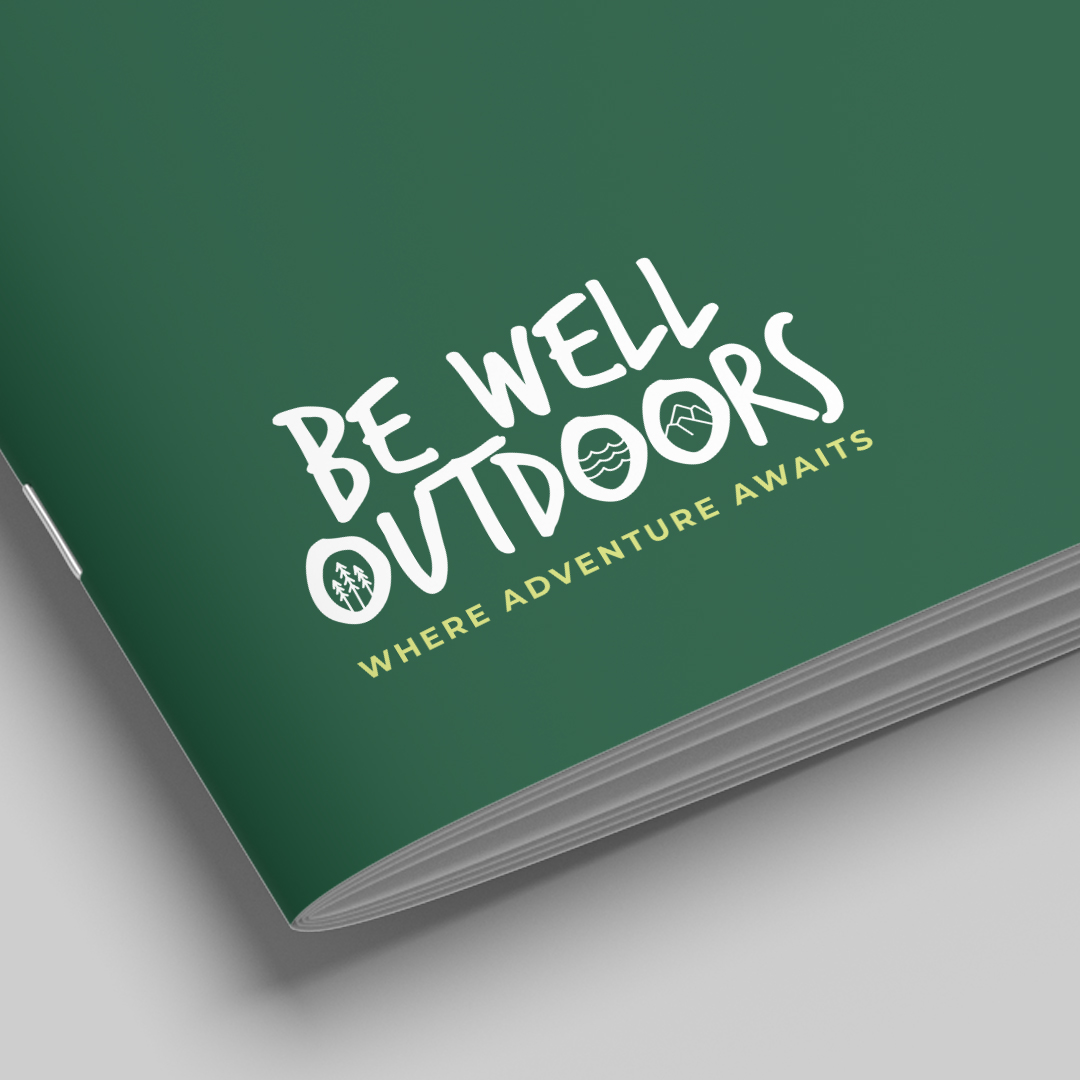 On the campaign trail
No, we weren't canvassing for votes, but we did want locals to vote with their feet and enjoy what we've called the Be Well Benefit.
Since working with Be Well we have devised and delivered campaigns for membership retention and acquisition, often weaving them into wider seasonal activity.
Existing members, including casuals, in order to either upsell a casual member to a full membership, or to generate referrals from existing members to new members via a referral campaign. We targeted a broad range of member categories, with refined messaging per category.
New prospects who have either never engaged with Be Well or who have lapsed or cancelled in the past.
For existing members this included tactical activations such as email marketing direct to an existing member list, in-centre posters with QR code, text message marketing encouraging referrals, a website banner reminder on timetable pages. Other tactics included a referral page on the Be Well website, where members could enter referral details.
For new prospects we created an exposure and awareness campaign via one of our tactical activations such as PPC, display network, out of home advertising such as 'ad vans' around Wigan, and email marketing campaigns to lapsed members.
The Haigh Woodland Park campaign mentioned above was targeted at families to highlight what the 250 acres of woodland and green space has to offer for a fun-filled, family day out and was timed to coincide with school summer holidays.
Our other campaigns have been aimed at getting the , putting the focus on a toolkit for schools to get the message out to the borough about the Be Well benefit, which included a range of digital assets such as email copy, imagery and social posts.
And we have developed a range of ongoing PPC campaigns including an autumn fitness campaign and a targeted campaign for Howe Bridge and Leigh leisure.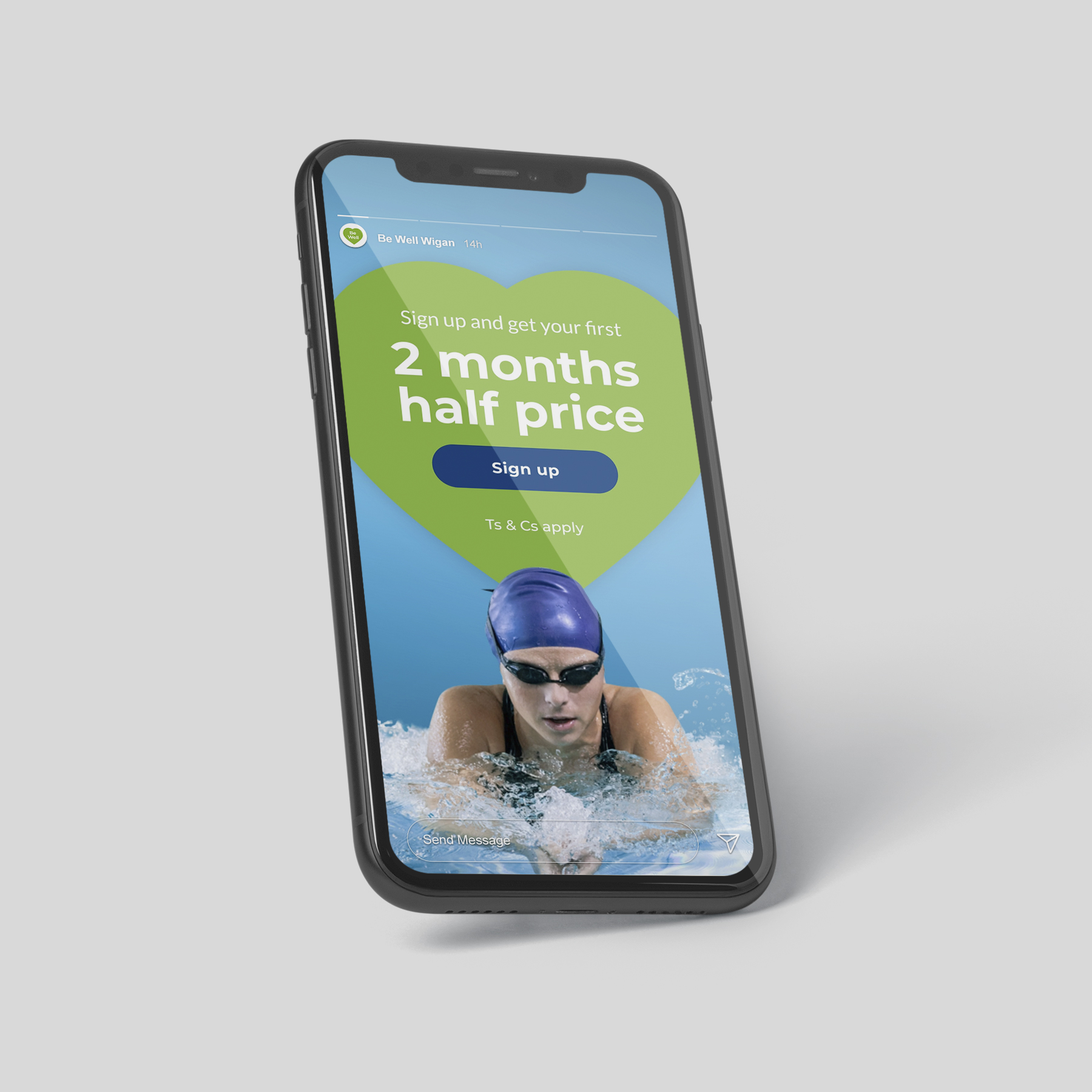 What has our work achieved?
The following statistics from our digital team reveal the impact our work has achieved for Be Well. Between June and November 2022, Be Well's Facebook reach increased by 134%, with even more impressive figures for Instagram, which saw reach increase by almost 600%, impressions increase by 589%, and profile visits increase by 66%.
Website clicks have increased by 1000% and the number of followers have increased by 24%. Twitter retweets (the sharing of Twitter content) increased by 77% and the number of followers increased by 19%.
If you'd like to see your organisation benefit in the same way Be Well has, get in touch.
GM Green City
Active, clean and green spaces for everyone
A bespoke website to communicate GM's vision for a greener future
Greater Manchester is adopting a clear and ambitious approach to climate action with individual, community, educational and industry action at its heart.
So, when the Greater Manchester Combined Authority (GMCA) – made up of Greater Manchester's 10 local councils and city-region Mayor Andy Burnham – wanted a website to put at the core of its ambition, it was our honour to provide the solution.
We'd already worked with GMCA on a variety of websites in the past, including Nature GM and Plastic Free GM – two campaigning sites which aimed to get more people to engage with nature and use less plastic.
It was decided a third site, GM Green City, would be the one for GMCA to share its vision and mission – where we all have an opportunity take action by making better choices, investing in and embracing more sustainable businesses, practices and lifestyles.
After successfully navigating the tender process, we had one objective – to bring together their three existing sites into one engaging and interactive hub – GM Green City, with the objective of showing how we can all easily play a part in facing up to the challenges that threaten our environment and the climate.
The target audience was simple – everyone in Greater Manchester from differing communities, backgrounds and locations, but with particular focus on a number of harder-to-engage groups across our region.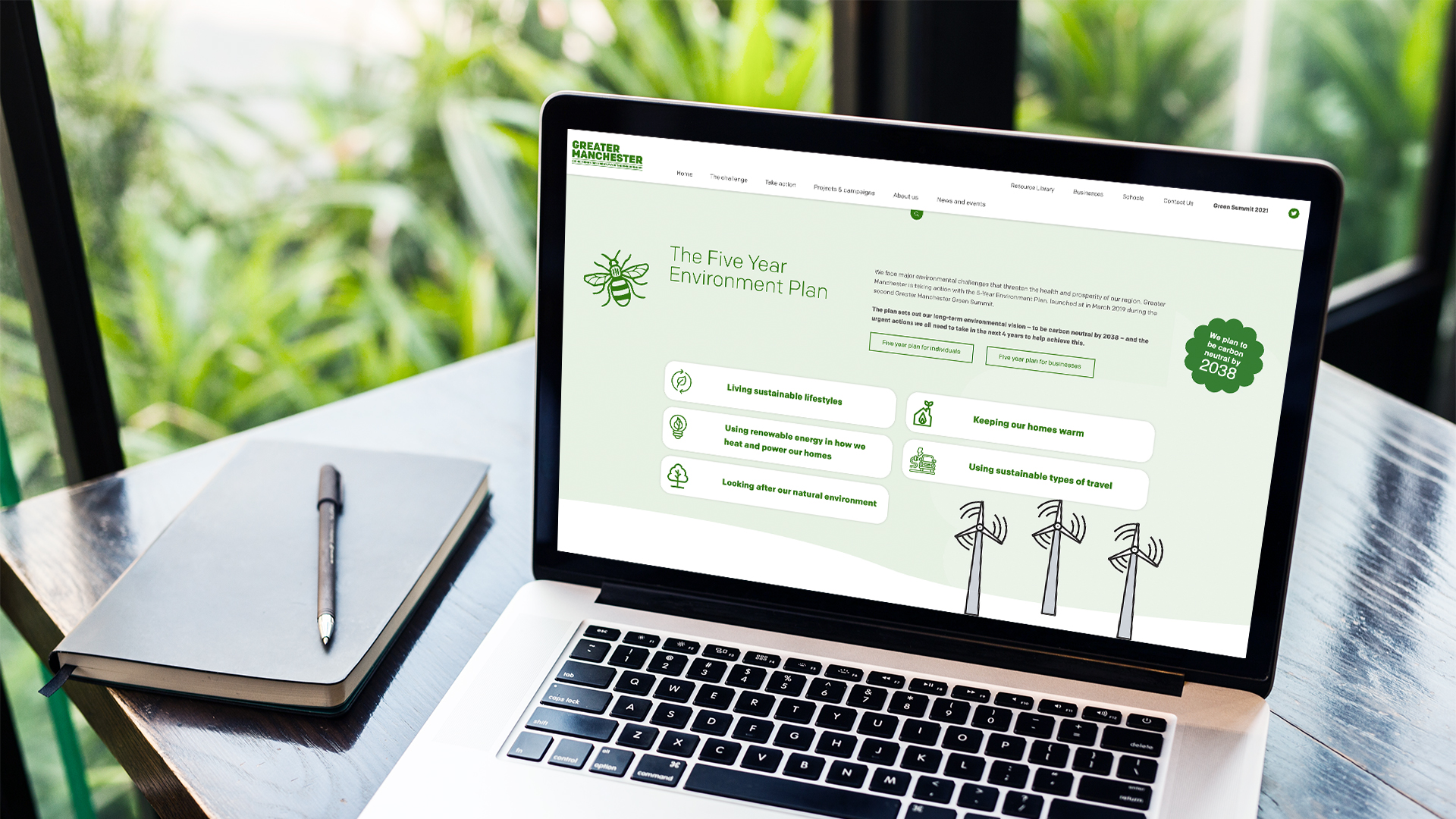 Research driven and objective orientated
We began where most Cornerstone web projects begin, with solid research and this is where our User Experience (UX) workshops come into their own.
The ultimate goal of this site would be to drive changes in people's behaviour and actions to create a positive impact on the environment, driving an overarching objective to become a carbon neutral community within 20 years.
We spent many hours engaging with stakeholders, consumers and experts across the GM city-region to gain valuable insights into the way they would use the site, and what would engage and encourage them to achieve the ultimate goal.
A raft of questions later, and extracting valuable insights and information, we were able to confirm the key objectives of the site and set out a positive user experience and road map for success via a solid UX strategy and information architecture.
Gaining consumer insights to drive exceptional user journeys
Using our research and UX process, and insights from consumer personas, our team set about confirming a comprehensive set of wireframes and creative design routes which were extremely well received by GMCA. Following sign off, our web development team were busy beavering away to develop the site to hit a key launch date deadline.

Meanwhile, we wanted the content to be user-driven to maximise engagement and interaction. Time for more insights.
Consumer insights drive exceptional user journeys, so we engaged in a focus group of 10 key target audience members to help us shape key headlines, calls to action, menu labels and ways to influence and encourage behavioural change that would positively impact the local environment.
Lots of messages came through loud and clear, including the colour-scheme and, not surprisingly, the client stressed the need for its green bee logo – green for the environment and the bee synonymous with Manchester – to be prominently displayed at every possible opportunity, which was well liked by and resonated with consumers in each focus group.

Taking climate action today, tomorrow, together
The finished site has been hailed a triumph by the client. See it for yourself…
We're very proud of it too. It was an exciting build which took three existing websites and seamlessly dovetailed each and every piece of information into a cohesive, engaging and enjoyable journey for the end-users.
The animated home page banner was lovingly crafted by Dave from our creative team, helping to capture brand personality and a positive outlook for residents of GM. We love it just as much as the client.
The site will now play its part in communicating GMCA's five-year environment plan for creating a greener, cleaner, carbon neutral future for residents across GM, and has already been put to good use for wider schemes and initiatives thanks to being built in a flexible and scalable manner.
The next challenge
No sooner had the site launched, than we were asked to update it with a new section promoting the Greater Manchester Green Summit.
Currently in its fourth year, and hosted by Mayor Andy Burnham, the summit focuses on the actions we can all take to reduce our carbon footprint and improve our environment. It showcases many of the great actions that have been taken so far, what we can all achieve as a collective, given the right support, direction and funding.
The summit includes these key sessions:
 Environment through the ages – what does climate change mean for all of us?
Nature and green spaces including the Greater Manchester Environment Fund, social prescribing and community action;
Smart energy, including the Green Homes Grant and community solar projects;
Waste and resources including the Recycle for Greater Manchester food waste campaign, renew shops and innovative local community projects;
Transport, including active travel and public transport;
Research, innovation and creativity – the story far, green skills and planning for the future.
It's all there – a downloadable agenda, and a full diary of events and sessions and an active live stream allowing deleagtes from across the world to participate.
And we're not resting on our laurels. We're now embarking on collecting more insight, through user acceptance testing.
Our goal is to ensure the software can handle real-life tasks, perform up to expectations and meet the objectives we set out achieve. It's a way of fine-tuning what we've created to ensure the user-experience is as positive as possible. It can also highlight anything that needs fixing or improving.
Our digital project manager Paige, explains: "Every question has a rationale behind it. It's a way of us checking that the site's functionality is easy to use and everything works as intended as well as ensuring that we have met the client's objectives."
"For example, is The Challenge the correct name for one of the menu items? Does The Challenge sound like something you have to sign up to, when it's really about the challenge facing the environment. Do we need to call it something else?" Our testing will give us an answer.
Working with us
We're an ethical, reputable, integrated agency providing results driven B2B and B2C projects and campaigns to our clients across a wide range of sectors and industries.
Our expertise spans all marketing disciplines including strategy and research, public relations, design, digital marketing, print production and signage.
To find out more about working with us clients@cornerstonedm.co.uk
You can keep up to date with our latest client work and industry insights by connecting with Cornerstone Design & Marketing on LinkedIn
North West Ambulance Service
North West Ambulance Service
NWAS rebrand call receives our creative response
Serving over seven million people in times of medical need, North West Ambulance Service (NWAS) is a crucial arm of the region's healthcare system.
They receive approximately 1.3 million 999 calls and respond to over a million emergency incidents each year across communities in Cumbria, Lancashire, Greater Manchester, Merseyside, Cheshire and Glossop (Derbyshire).
Its branding is iconic to generations but as an essential cog of a 21st century NHS and with a continued emphasis on its vision to be the best ambulance service in the UK, it was time to provide a little TLC.
As go-to marketing partners – having previously worked together on design, rebrands and award-winning creative marketing campaigns – we were approached to collaborate yet again with this inspirational organisation of emergency responders, patient transport providers and NHS 111 urgent care and advice givers.
We took the call and flicked on the marketing siren…
Reflecting the professionalism and pride of its service and people
NWAS's much-loved family of cartoon characters – born and developed from the imagination of Sarah and Nicola in our creative team – played a pivotal role in two highly successful award-winning NWAS campaigns, 'Star in a Car' and 'Make the Right Call'.
They won the public's affection, individually helping to convince thousands of people to seek assistance appropriate to their health concern and to recruit an army of volunteer car drivers to transport patients to routine hospital appointments.
They were a highly appealing and integral part of developing a key campaign resonance and rapport with the public when it came to effecting behavioural change.
But NWAS's branding in general required a refresh for a more contemporary look and feel.
It needed to reflect its highly skilled and professional service and workforce.
It also had to convey the unified importance of all its teams from Patient Transport Service personnel to marketing and communication teams and frontline paramedics and technicians.
Months before the rebrand it embarked on simplifying its core organisational values to represent the diversity of the different roles and functions under the NWAS umbrella.
'Working together', 'Making a difference' and 'Being at our best' emerged.
We created logos to represent each of these values consisting of boxed icons which could be used collaboratively or as individual elements.
We developed new brand guidelines to shape and steer all internal and public facing comms across digital platforms and traditional channels such as print, point of sale and brochure and literature design, honing in on a sharper visual identity.
Based on a '4 C' methodology of 'clean, contemporary, clinical and colour' we brought in strong typography and adopted an enlivened palette to sit alongside the traditional green and yellow tones of the ambulance livery and the iconic NHS blue.
NWAS's Crown Badge and organisational logo is of course untouchable but we laid out its exacting procedures for use regarding sizing and positioning within the brand guidelines to emphasise its critical branding standards.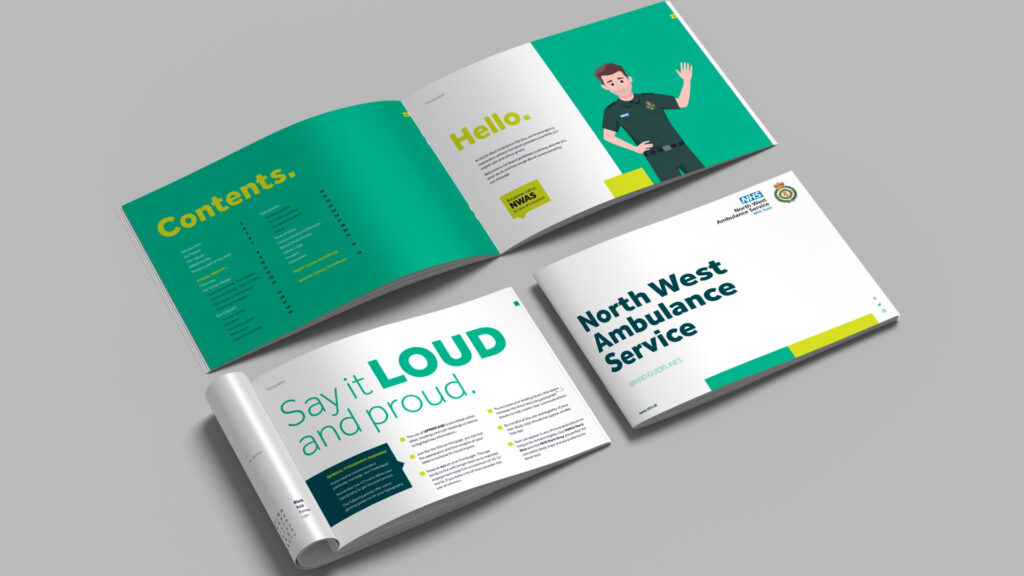 Pitching the right tone
Our copywriting team were tasked with creating a renewed tone of voice based on the shared values of the NHS and NWAS.
Key to this was NWAS's organisational ethos of family; 'While we are many, we are one. We are many people in many different roles, but we are bound together by a caring ethos which sets us apart.'
This is cemented by its ultimate commitment to place patients at the heart of everything it does and to provide care with respect, dignity, and compassion.
We worked together to establish characteristics, which conveyed the diversity of NWAS services, alongside the professionalism and pride of its staff.
Tones were developed to reflect the architect of innovation status NWAS holds within the healthcare system; they were the first service in the country to roll out the enhanced 111 service in 2020 and were instrumental in developing new procedures and process of critical incident management following the Manchester Arena attack.
Make way for new faces!
It's always sad to say goodbye to old friends – particularly when you've brought them to life! – but while the NWAS 'Star in a Car and 'Make the Right Call' characters take a well-earned rest from their highly successful campaign appearances, our creatives have been working on the next generation.
The new characters depict the roles within NWAS and while they may have matured in the design stakes, they continue to reflect the friendly, caring ethos of the organisation and its people.
Ranging from their patient transport service to emergency operations centres, we've created a whole suite of team characters to support NWAS's visual identity.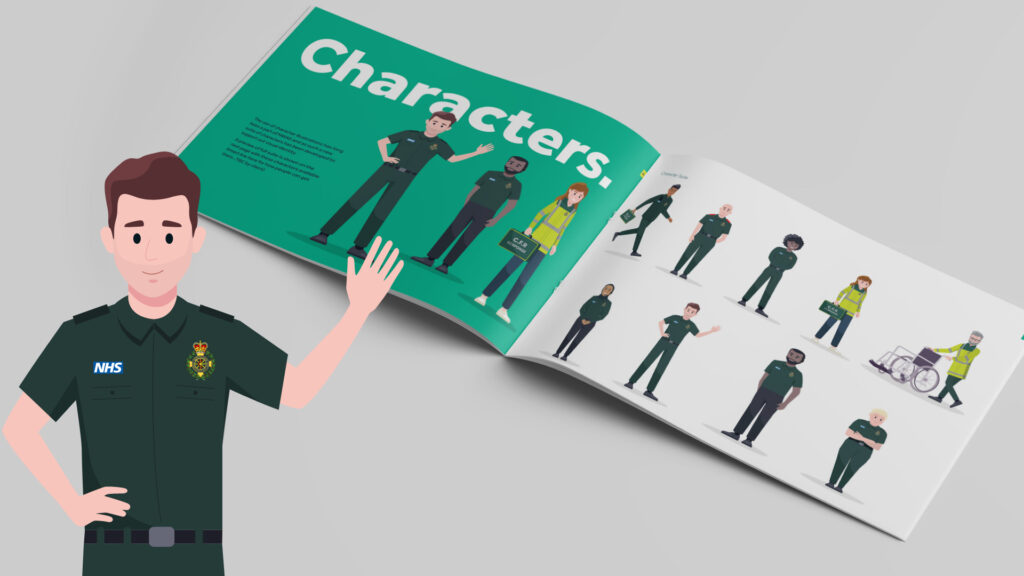 Rebrand roll out
NWAS has been gradually introducing the rebrand throughout its many comms internally, to stakeholders and the public via its newsletter 'Your Call', on stationary, reports, in-house messaging and campaigns both in print and digitally.
It's also been adopted across its social media channels such as Facebook and Twitter, email bulletins and in this new era of virtual communications, across Teams backgrounds.
We've delivered numerous standout campaigns, rebrands and projects for our healthcare and public sector clients over the years including the NHS, Cancer Research UK (CRUK), The Christie Hospital, Manchester City Council and Greater Manchester Combined Authority.
As a full-service marketing agency incorporating creative, digital, PR, print production and signage we offer our areas of expertise under strategic partnerships and to compliment the skillsets of in-house teams.
We're renowned for our strategic and creative approach to achieve efficient, engaging and results-driven outcomes.
To find out more email us at clients@cornerstonedm.co.uk
Keep up to date with our client work and latest industry insights by connecting with Cornerstone Design & Marketing on LinkedIn.
Michael Ward Limited
Michael Ward Limited (MWL)
Giving a new corporate identity a full serving of full-service
As a full-service agency, our talented team offers a smorgasbord of experience and expertise that clients can choose from to boost their business or organisation.
Sometimes they only want a small portion of what we offer – a new website with fresh designs, for example. Sometimes though, we get to bring together the full spread of ingredients that make us one of the north's leading creative agencies.
That happened when a word-of-mouth recommendation from another client led to us creating a new corporate identity for a North West-based business with a rich heritage and nationwide profile in the refrigerated transport industry.
Michael Ward Limited (MWL) is fast-approaching half-a-century in business following its inception in 1975 serving transport clients such as refrigerated fleet managers, fleet engineers and owners, supermarket suppliers, chilled and frozen food and pharmaceutical distributors.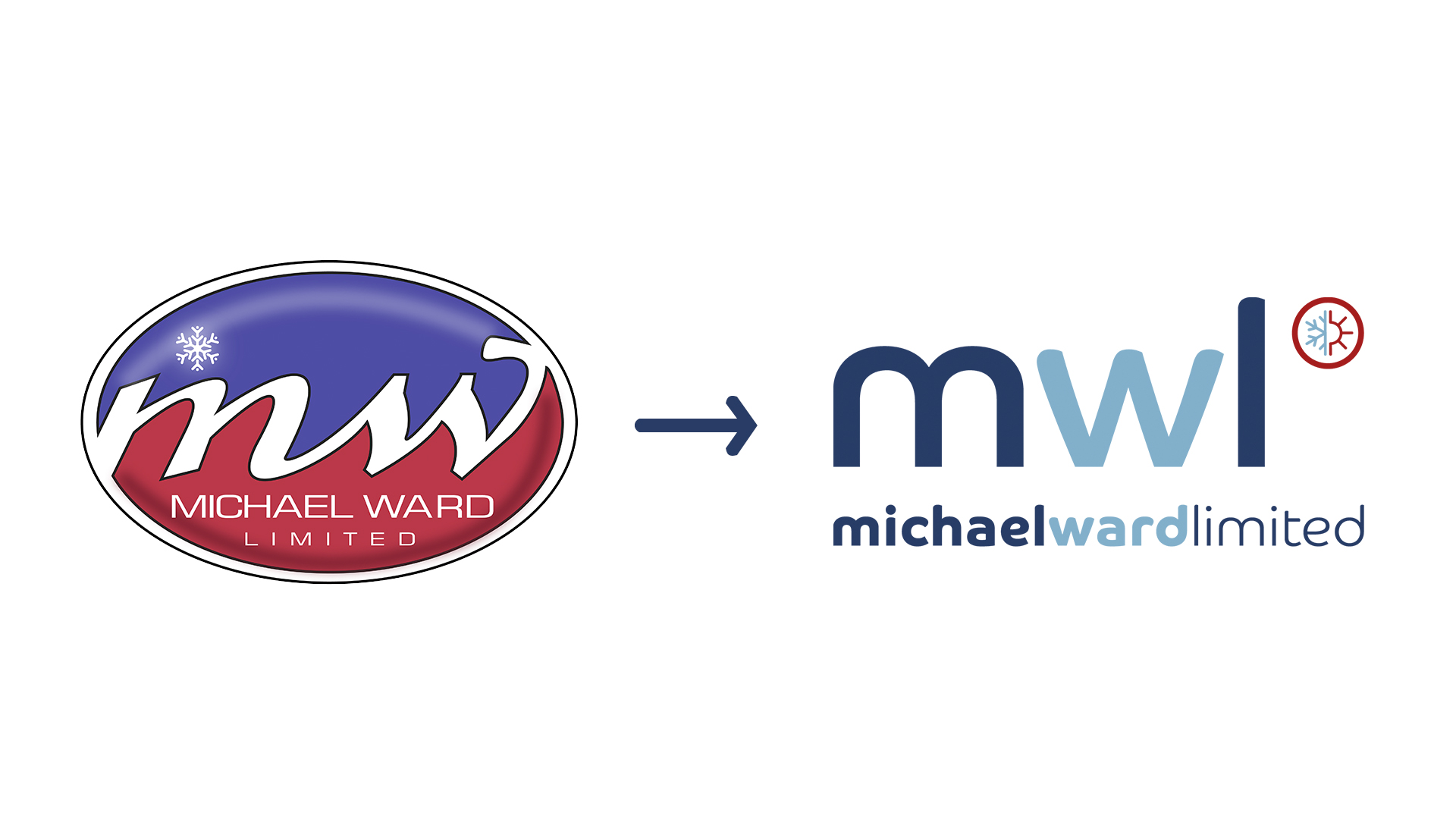 Creating an identity fit for purpose
The excitement was palpable as we took stock of what Michael Ward Limited wanted us to create for them:
A new brand identity with matching livery for its fleet of 20 vehicles.
A re-designed, re-written and SEO-optimised website with site maintenance.
Digital marketing and social media strategies, support and execution.
PR and imagery to spread the news.
The brief literally touched every one of our services – marketing strategy, brand strategy, design, web, digital, SEO, social media, print and signage, and PR of the digital and B2B variety.
MWL was looking for a brand that was simple, accessible and relevant. Our work was to position the business as a leader in its field.
We didn't want to lose sight of the firm's rich heritage and formidable reputation among existing clients, its excellent products, services and expertise, and we wanted to maintain its friendly, customer-focused and approachable image.
We began with a brand workshop for MWL staff, who stressed the firm's name was an asset given its heritage but could shorten to MW or MWL as that was how customers often referred to them.
Blue remained as the dominant corporate colour but in richer tones while occasional use of red was joined by green to reflect the firm's environmental awareness. The colours were reflected in the new website, with sharper content and improved imagery, and in the new livery for the fleet.
Overall, we felt that individual divisions should all sit under the over-arching Michael Ward name and branding. Being part of a bigger, over-arching brand would inspire confidence and help business development. Trust in existing divisions could encourage customers to transfer to others. The new identity was born.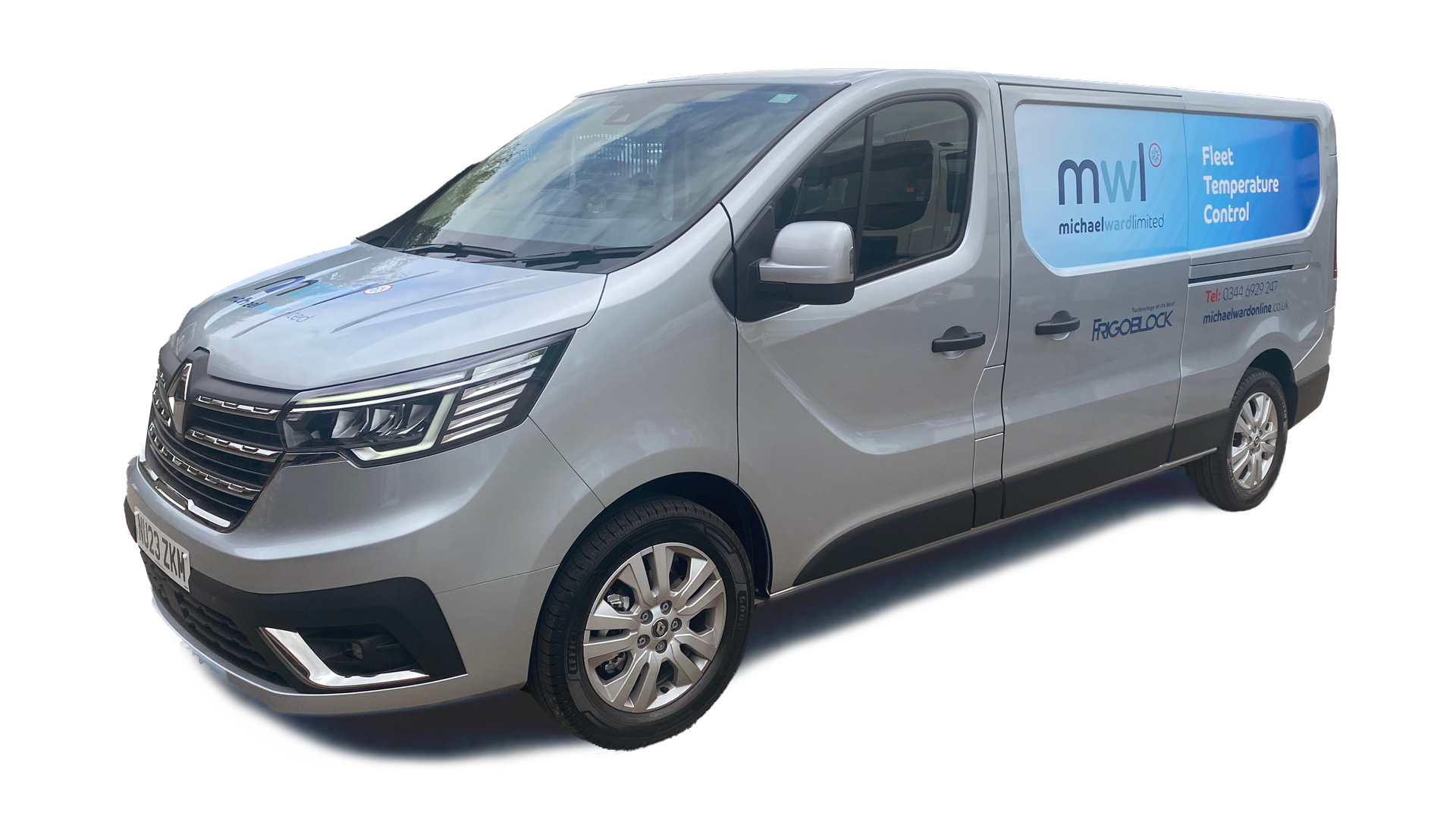 Aligning our digital expertise with the new identity
The importance of digital marketing – versus traditional methods – was aligned with the new identity, as we helped the business understand the growing importance of digital marketing and social media.
A digital strategy designed to increase awareness of the new corporate identity, and generate leads for MWL, was devised by our Head of Digital, Jess, and has been executed to perfection by members of her team, particularly digital marketing apprentice Madeline and SEO expert Harrison.
Our digital exploits on behalf of MWL have produced some stunning results, especially on LinkedIn, the firm's priority B2B channel.
Here's a snapshot of statistics* for one six-month period of LinkedIn activity:
908% increase in impressions (year-on-year YOY)
888% increase in social actions such as likes, comments and shares (YOY).
924% increase in clicks (YOY).
72 new followers in the same six-month period.
Almost two years after its redesign and SEO optimisation, the MWL website continues to go from strength to strength. At the time of writing, the latest monthly statistics* for the MWL site show there were 791 sessions, a 17% increase year-on-year. Other statistics included:
Organic traffic increased by 20%.
Overall traffic increased 17%.
(*Source: Google Analytics)
Users spent an average of 1 minute and 19 seconds on site (+8% YOY) and viewed 1.54 pages per session on average. Organic search traffic increased 20% YOY with searchers spending two minutes and 16 seconds on site with a low bounce rate of 32.93%.
In the same month, MWL gained a top 10 Google ranking for 'cold room installation', and its LinkedIn page showed a growth of 14% with strong engagement rates. Our other digital work includes email campaigns and newsletters.
While the impressive work of the digital team continues with a strategy to improve MWL's Facebook and Twitter statistics, we've not forgotten there is still a significant role for print marketing materials, such as brochures, and PR for local and regional news and business media, and national trade media.
Some of our most recent print work for MWL is a careers brochure distributed at college job fairs, which you can also find on the MWL website here.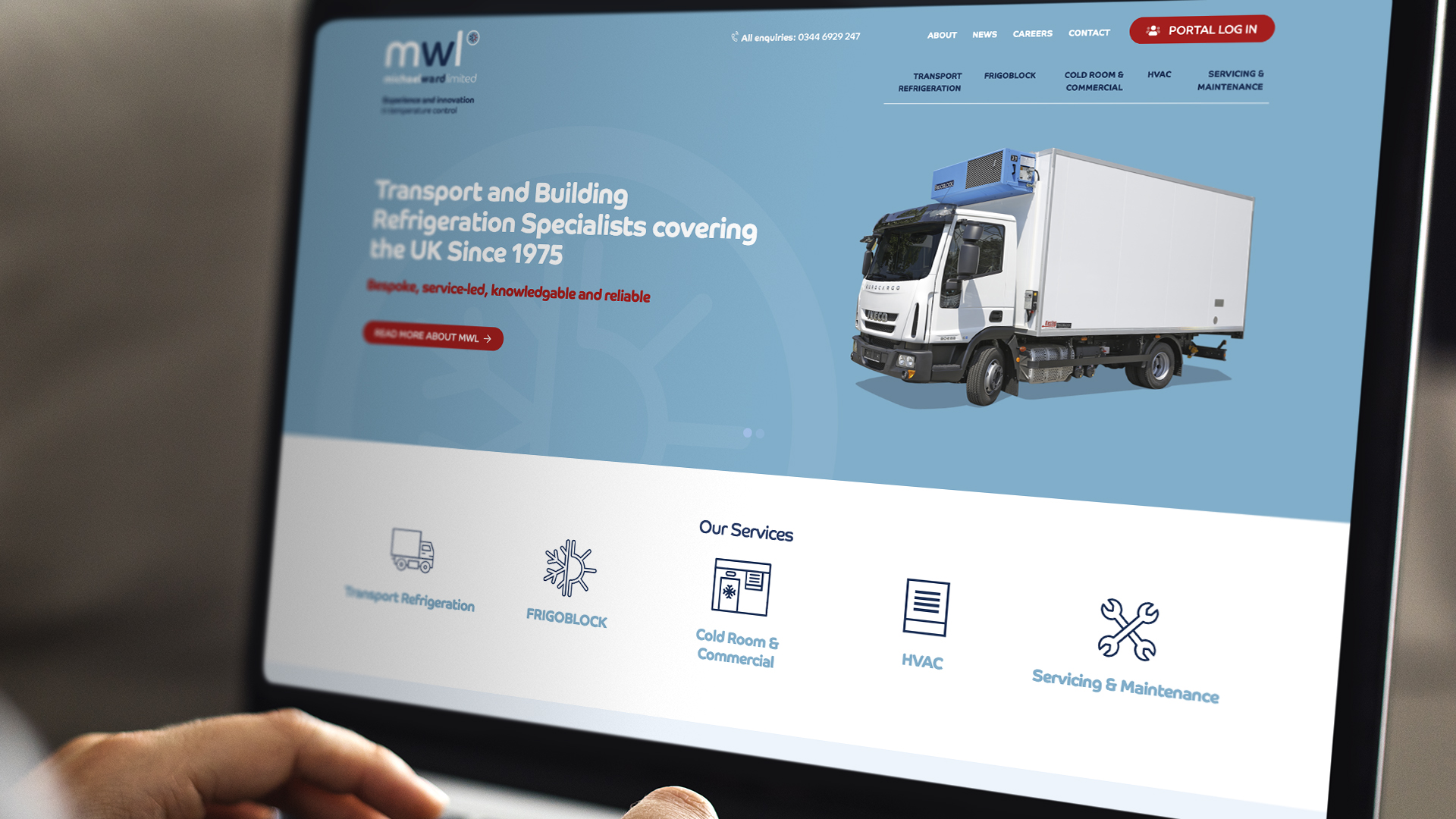 FRIGOBLOCK – delivering for MWL and the planet
A 30-year partnership between Michael Ward Limited (MWL) and FRIGOBLOCK electric fleet refrigeration systems is going from strength to strength with demand for sales and servicing booming.
FRIGOBLOCK manufactures all-electric transport refrigeration systems that work by converting waste and kinetic energy into electrical energy from a vehicle's engine, delivering it to the electric refrigeration unit to cool the load space.
This avoids the need to use a separate diesel engine, thus keeping harmful CO2 and noxious emissions to a minimum and taking away the need to burn additional fossil fuels.
Since upgrading to direct importer, sales and service status, the business has seen orders flourish, and is actively recruiting refrigerated transport engineers such is the demand for fitting, servicing and maintenance.
The latest orders to land include a deal to supply and fit 71 FRIGOBLOCK units to delivery vehicles working on behalf of a well-known UK pub chain, hot on the heels of an order to supply and fit up to 25 units for a Lancashire-based food distribution company.
It's stories like this that really whet the appetite of our talented and experienced PR team. Our press release about this exciting development for MWL was given blanket coverage by the refrigerated transport media, including Cold Chain Federation, Refrigeration Industry, and TCS&D (Temperature Controlled Storage and Distribution) magazines and websites reaching a combined (niche) audience of approximately 40,000.
Equivalent results were achieved when we publicised MWL's new identity and the appointment of a FRIGOBLOCK consultant, bringing the total audience reach to approximately 80,000.
And, of course, excellent coverage of this kind supports our digital strategy, with us able to publicise the PR success on MWL's social channels. Win-win!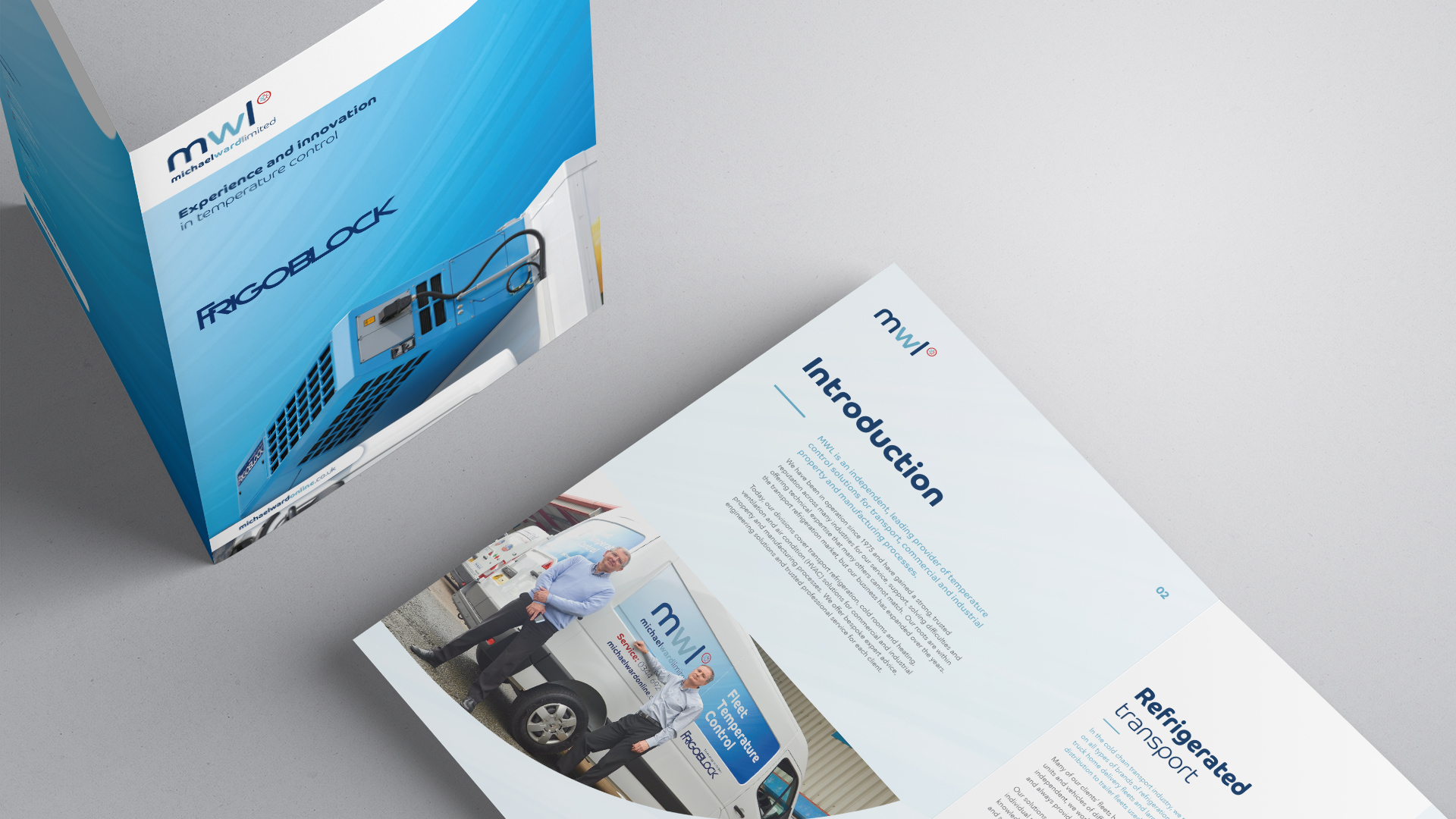 A word from our MD David
"We were pleased to have Michael Ward invite our agency to work with them on its rebrand, repositioning and overall marketing strategy following a recommendation from a past client, who'd had a positive experience with our team.
"We took the time to understand Graham and his team's needs, their business objectives and ambition, and the competitive environment they were operating within. Taking that insight, coupled with a lot of research, the project has helped accelerate the brand and generate positive growth for MWL within their sector, and we're proud of the finished result.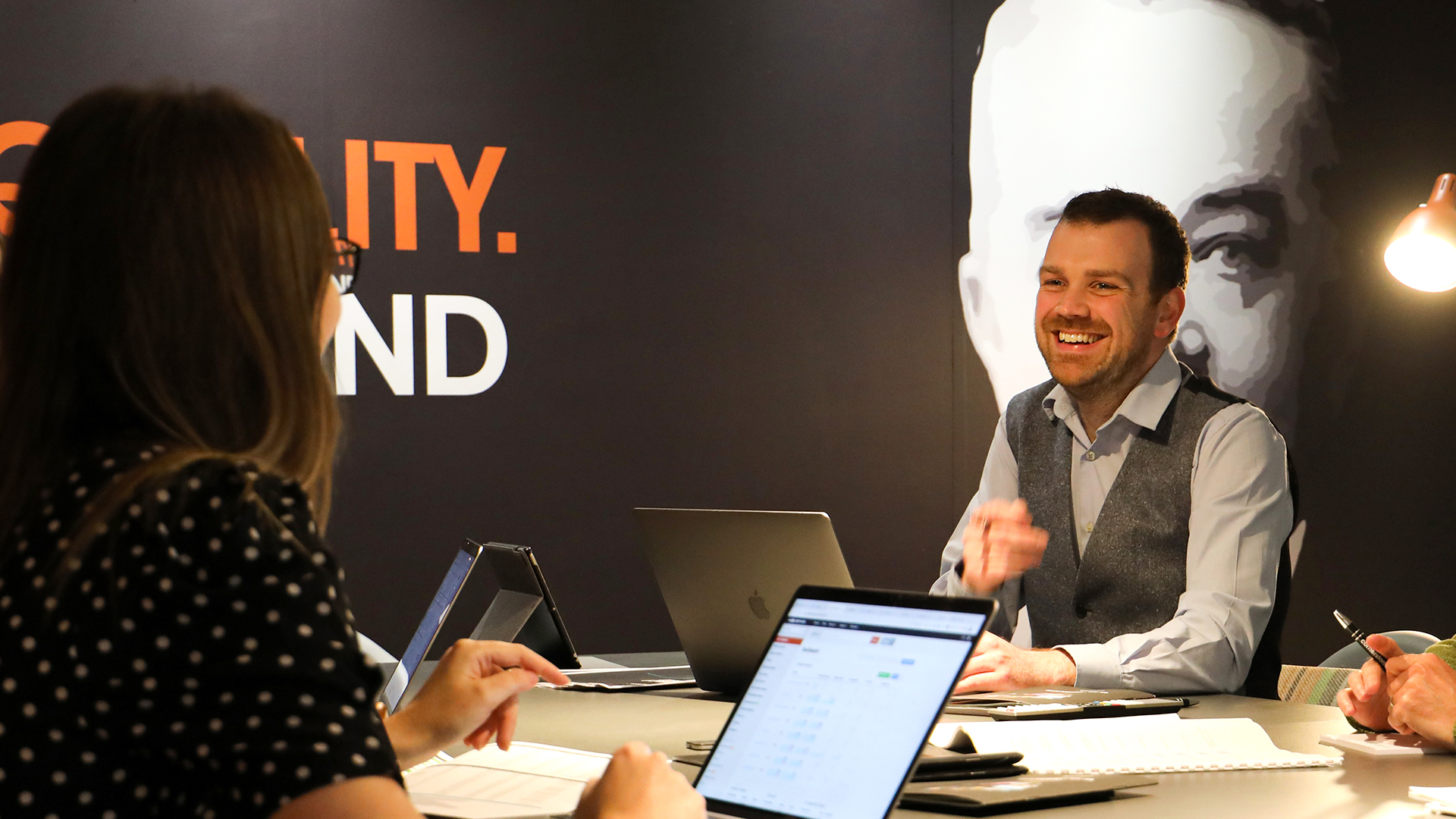 Get in touch
If you are interested in harnessing the experience, expertise, professionalism and creativity of Cornerstone DM to benefit your business or organisation, get in touch here.
Digital Projection
A digital imaging pioneer and industry leader
Cornerstone's expertise keeping market-leading Digital Projection in its rightful position
A digital imaging pioneer and industry leader, Digital Projection manufactures and distributes an extensive and expanding array of ultra-high-performance projection systems across the world.
These projectors are the benchmark for demanding applications such as large-venue, live-event staging, education, medical and scientific research applications, command and control centres, digital signage and cinema, commercial entertainment, houses of worship and elite residential entertainment.
Digital Projection was formed in 1987 and is renowned for its instrumental role in developing new technologies pushing its sector's boundaries.
The Manchester-based organisation was the first to market with 8k laser technology, first to market with a new satellite system, and often first to market with new applications and integrations for events and attractions worldwide – innovation and expertise that has garnered the business multiple awards and huge respect in equal measure.
So, when the time came for Digital Projection to update its ageing website, it was gratifying to see the best choosing the best to work on this project.
Digital Projection wanted a new website that reflected its prestigious brand position.
The demands of the new site were multi-layered. It had to be easier to manage and control, multi-lingual, integrated with back office systems and databases, SEO-friendly and more flexible for its marketing teams to edit and develop.
But first, we had to navigate a competitive tendering process from which our proposal and solution were selected as providing the strongest and most effective outcomes, some of which were down to our in-depth process of extracting market information, customer insights and customer journeys.
The website being replaced was built on WordPress and Digital Projection wanted to remain on that platform – no surprise given that approaching half of all websites on the internet are built on WordPress – a figure which continues to rise consistently.
WordPress can be updated with minimal fuss, ranks well in Google, and means you don't have to contend with any of the coding complexities of a HTML-based site.
It contains plug-in architecture and a template system, that can be customised to create endless possibilities with thousands of free and premium plug-ins that can be used to extend a website's functionality.
Here at Cornerstone, we don't just 'do' WordPress development, we truly live and breathe it.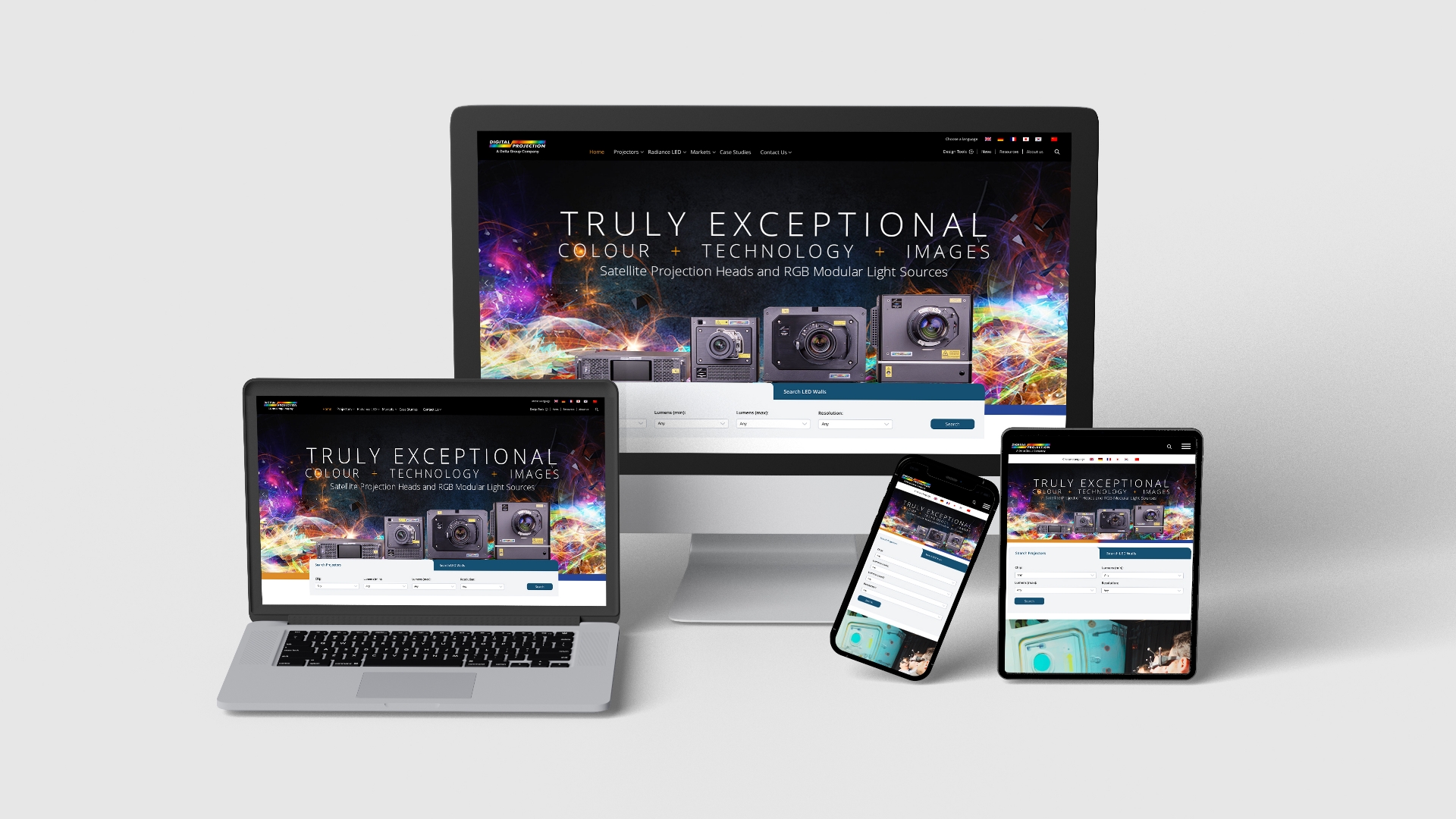 We launched the project with a full analytics review to understand Digital Projection's current market position and to identify any opportunities and gaps within the market that could be exploited.
With this data, coupled with competitor benchmarking in place, our team of WordPress experts set out on our user experience (UX) process, which involved a workshop delivered across the UK, US and Europe to glean much-needed insights into the best structure to be delivered for Digital Projection to maintain its eminent position in the industry.
From here, our team worked up wireframes, UX strategy, customer personas, information architecture and site structure, all aligning with user journeys, corporate goals and objectives, and data and analytics insights.
As a full-service agency we have all the expertise required for a prestigious project of this nature under one roof, and with satisfaction high with the work we delivered, we moved the approved wires into our design studio for brand application and positioning work.
Both mobile and desktop views were carefully crafted to meet the client's required brand positioning and criteria, which were signed off quickly in anticipation for our web team to start the website development.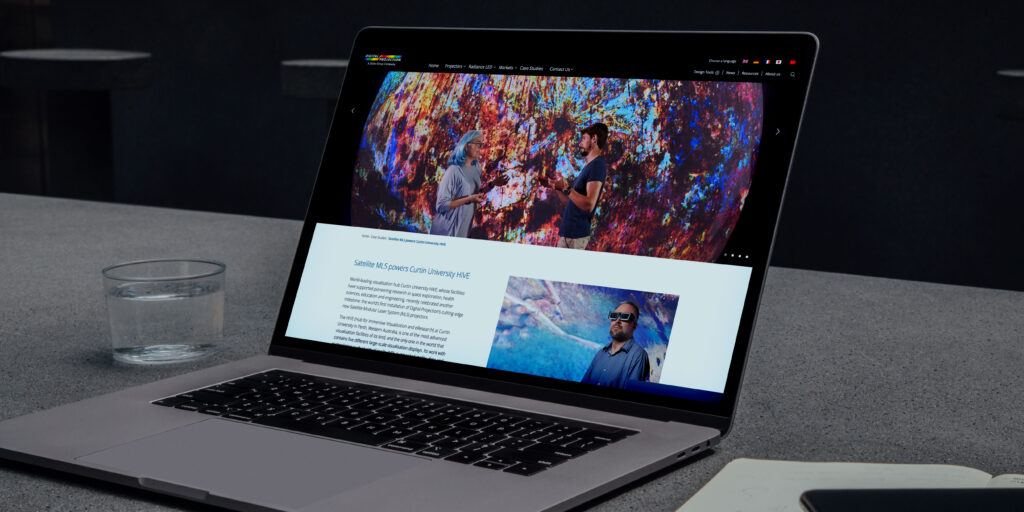 This began with the development of the core CMS (content management system) structure and front end view, which was later coupled with internal databases that powered specification sheets and product documentation from a central repository, as well as integration into back office systems such as Sales Force and Marketo.
A unique and highly bespoke customer portal was developed for US visitors, allowing customers access to various supporting documentation and product knowledge intelligence, specific to each customer and application.
We developed the site using a bespoke build WordPress CMS, which used Gutenberg's flexible block editor. This means Digital Protection can re-use and re-purpose blocks anywhere on the site, giving them total control and flexibility, thus fulfilling the brief for the site to be more flexible for its marketing teams to edit and develop.
Our team also developed a number of custom PHP scripts – a general-purpose scripting language that can be utilised to create intuitive and dynamic websites – to handle and manage connections to third party databases and Application Programming Interfaces (APIs), in order to ensure the safe and efficient transfer of data to and from the website.
And we undertook detailed Google Tag Manager work to ensure we captured key goals, conversions, and web events throughout all languages across the site, as well as the launch of a content distribution network (CDN) which delivers faster site speeds in all countries by serving them out from localised servers, whilst bringing additional security benefits.
Once completed, the site was handed over to Digital Projection for content entry following a training session on how to use the site and best practices.
It was then signed off and sent back to our development team for launch, which involved carefully handling over 6,000 global site redirects, vetting live versions of the site across multiple VPNs and setting up a complex language access protocol, allowing visitors from different territories access to certain areas of the site.
The project successfully launched in late 2022, ready for a series of trade exhibitions and shows such as the Integrated Systems Europe (ISE) expo in Barcelona, where its presence is always highly anticipated for showcasing its class leading, high-end projection products and technologies.

If you would like our expert WordPress team to enhance your business or organisation, get in touch for a friendly, informative chat.
Whether it's a landing page or a full e-commerce site, an online learning academy or an interactive informational site for your business or organisation, we can build it for you.
Burnley Leisure
Building trust on firm marketing foundations
Burnley Leisure is a fast-growing, entrepreneurial leisure trust which goes way beyond simply being a traditional health and fitness operator.
It has a strong cultural string to its bow through the running of the historic Burnley Mechanics Theatre.
It operates a number of sport and recreational sites alongside it's two leisure centres including golf courses, an athletics track, hospitality venues and The Boathouse, a park-based facility offering boat, kayak and canoe hire and a popular café.
It is an all-encompassing charitable trust dedicated to the health and wellbeing of the people of Burnley and surrounding areas, driven by the vision: 'To make a real difference to the communities we serve'.
But due to its rapid growth and expansion in recent years, Burnley Leisure's well-honed offering wasn't centre stage for its audience.
Individually, venues lacked a joined-up business and marketing approach, resulting in silos competing for share of voice and consumer attention.
Find out how we've been helping Burnley Leisure to unify its voice and tone up its marketing activities with the aim of shining a spotlight on its fantastic facilities for years to come…
A reputation for results
The foundation of our partnership with the trust exemplifies Cornerstone as an agency; 'Built around results, recommendation, strong working relationships and reputation'.
Burnley Leisure approached us in early 2019 following a recommendation from a fellow leisure trust for which we'd previously carried out a full marketing audit.
As leisure sector specialists we regularly conduct these investigative, in-depth reviews on behalf of clients.
Led by Cornerstone MD David Wadsworth, the audit drills down into current marketing practices, needs and requirements to form a robust and comprehensive road map of activities.
These defined objectives help to reposition and refine a client's existing marketing strategy for long term success.
As well as unearthing the potential to unify the arms of the business, the Burnley Leisure audit identified a need to synchronise digital touchpoints such as social media and ramp up online marketing.
Our research covered multiple aspects, delving into consumer and competitor landscapes as well as internal structures and staff.
This gave us a strong understanding of brand and digital interactions and in-centre experiences, allowing us to form a carefully considered strategic review to drive on-going success for years to come.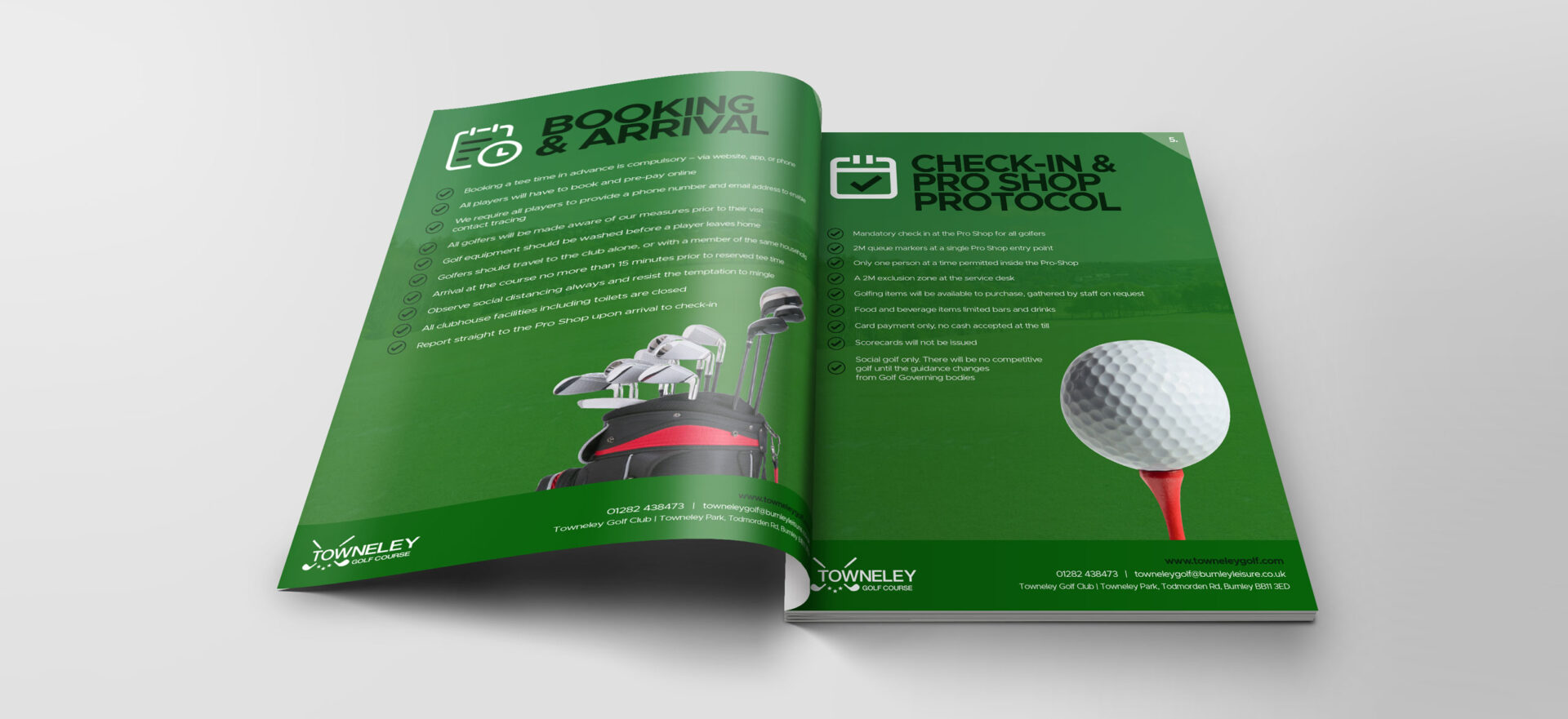 Redefined and aligned
A master marketing plan emerged following a series of trust-wide consultations, brand strategy workshops, skills audits and departmental insights.
This two-year strategy was designed to redefine the trust in terms of marketing collaboration and consumer perception.
The recommendations were filtered into a 12-month marketing planner with distinct goals and objectives for both sides to work towards.
It included a unified rebrand under which to house the individual Burnley Leisure venues and offerings and a plan to reposition the trust within its core demographics.
Its online presence was to be re-invigorated with a new, bespoke built website development, packed with SEO tools and API integrations into third party providers.
Essentially it needed a strong and effective UX strategy to help users navigate the site effectively, while exposing them to more activities and recreational offerings than ever before.
A social media strategy was implemented to increase audience reach and engagement alongside PR planning to raise brand awareness and reputation within its locality.
There was a strong member recruitment and retention focus through the integration of systems such as timetable, membership and marketing software and a cross-selling strategy across the organisation which was underpinned by email marketing.
And throughout, there was an emphasis on upskilling and supporting the trust's teams to aid the successful implementation and delivery of these renewed marketing and sales efforts.
The stats
So, here's what you really want to know.
Was it actually achieved?
While there's always still work to be done, we think you'll agree there's been some impressive results to date.
Website:
18% increase

in web sessions

via the

new website

19,000 new users

visiting the website in year 1
85% increase

in sessions

57% increase

in page views
Social media:
30% increase

in total Facebook likes

116% increase

in Facebook engagements
Organic Facebook

reach of 1.26M

Paid reach of over 173,000 with

above industry average CTR

Instagram follower

growth of over 37%

with reach nearing 50,000

85,000

Instagram impressions
PR:
206,000 total reach

via earned PR activity
Earned media value of

over £37,000

within a 6-month period
Digital PR (earned) reaching

over 80,000

of our target audience
Membership and email marketing:
Exceeded membership targets

for all campaigns delivered in 2019/20
Email marketing open rate averaging between

40-50% with CTR well above industry benchmarks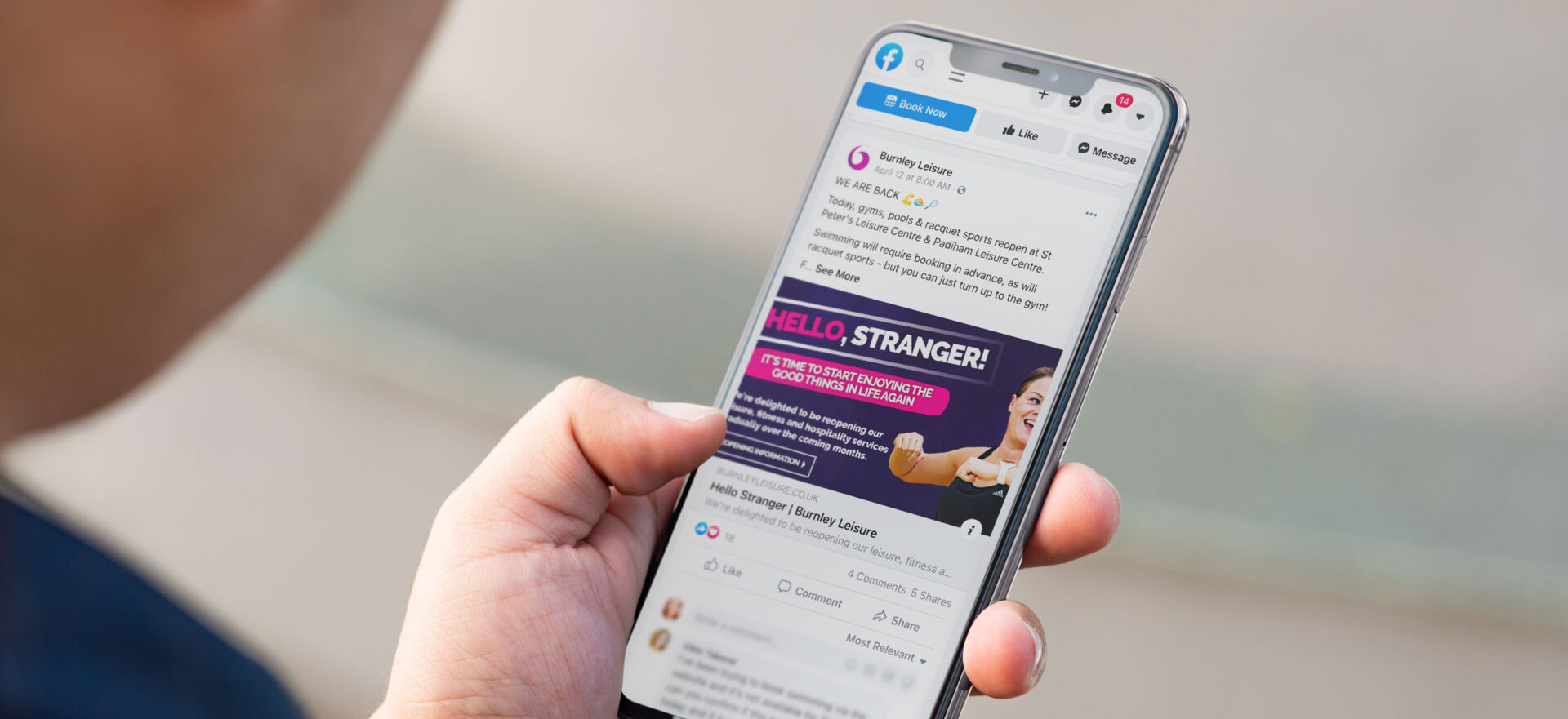 Unified success
Delivered in a structured format that delivers against KPIs, marketing has helped to significantly increase ROI.
Brand perception among consumers has risen as well as awareness of the wider Burnley offering with proven cross sells now taking place and enhancing the overall Burnley Leisure experience.
Bringing the brands together has helped create a stronger more cohesive customer experience, and one that is now driving recommendation and referral.
Digital touchpoints have also increased, particularly during the first wave of the pandemic.
Social media marketing helped Burnley Leisure to keep in touch with their members, followers and the wider community through the use engaging, supportive content.
From online workouts and quizzes to health and wellness schemes for the elderly and vulnerable, its social platforms helped to inject some much-needed fun, joy and energy into a community the trust are heavily invested in.
Forging a healthy future
We're proud of what we've achieved so far, and we're delighted that Burnley has seen the immense value of our full-service offering, ongoing as part of a monthly retainer.
Further investment in the trust's marketing activity continues and, at the time of writing, an exciting brand roll out is imminent across all its centres.
Time to introduce the lead strategist, Cornerstone MD David.
"Burnley Leisure has been an exciting client to work with from the very beginning.
"What's refreshing is their entrepreneurial and commercial approach to their activity. They have a very dynamic, forward thinking way of delivering exceptional experiences to their customers.
"We started out with Burnley as a consultant, helping to get under the skin of their business and its marketing activity, to understand where improvements and enhancements could be made.
"From carrying out our initial audit, we were immediately invested and engaged, and were grateful to be given the opportunity to help develop their brand and marketing strategy into the cohesive, high performing entity it is today."
Don't take our word for it
"We spent several months discussing the best way to improve our marketing although we had been successful, we knew we needed to step up to another level if we were to continue to grow the business further.
"After interviewing several companies, we decided to work with David and his team at Cornerstone, impressed with their down to earth approach and a talented team with different skills to work with.
"We spent around 6-8 months reviewing everything in detail throughout the business and then prioritising a plan of action to move forward.
"We started on a journey initially to consolidate our brand with a refresh and ensure our key messages were being promoted along with developing a new website and overhauling our social media channels. The Covid-19 pandemic meant adapting our plan and Cornerstone proved invaluable in scaling up our digital and online presence during lockdown propelling this area forwards at speed much quicker than many of our competitors giving us a competitive edge.
"We are still on a journey continuing to adapt and move forward with our plans, our brand is stronger, and our community awareness is bigger than ever putting us in a good position as we come out of lockdown.
"David and his team are a delight to work with and they have a real partnership approach not just a customer client relationship and would recommend them if you need to upscale and review your marketing operations big or small."
Neil Hutchinson – Head of Group Operations at Burnley Leisure
The perfect fit
At Cornerstone we've been working as reputable, renowned and trusted specialists with regional leisure clients for over a decade.
We offer expertise across marketing strategy, digital, design, PR, web development, print and signage.
As a full-service agency, we're able to provide a complete package of well worked out marketing disciplines to either compliment the skills of in-house teams or as a strategic partner.
If you're looking to seriously tone-up your marketing output, get in touch on either 0161 213 9941 or at clients@cornerstonedm.co.uk.
You can keep up to date with our client work and latest industry insights by connecting with Cornerstone Design & Marketing on LinkedIn.
GM Active
Marketing steer for innovative leisure collective
Never have the leisure, health and wellbeing, and culture sectors been more important in our lives as our communities recover from the debilitating effects of three national lockdowns caused by the COVID-19 Pandemic.
But we've drawn on all of our strategic prowess and creativity to capitalise on a myriad of marketing opportunities to provide a full-service workout on behalf of GM Active – which is strategically focused on offering schemes and pilots that aid collaboration and resource sharing across the GM city-region to deliver health outcomes that cannot be achieved more locally or individually.
A community interest company (CIC), GM Active is leading the way in repositioning the publicly-owned leisure sector to better-meet current and future population health and wellbeing priorities. This transition from the sector's traditional 'fitness and facilities' offering to a more-targeted approach to public health and wellbeing focus will bring greater health, social and economic benefits to individuals, communities and businesses with the aim of making us all healthier, happier and more productive.
From Zumba and spin classes to targeted support for patients with particular physical or mental health conditions, GM Active's member organisations enhance many lives in many ways as well as offering wider social, health and economic benefits.
Health and wellbeing services include targeted exercise and advice for people with specific health conditions and disabilities, or additional needs. Services include Prehab4Cancer (P4C), a ground-breaking programme to help people with cancer prepare for and recover from surgery or other major treatment. This is delivered in local gyms throughout Greater Manchester and, since the pandemic, via home-based sessions delivered remotely by P4C's exercise specialists.
An intrinsic understanding of markets and audiences
Cornerstone's services for GM Active include strategic marketing, PR, media handling and planning, as well as aiding the growth of digital footprints, brand reach and recognition through social media activity.
We've worked closely with a diverse range of leisure clients for over a decade and developed an intrinsic understanding of their unique markets and target audiences. Their end-customers and stakeholders can range from members of local gyms, swimming pools or spas, to performing arts audiences and public sector professionals, such as GPs or local authority commissioners who buy health and wellbeing services for patients and target groups.
The diversity of our services reflects this breadth, ranging from sales-focused gym publicity, hospitality and theatre campaigns, to creating public health campaigns, news-writing or PR activity aimed at leisure sector professionals, stakeholders and politicians.
Examples of our marketing insight, services and capabilities are well-illustrated through our work with GM Active.
Leading the field in collaborative projects
GM Active's member organisations are primarily not-for-profit charitable trusts which collectively run over 100 venues including leisure centres, family attractions and performing arts venues.
GM Active is a leader in its field for collaborative projects. It works with partners including GP surgeries, hospital clinical teams, health researchers, NHS organisations, local and national government, universities, charities, local authorities and Greater Manchester Combined Authority to reach shared goals around health and wellbeing within our communities.
GM Active members are: Active Tameside, Bolton Middlebrook Leisure Trust, Bolton Community Leisure, Bury Council, MCRactive, Life Leisure, Your Trust, Oldham Community Leisure, Salford Community Leisure, Trafford Leisure, Wigan Council and Wythenshawe Forum Trust.
At national level, GM Active works with organisations including Sport England, UK Active, CIMSPA and Community Leisure UK on joint campaigns and projects to boost public health and wellbeing.
In the beginning…
Our first contract with GM Active followed a recommendation from other individual trusts in Greater Manchester impressed by what we had accomplished on their behalf. They suggested Cornerstone's strategic approach and full-service offering would help to better-position GM Active with its stakeholders, our creative team would help to better-align the GM Active brand to market expectations and our digital and PR teams would target GM Active's key audiences efficiently and effectively.
In the early days we carried-out an onboarding workshop to better-understand all GM Active's objectives. This involved speaking to each member-organisation's chief executive, board directors, marketing and communications leads, and various groups which deliver schemes within local communities. Once we had all these elements, we formed a 12-month plan to help GM Active meet their collective objectives.
The early objectives included creating a reciprocal membership campaign, giving members of each leisure trust access to certain types of leisure amenities across all ten Greater Manchester boroughs, such as pools and gyms. So, for example, a member of a Manchester trust could go for a swim or gym session at facilities run by GM Active members elsewhere in Greater Manchester. This required web technology to enable different trust's IT and membership systems to interact, so members were granted access to leisure centres in all the boroughs involved.
Other elements of the membership campaign included written, social media and video content aimed at consumers, reciprocal leisure centre location finders on websites and website user-experience enhancements; cardboard strut cards to be displayed in leisure centres and reciprocal membership launch activities for GM Active partners.
#saveleisure lockdown lobbying
The world changed dramatically when the COVID-19 pandemic struck in 2020 resulting in the first of three national lockdowns. And that meant significant changes were needed to our plans. In response to the dramatically changed environment which GM Active faced, we completely adjusted our strategy and tactical plan. We worked with GM Active to reconsider our approaches and annual objectives during the pandemic lockdowns and our future delivery of marketing activity.
Closure of leisure centres and cultural venues raised numerous short-term challenges for GM Active member organisations and the wider leisure and culture sectors, especially around loss of revenue and ongoing costs of maintaining closed leisure centres. As the sector reopened, GM Active's objectives moved to the recovery of community leisure trust operations and services, and in developing the community leisure sector towards a more public health-focused 'wellness service'.
In the following months, GM Active and national leisure sector organisations began lobbying councils, MPs and the Government to raise awareness of the sector's financial needs as a result of lost income and the public health and social impacts of the lockdowns.
The #saveleisure campaign promoted a better understanding of the sector's professionalism, strong hygiene standards, readiness to reopen safely and its skills and capacity to boost public health, recovery and resilience.
To communicate these messages, we focused primarily on social media and PR services for GM Active. We had a clear target and emphasis on local and national government, helping to raise awareness of the leisure sector's positive impact on communities and how funding was vital. We also worked with organisations such as Sport England and GM Moving to create content.
Getting the message out there
Our other work for GM Active has included creating press releases and social media campaigns on other services, topics and themes.
Some services have highlighted GM Active's ground-breaking P4C patient support programme and its new Skills and Training Academy.
P4C shows how innovative co-working between the leisure and healthcare sectors is creating better patient outcomes and NHS savings. It is a co-designed programme between GM Active and GM Cancer.
Our press releases have led to diverse regional and national media coverage for GM Active, reaching audiences of up to 470,000 across print, digital and broadcast media in less than a year.
Across the north-west of England, we have helped GM Active gain coverage in print and digital channels linked to the Wigan Post, The Bolton News, Oldham Times, Bury Times and This Is Lancashire. We have also gained coverage on local radio station news bulletins.
Nationally, we helped GM Active gain coverage in leading B2B leisure and health magazines and channels, further raising awareness of their ground-breaking work and thought leadership within the industry.
Making a social media impression
Our social media activity complemented the press coverage and helped to raise GM Active's profile on LinkedIn and Twitter.
Messages emphasised the positive impact that leisure has on the community in providing vital services for many, especially the most vulnerable.
Our social media posts also shared statistics to remind people of the impact GM Active and its members have on the communities of Greater Manchester.
Before working with Cornerstone, GM Active's social media activity had been infrequent. We increased the frequency of posts, engagement with member organisations and shared industry news from associations such as UK Active and Sport England. We also created news blogs for GM Active's website, increasing engagement and reach via social media marketing.
Between May 2020 and May 2021, GM Active's LinkedIn activity gained 43,000 impressions, 1,600 social actions (comments/likes/shares) and 1,290 clicks on links. Their following also grew by 457 (a 15,133% increase YOY).
GM Active's Twitter following grew by 20%, impressions rose by 396% and likes grew by 408% YOY. We increased the number of tweets posted by 192%.
Our creative team produced a reopening video to visualise how much people had missed their local leisure centres. Visual features included snappy motion graphics and statistics and GM Active's on-brand colour palette.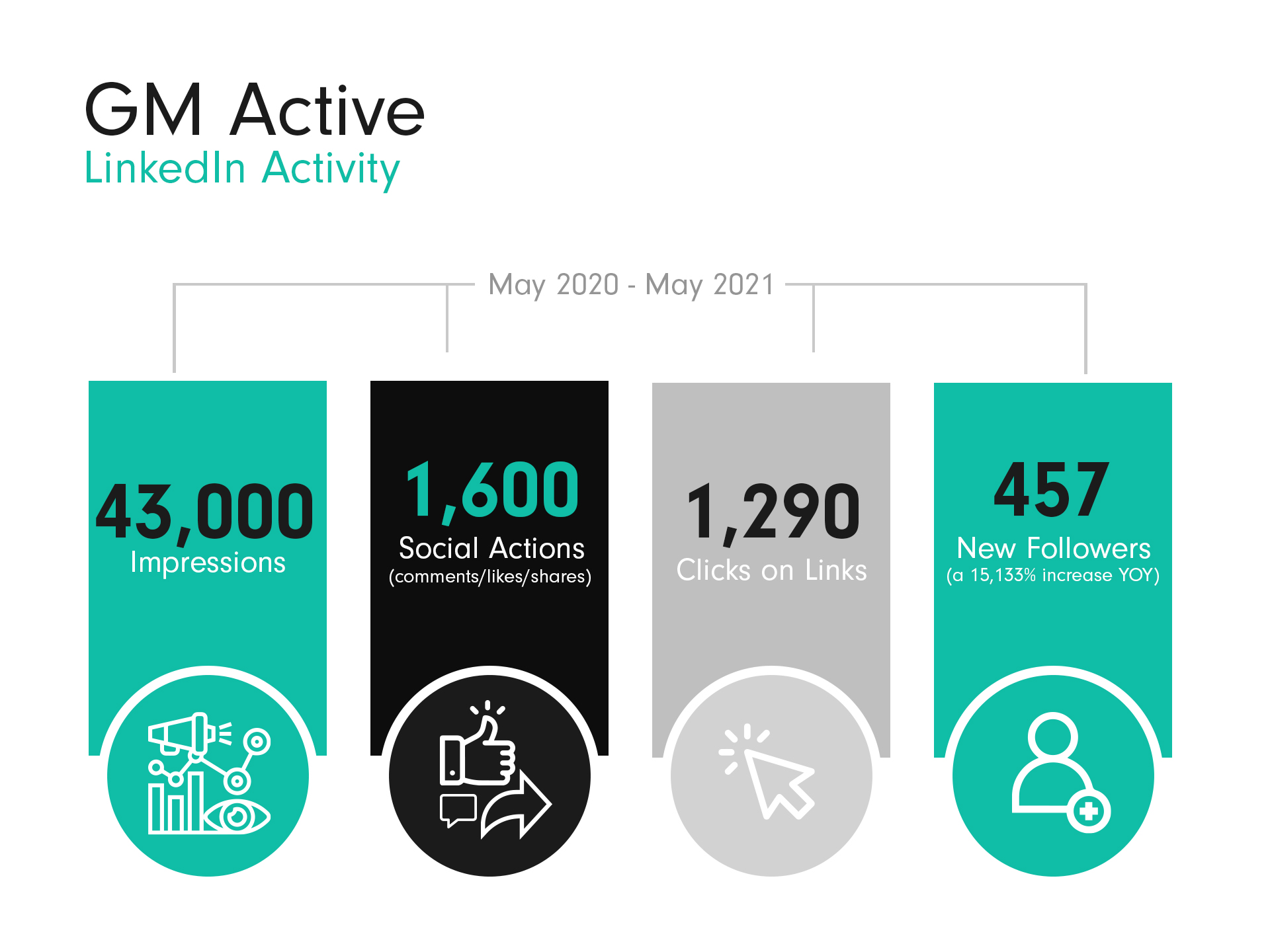 Marketing services of real value
Because marketing and communications in this sector is complex, it is essential that leisure organisations have the right strategies, tools and skills to filter their different audiences, and benefit from marketing services of real value. This is where Cornerstone comes in. Our services for GM Active were adapted throughout the pandemic and we've grown to support them further as the landscape has changed.
Now that leisure and culture facilities have reopened, leisure operators face a changing role in future with a greater focus on health, new types of service delivery, partnerships, training and research.
Supporting great work across Greater Manchester
Taking the lessons learned from the last two years in which Covid has affected many leisure operators the world over, our strategy for GM Active looks exciting, and heavily focused on communicating the positive health and wellness message that each organisation strives to deliver in their respective communities.
We're now helping to effectively launch the new 'We Move As One' strategy to help reduce health inequalities, increase physical and mental wellbeing within communities while easing pressures on NHS services.
The future of leisure looks positive and truly inspirational, and Cornerstone and our team are looking forward to supporting the great work being delivered across the Greater Manchester area.
Find out more
As the leisure and health sectors recover from the pandemic and develop for the future, get in touch to see how we can help your organisation. We're renowned for our strategic and creative approach to achieve efficient, engaging and effective results. Find out more by emailing us at: clients@cornerstone.co.uk
Interland
Creativity and precision combined to create hoarding for Living Quarter's South London renovation
Hoarding panels are a great way of protecting your building or development, but they're also a great advertising or promotional tool – making them a high impact, low cost solution.
When we were approached by one of our clients to provide hoarding panels to surround a building they were renovating into high quality student accommodation in the Tooting district of south London, we set about creating a highly visual solution that reflected the quality of the development and its location.
The aspirational lifestyle imagery had to portray exactly what was being created while the messaging had to be clear and succinct – grasped at a glance by passers-by.
And given the size of the site – it required 61 panels – the cost effectiveness was second to none.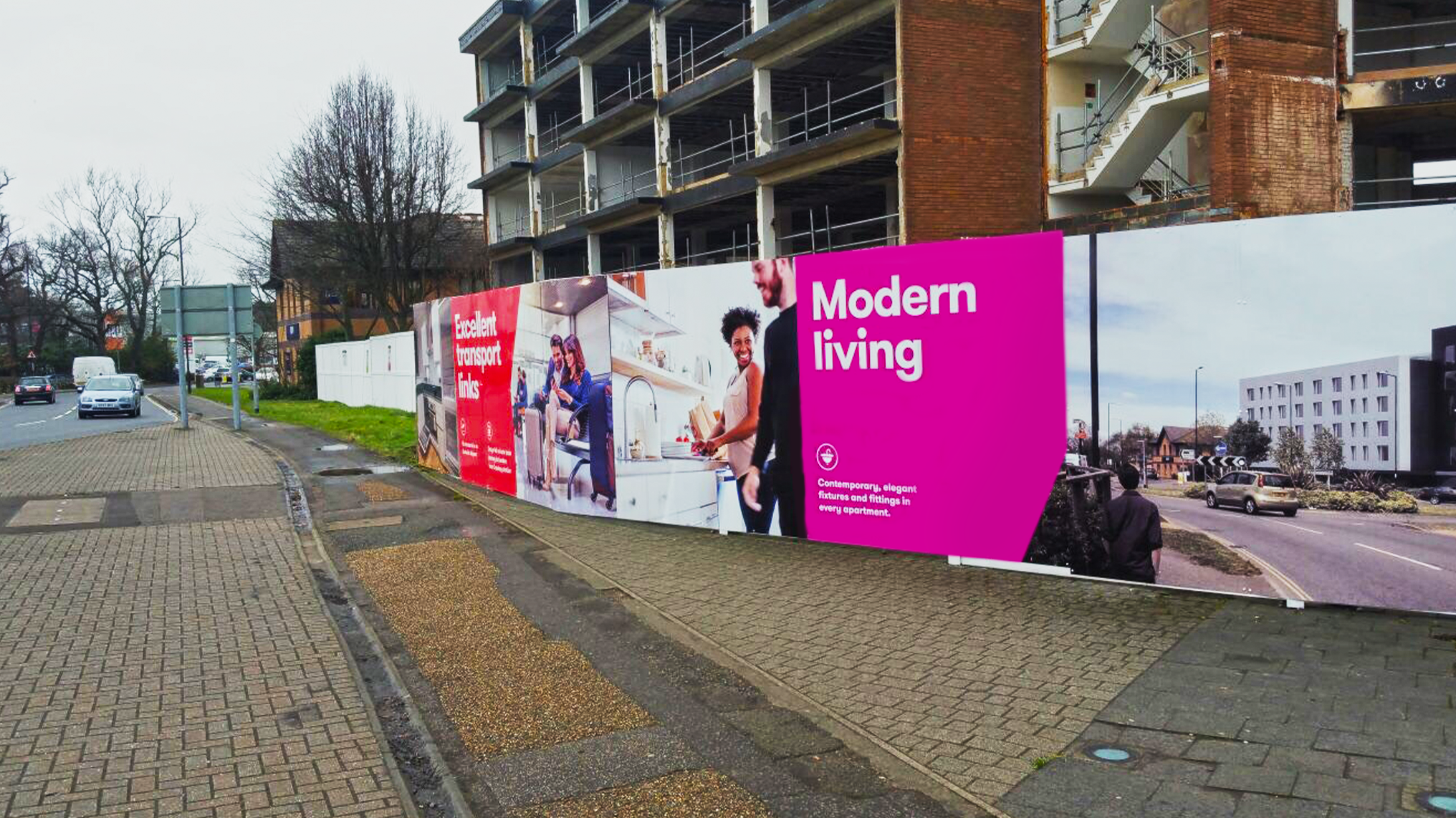 Designing the solution
Living Quarters is part of the Interland Group, a property investment and development company that has gone from strength to strength for more than 35 years. As a full service agency, this wasn't Cornerstone's first encounter with the company, having previously provided hoarding, brochure design and digital services, including the creation and delivery of the Living Quarters website.
Their design brief asked for student lifestyle imagery, with an overall look and feel that reflected the quality and leafy, green space elements of the site, which was within a stone's throw of open parkland. They also wanted the messaging to call out that the accommodation was within easy reach of south and central London colleges and universities.
Cornerstone's award-winning design team boasts over three decades of experience and brief interpretation acumen.
They are responsible for bringing countless campaigns to life and that's where the brief first landed, along with a plan of the site, where the hoardings were situated and the dimensions of the panels.
The department is the creative cog of Cornerstone, offering expertise in illustrating brand vision, eye-catching publicity and campaign concepts, to create a plan that ensured all the artwork was precise and on message.
We then created an installation plan and shared it with the client – the aim, as it is with everyone we work with, was to make the project as easy and problem-free as possible.
An exercise in precision
While the brief was simplicity itself, the execution called for precision design and execution. All the panels had to be numbered, arranged and split perfectly to ensure everything fitted the space – no mean feat when you consider the hoarding panels came in an array of different sizes!
It was akin to designing a jigsaw – albeit with straight edges – in Manchester that was going to be assembled more than 200 miles away with every single piece aligned to the millimeter.
That daunting task landed on the desk of our graphic design guru Sarah, who says: "It was a very technical project to get right. Each hoarding panel comes in a set size so you have to make sure each panel of the artwork matches the size exactly.
"We were just producing the artwork for the panels and Living Quarters were going to be installing it, so we produced a colour-coded plan showing each set of hoardings, their sizes and numbered thumbnails of the artwork that was going on them. All they had to do was look at the plan and match the artwork to the colour-coded area. So, for example, if panels 45 to 61 were colour-coded purple they went on the purple area of the plan. It had to be failsafe, and so it proved."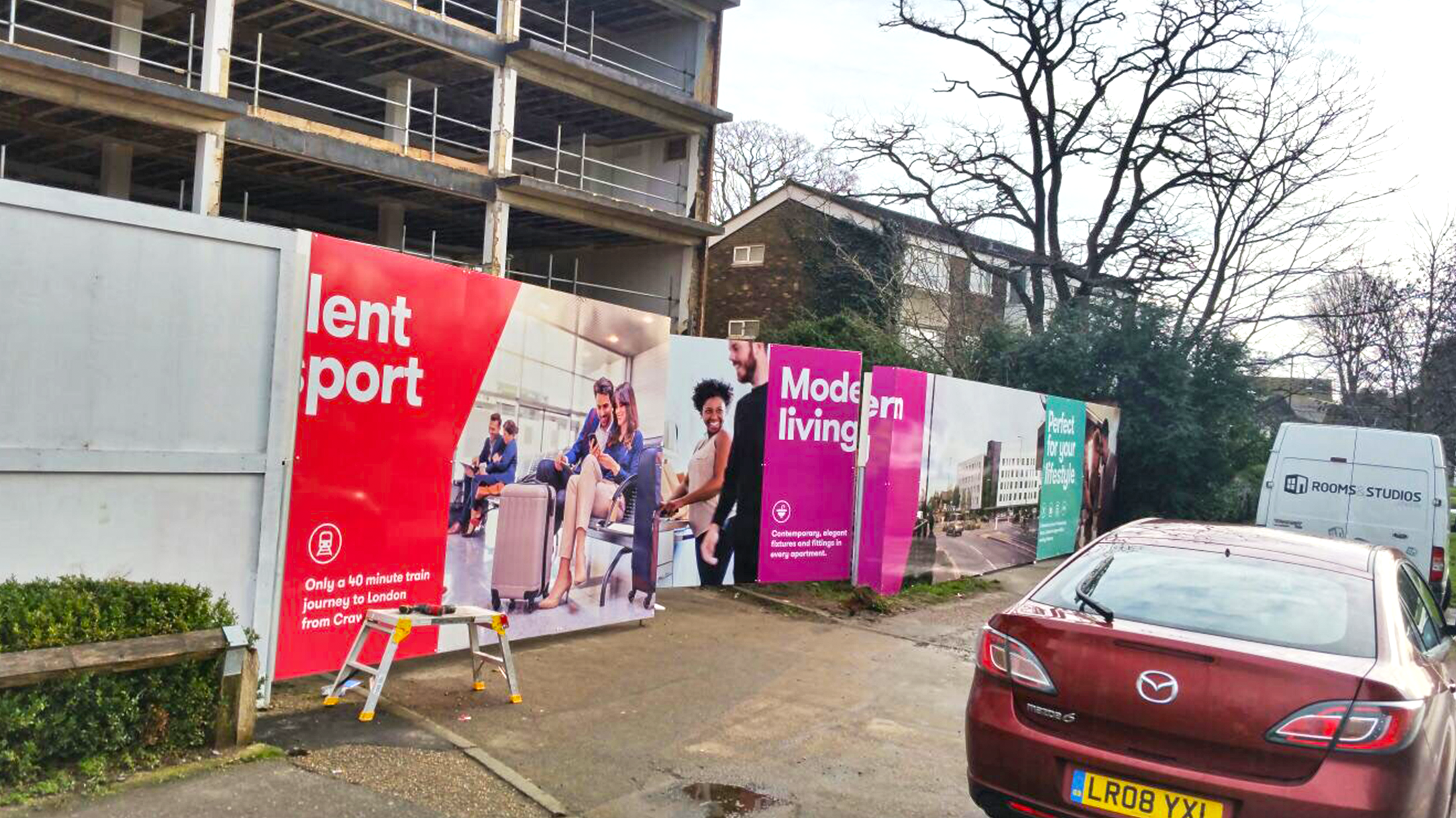 Putting the plan into action
Our collaborative process means we work closely with clients until every aspect of the design and installation is harmonised.
With everything approved by Living Quarters, the project moved on to our print room, where our hoarding board print production services offer top-of-the-range print quality, colour intensity and vibrancy with perfect finishing to create the strongest and longest lasting impact.
Supplied with the numbered artwork to match the installation plan, our production team were able to get to work creating the actual 3mm aluminium composite panels that attached to the hoarding frames. Typically, our hoarding boards are 1.2m wide by 2.4m high and most of the artwork was created at those sizes, although some bespoke panels were needed to complete the run of the hoarding.
All of our hoarding fascias are printed at high resolution, with vibrant inks to make a real impact and leave a long lasting, stunning presence.
We can provide matt, gloss and anti-graffiti laminates for all applications, and can colour match anything required to match existing or old hoardings. On this project we used a 210 gloss laminate, which has a lifespan of approximately five years, at the client's request.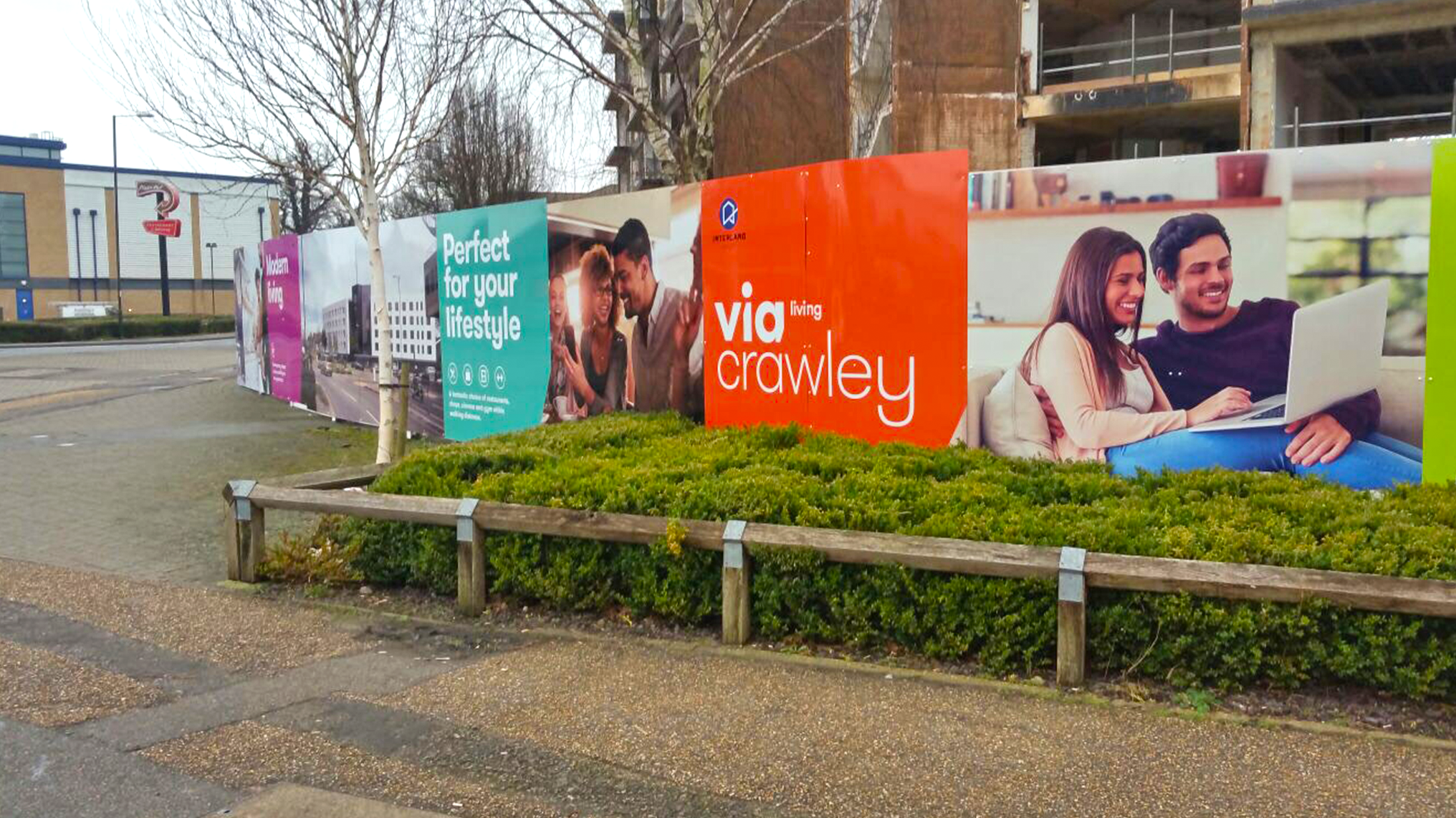 Conclusion
Collaboration, design and execution meant the whole project was delivered on time and on budget within the space of two months.
No job is too big or too small – we can produce whatever you want and fit it to any type of site, from level areas to sloping and curved sites.
And given the size of the site – it required 61 panels – the cost effectiveness was second to none.
Get in touch
We offer a comprehensive site survey service where our installers will help find the right solution to your hoarding board requirement.
They'll take you through installation tips and techniques, and advise on best materials, layouts and formats. We'll ensure your project is well informed, planned with accuracy and initiated with the right materials and products to guarantee a pristine end result.
As this project proves, investing in good design is critical and Cornerstone's design team boasts over three decades of combined industry experience to help bring any project to life.
As a full service agency, we are more than capapble of including your hoardings in a full marketing strategy, or a wider campaign, if you choose. We'll make sure your hoarding is consistent in brand identity and messaging, and any calls to action are optimised. We can make your hoarding as creative, inventive and interactve as your budget allows.
Get in touch today and allow us to bring your hoarding panels to life.